THE FMS
HOT AND HARD 100 2015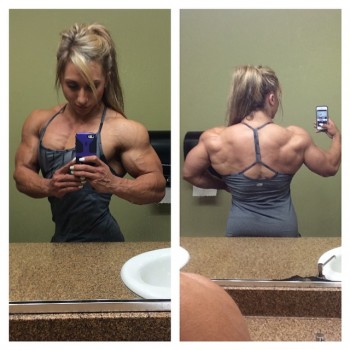 This year's winner,
Shannon Courtney
, had been 2nd (by some distance) to
Alina Popa
in 2014, but triumphed this year (just) over runner-up
Aleesha Young
.
A massive thank you to every single one of you who voted. There were fewer voters (35 compared to 46), but as the vast majority of these voters listed at least 50 women, the total number of votes received was actually higher than it had been last year.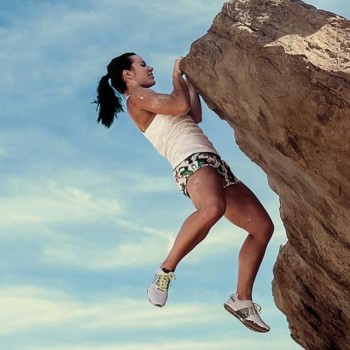 Last year,
Camille LeBlanc-Bazinet
(55) and
Christmas Abbott
(48) both made the top 100, and there were votes for a number of other women from the Crossfit world. Votes were also cast for
Serena Williams
,
Jessica Ennis
and several other sportswomen, but this year only a handful of votes went to women outside the bodybuilding-physique-figure-fitness realm so none made it into the top 100.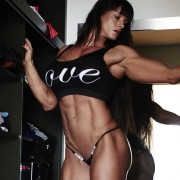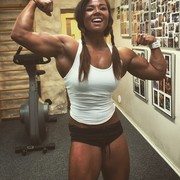 So it's a more obviously muscular list this year, dominated by women who compete or have competed either as bodybuilders or in the physique division with a smattering of figure and fitness competitors and self-styled "fitness models". Very few of the
Hot and Hard 100
have never competed in any kind of "bodybuilding" show.
Cindy Landolt
(personal trainer, #9) and
Sophie Arvebrink
(who calls herself a "lifter", #23) are, as far as I know anyway, the only women in the top 25 who have not done so.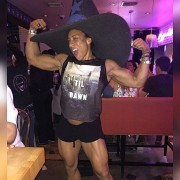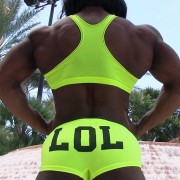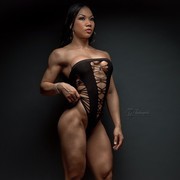 Once again, and it's no surprise that this should be the case, the top country for hot and hard women is the USA. Even if you don't count Vietnamese-born
Tina Nguyen
(33) and Chinese-born
Michelle Jin
(75) among the Americans, there are still 40 women from the States in the list, including three of the top four. As last year, Brazil (with 10 women) is the country with the next most representatives. Brazilians were, however, not as numerous at the top of the list as in 2014, when they made up 25% of the top 20. And I'm proud to say that our readers consider the UK to be a hot and hard hotbed, voting 7 British women onto the list. Canada, with 5, and Spain, with 4, were the only other countries with more than three women in the final countdown.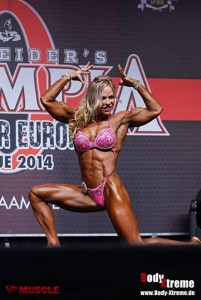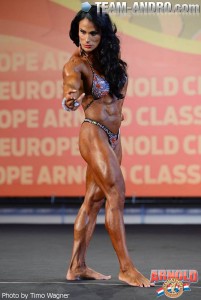 Two of those Spanish women were among the 32 new entries on the list -
Joanna Romano
(15) and the gorgeous
Cristina Goy Arellano
(24). The highest new entry (no surprise to me) was beautiful beast
Theresa Ivancik
in 12th, and she was followed by Romano, Denmark's big-eating
Lea Wiehl
(a surprisingly high #20), Arellano and the stunning
Valerie Garcia Giovanoli
(25).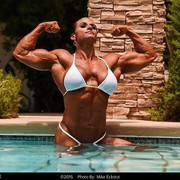 Katia Callegari
(#28) was the highest-placing woman from 2014 who disappeared from the list (and with the notable exception of me) from the voting this time around.
Michelle Cummings
(30),
Joelle Smith
(31),
Kris Murrell
(42), the aforementioned
Christmas Abbott
(48) and Hungary's Abs Queen
Gabriella Bankuti
(49) all featured in the top 50 in 2014 but not at all in 2015.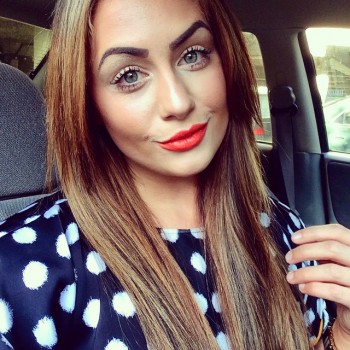 Which leaves us with 68 women in the
Hot and Hard 100
in both 2014
and
2015.
Just for fun (and because I am a total closet geek who loves this kind of statto stuff!) I've added up the total votes for these 68 magnificent examples of womanhood and compiled a cumulative
FMS Hot and Hard top 20
over the two years.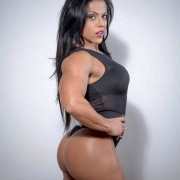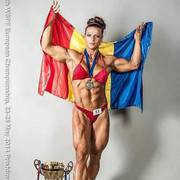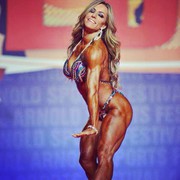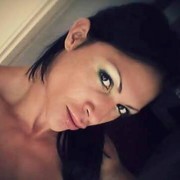 Shannon wins! Alina didn't get nearly as many votes this year, allowing Shannon to (just) beat her into 2nd. Two-time top 10 finishers
Mavi Gioia
and
Elena Oana Hreapca
are 3rd and 4th, and the currently unbeatable Queen of the WPD
Juliana Malacarne
is 5th. Szexy
Suzy Kellner
comes 6th overall, followed by all 1500cc of
Cindy Landolt
. Then it's
Brie Eubanks
edging out
Tina Chandler
in 8th and 9th respectively, and the top 10 is finished off in some style by
Kashma Maharaj
.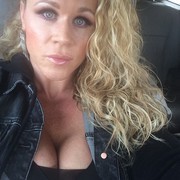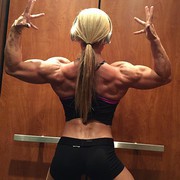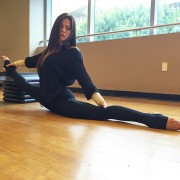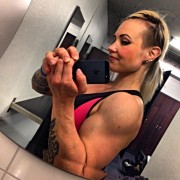 Aleesah Young
comes in at 11, and the "perfect"
Dani Reardon
is 12th. They are followed by
Oksana Grishina
and new mum
Heidi Vuorela
, then it's top Brit
Rene Campbell
in 15th.
Sophie Arvebrink
is 16th, Brazil's most vein
Loana Muttoni
is 17th, and smokin'
Larissa Reis
is 18th. Then finally there's
Katka Kyptova
in 19th, and the very big and very beautiful
Juanita Blaino
rounds off the 2014-15 top 20.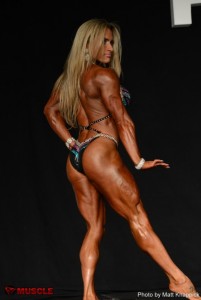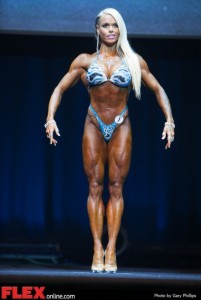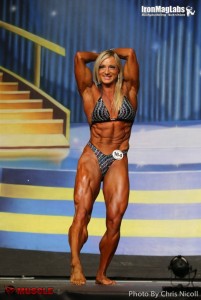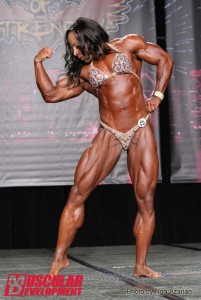 And to finish, once again, it's over to you. Last year, friend of the blog and female muscle lovin' legend
PumpItUp
produced
the Hot and Hard 100 in pdf form
, and readers have already been clamouring to see the list in that form again.
One day we might get it into the shops and onto the shelf next to the mainstream stick-fest "Sexiest Women Alive"-type mags, who knows? But until then, pdf remains (unless you have a better idea) the best and most concise way to spread the word I think.
If you fancy a crack at it, please do email me -
6ft1swell@gmail.com
- and I will send you all the content you need. I look forward to hearing from you.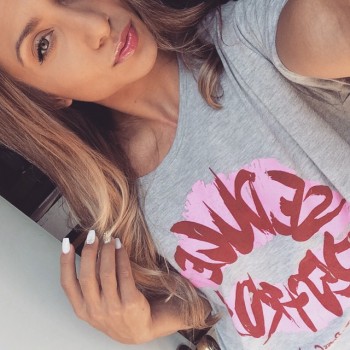 FMS will return to daily posting next week.