FLEXLESS IN COLUMBUS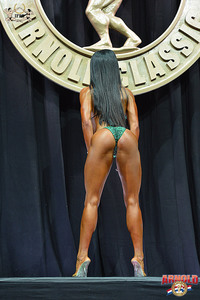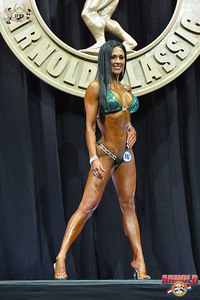 I've stated my admiration for the women of the Figure and Fitness (and even, on occasion, the Bikini) divisions on this blog before, so this in no way reflects on them, but 2014 - for the female muscle fan at least - was a low point at the Arnolds. No Bodybuilding, and no Physique (which debuted in the pro event the following year). In other words, there was not one double biceps, or lat spread, or abs & thigh pose hit by a woman on the stage that year. Not one. Just three divisions, all involving the wearing of heels at some point.
It may be "Bodybuilding" Jim Manion, but not as we know it.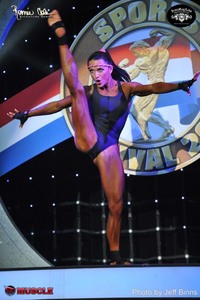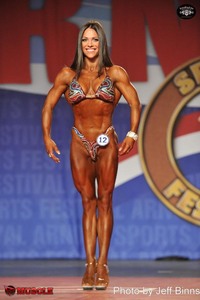 Ashley Kaltwasser
(a former Arnold Amateur Bikini champ), followed up her 2013 Olympia win to take her first (of three consecutive) Bikini International titles. And in Fitness,
Oksana Grishina
began her own, even more impressive winning streak. Starting with this event in 2014 until her retirement at the Olympia last year, Oksana competed thirteen times and on every occasion took home the winner's cheque.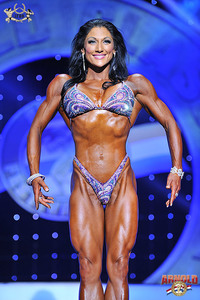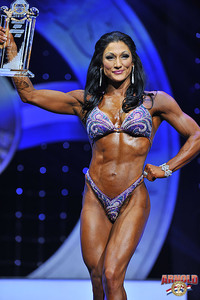 In Figure though, it was more the end of an era.
Candice Keene
won for the third year in a row and for the last time. Unlike her Bikini and Fitness peers in 2014, she never dominated her division - she was never Ms Figure Olympia, for example. The year after this at the Arnolds, (this) Candice finished 3rd, and for the first time all three dominant forces in Figure today - (the other)
Candice
(
Lewis-Carter
),
Latorya Watts
and
Cydney Gillon
- would feature in the same line up for the first time.
MUSCLE!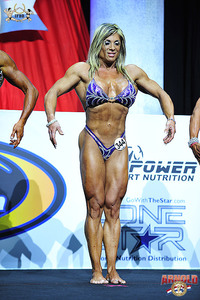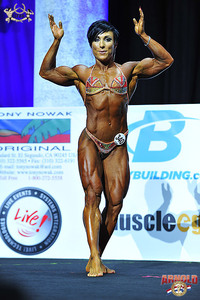 If it was beef you wanted, the only place to look at the 2014 Arnolds was among the Physique amateurs, where 48 competitors demonstrated just how healthy and varied this new division could be. They included former and future Bodybuilder
Silvia Matta
, a future NABBA Worlds Physique (ie. Bodybuilding) champ,
Karolina Holubcova
, who would return to IFBB Physique again later, and a number of younger women who had never competed in a different division, among them
Katie Lee
.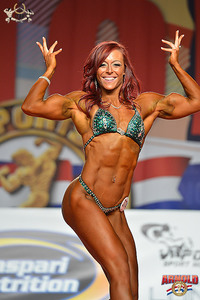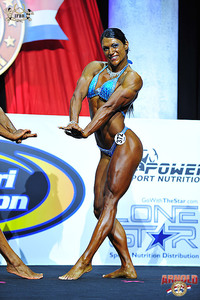 Now
this
is "Bodybuilding"! There was even a disqualification! Naughty
Suzy Kellner
got kicked out. I don't know why, but it'd fit the theory if it was the old urine sample.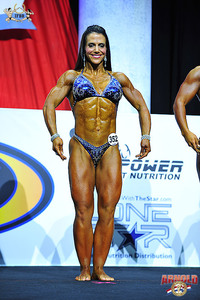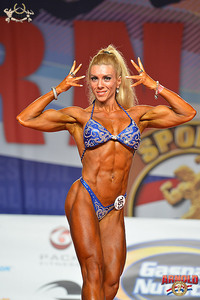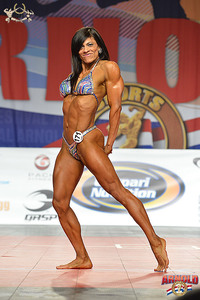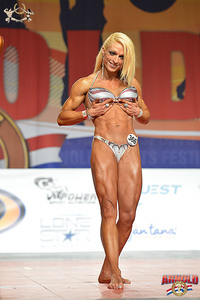 If you didn't know any better - like if, for the last few years, you'd been asleep, or frozen and brought back to life or something - you could have been forgiven for thinking, as you gazed at the impressively muscular women on stage, that you'd wandered in while the Light and/or Middleweight FBBs were up. I don't think Physique "killed" Female Bodybuilding at all - but I
do
think it is fair to say these women saved events like the Arnold Classic from disappearing from the female muscle fan radar altogether.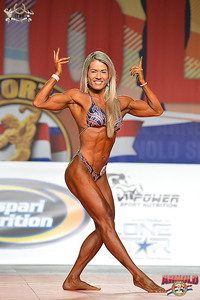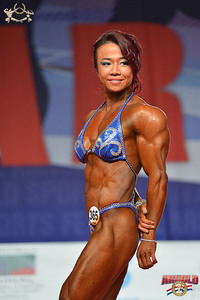 And - as with all good "Bodybuilding" shows - there was a judging controversy! The Short class and Overall winner
Bruna Miyagui
from Brazil was one of the least muscular women on the stage (although not without her charms), so the ever classy (and former Bodybuilder)
Joan Liew
had to settle for just the Tall class title.
BRITISH INTEREST?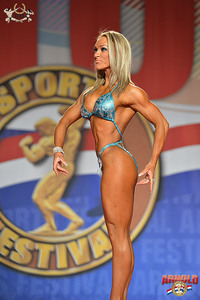 Lots!
Kizzy Vaines
was again our only pro and she made the top 10 again in the Fitness division, and for the first time there was a serious British amateur contingent.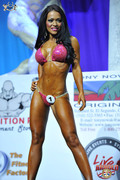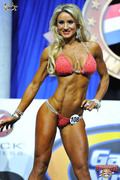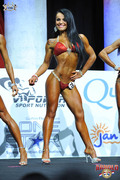 Left to right:
Nikki Jenkins Robinsons
was our most successful Bikini competitor - 6th, up to 160cm class.
Nina Ross
, who you may remember competed in Figure the previous year, was 8th, up to 166cm class; and
Anita Bekus
(up to 163cm) was 11th.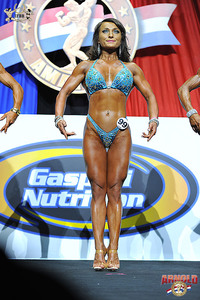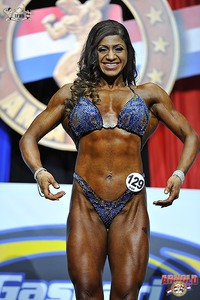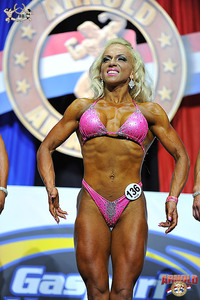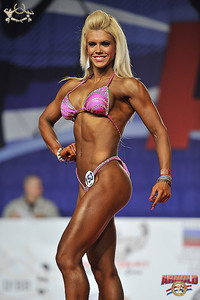 In Figure,
Yo Lazarov
finished outside the placings in her up to 160cm class;
Reem Al-Bareeq
and
Karolina Borkova
(both up to 163cm) placed 13th and 8th respectively; and the impressive
Eszter Petti
was 4th in the up to 166cm class.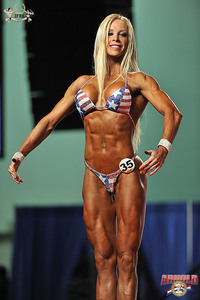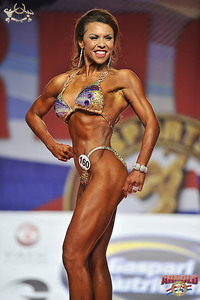 Katalin Jasztrab
went one better and finished 3rd in the over 169cm class - although technically she was still competing for Hungary then, Katalin's very much one of us now and - look at her! - we'll claim her whatever the paperwork says. Result of the day for the UK though came from the soon-to-be Figure pro
Maria Scotland
, who was both runner-up in her (Open) up to 166cm class and then our first ever Arnold Amateur champion when she won the up to 168cm Masters class (and was 3rd Overall).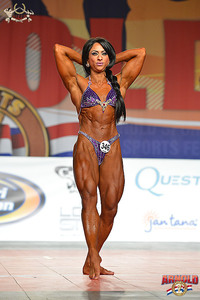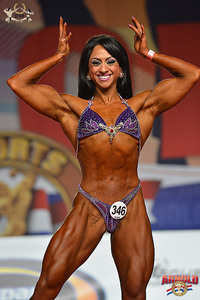 And finally, the future of British Physique looked bright with three women flying the flag in that division.
Rosanna Harte
was beaten only by the Overall winner in the Short class - and that was by no means a unanimous judging decision, and in the same class, "Marea Warde", better known to us now as
Ria Ward
, placed 15th.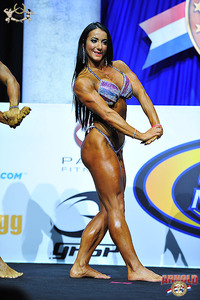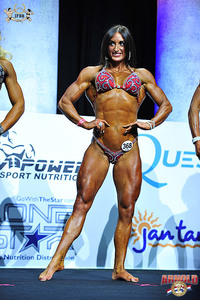 Hayley Brylewski
was our sole competitor in the Tall class, and, as so often seems to be the case with Hayley in UKBFF contests at home and IFBB contests abroad, you are left wondering how such a stunning package was judged to be worthy of 13th place.
JUST

5

HOT AND HARD VOTING DAYS LEFT!
Find out how to vote here and then send them to 6ft1swell@gmail.com or use any comment box below any post. As I've said before, if you have voted using the comment box already - I have got your votes, I just haven't published them yet.