PHYSIQUE PIONEERS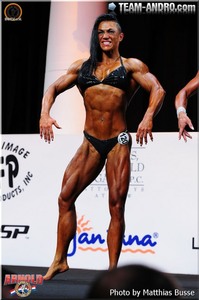 We would not see Physique at the pro show for another couple of years, but 2013 was the division's debut at the Arnold Amateur. As tends to be the case with a brand spanking new division (a female one, anyway) there was a pretty wide range of looks for the judges to choose from. None of the women were very muscular - former Bodybuilders bronzed Brazilian
Maria Rita Penteado
and sexy
Suzy Kellner
(both above, 2nd and 6th respectively in the tall class) probably displayed the most muscular, conditioned packages - some of the women (who we won't feature thank you) would better be described as "chubby" (or if we were feeling more generous, "curvy"). Overall, the standard was far below what we would expect in a top amateur show these days, but at the same time the 30-woman line-up was not without its treats...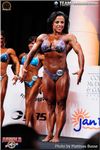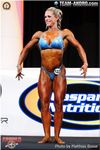 Mavi Gioia
(11th, short),
Ida Sefland
(4th, tall) and
Kristina Dybdahl
(2nd, short) chief among them. The judges set the trend for fairly random decisions in the WPD that continues to this day, and this resulted in Brazil's short class winner
Danielle da Silva
outpointing tall class champ
Mica Schneider
(now an IFBB pro) for the Overall title.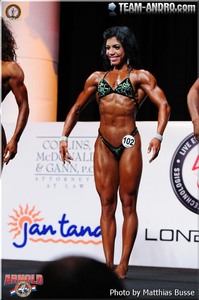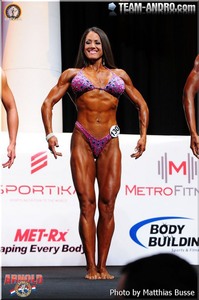 It was a start.
And ps. I haven't gone for the "relaxed" pose for all the pictures out of choice. This is - apart from some pretty shaky truth be told shots from the routines - what we have to go on. Was there less posing then, a sort of Figure-style walk to do? Can't say I know how the contest was run and what (if any) compulsory poses they have to do now were performed by the women that day. Can anyone shed some light on this?
THE LAST HURRAH: PART 1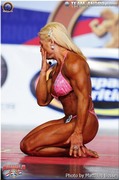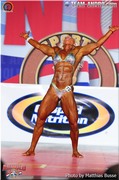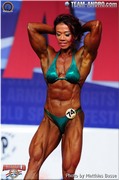 It wasn't only the Ms International that breathed its last at the 2013 Arnolds. Amateur Female Bodybuilding was also seen for the last time that year. Unsurprisingly, we'd seen bigger - in number I mean - line-ups (just 5 Lightweights and 8 Heavyweights turned up for the wake), but they were nevertheless line-ups that us fans would kill for today in the majority of early season IFBB pro shows, let alone an amateur one.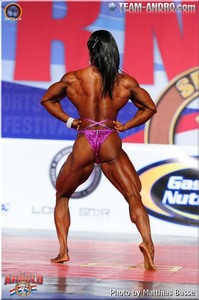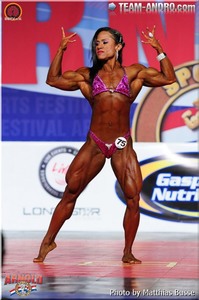 Above (top)
Silvia Matta
(4th, clearly overwhelmed with grief for the fate of her division),
Nina Midling
(3rd) and Singapore's
Joan Liew
(2nd) all had more than a touch of class about them, but it was
Kashma Maharaj
, competing for the US Virgin Islands, who dominated the Heavyweights. This was Kashma's career highlight (so far), since then she's never looked so good. And although she's had plenty of other problems to deal with, you've got to have sympathy for an up-and-coming FBB (possibly
the
up-and-coming FBB as far as us fans were concerned) at a time when serious doubts first started to be raised about whether there would be anything for her to come up to.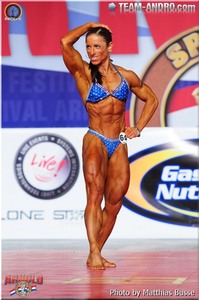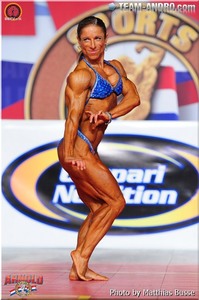 Croatia's
Branka Njegovec
- the Lightweight and Overall winner - has had a similarly torrid time since this moment of glory. Too Lightweight to compete effectively with the pro FBBs on stage, Branka has been found herself at the more muscular end of the Physique division over the last couple of years, gaining favour with judges occasionally, but mostly slumming it outside the top 10 at most of her pro outings. I suppose at least she might be able to take some comfort from knowing that technically he's still the reigning Arnold Amateur Female Bodybuilding champion though!
ALL CHANGE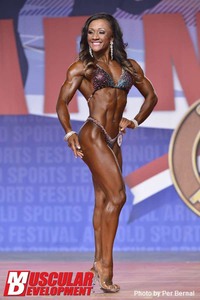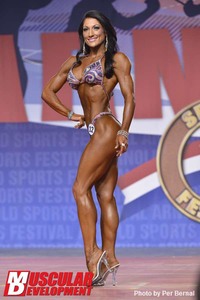 With both the Fitness and Figure champions of the previous few years sitting out the Arnolds this year, there were new champions in both divisions.
Tanji Johnson
took advantage of
Adela Garcia
's absence to beat Oksana for the penultimate time (she would repeat the feat at the Arnold Classic Europe later in the year and never again). In Figure,
Candice Keene
took over from
Nicole Wilkins
, but perhaps the most notable Figure placing was that of
Candice Lewis-Carter
, who was awarded 4th.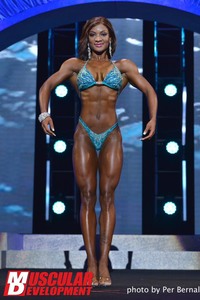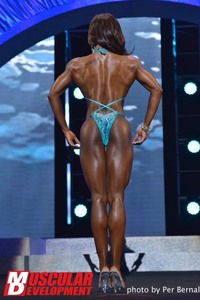 Truly, here was the shape of things to come in her division.
THE LAST HURRAH: PART 2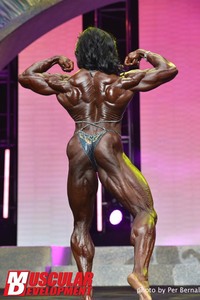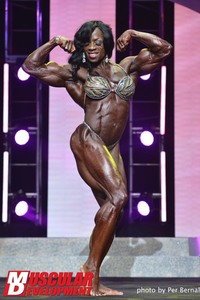 As Arnold joked with Iris afterwards that there were now two seven-time champions on stage, not even the most seasoned commentators suspected what was about to happen to the second most prestigious pro Female Bodybuilding contest. In fact, it wasn't until June that the cancellation of the Ms International would be announced, so as Iris waved her check around and she thundered off stage, who knew this was the last time she nor any other Female Bodybuilder would be able to compete there?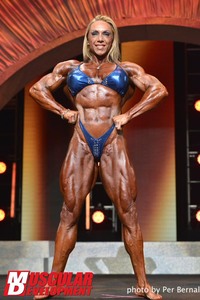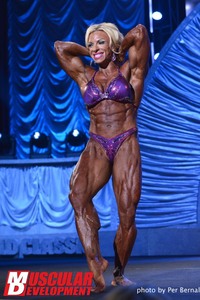 As had become customary. Yaxeni and Debi fought it out for the placings immediately below Iris. Both seemed to have improved on their "best ever" 2012 physiques, with Yaxeni's superior stature once again getting the judges' nod in their mini-battle.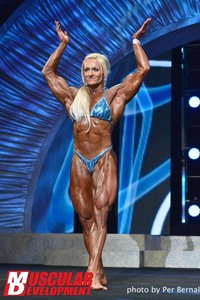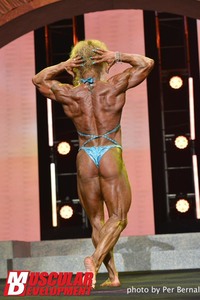 Below the top 3, Steve Wennerstrom noted that places 4 to 6 were taken by women who, "in keeping with the name of this contest made for a glowing example of the international treasures that have continued to infiltrate the ranks of the pros" -
Brigita Brezovac
,
Cathy Lefrançois
, and Brazil's
Angela Debatin
respectively.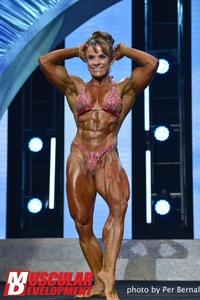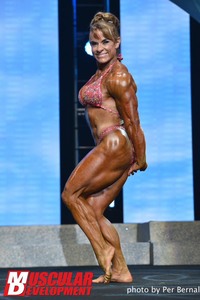 Not since the days of weight classes had the latter placed so high, but after this show she struggled to rediscover the top 6 form she showed here, eventually switching to the Physique division in 2016 where she has found no great change in placings (so far).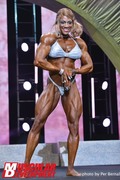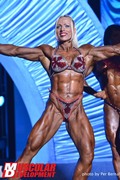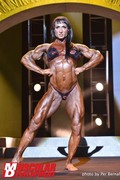 Kim Buck
was 7th, and Russian
Olga Puzanova
8th on her Ms International debut.
Tazzie Colomb
, the woman with the longest competitive career in this field, sizzled on the Arnold stage for the last time in 9th, and
Jeannie Paparone
and the Ms International's first and last Greek,
Elena Kavva
, filled the final two spots.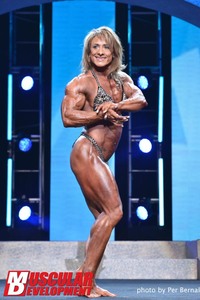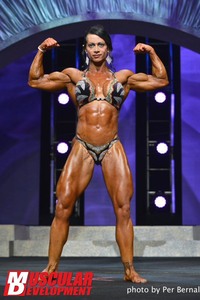 Later that year we were
signing petitions
, there were
howls of protest from Female Bodybuilders
- though not the last Ms International, it was noted - all over social media and beyond, and
even a film was made about Irene Andersen's search for answers as to why
. Of course it all fell on the ears of those who had already decided the women's fate. Yes, we have, in the main, come to love Physique, and yes, in time, Wings of Strength resurrected pro FBBing, and touch wood (geddit?) it continues to grow, slow and steady. But lest we forget, back then these were some very dark days indeed.
BRITISH INTEREST?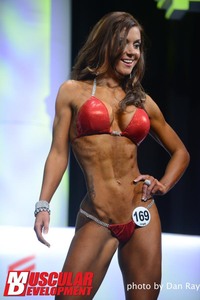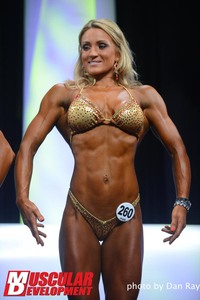 Having had just two different British women compete in the preceeding five years, this was a bounty indeed.
Melissa Haywood
, who I think I'm right in saying was the British Bikini champ at that time, placed 4th (out of 22) in her Bikini class.
Nina Ross
would go on to become Britain's first ever IFBB Bikini pro and Olympian, but back in 2013 she was to be found in the Figure division. Here she placed 6th in her class.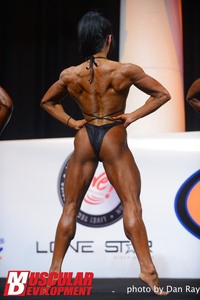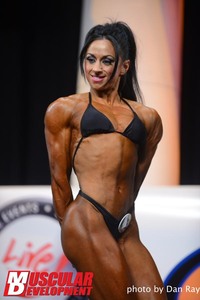 2013 also saw the first Arnold appearance of an even more familiar body and face -
Rosanna Harte
. Like Nina, Rosie has gone on to get her pro card and been to the Olympia since, greater success coming after a switch in division. At this contest though, she was still competing as a Lightweight Bodybuilder, and placed 3rd.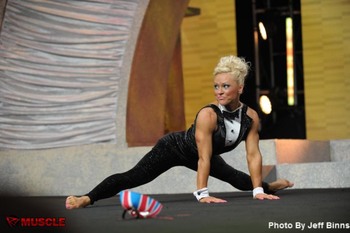 And last but not least of our fantastic class of '13 British four,
Kizzy Vaines
was once again our sole pro rep, and was once again placed a career-high 7th in Fitness.