ORDEM E PROGRESSO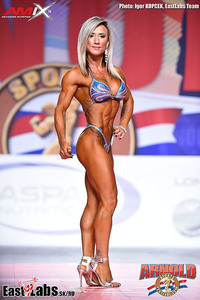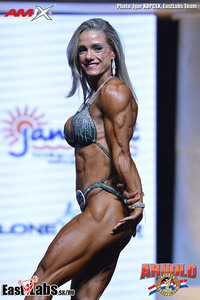 The rise and rise of Brazilian female muscle was clear for all to see at the Arnold Amateur in 2016. Brazilian women took home three of the four Overall titles, and in some classes - like the short Physique class for example,
totally
dominated.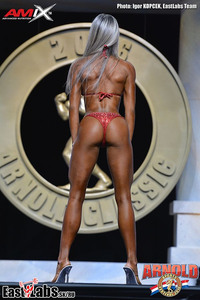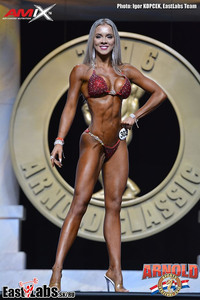 Fernanda Kunze
(above) had the toughest job of all. She first beat future Bikini star
Anita Herbert
(and 32 other women) to win her class, then outpointed the five other class winners to take the Overall - 1st out of 165(!) women (by my reckoning).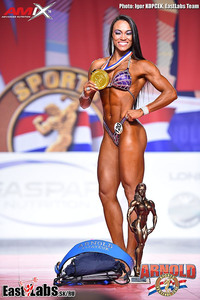 In Figure,
Michele Da Silva Pinto
(above) led a class Brazilian 1-2 ahead of
Wagna Vargas
(top left) before taking home that division's Overall title for Brazil as well.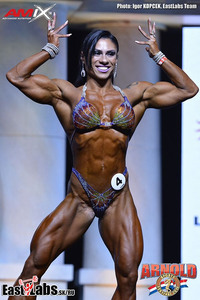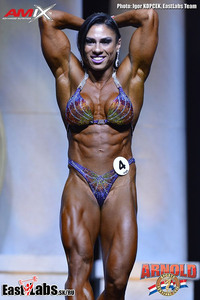 And in Physique, two of the three classes were won by Brazilians.
Marjorie Beck
(top right) improved on her 5th place the year before by winning the Medium class, and
Fernanda Gutilla
(above) won the Short class and then went on to win Overall too.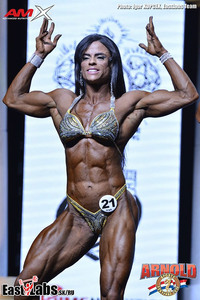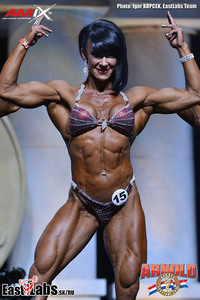 As mentioned above, the pleasingly thick Gutilla led a Short Physique 1-2-3 of Brazilians, completed by
Evelaine Rocha
(2nd), and
Priscila Cavilha
(3rd).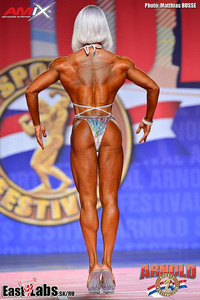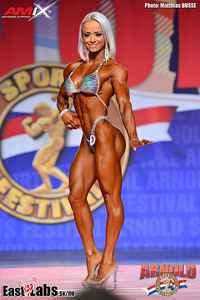 Janaina Ferreira
(above), 11th out of 12 in the Figure division, was Brazil's only representative in the pro show, however. This state of affairs would change rapidly.
THE FORTY-NINE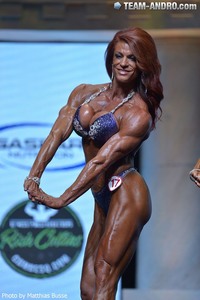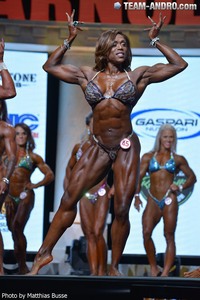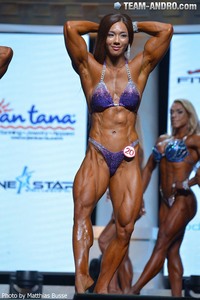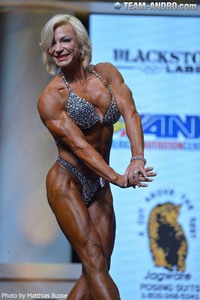 Just two years' old was the Physique International. An invitational event for a select eleven the previous year, in 2016 it was thrown open and (what must be) a world record 49 women squeezed onto the stage. Here was the "international" contest that its name promised. And here was Physique, in all its varied and randomly-judged glory!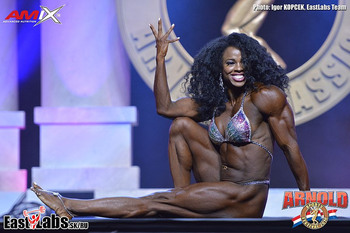 There was a former Ms Olympia, 16 years on, and there were former Bodybuilders of a more recent vintage -
Klaudia Larson
,
Alicia Alfaro
,
Geraldine Morgan
, and
Susan Smith
. And from the other side, there was
Mindi O'Brien
, her "breathtaking" routine harking back to her days as a Fitness competitor. Her placing - a controversial(?) 3rd - better than she'd ever achieved before at the Arnold Classic.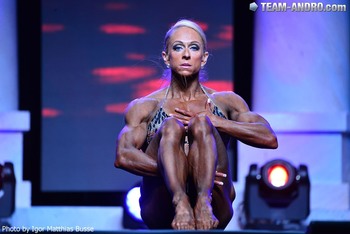 With Dana Linn gone, and Juliana focusing solely on the Olympia, I recall that at the time there was only going to be one winner as far as I was concerned - Dani. Her career trajectory to date seemed to be leading inevitably to a win at the Arnolds, but it wasn't to be. Instead, Dani was runner-up - and far from disappointed to be that - while the judges gave the title to
Autumn Swansen
, who had competed (with some success) in both the Figure and Fitness divisions at the Arnold Amateur some years previously.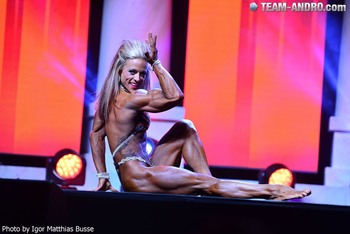 The following year, you may remember, Autumn had something of a wardrobe malfunction while doing her routine at the Arnolds, and she failed to defend her title. But this was, without question though, her day - the high point of her career so far.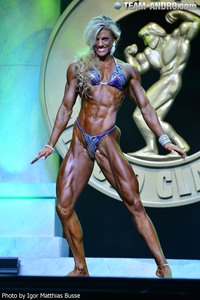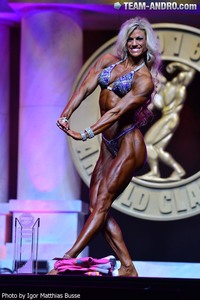 One day, I shall have to do a post with
all
49 of them for posterity.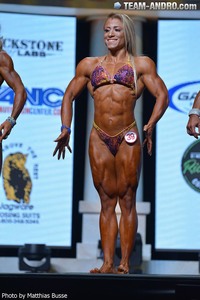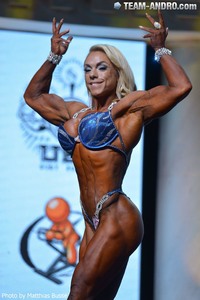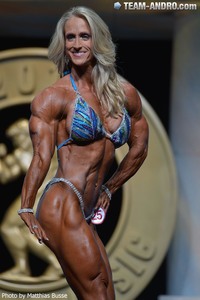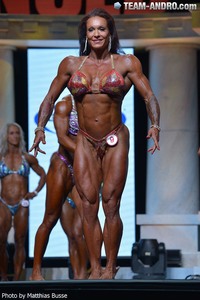 What a feast! And most importantly, they all look like they had an absolute ball.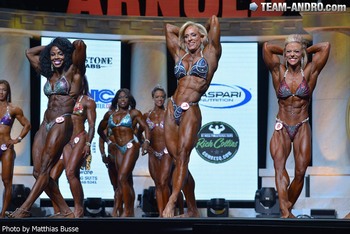 Best Physique International ever? It will take some beating.
BRITISH INTEREST?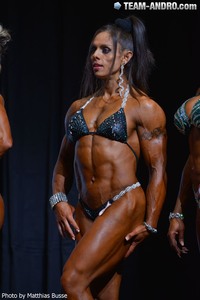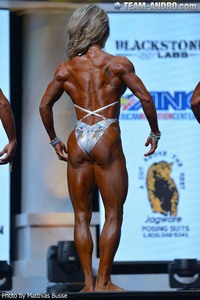 A bit of a down year for the Brits, but while we are still thinking about the 49, it should be noted that two of them were representing the UK.
Geraldine Morgan
was (and still is) perhaps only "technically" British, but I'm not complaining. Both she and
Melanie Horton
(right) were among the great unplaced at the Physique International. And I am not, by the way, deliberately showing Melanie from the rear. I too would like to know more, but it's my only find of her, I'm sorry to say!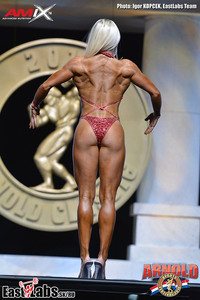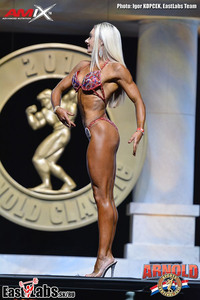 Emma Paveley
was 3rd in an Open Fitness class.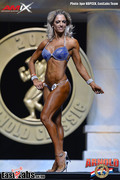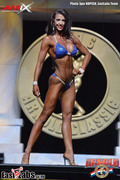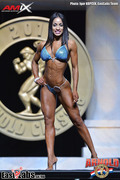 And once again, there was a modicum of British Bikini success. (Left to right)
Tatiana Ambrosin
was 9th in her Masters Bikini class but unplaced in her regular class. Leggy
Kym Birchall
fared a little better (up to 170cm, 9th), but the best of the Bikini day for Britain was
Krishna Kataria
, who was 4th on the up to 155cm (that's tiny!) class.