AT LAST!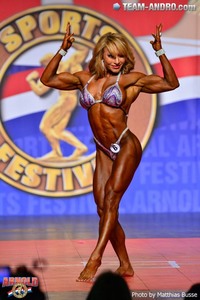 Two long years after its debut at the Olympia, Physique made its first appearance at the Arnolds as a pro event. There were 11 competitors, a rather modest number compared to the line-ups since, and despite its Physique "International" title, not a very cosmopolitan one. 8 of the women represented the US (7 if you count
Karina Nascimento
as Brazilian), plus there was one Canadian, one Brazilian (or two if you count Karina), and just one woman from Europe - Germany's
Nathalie Falk
.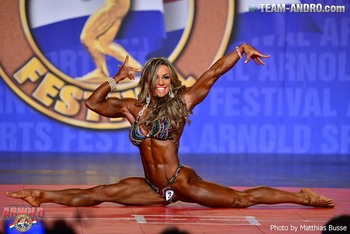 Judging confirmed the 2014 Olympia result, placing
Juliana Malacarne
above the 2013 Olympia winner
Dana Linn Bailey
. Their paths took very different directions when it was over. Juliana - who, lest we forget, had been a middling Figure pro who had never finished higher than 12th at the Arnold Classic before - hasn't competed there since, and remains unbeaten at the Olympia. Dana Linn hasn't competed since at all.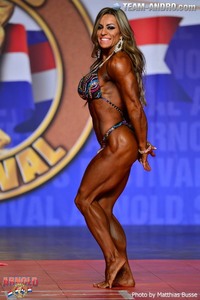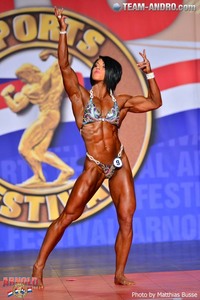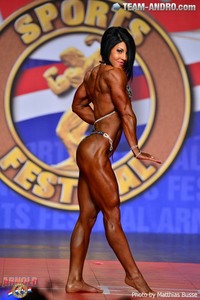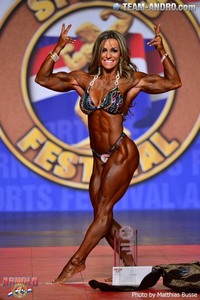 I honestly have no recollection of being at all excited that this was happening. No recollection of searching out images of the show, nor even of wanting to know the result. But as an advertisement for the division, it could hardly have been better. For one thing, I don't think Dana Linn ever looked this good, and despite, or perhaps because of the relatively small field, it was a contest high on quality throughout.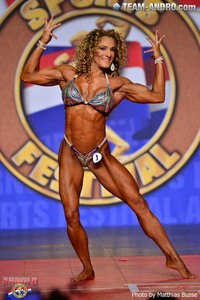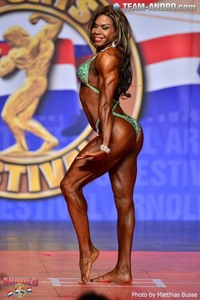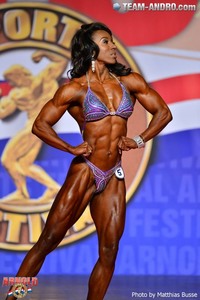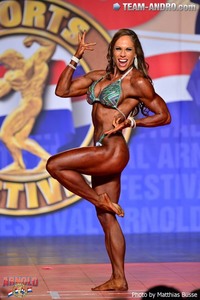 Flexing and not wearing heels was back at the Arnold Classic.
STARS OF TOMORROW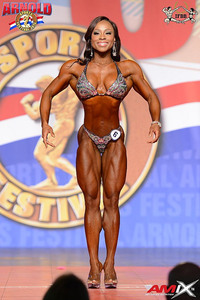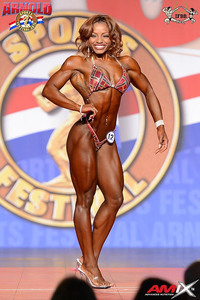 Latorya Watts
- who would win this title
and
the Figure Olympia in 2016 - and
Cydney Gillon
- 2017 Ms Figure Olympia - both made their Arnold debuts in 2015.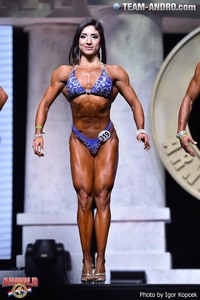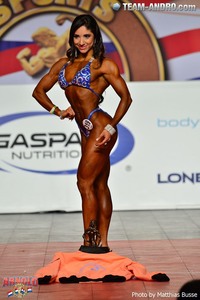 And meanwhile over at the amateur show, a
very
young-looking
Sandra Grajales Romero
was winning the shortest Figure class although not the Overall title.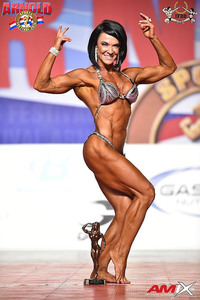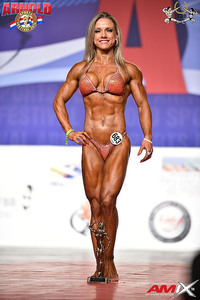 And in the Physique division, Brazilians
Priscila Cavilha
(3rd, short class) and
Marjorie Beck
(5th, tall) served notice of their future IFBB pro potential.
BRITISH INTEREST?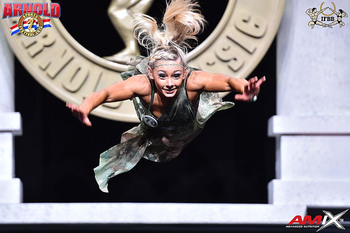 As we now know,
Emma Paveley
would go on to fill the considerable void left by the end of
Kizzy Vaines
' pro career and represent Britain at the Olympia. Here - not for the first time, she had done well at the previous Arnold Classic Europe - she hinted at that potential, marking her first appearance in Columbus with a short class silver.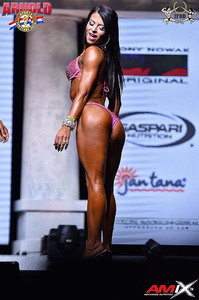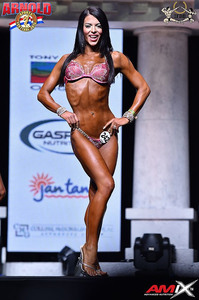 And we find another future British pro in the up to 170cm Bikini class.
Karina Skowronska
didn't progress through the amateur ranks as effortlessly as Emma, and has found life as an IFBB Bikini pro even tougher. Here she placed 11th in her class, but better times lay ahead, and by autumn 2016 she would be making her pro debut.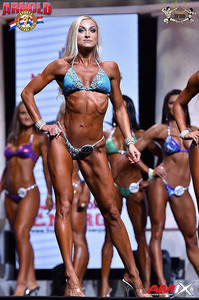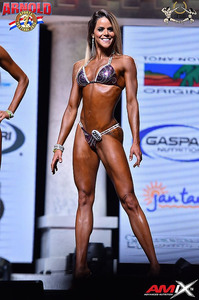 Elsewhere in the packed (really - just under 200 competitors) Bikini classes,
Joanna Wolosz
(left) placed 14th in the up to 167cm class, but the British Bikini day was had by the very gorgeous
Luciana Del Giudice
- 4th in the tallest of all the classes.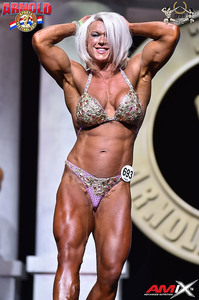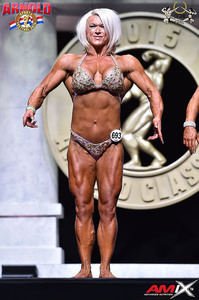 Not such a big year for Britain in the Physique division, just
Claire McGee
to report (and it's about time, I don't think we've ever seen her before on FMS). Claire was placed a lowly 18th in the taller class, but I reckon she deserved better -
LEGZZZZ!
4

MORE HOT AND HARD 100 VOTING DAYS LEFT...
Details here