DUAS CAMPEÃS BRASILEIRAS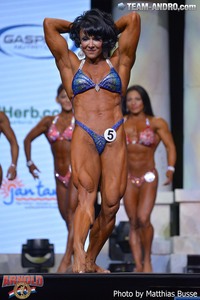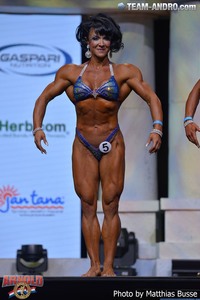 As we saw yesterday, in 2016 Brazilians ruled the Arnold Amateur show in three of the four divisions without making much impression in the pro contest. A year later, and there may have been fewer Brazilian women on the amateur podium, but Brazilians could celebrate both the amateur Physique champion -
Priscila Cavilha
(above) -
and
a surprise new Ms Physique International -
Daniely Castilho
(below).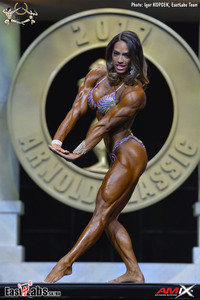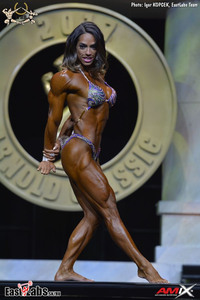 Following
Juliana Malacarne
's inaugural 2015 win, Daniely became the second Brazilian winner in the three years of the Physique International on her Arnold debut. With Juliana not bothering and
Dani Reardon
absent injured, the contest was pretty open I suppose, but there were few who expected a woman whose only previous pro outing had been to finish 5th in Puerto Rico the previous year to emerge victorious.
Still, a routine that Arnold himself decides is worth filming up close for his "personal collection" (talk about the perks of being
the
man) must be a routine with a chance of winning, and so it proved. And I don't think it's a bad thing if the Arnolds - for any of its "International" contests - throws up different winners to the Olympia. In 2017, this happened in three of the four divisions, and the show was more interesting for it.
YER MS INTERNATIONALS
Of course, the one division where no one expected or got a new champion was Fitness. Oksana was crowned for the fourth consecutive year - and possibly, it seems, for the last time. She's not on the competitor list currently available for this week's show, so the retirement announcement(s) she made last year should apparently be taken at face value, which makes this week's Fitness International a very hard contest to predict.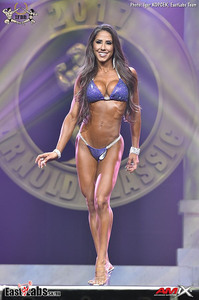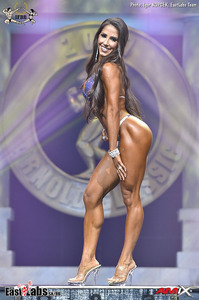 In Bikini, the 2016 runner-up
Angelica Texeira
, became the 2017 champion, and she went on to win her first Olympia title later in the year. And in a very high quality Figure line-up, the then reigning Ms Olympia
Latorya Watts
, rising star
Cydney Gillon
and the ever classy
Candice Lewis-Carter
were all in contention.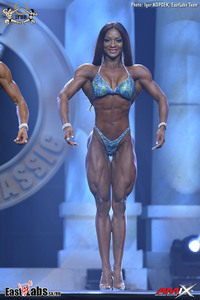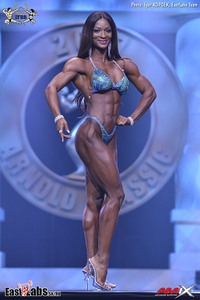 On this occasion, the judges were unanimous in giving it to Candice - (finally) Ms Figure International at her fifth attempt - with Cydney runner-up and Latorya in 3rd.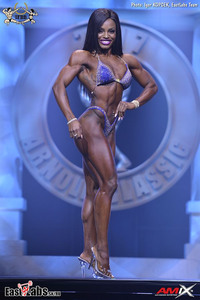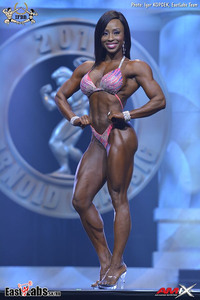 "The Freaky 3", as we like to call them here at FMS, would go heel-to-heel twice more over the course of 2017, soon after Columbus in Australia with Candice winning again, Latorya 2nd and Cydney 3rd; and ultimately at the Olympia, where Cydney won her first big title, Latorya 2nd and Candice 3rd. You'd be foolish to bet against the same top 3 again this week, though in what order is a much less easy call to make.
FIGURE PHENOMS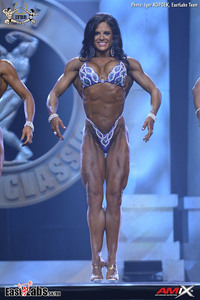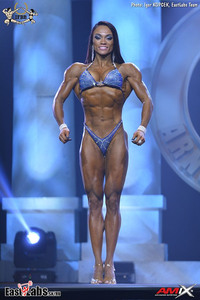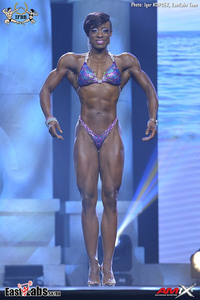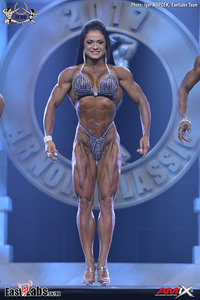 And while we're on the subject of Figure (now there's a sentence guaranteed to make a few of you exit the blog!), this may well have been the line-up that convinced FMS editorial that we should be paying a whole lot more attention to the division in general. Packed with gorgeous women with deliciously muscular physiques, it's incredible how far Figure has come since 2008 (our first post of this series) when you compare.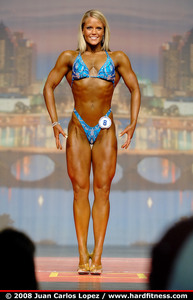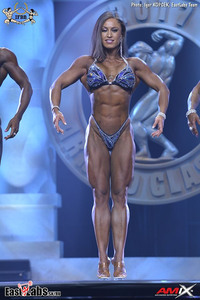 That is, of course, future Ms Figure International (and Olympia)
Nicole Wilkins
on the left, finishing 11th at the 2008 Arnolds - remember that back then there was also a "one-piece" round. On the right,
Swann De La Rosa
, 11th in 2017, not a "one-piece" in sight but plenty of ripped muscle. If only they'd let them flex just a little bit...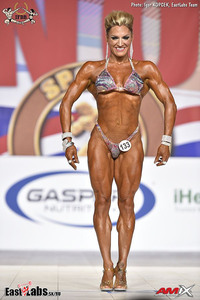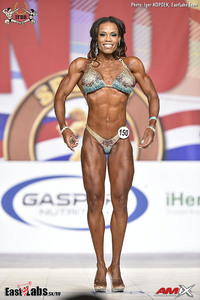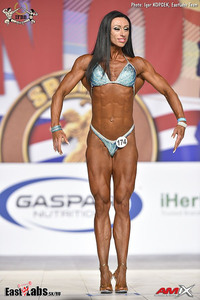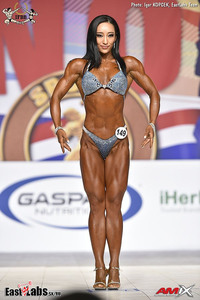 That would make dredging through the 600+ photos you can find at
Eastlabs' gallery
(of the amateur Figure classes and overall alone) even more exciting, though coming across gems like Argentina's
Analía Galeano
(3rd in her class, not the most balanced physique I grant you but what about those muscles at the top of her legs?!), or
Donya Jackson
from the USA (looking every inch a pro in the making), or Hungary's luciously leggy
Eszter Urbán-Zsilák
, or the Overall amateur winner
Mou Cong
- the first Arnold Amateur winner from China - makes it plenty exciting enough already.
PHYSIQUE DREAMS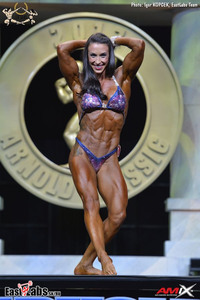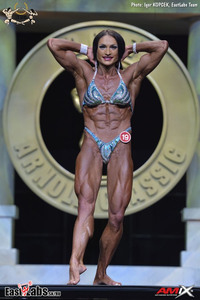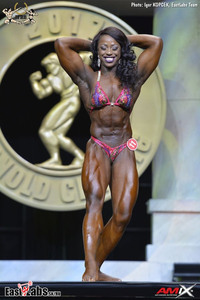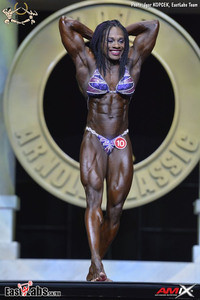 But if Figure's not your thing, and even if you still pine for the days of the Ms International (let it go, would be my advice, it's gone, and let's face it you are probably not pining for the Iris-dominated last few years of the Ms International anyway), then perhaps a look back at the Physique International of 2017 is in order.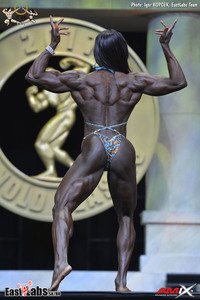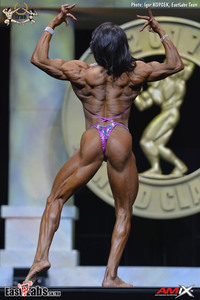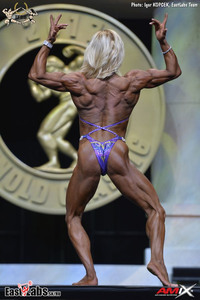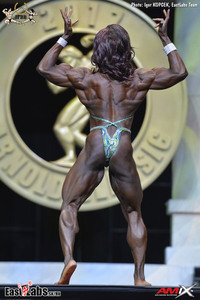 At the time, FMS was probably guilty of focusing a bit too much on
Autumn Swansen's wardrobe malfunction
and
Brooke Walker's naughty moon pose
(both understandable, I feel) and not enough on the quality of the line-up in general.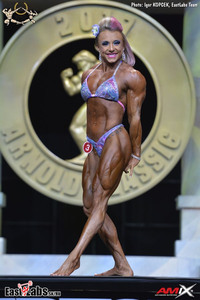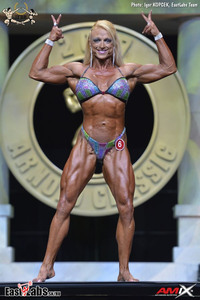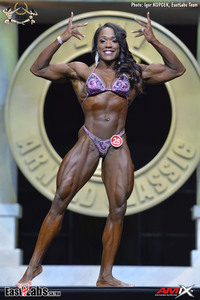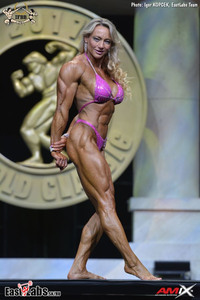 In a 30-woman field, it was a breakthrough show for runner-up
Sheronica Henton
, a sign of the stellar year to come for Arnold veteran
Heather Grace
, and Arnold debuts to remember from the shredded
Tome Ameko
, gorgeous
Jacquita Person-Taylor
, thick
Margarita Zamalova
, ever-smiling
B Barnett
and many more.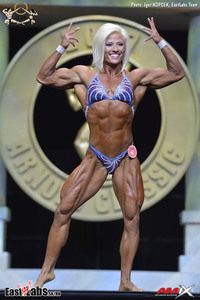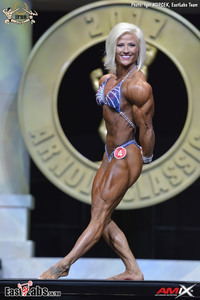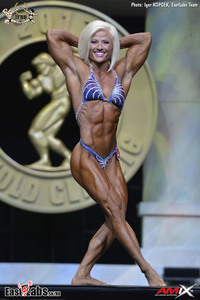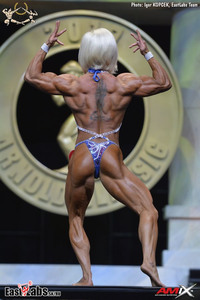 And as with some of the Figure galleries, I've had plenty of fun looking back at the pro Physique ladies doing their thing, and come to the conclusion that
Brooke Walker
may well feel the Arnold judges owe her a win. She won't be lining up this week, however, and neither will
Daniely Castilho
be defending her title as far as I can tell. Also absent are the two women who pushed Juliana at the Olympia -
Heather Grace
and
Jennifer Taylor
. So it's wide open again.
Shanique Grant
or
Natalia Coelho
to confirm the rise of the too-shredded-for-Figure phenom? Or will
Kira Neuman
come in with that top 3 Olympia package and take it? We will have hundreds of new images to trawl through (and know who won) by this time next week...
BRITISH INTEREST?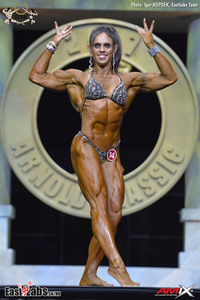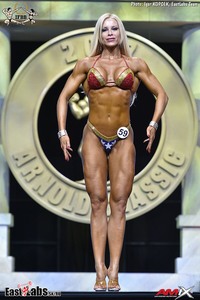 Yes, and very positive immigration stories they were. The "technically" British
Geraldine Morgan
was unplaced at the Physique International - our only pro on show, while previously Hungarian now approaching National Treasure status
Katalin Jasztrab
excelled in both her Open (3rd) and Masters (2nd) amateur Figure classes.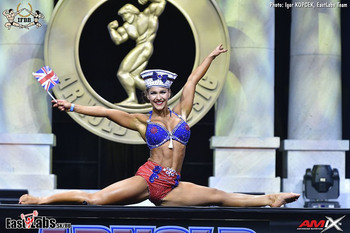 But it was burlesque performer by night, Fitness superstar by, er, evening,
Kate Errington
who produced the best, most patriotic performance of the whole weekend.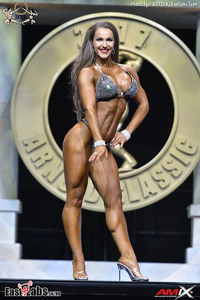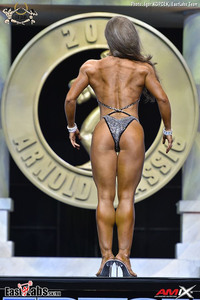 Kate became the second British woman to win a title at the Arnold Amateur when she won the Fitness class. Yes, she only had to beat two other women, but beat them she did. And Kate went on to do very well throughout 2017, so much so that this week she will be making her pro debut at the Fitness International, our only pro representative.
So that's that. 10 years at the Arnolds. Bodybuilding gone - even though it wasn't looking as unhealthy as perhaps those who plotted its downfall would have you believe. Physique on the rise - line-ups fantastic in number and quality, though it has to be said the amateur show has not been responsible for producing much of the pro talent we now see. And Figure transformed - less "one-piece", and more more muscle. Fitness is now an Adela-free and Oksana-free zone, so is currently genuinely up for grabs, while Bikini is... well, Bikini. This weekend the only place we'll see Bodybuilders is at the Expo. But there'll be muscle, and FMS will be on the trawl again...
And you have
TWO

days
left for HOT and HARD 100 voting!
Don't be that guy who didn't vote saying, "I can't believe [insert name of favourite FBB] is only at number [insert number greater than 2] on your list!" after the event.

Make sure you vote first and then complain.