MUSCLE UP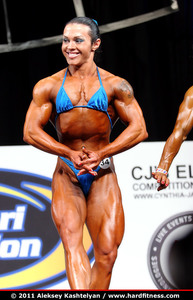 Having been a bit thin on the ground the previous year, and now organised into just two weight classes, the Amateur Female Bodybuilders who turned up for the Arnolds in 2011 proved there was still muscle in the US and beyond. Lots of it - even if the judges managed somehow to give Lightweight class winner
Marina Lemenovskaya
(left) the Overall trophy instead of the Heavyweight
Alevtina Goroshinskaya
.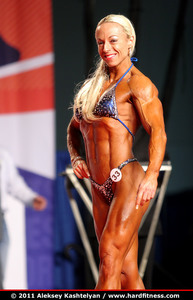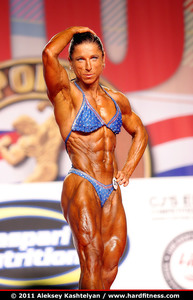 In the Lightweight class 3rd place
Nathalie Falk
was pleasingly hard, while runner-up
Branka Njegovec
showed the audience what a real woman's abs look like.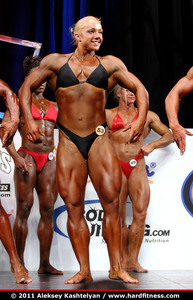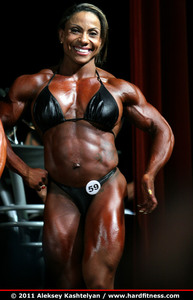 The muscle bonanza was, unsurprisingly however, mostly in the Heavyweight class, where heads in the audience must have been struggling to know where to look - at
Natalia Romaschko
's legs perhaps, or
Roberta Toth
's (no doubt) rippling muscle belly?
Giuditta Magazzino
was never bigger than here, and Triple Dee (aka
Robin Hillis
) was (and is) just
BIG
- but only big enough for 15th, according to the judges.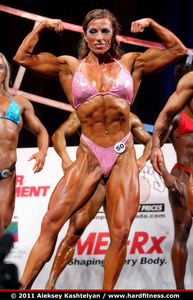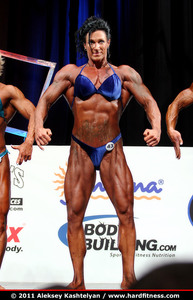 Arnold Amateur fixture
Salla Kaurenen
had to settle for 3rd this time,
Geraldine Morgan
edging her for the runner's-up spot, and well worth it as far as I can see.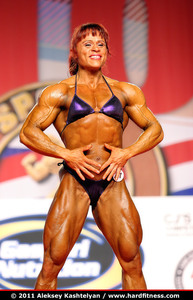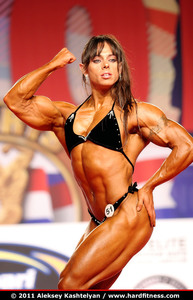 And then there was Katka - approaching her (dark-haired) 2012 peak.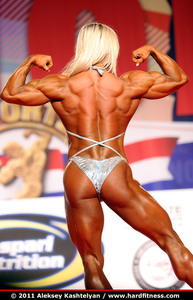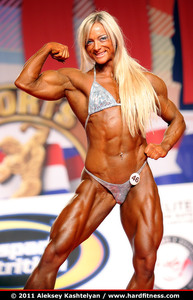 Was this the line-up that convinced Arnold he didn't want these women around him while they grew towards pro status?! Imagine the thunder as they all walked on...
GO FIGURE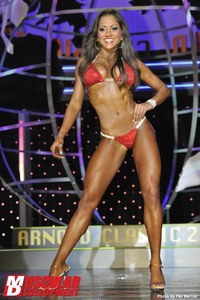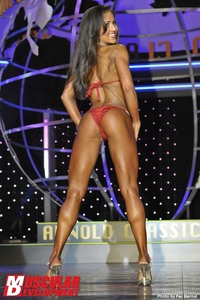 While amateur FBBing was making a bit of a comeback at the Arnolds, the first Bikini International was taking place over at the pro show. On the plus side, women now had four divisions to choose from, although this new one was almost completely devoid of any of the hallmarks of what "bodybuilding" was widely understood to be about.
Anyway,
Nicole Nagrani
was the first Ms Bikini International.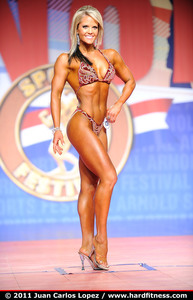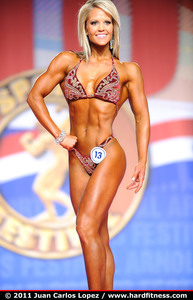 While us female muscle fans do like to make fun of the Bikini division (if we acknowledge it at all), I wonder whether its introduction did indeed have positive effects on Figure. Perhaps coincidentally, perhaps not, this was the first year the ladies of the Figure division didn't face the indignity of the "one-piece", meaning the running order of the Figure contest as it is now was established at this point.
Nicole Wilkins
won for the second year in a row, carrying a little more muscle than before, and from this point on, it seems to me, this is the way Nicole, and indeed the whole division, goes. More muscle and the forging of its own, distinct from Bikini, identity.
BREAKING THROUGH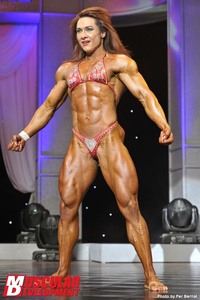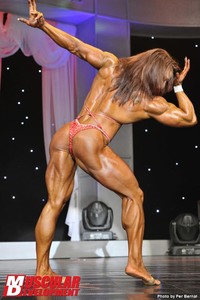 We noted yesterday that the winners of the other three female classes -
Iris Kyle
,
Nicole Wilkins
and
Adele Garcia
, were the then reigning Olympia champions in their respective divisions. A year later and nothing had changed (and even the runners-up in Bodybuilding and Figure stayed the same). We also noted the top 6 Bodybuilders, though in a slightly different order, hadn't altered from 2009-2010.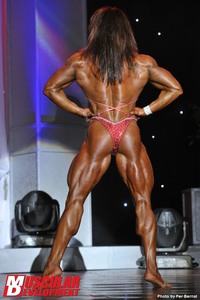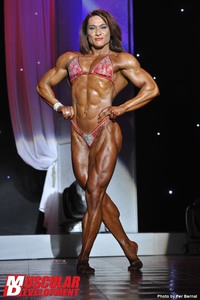 So
Alina Popa
's achievement at only her show as a pro should not go unheralded. And she didn't just break into the top 6, she smashed her way into the top 3 - by no means overshadowed by Yaxeni and Iris on the day, by no means a distant 3rd.
Here is a new superstar on the rise,
GMV Bodybuilding reckoned, and time proved them right.
BRITISH INTEREST?
Not this year, I'm afraid.