We return today to one of
FMS
' favourite Brits and the subject of a recent post (see
Truly, Disgustingly Peeled
) that has proved rather popular with our readers.
Corinne Ingman
- much to our delight - has been dropping her trousers in the gym again as she enters her final couple of weeks of preparation for the UKBFF Scottish Grand Prix at the end of the month. And it's led to her having a bit of a dilemma.
To tuck or not to tuck,
she writes.
That is the question...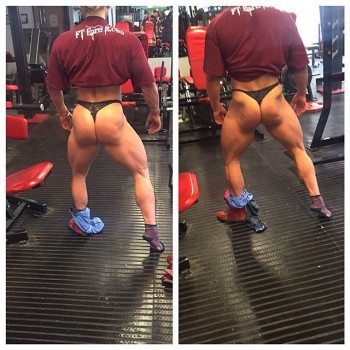 Corinne says she has
spent the year really focussing on squats and deads and the result has equated to big glutes.
Big
and
beautiful, I would say. And she was still three weeks out when the pic was taken.
Lots more time to reduce body fat until the lines are fully through,
she says. Now that's a mouth-watering prospect, tucked or untucked!
Follow Corinne in her final two weeks of prep on
her Instagram
.
Enjoy!