Results and pictures should be in now. Have you checked? I wonder who won...
It's a funny thing writing posts in a time warp.
DISBELIEF?
Right now, ie. as you read this, I am somewhere like this. Minus the muscle goddess. There may well be a dude rubbing his eyes in the pool though. Rubbing his eyes and thinking to himself "Can that guy over there really be that pasty? His skin is acting like a prism. I may be blind!" As opposed to this guy here who is clearly rubbing his eyes and thinking to himself "
Susanna Tirpak
?! Tell me I'm not dreaming..."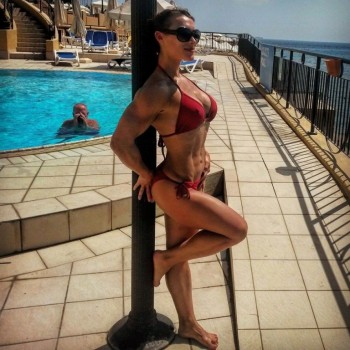 If he's not careful, he could go blind.
Susanna on
Facebook
,
Instagram
, and
blond and in Madrid
.
Enjoy!