Back in May 2012
, we asked our readers to choose a "Fantasy Contest" line-up.
Imagine you could have a female bodybuilding contest where all the competitors were your favourites, and they would be at their absolute peak irrespective of the era they actually competed in. Kind of like Bill and Ted, you have a time machine and you can travel back and forth in time collecting your favourite FBBs for your dream show.
There was no time limit attached to the voting, so while over the weeks and months that followed we posted the choices of the several readers who bothered to get in touch, we've never had any final count to establish the ultimate line-up. Until now.
As I mentioned last Friday, this weekend's offerings represent something of a statistical watershed for the blog, posts #999 and #1,000. And so, to mark
FMS
' final 3-digit post, and to finally draw a line under what was (until we came up with the idea for the
Hot and Hard 100
anyway) our most successful attempt to get our fellow female muscle heads involved in what appears on
FMS
, it is with no little pride that we bring you, AT LAST, the women who make up our collective
Fantasy Contest Top Ten
.
Happily for me, my two all-time favourites have made the list, but in many ways the line-up is as interesting for who is
not
in it as who is. There's not a single Ms Olympia or Ms International winner (no Iris, no Lenda, no Yaxeni) although two of the line-up have NABBA World titles, and another was a Jan Tana Pro winner.
There are two women from Europe, two from Canada, and six from the US. Two of them have already competed and won in 2015, and another will be competing for the first time this year at the Tampa Pro today. One, sadly I think, is still active but now competes in the WPD rather than as a bodybuilder, and another hasn't retired as such, but isn't expected to take the stage again until 2016.
The vast majority of the women on the list were at their peak during the first decade of the 21st century, so despite all the stuff that is said about the 1980s, it's fair to say that in fact the
noughties
represent, for
FMS
readers at least (or the readers we had in 2012 anyway) something of a "golden age" of female muscle.
But enough of my yakking. On with the fantasy show...!
We've had the prejudging, we've had the evening wear and strength rounds, and in the auditorium now the FMS-reading female muscle heads who were lucky enough to receive their complimentary tickets and who have only just finished cleaning themselves up after the routines await the finale of the ultimate female muscle show.

It's finals time. And the top ten are in the wings awaiting their introductions.

Our MC, Noel Edmonds, takes his place at the lectern to the right of the stage...
Ladies and gentlemen, the first of our finalists is a genuine goddess of female muscle. When she came on stage in the first round we had to call the paramedics for our head judge. She's on almost everybody's all-time list, and tonight she's appearing as she did when winning the NPC Nationals in 2004. Get that defibrillator charged up cos it looks like Swell's going to need it. From Texas, the state where everything is bigger and better... The legend, gorgeous, GINA, not Geena, DAVIS!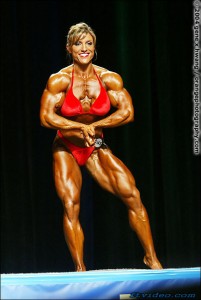 Gina
in motion
, and
on FMS
.
Deep breaths gentlemen, pace yourselves now, we've nine more to go. As you can see, reinforcements are being added to the stage so you KNOW something big this way comes... She's still competing and enjoying her most successful IFBB year ever in 2015, but tonight appearing in her gigantic, jaw-dropping turn of the millennium shape. And she's promised not to stop the most musculars till that top comes clean off... it's the Wonder from Down Under, CHRISTINE ENVALL!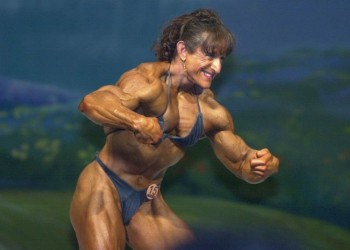 Christine
on FMS
.
And now, prepare to be amazed. Perhaps the super freakiest super freak of them all. Appearing tonight in her 2005 Canadian Nationals winning guise... From Montreal, Canada, yes that is a penoris you see before you and yes, she is pleased to see you, it's time to get exposed to the mighty muscles of COLLETTE GUIMOND!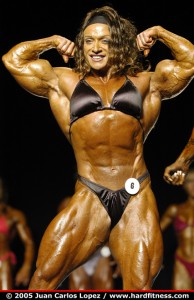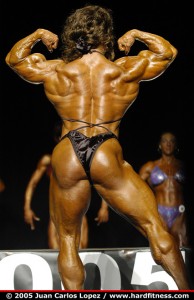 Collette
on FMS
.
And they keep on coming... She has shipped more WPW videos than any other woman. She's an irresistible combination of brawn and beauty. The Beach Boys might have wished they all could be Californian, but we wish they all could be like our next finalist. From Orange County, appearing in her 2000 Ms Olympia shape. Get your hands away from there and put them together if you can, and if you can't, just howl your appreciation for the baby-faced beef of hot hot hot DENISE HOSHOR!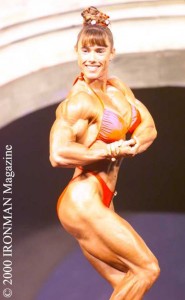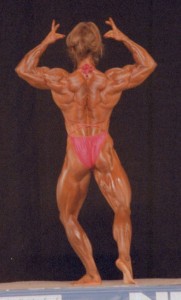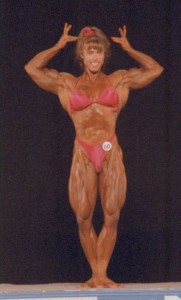 Denise
in motion
, and
on FMS
.
The fantasy continues, ladies and gentlemen, with the woman they now call Mrs Trevino. She's been an IFBB pro winner in 2015, but you voted for her as she was in 2003 when she made the Ms Olympia seeming to come from nowhere but actually coming from Brondby in Denmark to win the Jan Tana Pro Classic. Is it me or is it getting hell-e hot in here? What's that you say? It is? Well, that can only mean it's time to fall in love with those legs all over again. It's HELLE NIELSEN!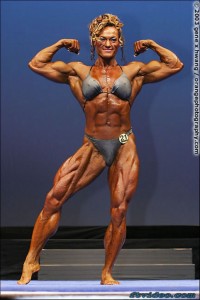 Helle
on FMS
.
And now, gentlemen, another muscle goddess we know you're going to be unable to contain your appreciation for. From the paradise of Hawaii, she has the face of an angel, muscles from heaven, and a V-taper that's truly cosmic. Appearing tonight in the shape and the red posing suit that somehow survived her pre-2000 routines. Gentlemen, start your engines and feel the power of PAULA SUZUKI!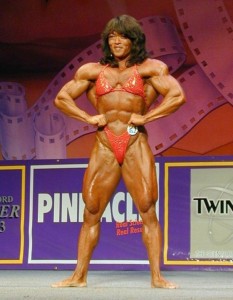 Four minutes of Paula in motion and interviewed
.
The last of our unplaced finalists has gone blond since you voted for her in 2012, and that's just one of the enhancements she has made to her female muscle fantasy physique. You know who I'm talking about, right? Well try not to blow it all before she actually starts... Appearing tonight in her own-the-show 2014 NPC USAs shape, there's absolutely no surname necessary. Prepare for that impossible neck-wrenching pec bounce. Prepare to be amazed... It's ALEESHA!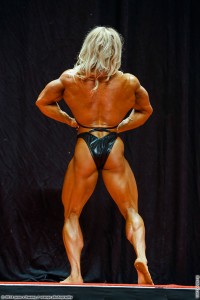 Aleesha
on FMS
.
Think it can't get any better than that? Think again! We now come to the top three. And in joint second place a woman who once had the female muscle world at her feet. She's now competing in the WPD... Settle down, settle down... But tonight, for one night only she's reprising her blow the competition away 2011 Canadian Nationals most muscular. From Repentigny in the province of Quebec, gentlemen, it's the fabulous fantasy muscle of FABIOLA BOULANGER!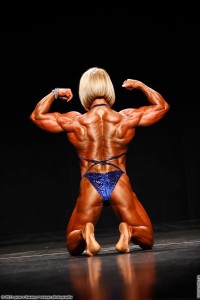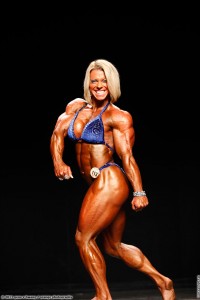 Fabi
on FMS
.
With exactly as may votes as Fabi, also in joint second place a woman who has been quickening the pulse for so long it was almost impossible for you to pick which version of her was your fantasy. In the end, the judges decided to pull a show out of the hat, and I'm very pleased to announce that she's appearing tonight braided as she was when she displayed her pure animal sexuality at the 2007 Ms Olympia. From the city of New Orleans, she's been turning us on for decades... here's TAZZIE!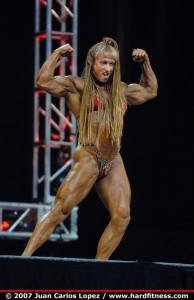 Tazzie in motion
in 1997
and
in 2002
, and
previously on FMS
.
And so to climax, to the winner of our contest, the goddess of goddesses, your female muscle fantasy of fantasies... She's been the uncrowned Queen for so long you wonder why they don't just give her the crown and get it over with. Statistics prove that there hasn't been a minute that has passed since 2011 when someone somewhere in the world hasn't been paying tribute to one of her pictures or video clips, and yes Annie, I'm looking at you! She's a former NABBA Worlds champion, but tonight we will see her at her 2012 Ms Olympia peak. Get ready to anoint her, from Romania, it's the breathtaking beauty and mind-bending muscle of... ALINA POPA!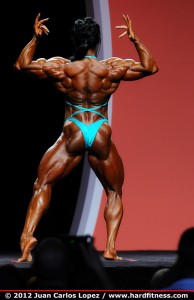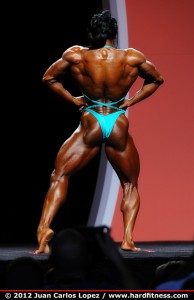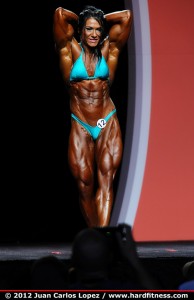 Alina
in motion
, and
previously on FMS
.
So there we are, after nearly three years and countless votes, your top ten all-time fantasy contest competitors. The first seven all got the same number of votes, Fabi and Tazzie tied for second, and Alina won by a landslide. Well, it was 2012, after all.
As far as the pics are concerned, I've tried, wherever possible, to find images from a particular show, but as you can probably guess, the further back I went, the harder it became to source them, so apologies to the more anal among you if I have described the wrong contest for the images I have chosen. I did my best!
Thanks to all the voters and special thanks to Noel.
Tune in tomorrow for post #1,000 and a treat you will NOT want to miss.
Enjoy!