NICE WORK IF YOU CAN GET IT
So, you want me backstage in the pump room?

That's correct. Get in real close.

Er... Sure. I can do that.

Wait! Take some of these before you go in.

What? What are they?

They'll stop you shaking, kid.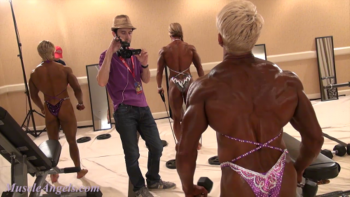 If I'm not mistaken, this lucky fella is getting in close on the incredible
Kahla Bullemor
, and this was the backstage at the Tampa Pro last year. There's some terrific footage of Kahla on stage
here
(comparisons) and
here
(posedown and awards).
Enjoy!