What's happening right now is a lot of thinking has been going on and I have decided through every thought of my own that the look I have been training for is no longer for me and it's been a long time coming to realise that it's just not what I want anymore... I'm not saying muscle can't be feminine etc. but I'm going for a smaller look now, I love the above picture
[of Graceyanne Barbosa]
(I'm no where blessed with the genetics of @graoficial) but I would love a shape like this and I will in time... As for comps they're not my life at all there is by far so many other things important in life right now to me I'm only young and I want to make a good life for myself, lot of things I want to learn! As much as I love training and I will never give it up time to put the breaks on and realise that I am no longer willing to do the things to stay this size or get bigger but this makes me happy that I have realised this, enjoy life do what you love! I won't be putting off events in my life because of the sport not that you have to at all but the whole strictness of it isn't appealing anymore it's all about enjoyment and looking at yourself and feeling proud and happy x
Georgina McConnell
,
Instagram
14th August 2015
It's not every 21-year-old who could announce a major life change and have so many people from all over the world - many of them complete strangers to her - putting in their two pennyworth on the subject, but that's what happened when Georgina posted the above. I'm not going to add to the general teeth-gnashing (and borderline idiocy) that Georgina's news has prompted on the femuscle fan forums, but instead I'd like to take this opportunity to celebrate this remarkable young woman's achievements with some extracts from her story so far as reported with admiration right here on
FMS
...
FBBUK: GEORGINA McCONNELL, FUTURE STAR
4th March 2013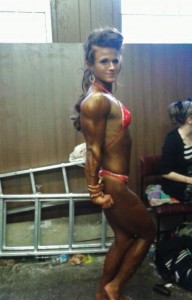 Georgina's competitive debut, NABBA North 2012
She must be the biggest (and hottest) 18-year-old FBB on this planet at the moment…
Not my words, but the words of a fan on a forum board devoted to the (now) 19-year-old female bodybuilder from Houghton-le-Spring, Tyne and Wear (which for non-UK readers, and UK readers with a tenuous grasp of geography, is in the north-east of England). Georgina is a student of Sports Science and, in her own words has simply "always wanted to do this". Her goal from the start - she began lifting at 14 - was to compete, and four years later she achieved that, finishing a precocious 2nd at the NABBA North Championships aged just 18, and as a result found a sponsor.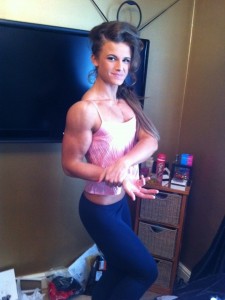 She has laid some serious foundations onto her physique with the help of her trainer Lee Casey (who is a successful UKBFF athlete himself), she already has competition experience, sponsors, and an internet fanbase that most other British amateur female bodybuilders can only dream of.
It's looking good,
she says. Indeed it is.
FBBUK: HAWAY THE LASS!
25th July 2013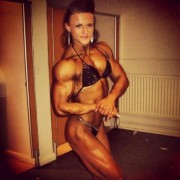 NOW THIS WILL SHOCK YOU!
screamed the headline on the 'Muscle Scene' page in the UK print edition of Muscular Development magazine under the picture of
FMS
' favourite teen muscle sensation,
Georgina McConnell
.
You'll be no doubt thinking "Yeah, she's pretty good",
continues the piece.
Well, prepare yourself,
it says.
She's only 19 years old! I jest not!
It continues.
I am rarely ever this stunned by raw new talent like this lady. Holy crap, I gotta say it again - 19 YEARS OLD!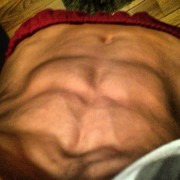 The piece in Muscular Development was accompanied by pics of Georgina from the NABBA North show in May, where Georgina came in second in the Trained Figure class, the same placing as she had achieved in the same contest last year on her competitive debut. You might think this repeat could mean she hasn't progressed, but wait, this time the NABBA show wasn't actually the show she was preparing for. She took to the stage for that show actually four weeks shy of her contest shape. The NABBA show was just a prelude, a practice run. The show that Georgina was in fact preparing for took place at the start of June, the UKBFF North, where she competed in the Physique class. Did she win? Oh yes, you bet she won. And gained some more mainstream muscle media exposure, this time from the UK edition of Flex Online.
Star of the day was Georgina McConnell, a UKBFF newcomer, who at only 19-years-old won another quality women's physique class,
they reported.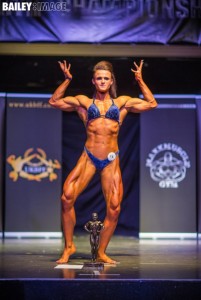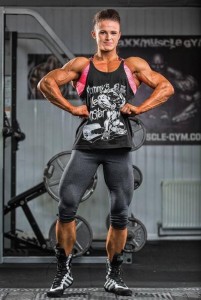 WHAT'S (BEEN) GOING ON: GEORGINA AND ME
7th September 2013
We are delighted to bring you the news that in the last week, Georgina has been all over the media. And not just in Britain. Georgina has 'gone global'. If they haven't heard about her yet in Peru or Bhutan, Mauritius or the Solomon Islands, they soon will.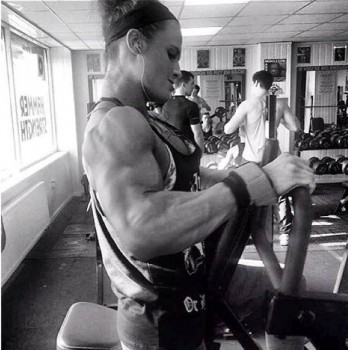 So where does the 'Me' in the 'Georgina and Me' fit in?
You probably aren't very curious, but just in case you were wondering, firstly, a little of the Georgina's media stardust has inadvertently fallen onto
FMS
courtesy of the New York Daily News. This is obviously a publication with somewhat higher journalistic standards than the majority of the world's media. Not content with reproducing The Daily Mail's [original] article verbatim, as so many other websites did, Daily News journalist Victoria Taylor actually did a bit of research and found
FMS
' previous articles on Georgina, then linked them in the article under the (slightly misleading) name 'bodybuilding blogs'. Cue a massive hike in visits to my little blog.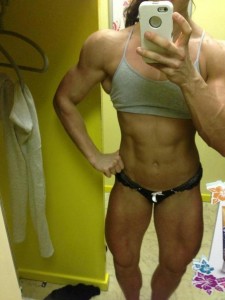 Secondly, Georgina herself has read and commented on our previous article about her on Twitter. And although she must have read it on Amazons World rather than direct from source, honestly, I don't care where she read it. The fact that she liked it enough to bother to tweet, the fact that she called it 'awesome'... that, dear reader, is just like getting a big wet (albeit virtual) kiss from the muscle goddess herself.
CONTEST OF THE DAY: UKBFF BRITISH I
7th November 2013
FMS
had been whipping themselves (and attempting to whip readers) into a frenzy of anticipation over teenage female muscle sensation
Georgina McConnell
's appearance at Harrogate for months now. However, we waited in vain for her name to appear even once on Rosie [Harte play-by-play]'s commentary. But Georgina herself cleared up the mystery as to why that was almost immediately. The day after the contest, she posted this to her Instagram, bemoaning her body's lack of timing:
Aye just full up now! Not show day tho stupid body.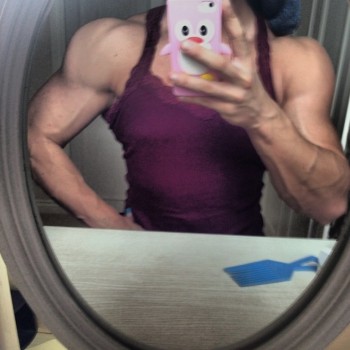 It's comforting to know that Georgina isn't too disappointed by her experience, and it is very exciting that she is still determined to 'get hyoooge' as she puts it. At the time of writing, Georgina says she's
Getting massive n fat n stuff,
and her most recent Instagram post suggests that the 'massive' part is true, anyway.
WOMEN OF THE YEAR
27th December 2013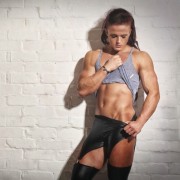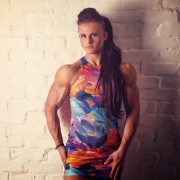 How could Georgina
not
be one of
FMS
' Women of the Year? We've written as much about the teenage (not for much longer) sensation from the north-east as about any other woman this year. Granted, our most recent post concerning Georgina didn't bring the greatest of news, as we reported her disappointment at (what she called) her 'stupid body' not exactly showing itself off at its best for the day of the UKBFF British Championships. However, even then there was no little optimism from our growin' lass, as she vowed to focus on getting 'hyooooge'.
And why wouldn't she be optimistic? Here she is, 'three and a bit years' from her starting point. Imagine the damage she is going to be doing to female bodybuilding stages (if there are any, that is) in another three and a bit!
PIC OF THE WEEK
26th March 2014
It's nearly the end of March already and we haven't had a single pic of British teen bodybuilding phenom
Georgina McConnell
on
FMS
this year. Well, it's high time we did something about that, don't you think? Wonder what she's been up to...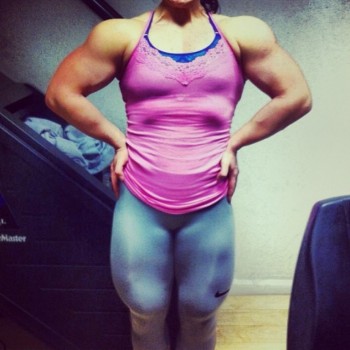 Ah, I see. She's been GROWING!
198lbs (which is over 14st, or about 90kg) and counting, according to Georgina.
BACK IS BEAUTIFUL: FREAKY FANTASY FAVOURITES
4th April 2014
Yep, I'm calling freaky on
Georgina McConnell
. Not because her back is freaky like Freitas-freaky (although if she keeps going as she has until now, that is going to be a very real possibility at some stage), but rather because of her incredible development for her age. The biggest and best 19-year-old back on the planet. Word.
MUSCLE IN A DRESS OF THE DAY: SELFIES
3rd July 2014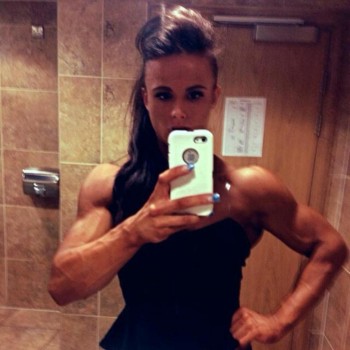 Georgina. So beautiful, so lean, so tanned, so vascular. Glammed up and ready to make all and sundry stop and stare.
Haway Georgina!
You gorgeous thing you, please don't make me beg for your permission to follow your Instagram (he pleaded). Haven't I always been utterly and hopelessly over-the-top in my compliments?
Haway!
AUGUST PICTURE POST: SEXY SELFIES
31st August 2014
Photo dated 21st August. Oh my!
HAWAY THE LASS! GEORGINA WINS AGAIN
29th September 2014
Delighted to report that while it was all going down at the Olympia in Las Vegas,
FMS
' favourite 20-year-old from the north-east of England was winning the Women's Physique Division at the UKBFF North-West Championships in Leeds. In doing so, she qualified for what will be her second crack at the British Championships, which take place in a couple of weeks in Nottingham.
Congratulations Georgina!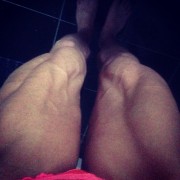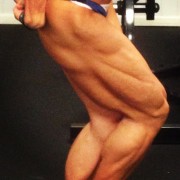 As the show approached, Georgina was clearly feeling her legs looked better than ever, posting selfie after selfie of ever more shredded pins on her Instagram. So many, in fact, that she actually felt the need to apologise (sort of) for the glut.
Sorry for all the leg pics,
she wrote in the week leading up to the show.
But look at me calve!!!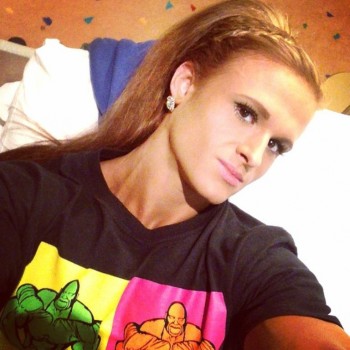 Freaky! And it seems those legs, along with the rest of this remarkable young woman, are providing inspiration to other bodybuilders male and female within and outside the UK. Georgina's had her problems with social media abuse in the past, but these days the messages of encouragement and admiration are all over her Instagram.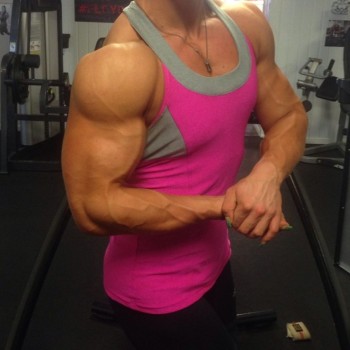 And since the contest, it's been back to work, getting a "crazy pump" on as she begins her preparation for the British Championships. Last year, regular readers may remember, that show didn't work out so well for her (see FMS passim). I get the feeling that this year she'll fare much much better in the biggest UK show there is.
And that - with the exception of a brief mention of her in a post entitled
On Beauty
- is where we left Georgina on
FMS
. Soon after her win at the UKBFF North-West, she finished 5th at the British Championships, a huge improvement on her 2013 showing both in terms of the package she brought to the stage and her placing.
Of course we've been following Georgina's adventures since then, watching both her continued muscular development and her increasing skill at baking. She has turned 21 now and has quite obviously blossomed in the last year or so from the teenager we first met in 2013 into a very self-assured and strikingly beautiful young woman. Whatever she decides to do next - and I wouldn't be at all surprised if it involved those baking skills - you wouldn't bet against Georgina making a success of it.
So, here I am, having just spent the best part of three hours putting this tribute together and not for a minute do I think that it wasn't time well spent. It's been rather nice looking back over what I've written about Georgina and reminding myself of just how much she has achieved so far. I can't think of another 21-year-old - not in the world of female muscle at least - who compares. I certainly can't think of another I'd spend two years (and the best part of three hours) writing about!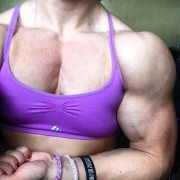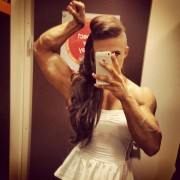 Enjoy!