Not, as you might expect, my own (latest) declaration of love for Shannon, Asha, Erica, Dani, Nicky, Melissa (Wee or Lesage) or any of the myriad examples of magnificent muscular womanhood featured on FMS, but rather a look at a selection of images from
Girls with Muscle
that have recently moved other female muscle heads to type (no doubt with just the one hand) the exact words "I'm in Love".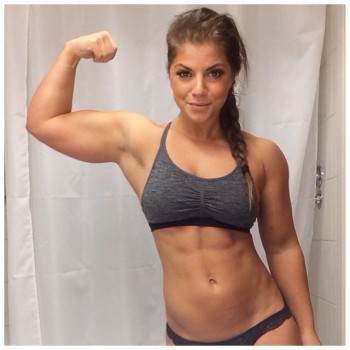 Images like this one of Swedish Bodyfitness beauty
Ida Bergfoth
- aka
"oidao" on Instagram
- flexing her unexpectedly (even suspiciously?) enormous arm.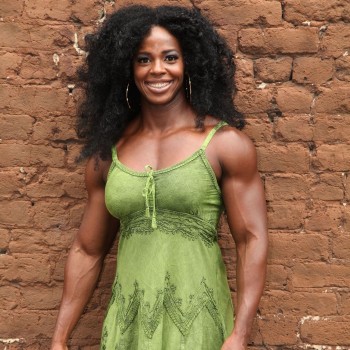 And this one of Physique champ
Susan Smith
which, as well as attracting declarations (plural) of love, has also attracted offers (yes, plural) of marriage, and even a lengthy quotation of a Commodores lyric!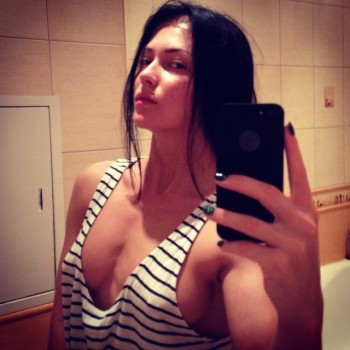 A very different, but, it seems, equally enamouring shade of muscular beauty is provided here by Russian make-up artist and Crossfitter
Harvi Monroe
- aka
Harvi Don't Stop on vk
.
Near the top of my lust list,
says one fan with "a bit of a thing for Goth girls". I'm sure Harvi is very proud to have made that list...
Fitness instructor, model, personal training business owner and soon-to-be Figure competitor
Sarah Varno
is one of the few women brave enough to actually venture to make a comment about the comments about her on
GWM
. But once she'd complained that she gets "better feedback
on Instagram
" an avalanche of compliments about her triceps, choice of outfit, and all-round loveliness appeared under this pic.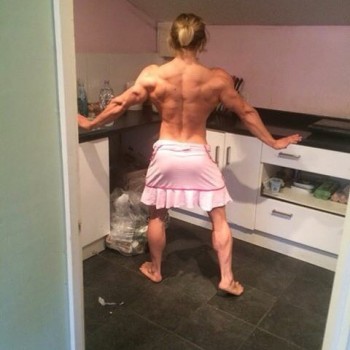 Britain's most shredded and
FMS fave Corinne Ingman
made a few muscle-in-the-kitchen fantasies come to life with this ravishing image of her hot and hard back. Corinne's plans for 2016 apparently include "lots and lots of squatting". Nice.
Don't have much info about Korean stunner
Lee Ye-rin
, but I do know she's (unsurprisingly) got a lot of love on
GWM
and elsewhere on the forums. And I also found (and loved)
this sweet clip of her from Muscle & Fitness Korea
.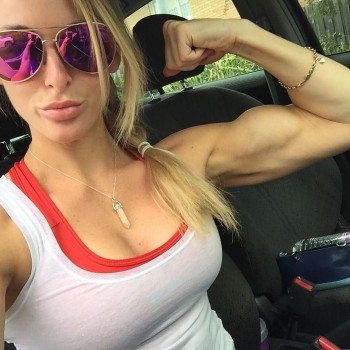 Familiar? She should be. This very pic of WBFF Fitness stunner
Melissa Le Man
featured
here on FMS
during our week of female muscle and cars. Is this how images achieve "iconic" status - getting posted again and again by lazy bloggers?!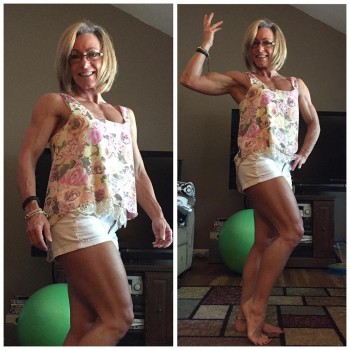 Now here's someone new. "Kathleen", as she is identified, appears to have all the female muscle next door credentials, and proves - as if proof were necessary - that you don't need to be famous to get big love from the female muscle brethren.
Being big helps though. Size, it appears, really does matter! This is Swedish Amazon
Emelie Fredriksson
and yes, that shaker is a normal size - it just looks tiny because she's holding it. You can see more apparent optical illusions on
Emelie's Instagram
.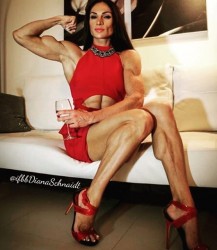 And we finish our first installment of our
GWM
Love survey with the magnificently massive
Jessica Sestrem
, and the divine definition of
Diana Schnaidt
.
We shall be swooning some more later in the week.