Following on from
Tuesday's post
, here's our second and final selection of recent-ish images that have moved
Girls with Muscle
members to declare their feelings of
amour
.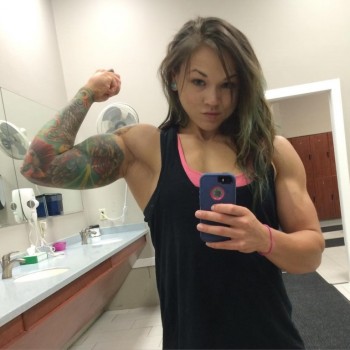 Physique competitor
Mallory Malcolm
is nothing if not honest.
Three years ago I was a mess,
she says,
and really I am still a mess but at peace with it. And,
she adds with obvious and understandable pride,
with way bigger muscles.
And here's
yet another
Aussie stunner to add to the ever-growing list of, er, Aussie stunners. Brisbane's
Jessica McPhee
can ride my elevator any day
[enough! - ed.]
Just saying what everyone else is thinking...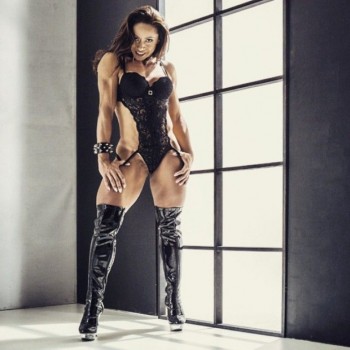 Point taken though. It's much more fun to imagine what (for example) Brazilian muscle
bomba
Angelica Teodoro
feels about being such a stone cold sexy Brazilian muscle
bomba
than to imagine what the rest of us are feeling about her. For one thing, we are kind of predictable, although having said that, I doubt she's thinking she can't wait to get that ridiculous outfit off and put her baggy sweats back on. Just look at that smile!
As noted yesterday, a well-known name (and body) doesn't necessarily guarantee getting love from the GWM brethren, but there are some familiar faces such as those above and below.Gorgeous
Alicia Coates
(above left) is still - as far as I know - the only Figure competitor to have
flexed her biceps on the Olympia stage
during the show, so we haven't forgotten her even though she's sadly been MIA for a while. And on Alicia's right is the muscle beauty we dubbed our new St Valentina - "St Valentina the Sadist" herself,
Valentina Mishina
(see
previously on FMS
).
More heat from Down Under, this time in the shredded shape of Taylor Smith (also
previously seen on FMS
).
I think shes perfect,
says one fan who, like many of us, has given up completely when it comes to attempting one-handed apostrophes.
Natural bodybuilder and mother-of-two
Sharlene Franken
is
on Instagram
. You'll have to request a follow, but she promises that - if admitted - you can expect nothing but pics of her doing the things she loves, which are (not unusually for a bodybuilder natural or otherwise) "eating and working out". And judging by the evidence here, a little close-up flexing too. My request is currently "pending". Come on Sharlene!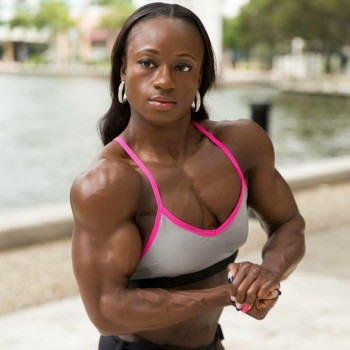 When you pick yourself up off the floor, you might be brave enough to handle a little more
Chareece Moore
. You might be curious, for example, how she looks in American Apparel disco pants. If so, head over to
her YouTube channel
. Seriously! You won't be left wondering about that, I promise. And nor do you need to request a follow on
her IG
, you get to go straight to the muscle sexy. Enjoy!
You scream, I scream...
I am here,
says stunning Physique competitor
Katie Lee
,
to motivate and inspire young women that they can be muscular, strong and still be feminine!
And they can have ice cream as well.
Those peaks don't lie,
notes one fan. Must be true then!
What is
definitely
true is that chunky muscle Dane
Mia Sand
is - currently -
GWM
fans' Most Loved. The four pics here are just some of the many of Mia to have attracted "I'm in Love" comments (with or without apostrophes and other punctuation).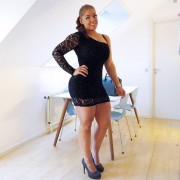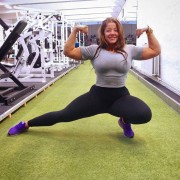 Guess
GWM
fans just want to fall for the GND...
If only more of them had assets like Mia!
Enjoy!