The thickness and definition in her tricep, just a hint of those glorious glutes - quite deliberate, I'm sure - and (and I'll be saying this a lot this week) those damn
LEGS
.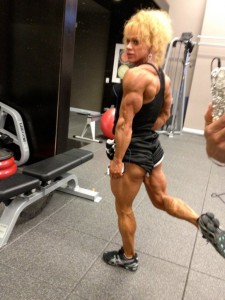 When she turns around and sees that absolutely every single pair of eyes in the gym are on her, she knows her back is as full, as thick and as freaky as she wants it to be!
And here's a little more of Cathy and her intoxicating muscles around her last ever appearance on stage at the 2013 Ms International. Eleven days out, to be exact.
Part 2
(a rather unsatisfying 41 seconds)
Part 3
(almost 10 minutes of interview)
Enjoy and
Go Fund Her
!