OK, this is it.

Today, we reveal the ten women FMS readers have voted the Hottest Hard women in the world in 2016. Did your favourite make the Top Ten? Is there a new #1?

Only one way to find out. Read on...
THE FMS
HOT AND HARD 100
10
MELISSA WEE
#72

NPC Physique Competitor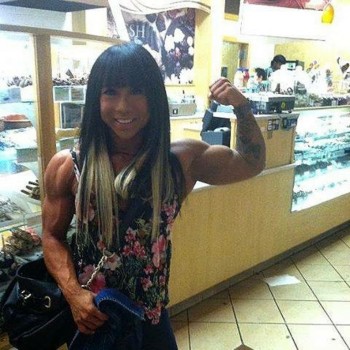 One of two massive risers in our
Hot and Hard 100
top 10 this year, Singapore's God-fearing Physique phenomenon
Melissa Wee
becomes the highest-placed Asian woman in our countdown at #10.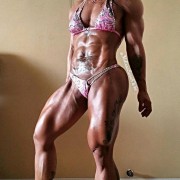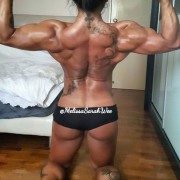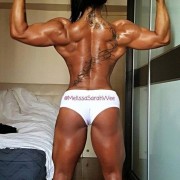 So Melissa, those string bikinis showing of all your tight, muscular flesh. Those topless back flexing shots, sweat dripping, collecting in shiny little pools in those muscle separations. Close-ups of your rock hard abs, the sweat and the veins running down into your tiny bikini bottoms.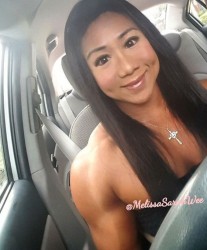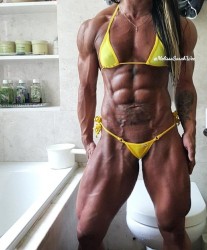 And then there are those dresses, the ones you can see your hard, sexy abs through, others cut so low every tan line on your hard pecs is on show. And you wear them to church on Sundays, and to prayer group (on Thursdays I believe). What world is this that you live in? Where is this world where gorgeous tanned young women with muscles wear outfits that leave nothing to the imagination to go and worship the Lord?!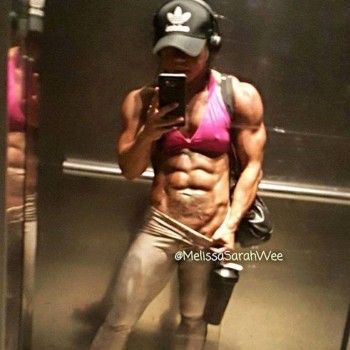 It simply does not compute, as they say. Not for me anyway. But that certainly hasn't stopped me enjoying Melissa as much as the next female muscle lovin' man over the last twelve months and, indeed, for some time before that. And I dare say I'll keep on enjoying her long into the future, no doubt none the wiser about this world of hers, a world where church and temptation co-exist. The world of
Melissa Wee
.
9
ERICA BLOCKMAN
#68

IFBB Physique Pro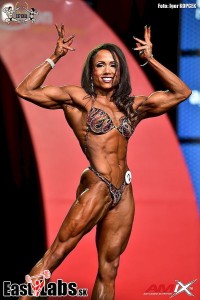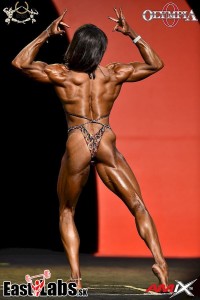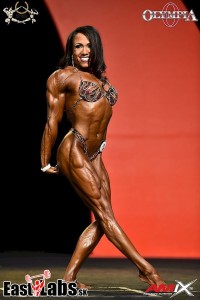 Now I pay a fair bit of attention to how Erica is getting on, and I reckon that when she stepped onto the stage at the Olympia, she looked better than ever by some distance. And felt it. Qualifying on points rather than by winning an event hardly indicated she would finish as high as 8th. But she did, and I reckon she looked good enough to have merited 6th or even 5th place.
(
FMS, 05/10/15
)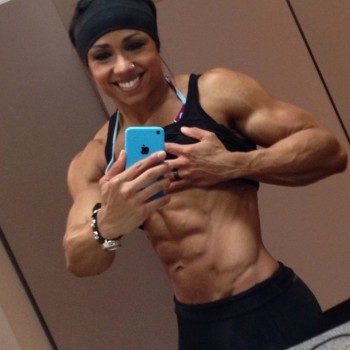 OK, my assessment of Erica's performance at her first Olympia may have been somewhat biased, but her rise a full 58 places up our list and into the top 10 suggests I am not alone in my regard - let's say "regard" - for the World's Sexiest Firefighter (and that is a title there is a fair bit of competition for).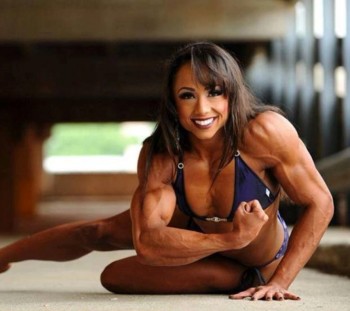 Some prefer the "softer" side of Erica, the so-called glamour shots - dresses, soft focus, hair and make-up pristine. Others those big, beautiful biceps. And still others think there's nothing sexier than this muscle woman garbed in her full fire-fighting uniform (perhaps doing chin-ups). Imagine how sweaty she gets! Imagine what she wears underneath all that!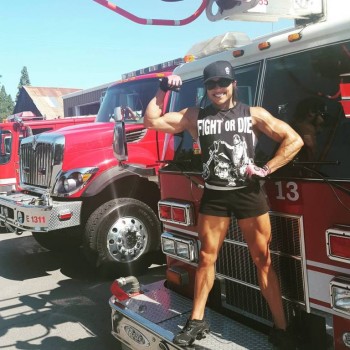 OK, I may have stepped beyond the bounds of what might be classified as "regard" there. Check out that clip of Erica's
Fire Station Workout
and tell me you're not imagining those things.
Watch her pumping up her biceps for HerBiceps
as well, why don't you?
Watch her sizzle so hard
the promoters of the San Jose Pro nearly had to call out Erica's colleagues to put out her fire. And if you've still got anything left, check
this
out. Enjoy yourself. #8's not going anywhere. Spend some quality time with #9 first.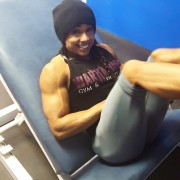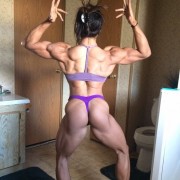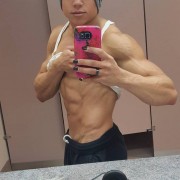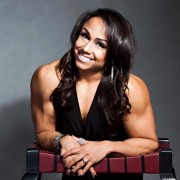 8
MAVI GIOIA
#7

NPC Physique Competitor, Fitness Model, Businesswoman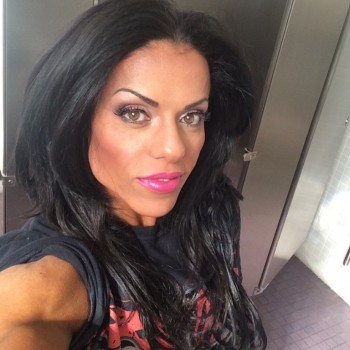 Once again
Ma
ria
Vi
ncenza
Gioia
finds herself in the top 10. She's still got that face, she's still got that body. And, I think crucially, she's never forgotten how to show it off, even if these days it's usually via her phone rather than through a pro photographer's lens.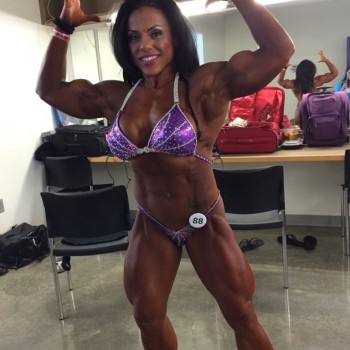 Blink and you missed it, but Mavi did compete in 2015, at the NPC Dennis James Classic in Arizona (of all places), where "Bodybuilding's Bella Donna" came 3rd.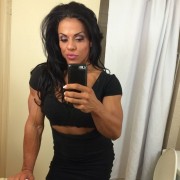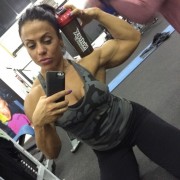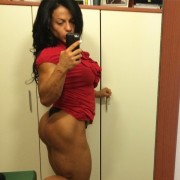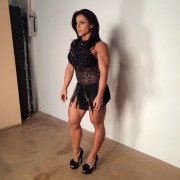 So beautiful, so sexy, a dream woman,
wrote one fan on
Mavi's Instagram
after the show, pretty much summing up most female muscle fans feelings about her, in her Physique present as much as in her "Bodybuilding" past.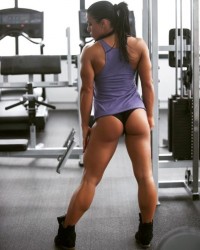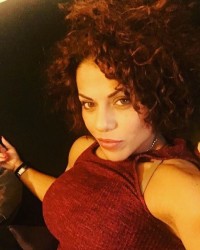 She'll be 39 in August this year, 40 next. And the words of one fan some years ago still hold very true.
She could sign any contract for any endorsements and represent a company with beauty and grace.
And that's exactly what she'll continue to do.
7
SHANNON COURTNEY
#1

Spartan Racer, IFBB Pro Bodybuilder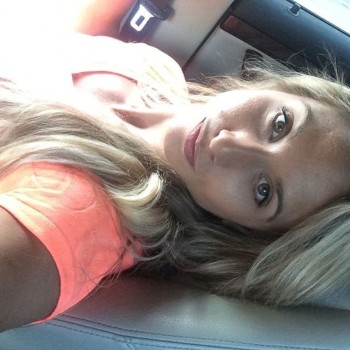 #2 behind Alina in 2014,
victorious in a titanic battle with Aleesha to become The Hottest Hard Woman in the World last year
, Shannon is still my own personal #1, but her absence from "Bodybuilding" has just gone on too long for many readers it seems.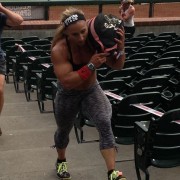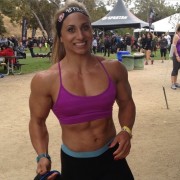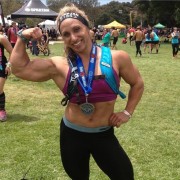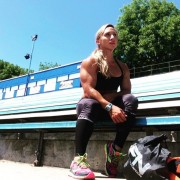 I've enjoyed my year with Shannon almost as much as a year in which she's been doing the Bodybuilding thing. As we noted
on FMS in August
, she has been participating in Spartan Races. Different training, sure, but training nonetheless, and those muscles haven't lost their power to wow me for one (see
Pic of the Week, 30th May
).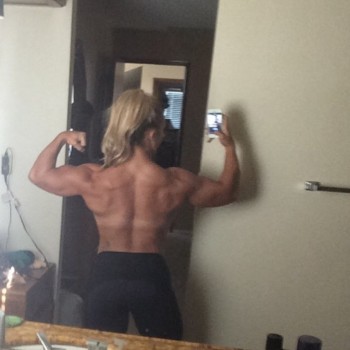 Plus, much of that training was outside in the California sunshine, so Shannon's been all tan all the time as well. And sweaty as hell a lot of the time too... Look, I don't mean to tell anyone they were wrong to withdraw a vote for her, but that's what I appear to be doing!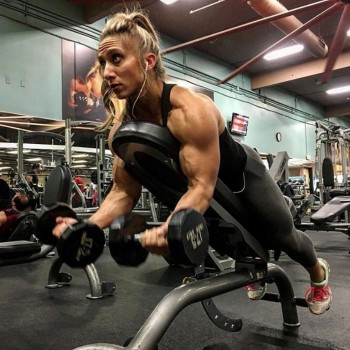 Anyway, whisper it, but look... she's back in the gym lifting very large things over and over again. I don't want to speak too soon, but maybe, just maybe, she's had her break and she's going to rejoin the Bodybuilding game, refreshed, hungry, and bigger and stronger than ever. That's my fervent prayer anyway. Fingers crossed!
6
ALINA POPA
#5

IFBB Pro Bodybuilder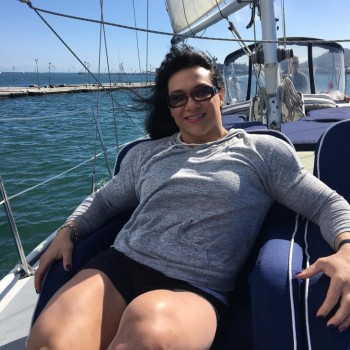 And talking of comebacks...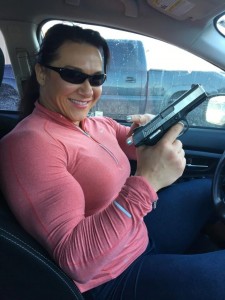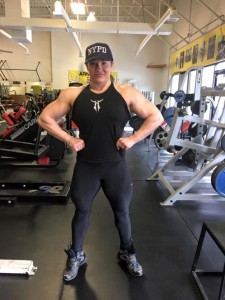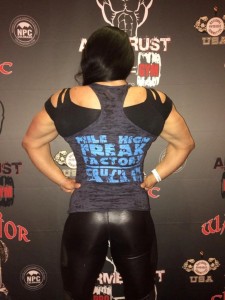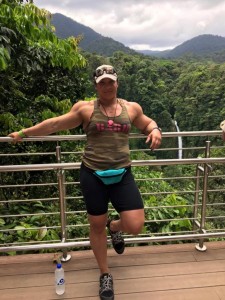 We've heard more in the last year - the last couple of years in fact - about Alina the Trainer than Alina the Pro Bodybuilder. She's helped
Lisa Cross
to her first pro win.
Ariel Gail
is staying with Bodybuilding, and with Alina she's doing the "hardest work I've ever done in my life". As well as these "names" there are countless others up in the Rockies working towards amateur shows and bigger and better muscles under Alina's tutelage, and she features many of them on
her Instagram
.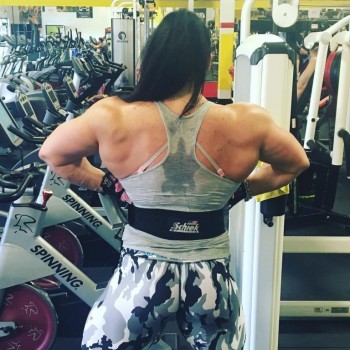 I cannot stress enough the importance of a good trainer who can push you for those extra few reps every set,
she says. She could be talking about herself, but she's actually talking about her trainer, the erstwhile Mr Policky, Dylan Armburst. And those extra reps are going towards Alina's return this season. And it may be early to be calling it, but it looks to me like those extra reps are paying off. She looks massive!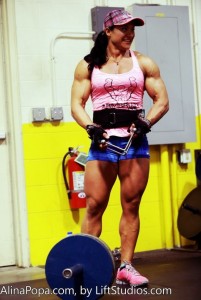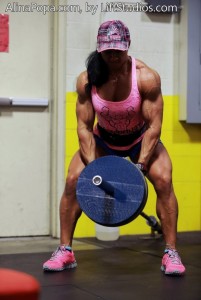 The world of sport is littered with top athletes who were "never quite the same" after they returned from an injury setback. But then again there are those few who come back even better. I wouldn't bet against Alina being one of the latter.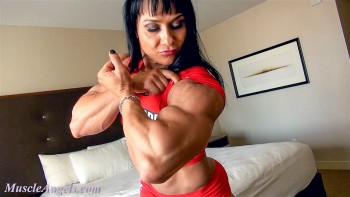 5
ELENA OANA HREAPCA
#3

2015 Ms Hercules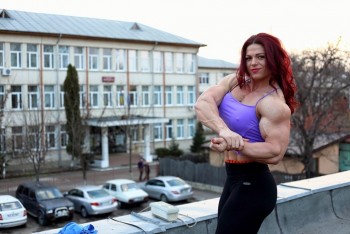 For some years now our heroine has been doing shows in Europe of, shall we say, less than the highest profile. In 2015 she turned up at
the Essex-based Hercules show
and, as she always seems to do, won. But with fewer and fewer shows available for European FBBs, she's had no choice. But hang on,
Wings of Strength
may have just come up with yet another genius solution to this problem. And Elena is involved.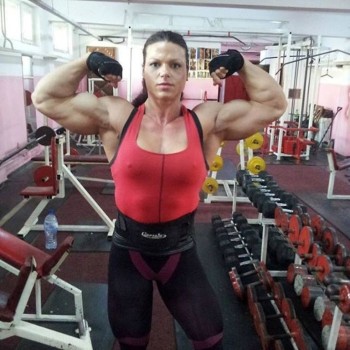 Rumours that she is "making her pro debut" at the Omaha Pro are close, but not correct. She will be there however, as guest poser. And she'll be looking better than ever.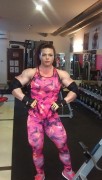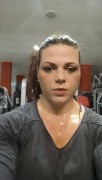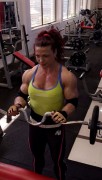 You don't have to take my word for it.
Alina
says so.
We are working together to get her in her best shape ever in an attempt to get more exposure for the judges to the European physiques. Hopefully this will eventually enable her to get a shot at a pro card, now that there are no more pro qualifying shows organized in Europe for female bodybuilders.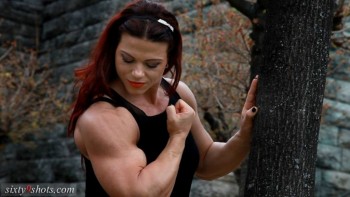 What a great idea, and what a great choice as a representative of "the European physiques". Elena's recent
"8 weeks out Abs" Facebook post
bodes very very well indeed.
Her forearms look ready already
. Exciting times for Elena's fans. Exciting times for Elena.
4
THERESA IVANCIK
#12

NPC Bodybuilder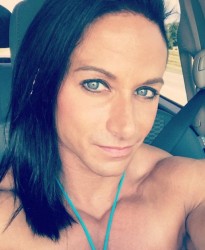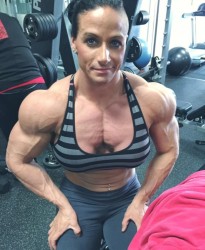 Recently on FMS
,
PumpItUp
was asking.
Theresa is... the Package! Highest new entry on the Hot and Hard 100 last year, at 12. Will she make the Top Ten this time?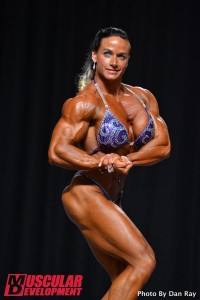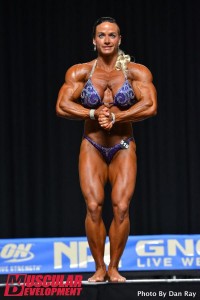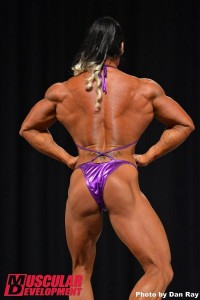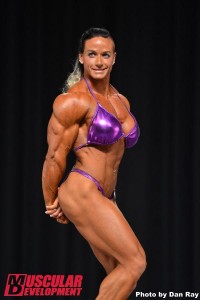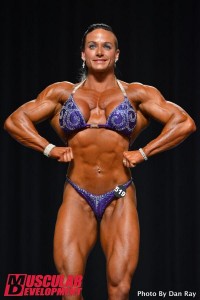 The answer is a resounding "Yes". Early voting, in fact, suggested Theresa might well finish even higher than she did. And it was zero surprise. She may have (once again) spent the year going from national level show to national level show not quite getting that pro card, but she's been doing nothing but winning with FMS fans and FMS writers alike.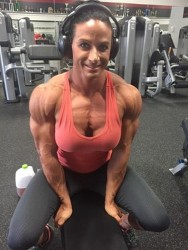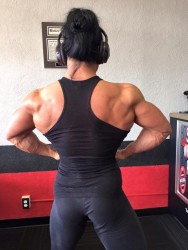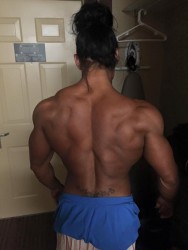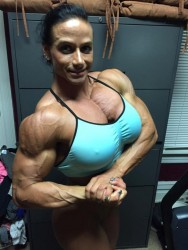 And advertising casting agents it seems, or at least the ones responsible for advertising
Mike's Smashed Apple Ale
, made with the help of a bow and arrow that brings back "the best of whatever you desire" (bear with me, it's how they get the best apples you see). When the weapon falls into the wrong hands, it's not one of the gym bunnies in the aerobics class the arrow brings back to him, it's the instructor - Theresa, "the best of whatever you desire". No argument here.
Some of the pictures of Theresa I've seen this year have knocked me sideways, quite frankly. Gym shots, selfies, glamour work with pro photographers, you name it, and she's nailed it. Like the man said, "the Package" with a capital "P".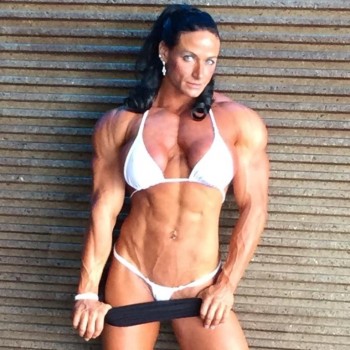 3
HELLE TREVINO
RE-ENTRY

2015 IFBB Chicago Pro Bodybuilding Champion
BOOM!
Helle's back in the
Hot and Hard 100
. And how. #67 in 2014, strangely absent from the list last year, she's our highest
RE-ENTRY
by a country mile and then some - the only other re-entry was way back at #100!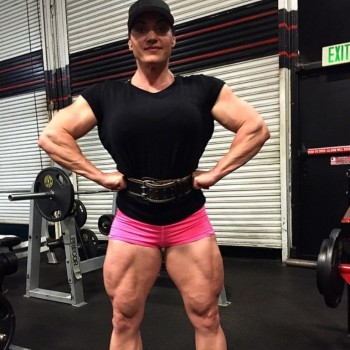 If 2015 hadn't been such a remarkable one for
Margie Martin
, we'd have been talking about Helle's Year. Since her return from major injury (and major surgery) in 2011, only a runner-up finish in Chicago in 2012 hinted at what she unleashed last year. A win in Chicago looking better than ever (and that is saying something because back in 2003 when she won the Jan Tana she was amazing) was followed up with 2nd at the Rising Phoenix.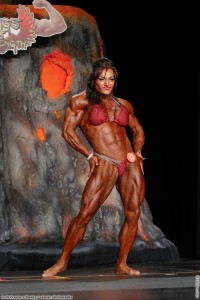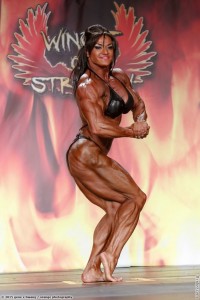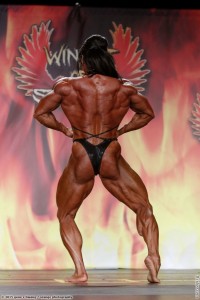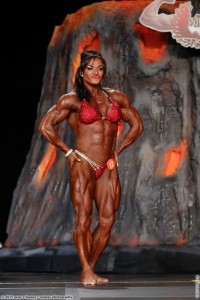 Suddenly she is the #2 FBB in the World. And she really looks the part. Size was never the problem, but now all the refinements she has made in both physique and styling since 2011 have come together to make one gloriously big and sizzling hot whole. And all oiled up and presented with radiant arrogance in the sexiest posing suits of the year. Little wonder fandom fell for Helle as badly as the judges did.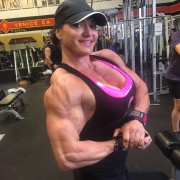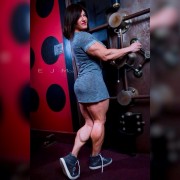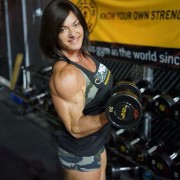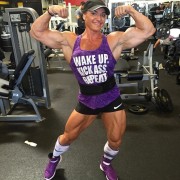 And just as Margie has stepped up to her new role, Helle is talking the talk and walking the walk as a top top FBB representing her sport.
A recent YouTube video in which she discusses The State of Female Bodybuilding
not only gives you an insight into the positivity the pros are feeling under the
Wings of Strength
regime, but will also have you questioning previously held ideas about how sexy a woman in a vest can look while doing nothing but talking.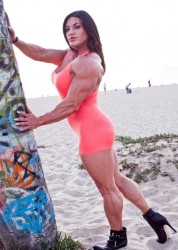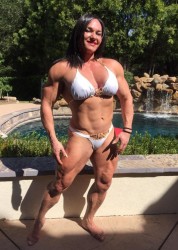 2
ALEESHA YOUNG
#2

IFBB Pro Bodybuilder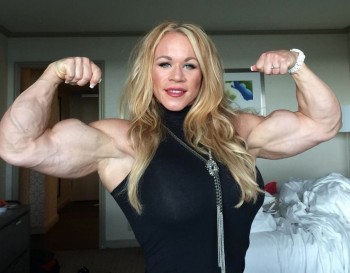 It's the bridesmaid position for Aleesha. Second by a just a single vote to
Shannon Courtney
in 2015, she was so nearly but not quite your #1 again...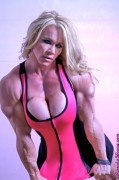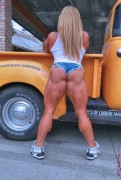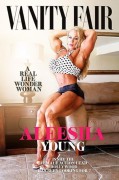 I expect I wasn't the only fan who hastily searched for recent issues of Vanity Fair just to be sure I wasn't looking at a real cover of the magazine. Fooled? Yes, a little, but I also wanted it to be true very very badly. Badly enough to suspend my disbelief and entertain the thought that the rest of the world was about to wake up to "A Real Life Wonder Woman" who I, and the rest of the brethren, had been following for years.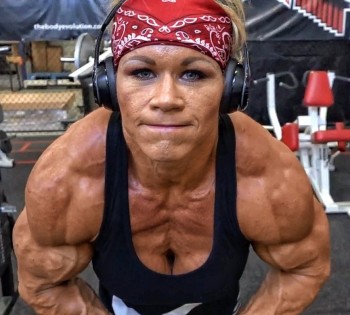 Seeing Aleesha develop her physique has been an amazing ride. With the changes she has made: hair color, hairstyle, "enhancements", and her gaining more mass I think she an awesome competitor. Saw her at the WOS Texas
[Rising Phoenix]
so beautiful, and so jaw-dropping. She deserves all of the admiration and praise that we give her.
Or, as one of our voters put it a little more succinctly than the forum poster quoted at length above,
Aleesha - where will the mass journey end?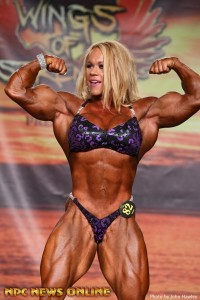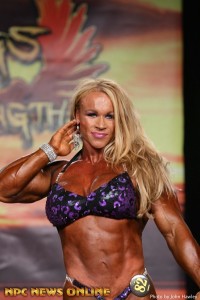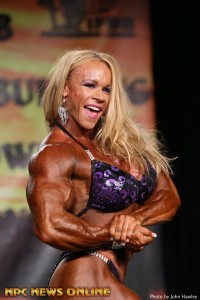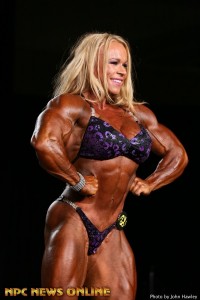 In 2015 we saw her compete twice. Size was not the issue, on both occasions she was an awesome sight, but her conditioning kept her out of the top places. News is that "the mass journey" won't end in 2016 though. The talk is that Aleesha - still recovering from recent surgery on her thyroid - is going to spend this year away from the stage, adding yet more size to her already eye-popping frame.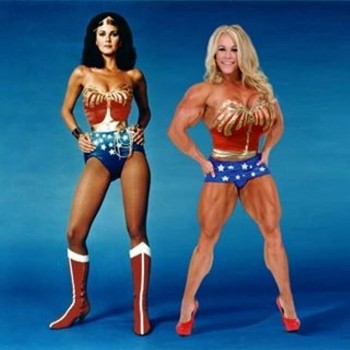 Unlike us fan boys, she's under no illusions about where her ultra-muscular, ultra-enhanced look is about to take her.
I never expect muscle to be "mainstream",
she says.
But different is good. Be your own Wonder Woman. Don't let society dictate it for you.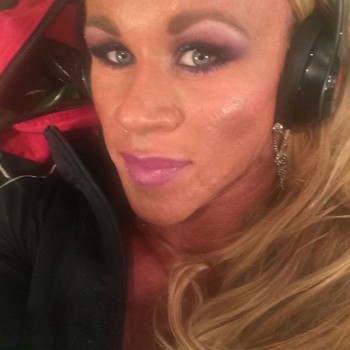 So, 99 women down, and one to go, your choice as the Hottest Hard woman in the World.
From Catalunya, the Winner of
The FMS Hot and Hard 100 2016
is...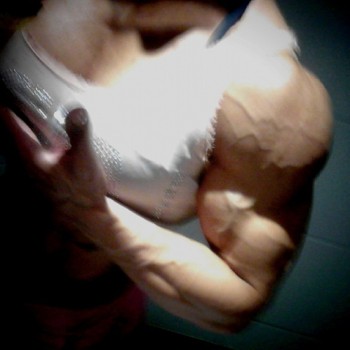 1
CRIS GOY ARELLANO
#24

IFBB Physique Competitor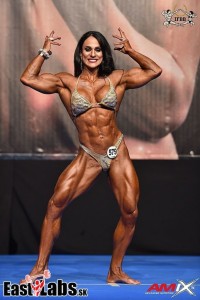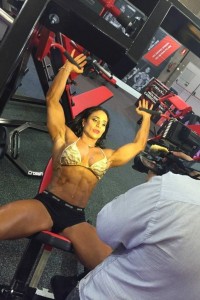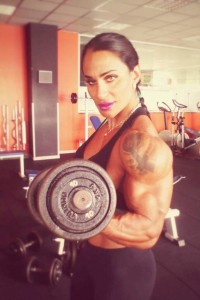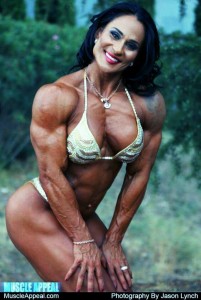 She has beguiled us here on FMS
in motion
,
in competition
, and
topless on the beach
.
I'm Your Fan
, I told her after she'd finished 4th at the IFBB Worlds. Obviously, I am not alone. From a high - but by no means the highest - new entry at #24 last year, Barcelona's
Cris Goy Arellano
had charged up the Hot and Hard 100 to become your, our, #1.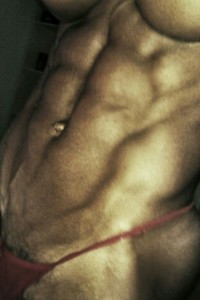 She was 4th at that World Championships - much to my annoyance - but a class winner at the EFBB Europeans earlier in the year. As with many of the more musclebound Physique competitors (whether competing in the US or elsewhere), her look gets less favour at some competitions, more at others. But female muscle heads are a lot more consistent than IFBB judges, and the musclebound Physique look is always a winner with us. Especially when it's packaged so beautifully.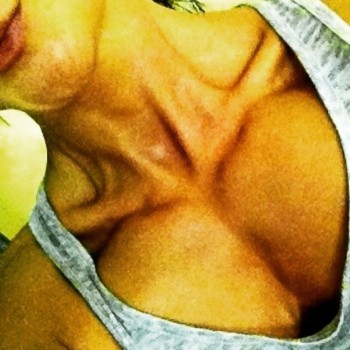 This woman is something else,
writes a forum poster whose take on Cris serves nicely as a summary of what we're all thinking.
That combo of the Latin complexion with probably the most beautiful eyes I've ever seen on a female bodybuilder, PLUS that physique. She is awesome and she deserves all the attention she's getting in Europe and beyond.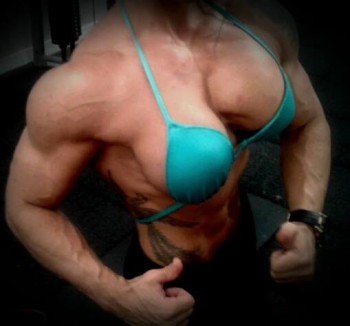 And I can confirm, from the location of our voters, that she has indeed got the attention of those "beyond" Europe as well as those inside it. Almost everyone who voted for more than one or two women voted for this beauty, and while curiously she didn't actually appear at the top of anyone's list, she appeared in the top 5 of around 75% of the reader-voters' who had her name down. She has both global and mass appeal.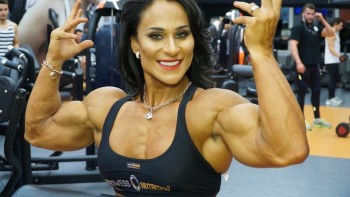 Let's celebrate and enjoy another Cris Double Biceps preview together, shall we?
So there she is, and there it is for another year.

A huge thank you to everyone who voted. Once again, what a list you have made!

I need a lie down. FMS will return to what passes for normality here soon.

6ft1swell