Last year, two women joined the (ever swelling) ranks of the professional Women's Physique Division. Both of their stories were featured on FMS, and, as is always the case with those women who we really do our research on and really get to know, they have a more special than most place in our hearts and minds. Coincidentally, both of them have elected to make their professional debuts at the Toronto Pro next weekend, and the similarities do not end there. Both are former Figure/Bodyfitness competitors who switched to Physique for the 2015 season. Neither of them has been defeated as a Physique competitor, they have won at least their class in every show they have done.
This fact doesn't necessarily make them among the favourites for the title in Toronto, and personally I have no idea who, apart from our two stars of the day, are competing. However, looking back at the winners and line-ups of previous shows in Toronto, you don't see too many of the biggest names in the WPD on the roll of honour -
Toni West
won in 2013,
Mindi O'Brien
in 2014, and
Cea Anna Kerr
(who has the best record in Toronto year on year) is the defending champion. So, yes, maybe the title is there for the taking by one of our on debut undefeated as amateur heroines.
Carly Thornton
, the first ever UK WPD pro. Winner of her class at the Arnold Amateur Europe just weeks after she had decided to leave Bodyfitness behind. Crowned the UKBFF British Physique champion in only her second show. Well-known, even in her pre-Physique days, for her on stage sass and her extreme vascularity. Her success has gained her
over 15,000 Instagram followers
, making her one of the most popular UK female competitors ever. And she's name-checked FMS on
her Twitter
!
Eleonora Dobrinina
, Ella, former WBFF Figure competitor whose category disappeared when she was mid-prep in early 2015. She won her first three regional Physique contests and then her class and her pro card at last year's Canadian Championships, picking up a Ms Freaky award along the way (hardly surprising given the extreme conditioning she has achieved for every single one of her WPD shows so far). A social media phenomenon, she buzzes with energy, bursts with emotion.
Today, we follow Carly and Ella's respective preparations over a month-long period from around the third week of April up till the time of writing. In their own words and with the images and clips they have posted along with those words they describe and illustrate their journeys towards the biggest show of their respective careers...
APRIL 22nd, 6 weeks out
Carly:
Defiantly more muscle on my glutes this year.
"Defiantly"? Did she mean "definitely"? Perhaps she was so busy looking at her muscle bunz she took her eye off what the predictive text was doing. But I kind of like the idea of those magnificent balls of muscle being "defiant"!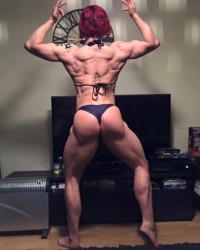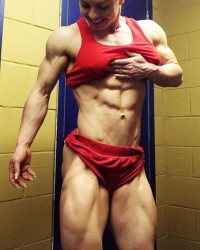 Ella:
Quad game on point!
APRIL 24th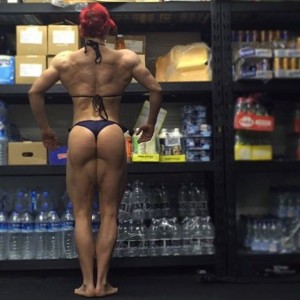 Carly:
5½ weeks till we fly to Toronto and I will be on stage on 4th & 5th of June. Time is flying and am getting excited and overwhelmed how quick it's coming round. I turned pro in October 2015 and have had 5 months to improve as much as I can, so I'm hoping I can bring a pro version to what I did when I was amateur.🏻🏻🏻🏻 I do what I do because I have passion and drive to be the best I can and I put all of my focus and energy into this. When you do it because you love what you do, you will always be better than before because you have that determination you need to carry on continually. 14 years on and my love for training has just increased and until it dies I will continue to be the best I can ever be.
APRIL 26th
Ella:
I think I reached next level of my physique, when striations on my serratus visible and popping out without even flexing!!! (Love elevator lighting!)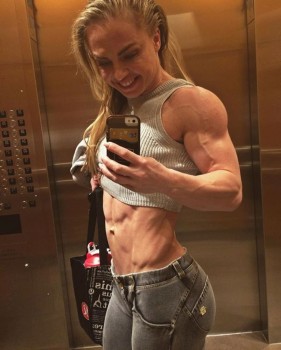 And two days later Ella posts
an abs flexing clip
-
Lots of you keep asking me about abs video flexing. I can flex every damn day, so here it is! CORE FLEX PARTY!
MAY 2nd
Carly:
Triceps have improved this year, which is another area I focused on bringing up.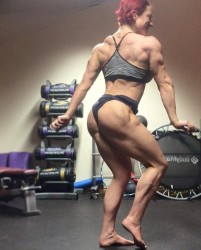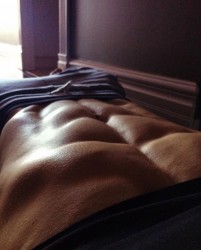 Ella:
Starting the week from this view!!!
MAY 4th
Carly:
Am I ripped yet?
And along with this incredible image,
a short clip of her "pinch test"
for bodyfat.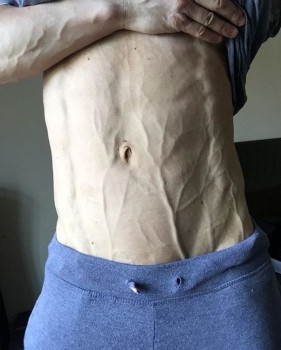 Ella:
I'm just killing it as if there is no tomorrow!!!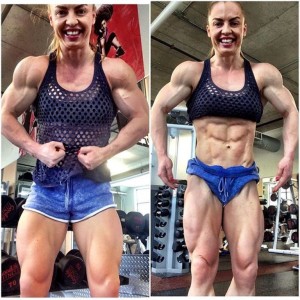 MAY 5th
Carly:
I don't count sheep, I do quarter turns in my sleep. I don't think I could have gone through my routine any more times in my head while trying to sleep last night. It runs through my head like crazy coming up to a show.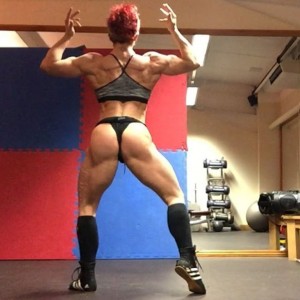 Ella posts
a glute flexing clip
.
I am very happy with what I see!
she says.
MAY 6th - 7th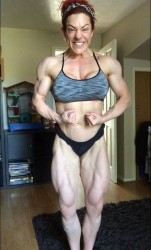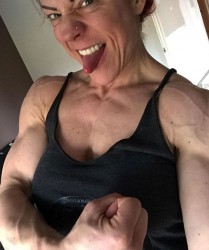 Carly:
Bring on another week!
[The most muscular]
won't be a pose I do on stage though!
More's the pity!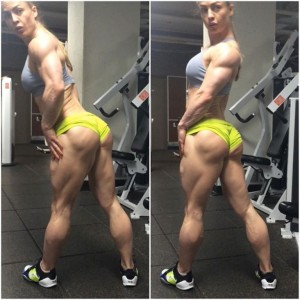 Ella:
Well hello (my face says) STRIATION! Love them! In the final 4 weeks I'm doing posing in between sets for better muscle memory!
MAY 11th - 12th
Ella:
I found great lighting in my condo yoga studio!!! How I didn't notice before... or maybe I just got more ripped so I don't need to flex! Any way my routine memorized! Posing made to perfection! The rest is just keep practising without freaking out I'm not ready.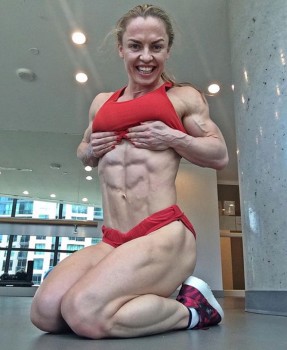 And Ella takes advantage of that lighting to make
a seriously jaw-dropping clip
to go with it.
Ella's still noticeably white. Carly, meanwhile is preparing for a guest posing slot at Bodypower with a coat of tan and a trip to the hairdresser's.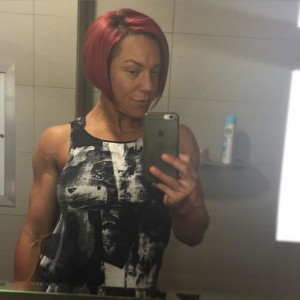 Carly:
Little trim to tidy it up for Bodypower Expo, colour will be coming just before my pro debut so it's fresh.
Not for the last time we see that preparation involves a lot more than "just" the physique.
MAY 14th - 15th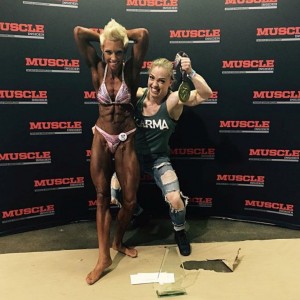 Ella supports her client,
Ash Rempel
, who, "Ella style", wins the overall title at a regional show in Ontario.
And Carly shines on the Bodypower Expo stage, giving us a preview of what's to come in Toronto.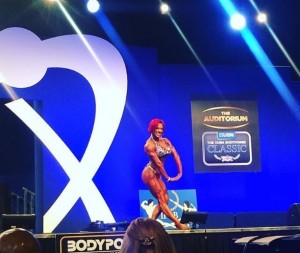 Carly:
Had so much fun guest posing yesterday, the show was so well run and the stage/lighting was perfect. Can't wait to get back up there and do it all again. Really excited to represent the UK in 3 weeks time, next time is the REAL DEAL!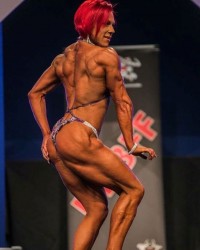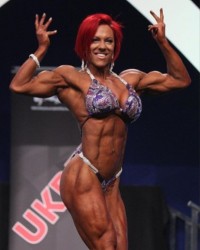 MAY 16th
Ella:
My conditioning today after leg training. After my athlete Ash won her competition I'm more than pumped and determined to finish my prep and have fun June 4th!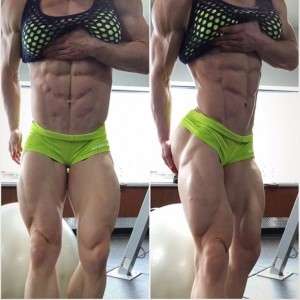 No comment from Carly. But 1,000 words, as they say.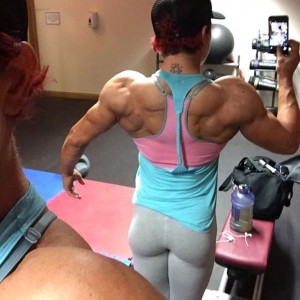 MAY 17th
Carly:
Your boyfriend casually tells you to bend down to take a photo of your hamstrings because we love sick progress shots...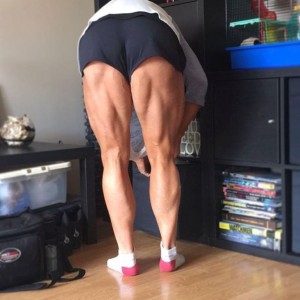 Jealous? Yeah, me too!
MAY 18th
Ella:
Exploring my booty before bed.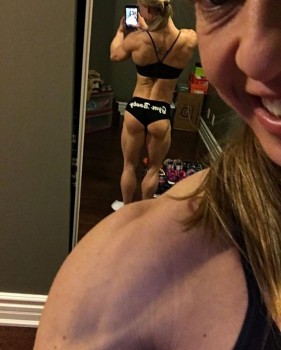 Yep. Me too.
MAY 19th
No stone unturned, Carly gets a treatment.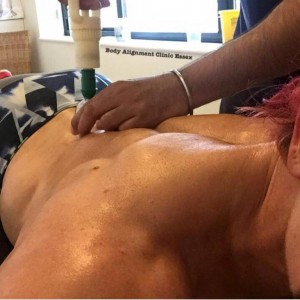 Carly:
Today at my visit with Sam @Body Alignment Clinic we did cupping. This draws the inflammation out from deep in the tissues, and increases local blood supply to the muscles and skin to bring nourishment and allow for toxins to be carried away via the lymph. We are using it as part of my prep for my pro show in Toronto. We have been prepping together for a number of weeks to really bring out muscle groups.
Ella posts two clips of herself posing in the gym. Watch
one
, then take a break before you watch
the other
is my advice. Particularly if you have a weak heart or a tendency to dehydrate or something. I'm not kidding, you can hear her trainer/training partner, whoever it is filming, just going nuts off camera!
And Carly posts
a short but very sweet clip
of herself owning the stage at Bodypower.
Carly:
Bikini, Bodyfitness or Women's Physique, it doesn't matter what category you are, walk with confidence, walk with sass, walk like you are the winner, be proud and display that hard work with pride...
Two weeks to go from the time of writing. One by the time when you're reading this. And this time next week they'll be up there, making their pro debuts after so many weeks, months and years of hard work. Walking with confidence, walking with sass, proudly displaying all that hard work like the winners they are.