Today we enter the top 30. The excitement mounts. As does the number of votes each woman received. Further down the list one or two votes either way can make the difference between being #90 and #70, but the top 30 is very much by common consent. These women simply wouldn't be in the top 30 unless a lot of readers had voted for them.

So, let's find out who the collective you did vote for, shall we?
THE FMS
HOT AND HARD 100
30
VALERIE GARCIA GIOVANOLI
#26

IFBB Physique Pro, Lawyer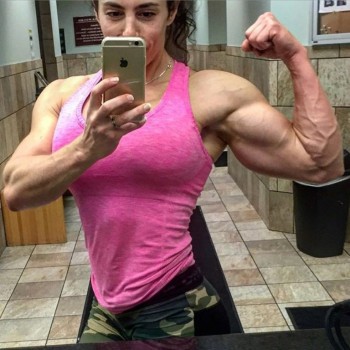 Passion is a strong feeling of enthusiasm or excitement about something or about doing something. Many fail to realise what their true passion is. We get stuck in a rut, spinning our wheels, letting the days pass by without purpose. But some of us, some of us have the great fortune of discovering our passion and pursuing it. Well, this is my passion...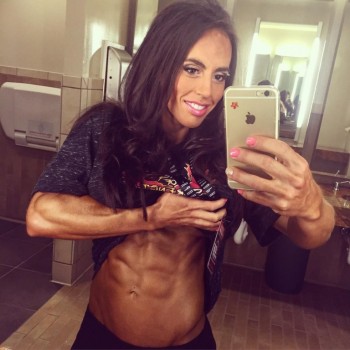 The bass kicks in, Valerie lifts, pushes, jumps, presses, curls, and sweats. Sweats a LOT. Damn, I'm thinking to myself as I watch, those shorts of hers are tight. And SMALL... And I like how she wears her socks. Damn, that top is barely containing her... I wonder, does she really wear that at the gym, or is it just for the camera?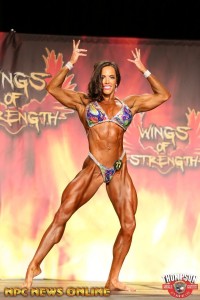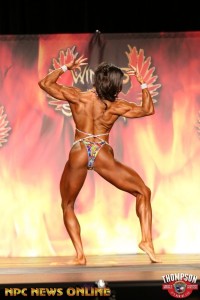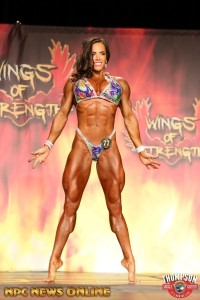 Check out
Valerie Garcia Giovanoli IFBB Pro Physique Athlete Fitness Motivation
on
her YouTube channel
to find out if you end up thinking what I'm thinking when I'm watching Valerie lift, jump, push, press, curl and sweat.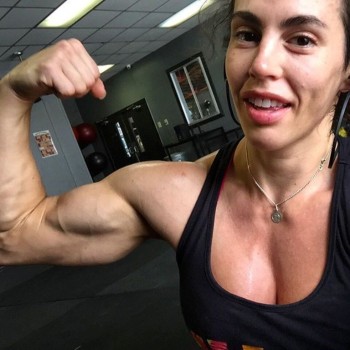 Valerie - as well as being a stone cold Physique goddess - was recently admitted to the South Carolina Bar. So if you're down there, behave yourself. Or, if you really think a bit of time behind bars in South Carolina would be a reasonable price to pay, don't behave yourself and you know who to call.
29
TARNA ALDERMAN
#57

IFBB Pro Bodybuilder, Cosmetologist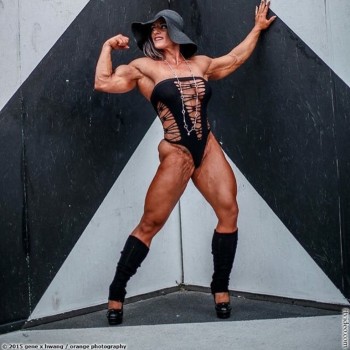 Bodybuilder! Yes,
BODYBUILDER!
Well, she was last year at least. Inspired to continue in the division by
Shannon Courtney
(who may or may not still be your #1) Tarna's devotion to muscle paid dividends at last year's NPC USAs with a class win and one (of just two) pro cards that were awarded.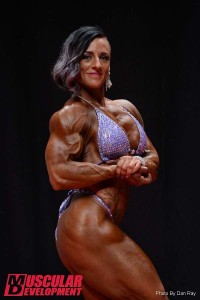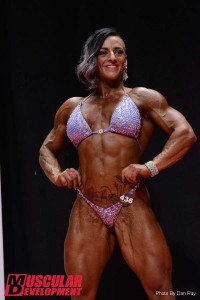 Since then - and this was way back last July - she has, by her own admission, "been been wining and dining" as well as "working" - and she means working to pay the bills (those pro cards don't come with a lump sum remember).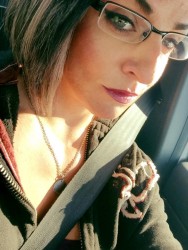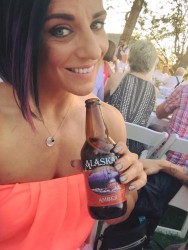 The good news is, the muscle remains!
It's cool to see how much muscle your body will maintain,
she wrote recently, flexing for her camera in one of those dresses she looks so lovely in - no doubt just as she was on her way out for another bit of "wining and dining".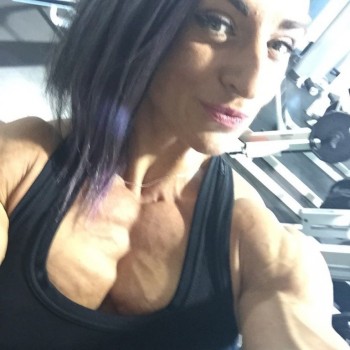 As far as I'm concerned (and it seems as far as a lot of FMS
Hot and Hard 100
voters are concerned too), as long as she's still maintaining, as long as she's still snapping herself all dolled up and looking so lovely in those dresses, she can take as long as she wants before she puts that pro card to use.
28
ASHA HADLEY
#47

IFBB Physique Pro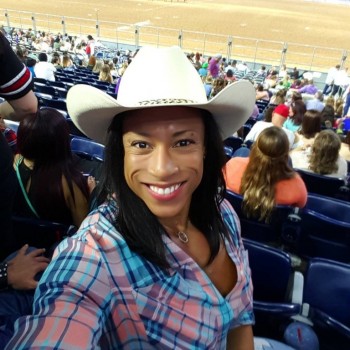 That "thing" me and Asha have got going on (but she doesn't know about)? I confessed during last year's
Hot and Hard 100 Countdown
. Well, a year has passed, and you know, I follow a lot of ladies via their social media, primarily Instagram, and
like Melissa Lesage says
, if you're a girl who deadlifts and eats carbs you are going to get IG stalked so hard... Well, I don't like to think of myself as a "stalker" as such, but when it comes to Asha, well, I guess you could say I do follow her a
tad
obsessively...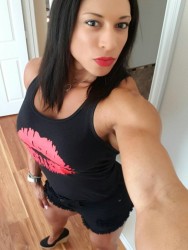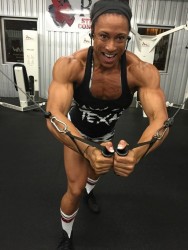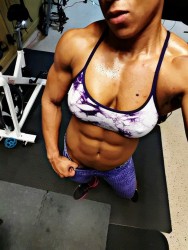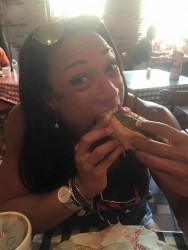 What makes her so special? Well, I could go on and on, but given that you've voted her your #28 - up 19 from last year's position - I'm guessing a lot of you are feeling it too on the Asha front.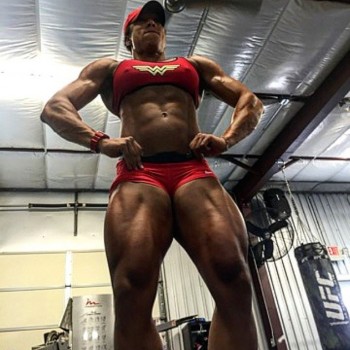 You are very beautiful,
you say.
And I love your muscularity, smile and even your tongue.
"Your tongue"?! Wow, suddenly I ain't feeling like quite such a weirdo after all. Her
tongue?!
Dude! It's people like you who give us normal
Asha IG
stalkers a bad name!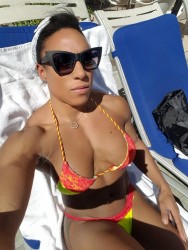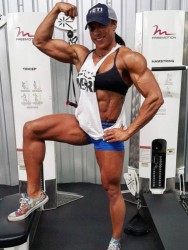 Don't be part of the problem on
Asha's Instagram
.
27
SOPHIE ARVEBRINK
#22

Lifter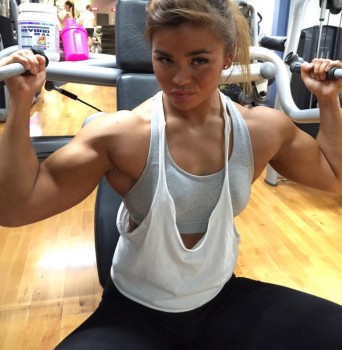 Still living the life, still promoting herself entirely via her own social media. But you know she's getting bigger and better because the brethren have started asking the question:
Has that photo been touched up?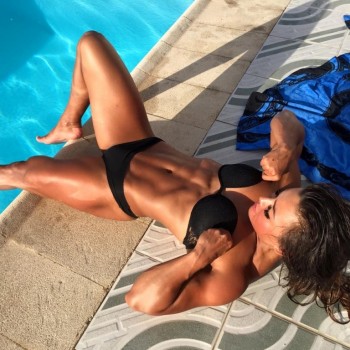 She's grown. Bigger, and yes, it
is
possible, even more beautiful than this time last year.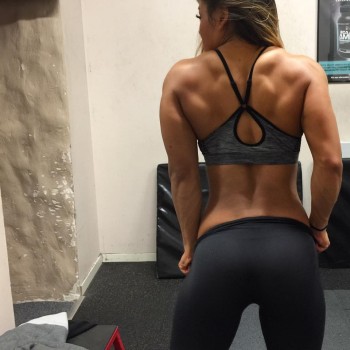 Half a million IG followers and rising (they can't
all
be men). It's almost as impressive as one of her latest selfies.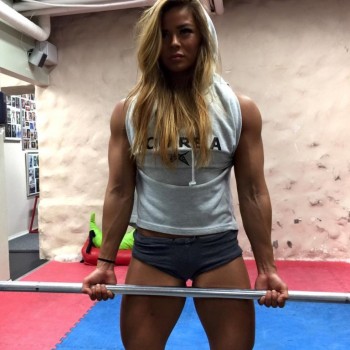 It's taken me many many sessions of therapy to stop automatically typing the word "Sexy" before her name. As I sift through the hundreds of images of her I have collected this year and choose which will illustrate this section of today's post, I realise that unless I call the doc I am going to go right back to my bad old ways.
26
DIANA SCHNAIDT
NEW ENTRY

IFBB Figure Pro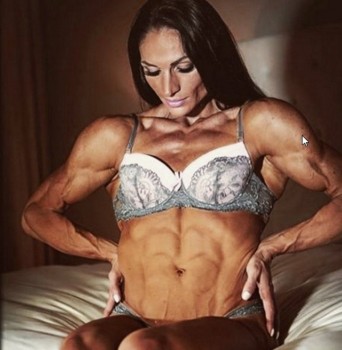 Diana is our second-highest new entry on this year's list, receiving votes from all over the world and from lovers of the biggest bodybuilders and the cutest fitness models in equal measure.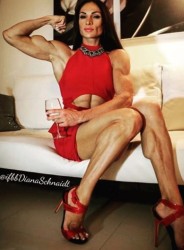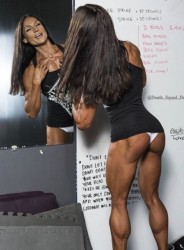 Is it the model looks? The long long and muscle shapely legs? The Physique division biceps on the Figure frame? The fact that she - like so many Figure girls - doesn't stop flexing those guns whenever she's anywhere that isn't on stage at a Figure contest? Or perhaps it is the sheer breathtaking beauty of those peaks? Or is it all of the above and more?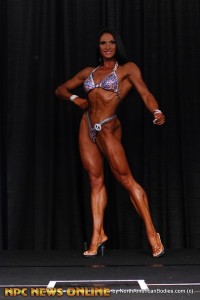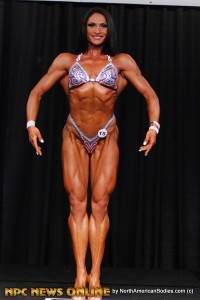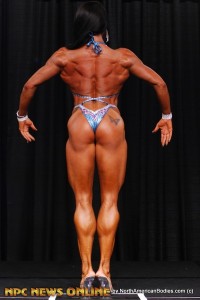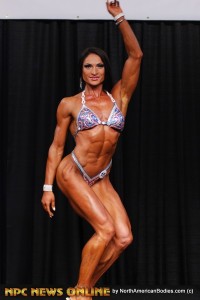 She's
the
woman who I've come across since the start of this year who I couldn't believe I'd never come across before. She's originally from the Ukraine, but now calls Miami home. She hasn't lost the accent though, which is another reason to add to the list of reasons why - check out
her interview with Katie Lee at the Arnolds recently
for some of that. And it's not like I had any excuse not to have noticed her, she didn't arrive in the US on a plane last week or anything, she competed in six pro shows in 2015, and by the time you read this she'll have competed for the second time already this year at the Orlando Pro.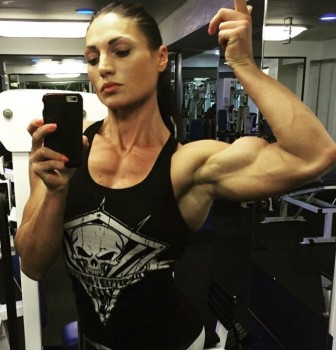 Having missed so much of her so far I don't, like the song goes, wanna miss a thing now. Her transformation from skinny model to muscle goddess is one you'll want to see. Click
here
.
25
NATALYA KOVALYOVA
#90
IFBB Physique Pro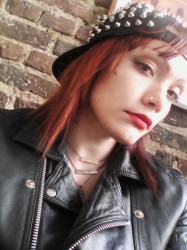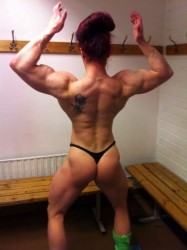 I was at the competition where the controversy took place. She was reminded of the right poses several times. She looked really pissed off on the stage most of the time. After the results she did not raise the trophy, and left the stage very swiftly. Cannot recall whether she left the trophy. No respect for other competitors, judges or the audience. Her body looked good (too much muscle for physique, rightly placed at the bottom) but her attitude sucked totally.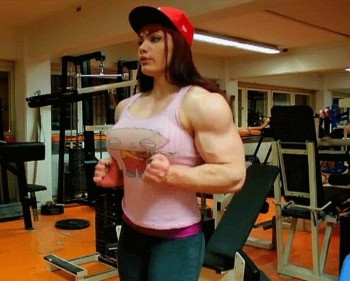 The behaviour of
Natalya Kovalyova
at her last contest was widely discussed on the forums, as well as in the comment box on FMS. We once again thank "ummelvirta" for their eyewitness report, and also, once again, express our surprise that following her performance Natalya was given an IFBB pro card.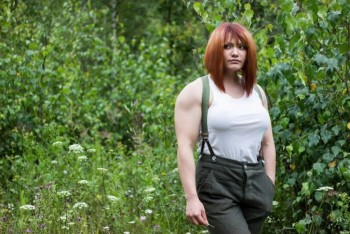 FMS speculated (far from seriously) the reasons why throwing a hissy fit worked for Natalya back in January (see
Natalya Goes Pro
), so we won't go over that again. Besides, Natalya's grasp (or lack thereof) of contest etiquette hasn't been the main thing that has set the forums ablaze with talk in the last year. It's mostly been all about her body.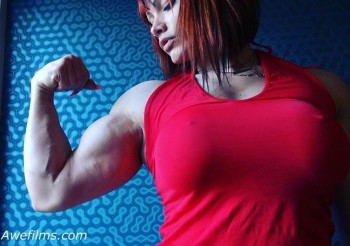 Recent work with
Awefilms
("Erotic Muscle" Parts 1 & 2, and the title is as apt as can be) seems set to intensify the buzz even further. I can't imagine how frenzied things might get if she actually competes as a Bodybuilder, proper etiquette or not. From #90 last year to #25 this. The way things are going you could be looking at next year's #1. For real.
24
SELMA LABAT
#39
IFBB Pro Bodybuilder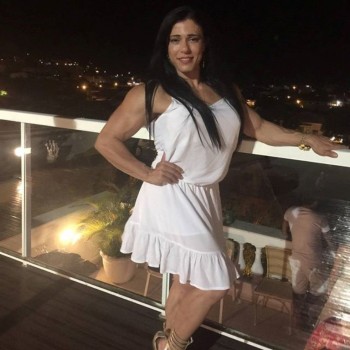 Selma, appearing on our list for the third consecutive year is in the top 30 for the first time and is this year's top
brasileira
.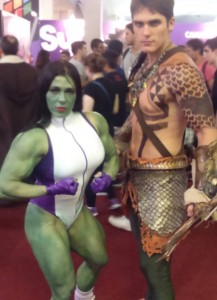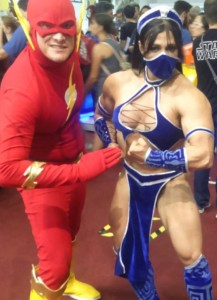 And she's very much still Brazil-based as well. This does make following her a little trickier for yours truly, but leads to some pleasant surprises. Surprise! She's
at Comicon
dressed in very little! Surprise! On
Brazilian TV
with
Loana Muttoni
and
Karla Bachiega
! Surprise!
In a park in Sao Paolo with other gladiadoras de ferro
... She always looks to be in great shape, always glamorous, always radiating confidence and power. Always, as one voter put it, "ultra sexy and most beautiful".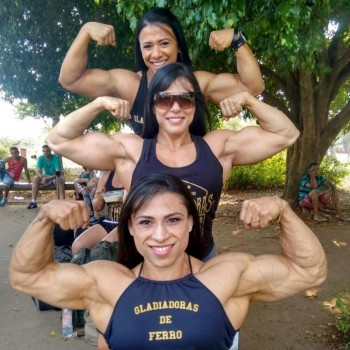 I don't think she competed in 2015 (apologies, I really haven't been able to keep up in the last twelve months as I have done in the past, with Selma or in a more general sense) but
a recent (six weeks ago) Instagram post
found her excited to be "cutting". That may have been solely for the benefit of the Sao Paolo park event. Or not. Oh dear!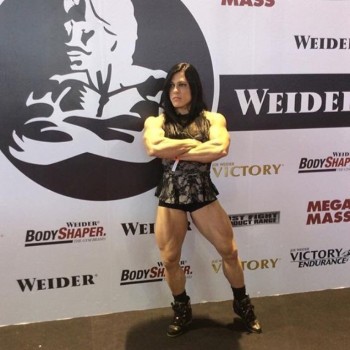 You'll probably do better following Selma yourself! On
Instagram
,
her website
, and
Facebook
.
23
TANYA HYDE
#71

Owner,
TanyaFitness.com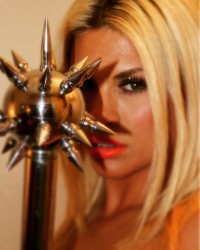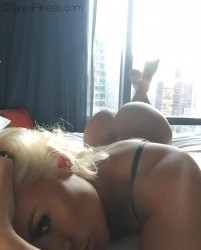 A trained chef, a photographer and website designer, and very much these days a
former
Figure and Physique competitor.
I couldn't imagine my life without training,
she says,
but I personally have zero desire to step on stage again.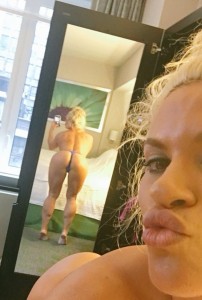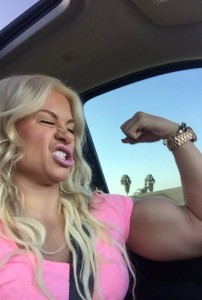 Given how much potential she has in terms of mainstream appeal and so on, that is something of a pity, but ironically us fans have got to see more and more of Tanya since she stopped competing via
her website
.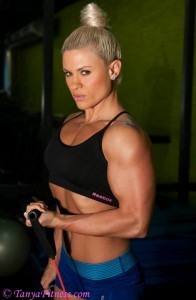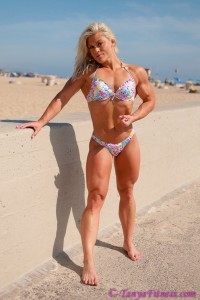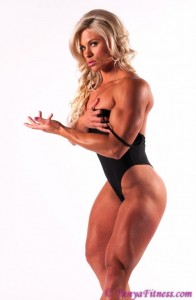 And when I say more and more I don't necessarily mean more often. Even if you only check the little teaser previews she posts to
her YouTube channel
, you'll get the idea. A click on
SMOKIN' HOTT FBB, MUST SEE!
(her spelling, her capitals) will get you 19 seconds of Tanya you won't forget in a hurry.
Freakn' SEXY BIG BICEPS on this bombshell!
is a similarly unforgettable 18 seconds.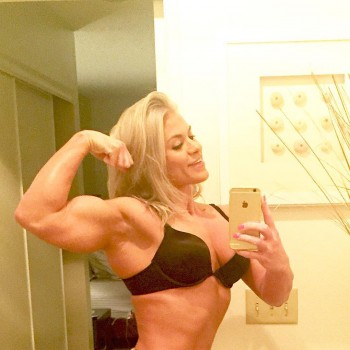 Here is a woman, as one reader put it, "finally realizing her Amazon goddess potential". And
meeting Justin Bieber!
22
ELEONORA DOBRININA
#79

IFBB Physique Pro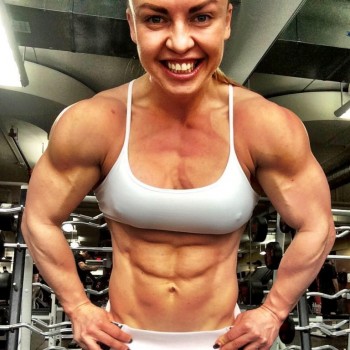 We've spent as much time on FMS with Ella as with any other woman, documenting her first year as a Physique competitor with almost as much joy as she's had doing it. We've been mesmerised by her dancing abs, fallen for her raucous love of life, her infectious laughter, her, shall we say "colourful", use of language, and her candid and emotional responses to the messages of support she has received from her fans.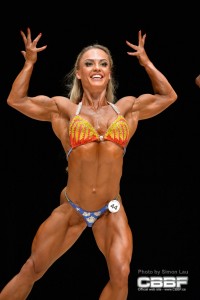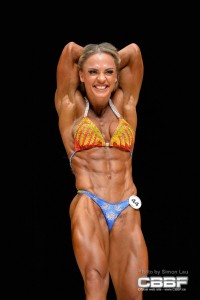 She won every contest she entered except the Canadian Nationals where she won her class but not the Overall title. Good enough, nevertheless, to make her 2016 season her first season as a pro. And who would bet against her making it all the way to the Olympia? She's been unstoppable so far, and there's no reason to believe that's going to stop.
Just when you think she's as freaky and ripped as it's possible for her to be...
I think I reached next level of my physique,
she wrote recently
.
Striation on my seratus [sic] visible and popping out without even flexing! Love elevator lighting!
And she was still, at the time, a full six weeks out from her pro debut.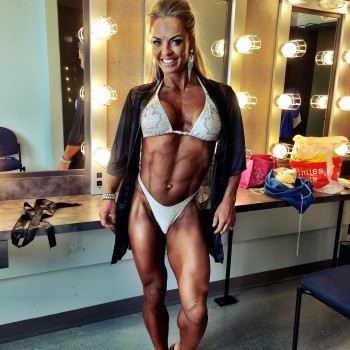 Strap yourselves in for Ella 2016 and enjoy the ride. I know I will!
21
MARIA GARCIA
#21

IFBB Figure Pro, Exotic Dancer & Strip Club Owner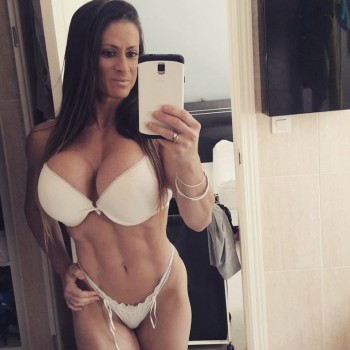 Another year and no change for
Maria Garcia
at #21 in your list. And despite my predictions her Malaga strip club hasn't become the #1 FBB-fan holiday destination. Or have you all secretly been there without telling me?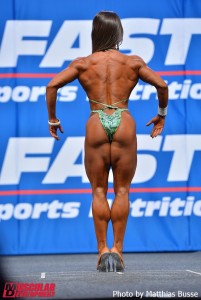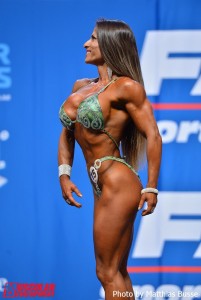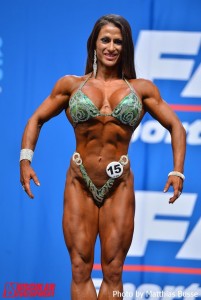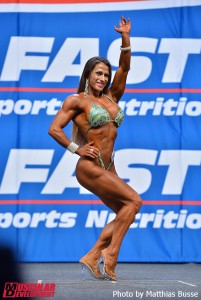 Must be insane to be in that strip club watching Maria dancing on stage,
wrote one FMS reader this time last year,
I might book tickets...
But as far as I know, the pleasure remains in his imagination. But while we're all imagining the same kind of naughtiness, let's not forget that Maria is very much a competing IFBB Figure Pro. Five shows last year on three different continents - her best result a 4th at the UK's own Bodypower Pro.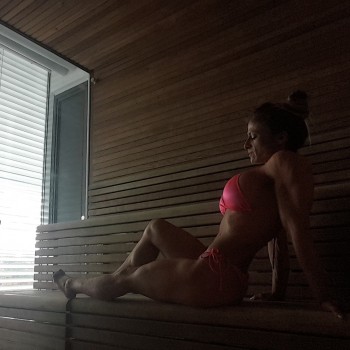 Must be insane to be in the audience as Maria struts her stuff on stage, thinks the FMS writer. I might book tickets if she's at this year's event...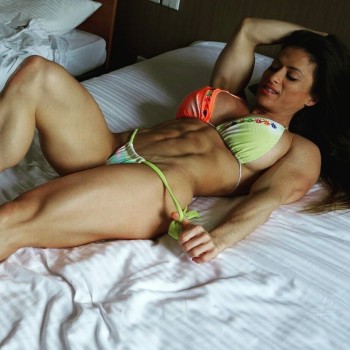 And we finish today's post as we began - with sweat. Let's not forget either that whether stripping or strutting, Maria spends most of her time training. Hard. See for yourself on the
MuscleLine Nutrition YouTube channel
. And book now!
Who's left to make up the top 20, do you reckon?
All will be revealed...

The Countdown continues on Wednesday.