A lot has happened in the world of female muscle in the 5 years (yes, FMS turned 5 on May 1st) of this blog's existence (I
don't
suggest you go back and look at those early posts, by the way). A case in point, you could say the female muscle world in microcosm, might be found if we compare Germany's spring time muscle fest in Cologne, FIBO, in 2011 and 2016.
In 2011,
Helle Nielsen
returned to the stage after an injury-enforced break of eight years to win the Female Bodybuilding title at the FIBO Power Pro show.
Skadi Frei
was the runner-up, and the field included legendary
Cathy Lefrançois
, the mighty
Daniela Sell
, and Italian beauties
Giusy Caputo
and
Claudia Partenza
.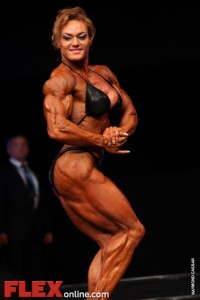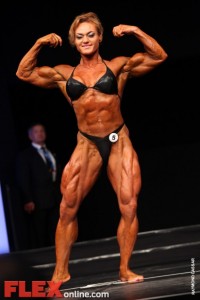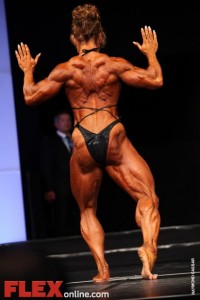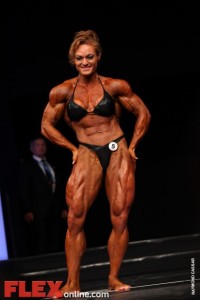 Helle Neilsen, FIBO Power Pro 2011
It's not just Helle's surname that has changed. There's no Female Bodybuilding at FIBO now - professional or otherwise. In fact there's no pro show at all. There is some amateur competition, a FIBO Power Bikini Cup, and something called "Miss FIBO Power Beauty", which I'm not even going to attempt to categorise.
Times have indeed changed.
Over the last few years though, FMS has been vicariously enjoying the big (I think I'm right in saying easily Europe's largest) Expo through the heroic video work of
Hevumisa
, who, since 2011 has been editing his FIBO Expo footage into the immensely enjoyable clips we see on
his YouTube channel
. And once again he was there, seeking out the muscle. Not finding lots of it, to be sure, but nevertheless who
is
the frizzy-haired goddess posing from about the four-minute mark?
Great work once again.
But this year, the Expo was not the only place the FBB fan could find female muscle - and lots of it - in Cologne during the FIBO event, because it was here that following
their event in Paris at the end of January
, the second
"Daily FBB Show"
had been organised.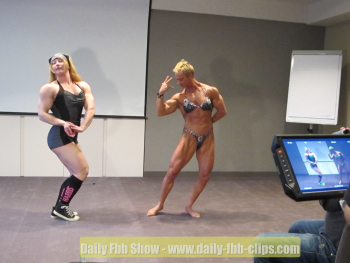 The line-up did not include such stellar names as
Margie Martin
and
Virginia Sanchez
- both of whom had been in Paris - but as at the first show there was the mighty
Anna Khudayarov
(above, along with
Laurence Prévot
from France). There was Amazonian
Maria Wattel
, and, along with others and tying this all in nicely, one of those competitors from FIBO 2011,
Claudia Partenza
.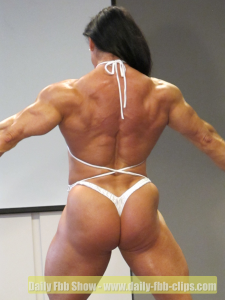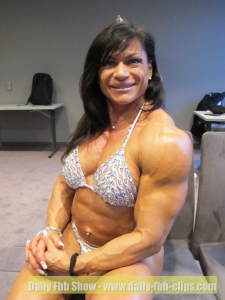 Times have indeed changed. And for one female muscle fan who made the trip to Cologne and attended the show, times have changed for the better.
It's every FBB fans dream. To see muscle ladies up close and personal, posing, performing feats of power and strength. Some fans head to contests (which now are very few), but the shows where they see their favourite FBBs all oiled up posing on stage are great but you are always left wanting more. And what if you could go to a show where there are no rules about how big the women can get?

This is where Daily Fbb Show comes in... you get to feel and touch the amazing bulging muscles, they want you to! They will get that shyness out of you! You get 3 hours of unrivalled VIP access. Talk with FBBs, have a drink and even a cheat meal with some of the most beautiful women on the planet!!!

Of course you are going to be nervous at first, but from the beginning when you mingle with other fans you feel the buzz, then the show starts and you just can't wipe the smile off your face.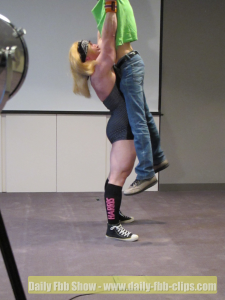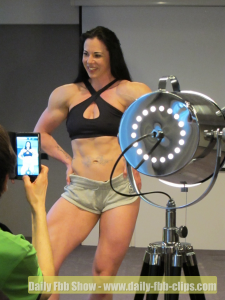 This show will go from strength to strength,
predicts this fan.
Daily FBB
seem to have covered all the bases.
This show belongs to us the fans, we get to decide how it goes. Privacy is treated seriously and you will not be filmed or photographed if you don't want to. Price? 3 hours plus for approx $300 for the show of your dreams - if that's not value for money I don't know what is. I was seriously impressed, met and mingled with amazing FBBs, and had good discussions. A lot of us are secret admirers, believe me it is great to meet fellow fans.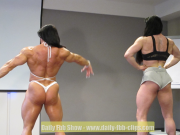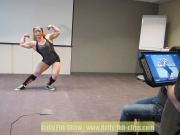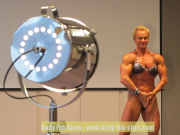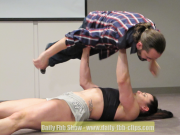 Now I imagine that the cynic inside you is, right now, wondering whether this review is 100% kosher, but even if it isn't, the type of show
Daily FBB
are organising is clearly fulfilling the desires of some fans. For others, nothing will ever replace the thrill of the contest (lights, oil, and all) but I'll say it once again, times have changed.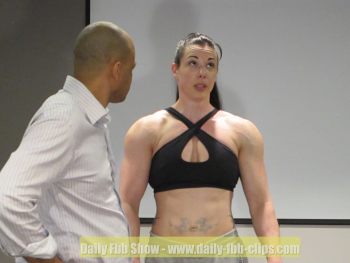 This is the future for fans,
concludes our reviewer.
And I like it!
Next stop for
Daily FBB
is Barcelona - maybe our
Hot and Hard 100
Winner will be there?!
And we leave you with
a preview clip from Daily FBB
of its footage from the Cologne show.
It's near as dammit $20 a month to join
their site
, with fifteen minutes of free webcam with none other than
Elena Oana Hreapca
as a joining bonus. The amount of content is growing at an impressive rate, and it's all quite unique and fan-driven.
Enjoy!