BACK POOL
(Part 1)
If you've got it, you should really flaunt it.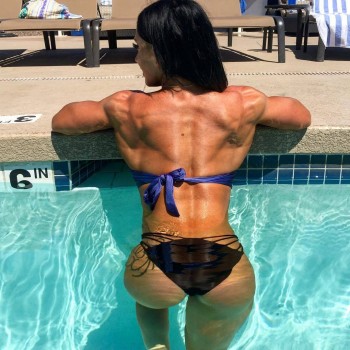 Azaria knows, Azaria does.
BACK BEEF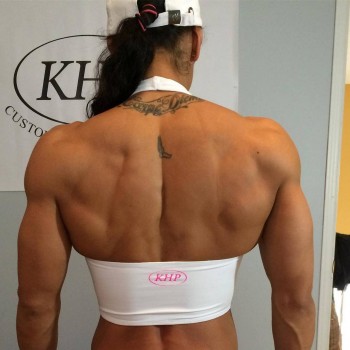 Alicia Bell
There certainly is a lot to take in on these women,
noted a fella who contacted me recently asking to be "initiated" into the world of female muscle lovin' (for real!).
Most women it's just tits and ass, but these women have so much more going on...
He was, apparently, a fast learner. Or maybe he was just learning from the best?
BACK PLAY FOR TODAY
UNSUSPECTING WEDDING GUEST
(turning to a guest sitting next to him)
See the muscles on that bridesmaid? Looks like a bloke in a dress.
SWELL
I KNOW... She's hot.
UNSUSPECTING WEDDING GUEST
Huh? You... like that?
SWELL
Oh I do. I really do. You know what lats are?
(UNSUSPECTING WEDDING GUEST nods)
SWELL
(con't)
Well, there's nothing sexier than a woman whose lats hang over the back of her dress. Right, darling?
MRS SWELL
Oh yessss. So wide, so powerful. I would LOVE to have a back like that.
SWELL
You will, baby. You will.
MRS SWELL
I am getting so turned on looking at her...
UNSUSPECTING WEDDING GUEST
(taking his plus 1 by the arm)
Come on, darling. Let's go and sit somewhere else.
MRS SWELL
Guess they don't lift.
SWELL
Guess so. And I guess we are going to be back in our room while everyone else is having their starter.
MRS SWELL
Mmmm. Wonder if I can persuade her to join us later.

(A huge thought bubble appears above SWELL's head)
SWELL
(his thoughts, in the bubble)
That's why I married you.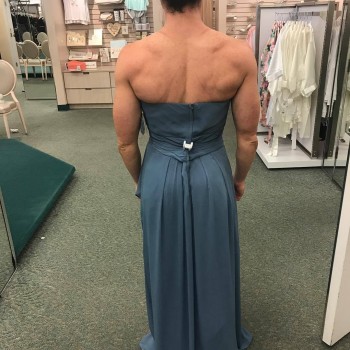 Not a true story. Just what flashed through my head while I was looking at these sexy (and as yet unidentified) lats spilling over the sides of that dress. Among other things.
BACK POOL
(Part 2)
If you've got it, you should really flaunt it.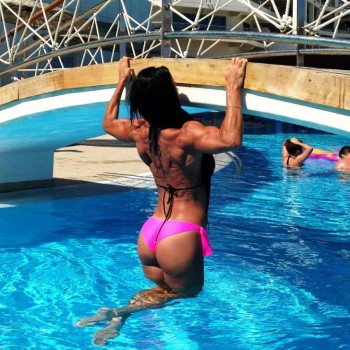 Like,
really
flaunt it. Don't just prance around in the pool with all your muscles, give 'em a show, this is Back Pool after all! [UK readers may get that, the rest of you... probably not] Show 'em what you can do with those muscles, show 'em those beautiful muscles in motion - even if a pull-up is a tad easier in water. You're so damn Alpha!
DOUBLE BACK DOUBLE BICEPS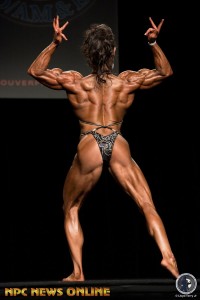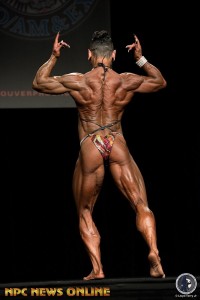 Jodi Boam
and
Pearl Binder
- backs to savour (ie. salivate all over) at the Vancouver Pro this year. Pearl is currently topping my (unofficial) What-you-doing-in-Physique-you-a-BODYBUILDER-lady list. Seriously. Get back to where you once belonged Ms 2016 CBBF Nationals Overall Masters
Bodybuilding
champ.
I ask you!
BACK ROOM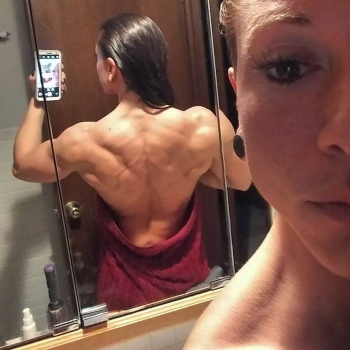 I'm going to need a bigger bathroom,
thinks the spreading
Tonya Hickey
.