Lest we forget amid all our excitement over the Rising Phoenix, the IFBB Arizona Pro is a uniquely all-division all-female show, and the women who came out to compete in Bikini, Fitness, Figure and Physique (all well-aware they were playing second fiddle to the FBBs, and some of whom would be going on to compete at the Olympia the following weekend) deserve credit for choosing to do so at this particular show.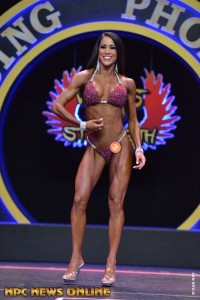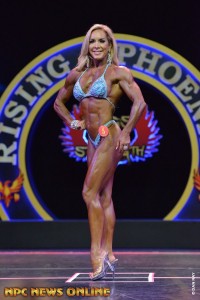 Despite doing what looks suspiciously like a bicep flex,
Jennifer Ronzitti
took home the big Bikini sword, while in Fitness
Ryall Graber
(sadly no routine pics I can find) added this title to the one she took in Chicago earlier in the season. Both are now already pre-qualified for the 2018 Olympia.
Winning this competition was a great honor for me,
gushed our Fitness champ afterwards.
A dynamite weekend!
FIGURE
As always, the Figure class contained plenty of muscular treats, Slovak beauties
Adela Onrejovicova
and
Lucia Kosecka
among them. Adela (top left), a two-time Olympian now, finished 4th, while Lucia (top right), 7th on her pro debut after winning the IFBB Worlds this year, did plenty of not-so-surreptitious tricep flexing. Nice.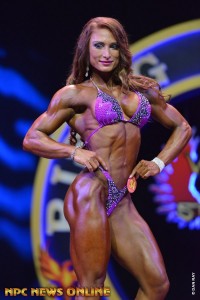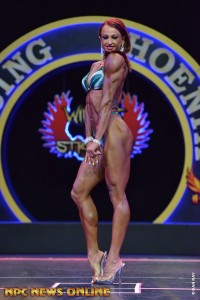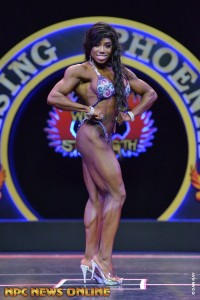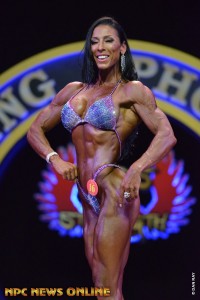 After
winning her class at the Jr. Nationals
last year, glamorous "Muscle Goddess" (she says, and she's right)
Devoné Martin
(bottom left) has been busy collecting top 3 finishes in her first pro season, although she could only manage 12th here. In contrast,
Beckie Boddie
(appropriate name or what?!) has been a pro since 2013, but her 6th here was one of her best ever placings. Swell digs the definition all over that Boddie.
Superstar!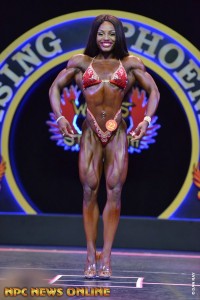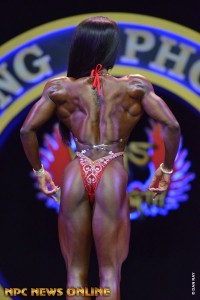 Once again, the Arizona Pro attracted one of the Figure phenoms FMS has dubbed
"The Freaky 3"
. Last year
Candice Lewis-Carter
took home the title, this year it was the turn of
the gorgeous Cydney Gillon
.
It was beautiful to be a part of my first ALL WOMAN pro show!
she said afterwards.
So much camaraderie, muscle, and grace!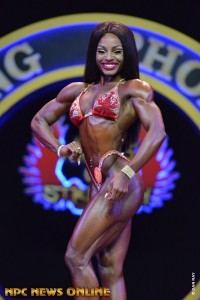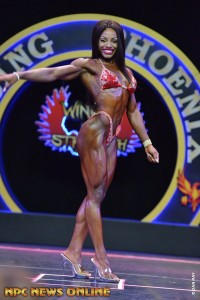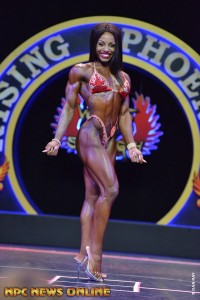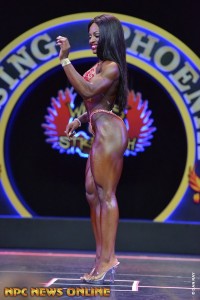 Big week for Cydney, it turns out. Turning 25, winning her fifth pro title here and... well, let's just say that the following week things got even better and wait for our Olympia review next week to fill in all the details of just how much better.
PHYSIQUE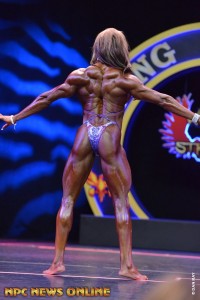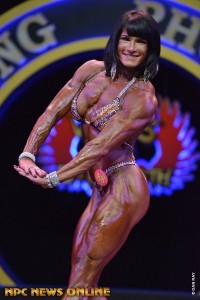 Just as the Rising Phoenix was a battle between two women, so the Arizona Pro Physique title was hotly contested by two of the divisions top bodies in 2017.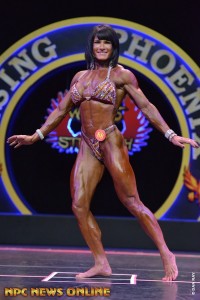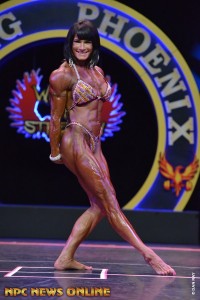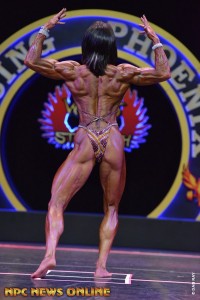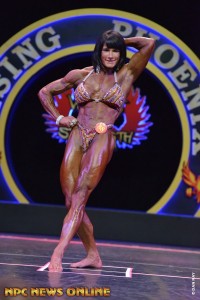 In her first Physique year after a few in Figure which included two Olympias,
Jennifer Taylor
already had wins in
San Antonio
and
Tampa
to her name. She was, however, conscious that Arizona would be her biggest challenge yet.
I knew this show was going to be exciting because the competition was getting tighter heading into the Olympia,
she said.
I was ecstatic to be in the mix with these incredible ladies.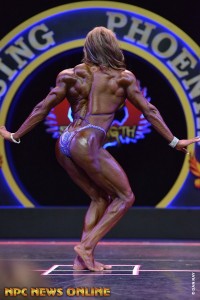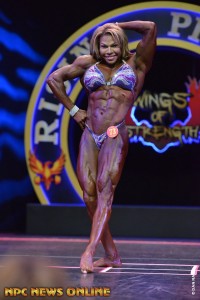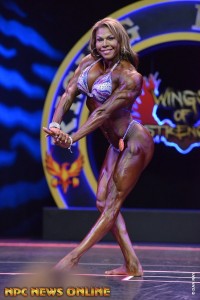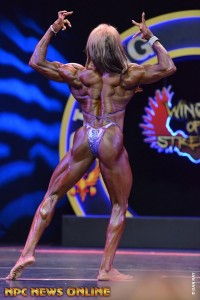 Ultimately, Jennifer had to settle for 2nd, with the (as we noted
recently on FMS
) hulkier-than-you-think
Heather Grace
taking her second pro title of the year. Heather never does less than all she can to make sure the judges get an eyeful of her devastating rear, and it was no different here, the first pose of her presentation presenting her gluteal assets in some style. Like Cydney, our Figure winner, Heather was at pains to praise this unique event afterwards.
The Rising Phoenix Show is special in that it showcases the Female Bodybuilding World Championship and celebrates the female divisions of the sport,
she said.
The energy is incredible from the sheer number of dynamic women, and there is never a shortage of iconic athletes to inspire and provide a dose of historical perspective.
Her personal favourite "iconic athllete"? With that back and that bum who do you think? It's
Lenda Murray
, of course!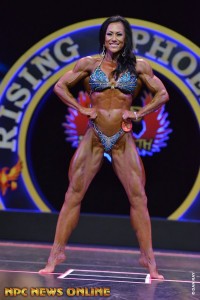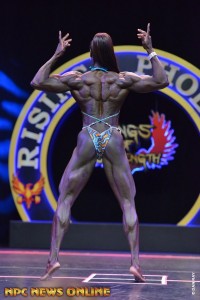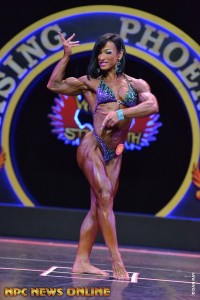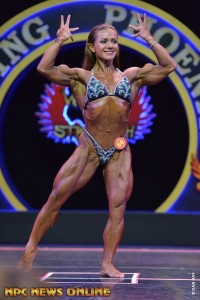 Elsewhere in a packed (and jacked) Physique field of 21 women, FMS swooned to the how-have-I-never-heard-of-her-before charms of
Karin Hobbs
(3rd) - it's beause she's not competed in nearly three years, at least that's my excuse anyway - and the thoroughbred frame of
Candrea Judd-Adams
, who placed 4th. One of the most notable things about the Physique class here was the copious beautiful bicep peaks on offer, and of those, the ones belonging to the evergreen
Jodi Miller
and the hot and hard
Olga Belyakova
were probably the peakiest, most swoonworthy of all.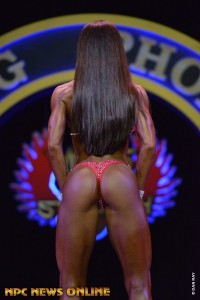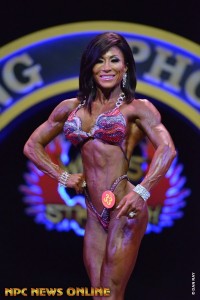 Heather and Jennifer took the top two places in the Masters Physique class as well. And there was a Masters Bikini class (won by
Iveth Carreon
, 8th in the Open class) and a Masters Figure class (the very tight
Karen Noorlun
, 10th in the Open) too.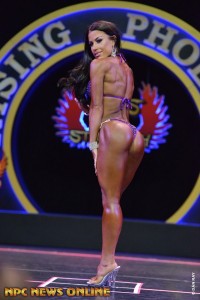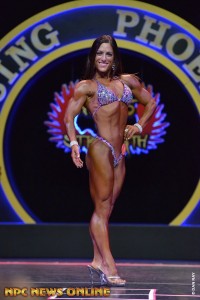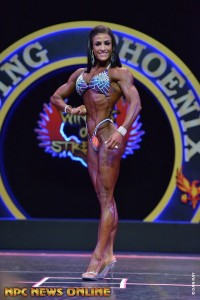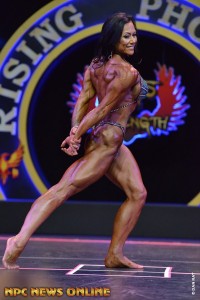 Excluding the Rising Phoenix itself, that makes a grand total of seven different all-female classes, with, by my reckoning, eighty-five more or less muscular female physiques for the audience to get excited about. And that makes for quite a show.
Back to the main event tomorrow!