Here we go again! Welcome to our fifth annual Hot and Hard 100 countdown.

Thanks to all who voted. Once again you have collectively come up with an absolutely corking selection of female muscle. Sit back, relax and enjoy!
The 2018 FMS HOT AND HARD 100
100
ASHLEE POTTS
NEW ENTRY

NPC Figure competitor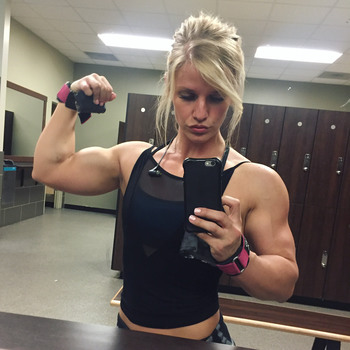 It's not difficult to see why Ashlee has over
40,000 Instagram followers
and an ever-growing fanbase among the brethren - or at least among the ones who aren't averse to a bit of NPC Figure with a Cameron Diaz vibe thrown in. She hasn't competed since 2015 (as far as we know), but this hasn't stopped her star rising though - photoshoots, appearances in "Figure Goddess of the Year" polls, that sort of thing. And she's not getting any less good-looking, is she? Nor are those arms getting any smaller.
99
RAMONA ARSENI
(#66)

IFBB Figure Pro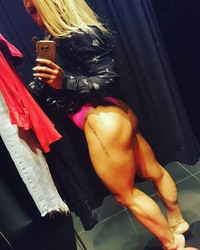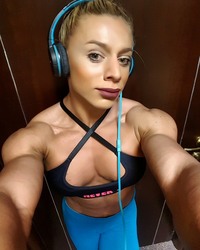 Romania's first ever Figure pro makes your list for the second year running. She didn't (again, as far as we know) compete in 2017, but was apparently hard at work making the improvements she needs to make to mix it with the Figure elite in the (hopefully not-too-distant) future. See if you can guess which muscles she's most famous for...
98
CANDICE LEWIS-CARTER
NEW ENTRY

2017 & 2018 Ms Figure International, 2017 Arnold Australia Figure Champion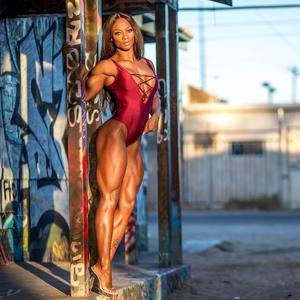 Hard to believe this is Candice's first appearance in the
Hot and Hard 100
. She was resurgent in 2017 after a couple of leaner years when she found herself overshadowed by
Latorya Watts
and (latterly)
Cydney Gillon
at the biggest shows in the Figure calendar. Most recently she regained her Figure International title at the Arnolds and will surely be gunning for the Olympia - which she's never won - this year.
97
*****
SUZY KELLNER
(#14)

Muscle Nut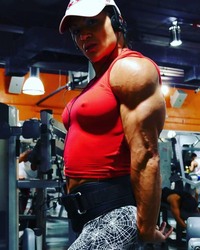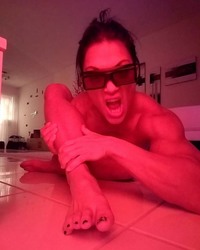 Suzy, who had never previously been outside the top 20, may have only just sneaked in this year, but she's the first of our five-star ladies - when you see the gold stars you are about to experience one of the eighteen women who have appeared in all five FMS
Hot and Hard 100
lists. Respect is therefore due. These days she largely caters for the needs of her fee-paying fanbase, but clearly finds pumping her still considerable muscles up as erotic as ever. Still as mad as a balloon too. In a good way, obviously.
96
AUTUMN SWANSEN
RE-ENTRY

2017 IFBB Chicago Pro Physique Champion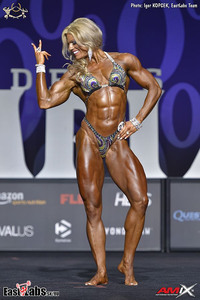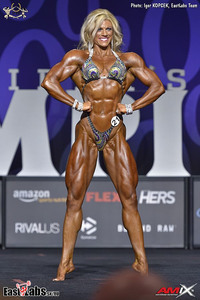 On the one hand, failing to retain her 2016 Physique International title or to improve her Olympia placing could indicate 2017 was a bit of a downer for Autumn. On the other, she won another title in Chicago, and looked absolutely stunning both there and at the Olympia. And there was also
that memorable wardrobe malfunction...
Anyway, you've voted to put Autumn back in the
Hot and Hard 100
.
Cory Everson became a legend with less,
one voter (perhaps controversially) pointed out.
She always looks stunning when she diets down for a contest,
noted another. No arguments there.
95
JULIA FÖRY
(#16)

IFBB Physique Competitor
So "totally hot" as one voter put it, Julia has never quite lived up to the promise her stunning looks and Amazonian frame suggest, at least not consistently in competition. Perhaps as a result of that, she tumbles almost eighty places down your list this year. Still, those who did vote for her tended to place her high on their list.
I'd love her arms around me,
mused one of the more devoted Julia fans.
She's a gorgeous lady.
94
NICOLE WILKINS
(#60)

4 x Ms Figure Olympia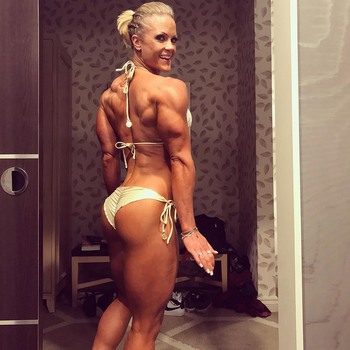 Nicole rarely places in the top 3 at the Olympias and Arnolds anymore but nor does she ever seem to place outside the top 4. The competition got so much fiercer than it was when she ruled the Figure world, but 2017 was yet another year of consistency from the woman who could reasonably claim to have made her division what it is today.
She never disappoints,
one fan told us. Never seems to age much either.
93
TISH SHELTON
(#77)

IFBB Physique Pro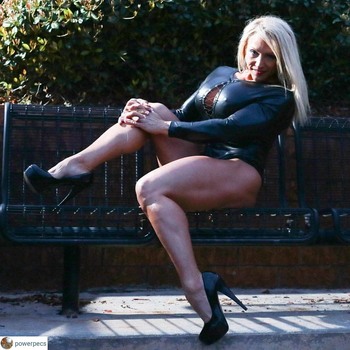 Most of what I've seen this year of Tish has involved grainy footage of her cam shows in which she thrills with all her legendary pec flexing skills. She hasn't competed for years now. Doubt very much she is still an elementary school teacher either. A quick perusal of
her Instagram
suggests she misses neither of these things very much.
92
JAMIE PINDER
(#41)

IFBB Physique Pro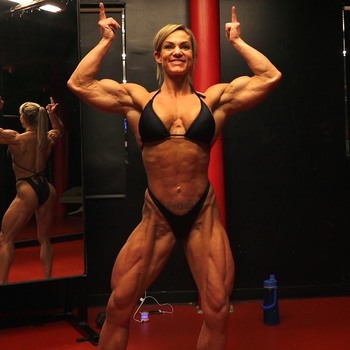 As
a self-confessed "Pinderette"
, I can't help feeling a little disappointed with Jamie's placing on your list this time around. For my money, she's one of the most beautiful and sexy women in Physique (a division not short of beautiful and sexy women by any means). At least some of you agree with me though.
Jamie is gorgeous,
swooned one FMS reader this year.
I love her,
confided another. Yeah? Well I saw her first!
91
LINDSAY MULINAZZI
(#91)

Fierce Inferno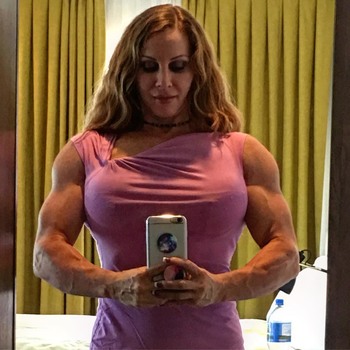 There's not many other former stars of
Muscle Elegance
magazine who are still making your list. In fact, apart from Lindsay, there's not any, which speaks volumes for her enduring appeal. She's a real sweetheart, very generous with her time when it comes to her (many) fans. She puts her longevity down to "years of consistent hard work", her goal "to stay feminine, and be ALL BICEPS and ALL WOMAN" [her caps].
For some reason when I don't wear a jacket and I have the guns cocked 'n' loaded people act differently,
says Lindsay.
Or when I wear a tight shirt and you can see my shape...
Now, I cannot for the life of me imagine why that would be. Any ideas fellas?
90
KRISTEN NUN
NEW ENTRY

Cake of Beef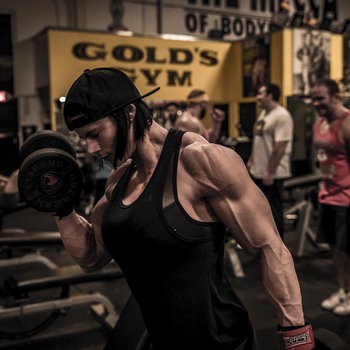 What we know about
Kristen Nun
- and I'm not just talking about FMS, but the wider collective "we" - is limited. We know that gym's in Kansas, and that she usually wears vests and caps that are black. Some diligent research by the FMS team has, however, shown that she also owns other vests that are purple, grey, white, and even pink! Such mystery hasn't stopped (perhaps it's encouraged) the fascination the female muscle lovin' brethren have quickly developed for this undeniable meat feast for the eyes. Rumours she wears her cap the right way round on occasion are unconfirmed.
89
ANASTASIA PAPOUTSAKI
(#28)

IFBB Physique Pro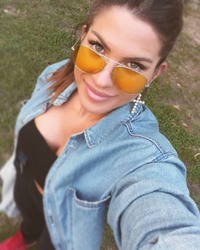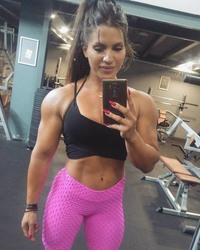 After winning multiple titles and her pro card in 2016, last year was a lot more low key for Anastasia. She got a nose ring done (OK, but didn't do much to enhance her Greek goddess looks)... And that's about the only exciting thing I can remember! Recent evidence suggests her 2018 will find her back on stage. I certainly hope so anyway.
88
JESSICA SESTREM
RE-ENTRY



Curvy Muscle Sensation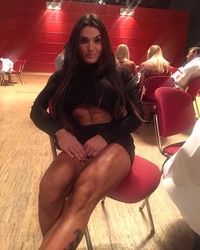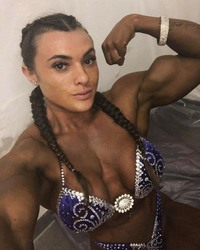 The curvy muscle sensation got ripped for a contest in Germany at the end of 2017. She looked amazing in an entirely amateur, ie. not especially ripped way, had to compete against
Elena Shportun
(who knows what she was doing at a regional contest in Germany?!), and took 2nd place.
Yes, I'm an alien,
she told her Instagram followers as veins started popping out of her forearms before the contest.
She seems like a lady who loves attention,
says one of our voters. No shit Sherlock!
87
MANDY SQUIRES
NEW ENTRY

Muscle & Ink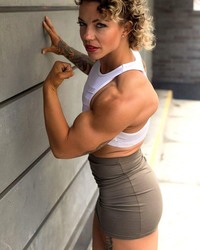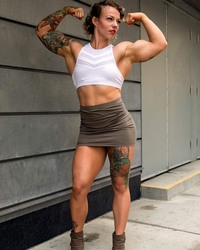 Our fourth new entry today is a woman I knew of, but next to nothing about. For example, I didn't even know where she was from. I thought she'd only worked (a couple of years ago now) with
MuscleGirlWorld (assessing different tops for their ability to contain her rightly renowned biceps
is a personal fave). Now I know she's more recently worked with HerBiceps and there are images of video of her with
Lauren Martin Stow
. I've also learned that she's not always platinum blond. And that she has competed in the past and plans to compete again this year. You lovely voters may or may not know any more or less than me about her, but you do know what you like, and for many of you, Mandy is it.
What a lady!
exclaimed one next to his vote for her.
86
*****
KATKA KYPTOVA
(#62)

IFBB Physique Pro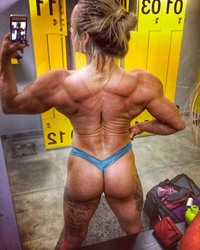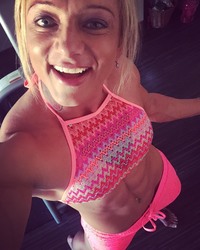 The second of our eighteen five-star ladies is the "ageless" Katka, no longer the dark-haired Bodybuilder she was when we first compiled the
Hot ad Hard 100
, no longer a very active Physique competitor either, but still making your list nonetheless. These days it's the training of others that takes up most of her time, her own training more a combination of Crossfit and Powerlifting, but Katka remains "endlessly fascinating" in one voter's words.
Her eyes are so beautiful no matter what size her muscles are.
81=
PATRICIA ALAMO
NEW ENTRY

Fitness Model, Online Coach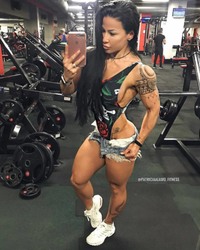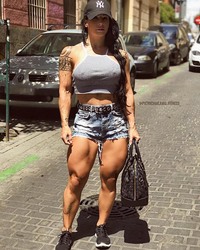 A bit of a log-jam in this part of the
Hot and Hard 100
with Spanish stunner
Patricia Alamo
the first of five women tied for 81st place. Her modelling work seems to take her all over - as befits a woman with nearly
400,000 Instagram followers
- but she's based in Madrid, at the very important-sounding Europolis Sport Center. I think I might have to make a pilgrimage there next time I'm in Madrid, one of my favourite cities not just in Europe, but the whole world. Knowing I might run into Patricia in gym wear FMS very much approves of only makes it a more attractive destination.
81=
*****
GRACYANNE BARBOSA
(#62)

Spectacular Bum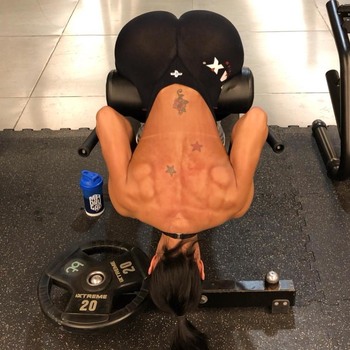 Our third five-star lady is, of course, much more than the sum of those epic glutes (heart-shaped, appropriately!). A former lawyer, lest we forget, she's (probably) as smart as she is sexy. And pleasingly, she has developed more and more muscle as she's become more and more famous (a whopping six million follow
her on Instagram
).
81=
BJ BRUNTON
NEW ENTRY

WFF Figure Champion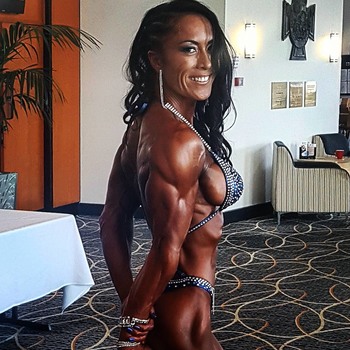 From time to time the largely ignored the World Fitness Federation throws up a woman the female muscle lovin' brethren go collectively doolally for, and in 2017, that woman was the Kiwi
BJ
(no punctuation, apparently)
Brunton
. We've avoided the temptation here but shredded, sweaty and topless is how she generally likes to present herself, which may go some way to explaining our collective descent into full swoonspin. Unsurprisingly, she's been very successful in the WFF Figure world.
81=
MELISSA PEARO
NEW ENTRY

IFBB Physique Pro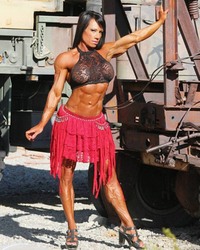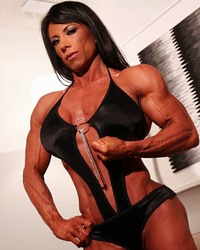 A first appearance on your list for the sultry Melissa and her "unreal shoulders". Well-deserved too because she really has developed spectacularly over the last few years, and in 2017 a second consecutive Olympia appearance cemented her place among the Physique elite. She's not especially shy about showing off her "mega sexy body" (as one voter put it) either, which is probably why she's gained so many new and devoted fans over the last year or so as well. And she's got brains - a software engineer no less.
81=
VICTORIA PUENTES
NEW ENTRY

NPC Figure Competitor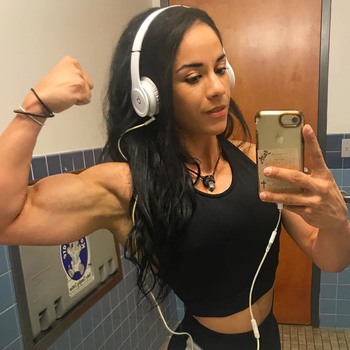 One of my new crushes for this year,
an old friend of the blog revealed with his votes, and enough of you felt the same to give Victoria her
Hot and Hard 100
debut. I'm pretty sure none of you are NPC judges, because, rather bizarrely, she didn't even place at the Nationals last year. Probably that old chestnut "too much muscle".
And that, my friends, is your first 20.

Hot and hard enough for you so far? Tune in WEDNESDAY for the continuation.