FIGURE PHENOMS
ELISE FARGIE
Winner, Class F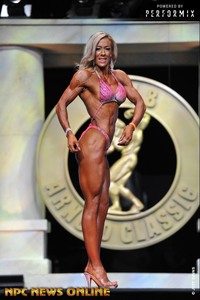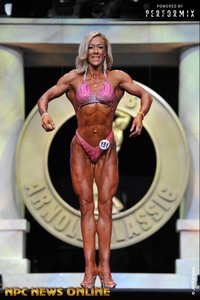 We do like it when we pick 'em.
Elise was an
FMS Woman of the Week this time last year
, in particular the "gorgeously thick and defined abdominal ridges" on this Australian Figure champ drawing our attention. Here she won the tallest of the Figure classes, quite surprisingly if her own reaction is to be believed.
I came into this show with a goal of making Top 10,
she wrote afterwards,
and completely exceeded alllllll [sic] my expectations!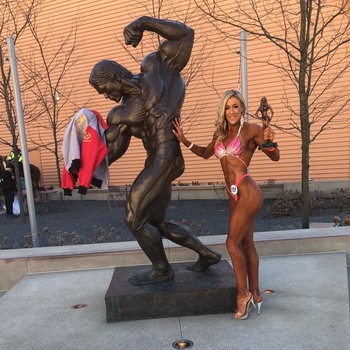 These past 6 days have been the BEST experience of my life...
Pleased for her. Elise comes across as very genuine on
her social media
. As a mother, she has quite a lot more to do than most while preparing herself for such contests, and as an Aussie, she had further to travel than most of the other Figure ladies as well.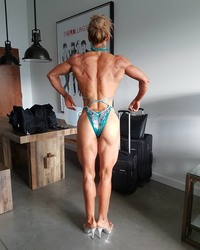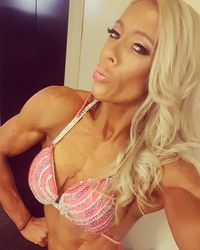 More Elise at the Arnold Amateur
.
ALICIA BELL
Runner-up, Class C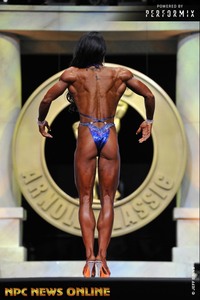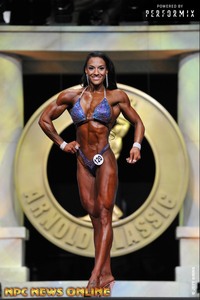 In direct contrast to Elise, Canada's beautiful
Alicia Bell
had "high expectations" of herself at the Arnolds, and couldn't help but be a tad disappointed - even though 2nd is nothing to be sniffed at - by the outcome. However, 3rd at last year's Canadian Nationals, and now 2nd here, I'd say Alicia is definitely heading in the right direction.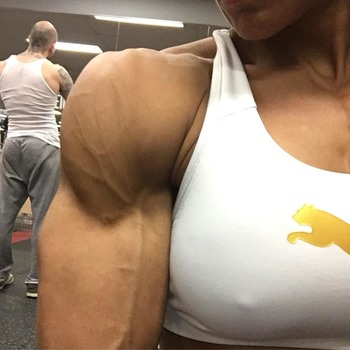 It's a fun ride watching her prepare for these shows. Alicia is one of those Figure ladies who never stops showing off her increasingly freaky and separated muscles - "my delts have delts!" - as the big day approaches, and her prep for the Arnolds was the most enjoyable watch yet. One of the many reasons why she's so popular not just in my house and the FMS office, but across the female muscle fan forums as well.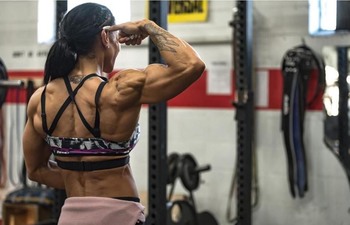 Watch Alicia backstage at the Arnolds
.
LOLA MONTEZ
Winner, Class C & Overall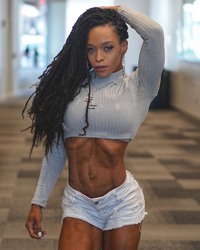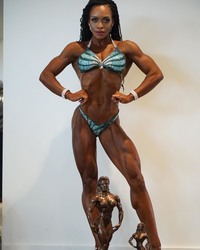 It was always going to take something, some
one
special to beat Alicia, and here she is.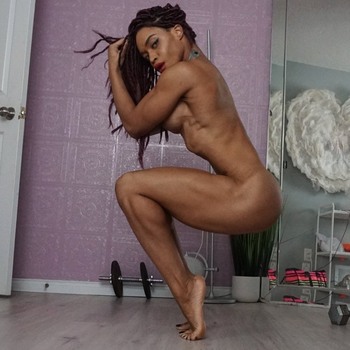 If you've never seen a naked
Lola Montez
in one of those clips that populate areas of the internet not solely reserved for female muscle (clips that enable Lola to fund the lifestyle that enables her to look like this), then I suggest you seek one out sharpish.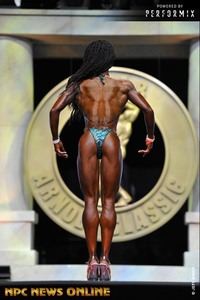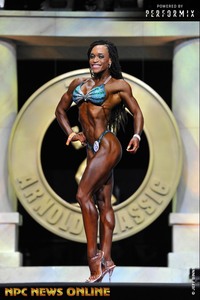 Having said that though, even the blandest images of Lola covered up (to some degree at least) are hot enough for me and my imagination, let alone
her sizzling IG clips
- like
this one
, for example, taken after the Arnold pre-judging.
1st callouts. Dead Center,
she triumphantly announced.
See you at the finals.
Her "#1" sign at the end of the clip leaves no doubt where she expected to find herself placed. And she was not wrong.
PHYSIQUE DREAMS
LEA LOUISE GEIGER
5th, Class A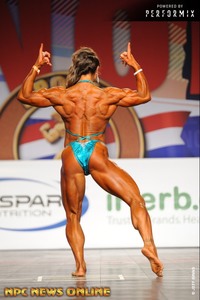 Familiar from NPC Nationals past as a Bodybuilder, Lea has been a Physique competitor since around 2015, although not very often and with no great success.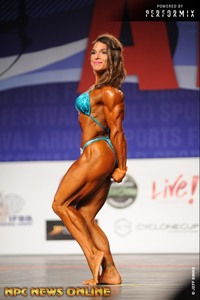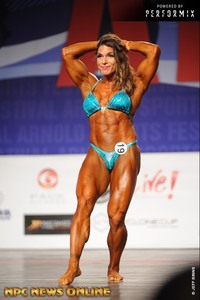 Only the top 5 (out of 20 in the class as a whole) got to perform their routines here, so this was probably Lea's biggest achievement in her nigh-on 10-year career to date.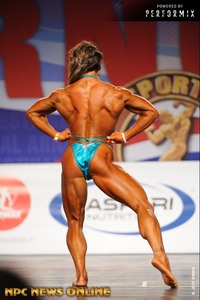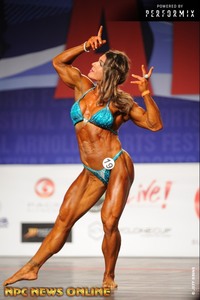 Haven't managed to find anything from her on social media, but I did find
this random - but hot as only women admiring muscle women can be - clip from 2015
. Enjoy!
ANGELA YEO
3rd, Class A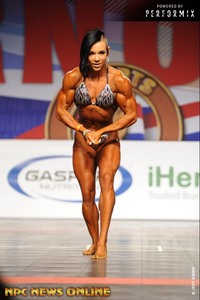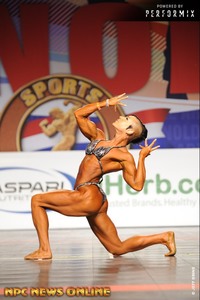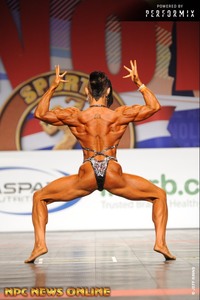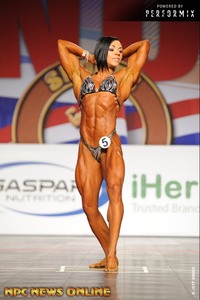 We finish today's diggery with two women who've been all over the forums in the last few months, the first
Angela Yeo
,
recently featured on FMS
for one of the many muscle fetish-y clips she puts up on
her Instagram
, clips that have had the brethren becoming increasingly breathless in their praise for her. Clips like this one...
I have never been through anything quite like this,
said Angela as she prepared to say goodbye to Columbus, "looking filled up and pretty".
I am SO PROUD. I can't wait to find out what will fire me up like this again. OMG am I ready to lift!!!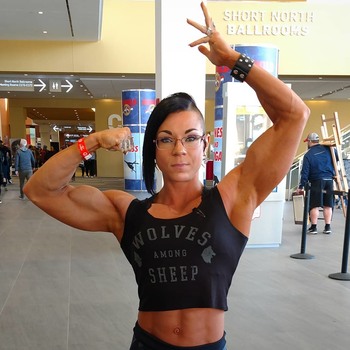 There's a growing number of us always ready to watch.
LINA MARIA VARELA
Runner-up, Class A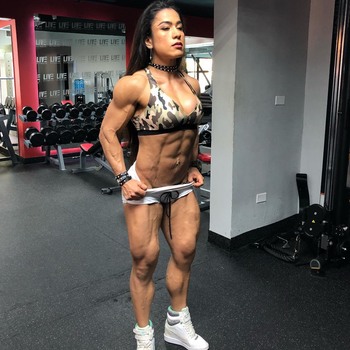 Over the last twelve months, Dominican
Lina Maria Varela
has gone from being an undeniably attractive but largely unremarkable Figure competitor to a
bona fide
shredded Physique goddess - one of my top swoons for 2017 without question.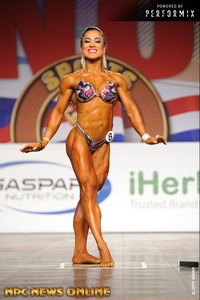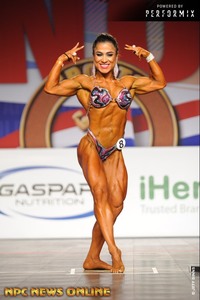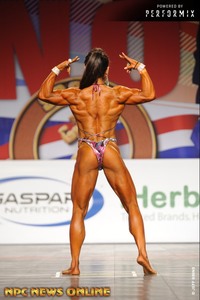 Her countless
sweaty workout clips
and the fact that she's not been shy about
showing off her gains
have endeared her to the wider female muscle lovin' world as well, and that very much includes you lovely FMS readers. You'll find out more next week, but it's not hard to see why she'll be making her
Hot and Hard 100
debut this year.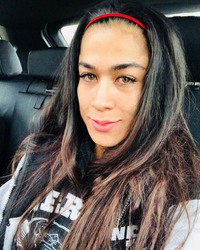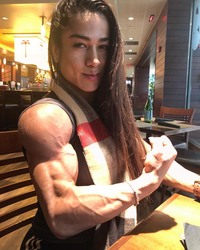 She's obviously a name (and body) familiar to most, but what might surprise you about Lina Maria though is her age. Although I'm not sure exactly when she was born but at her most recent contest before the Arnolds - the NPC Clash of Champions in October last year - she won both the Open
and
the Masters over 35 Physique titles.
And we leave you today with Lina Maria getting oiled up and much much more!
Tomorrow, Swell digs some Arnold pros.