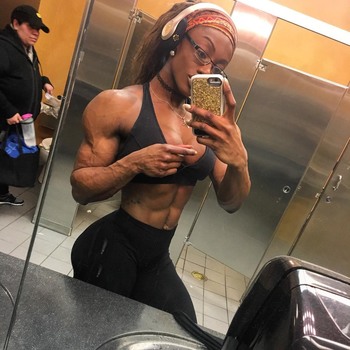 This year's Physique International saw the Arnold coronation of
Shanique Grant
, still unbeaten in this division ever since she moved up from Figure in the middle of her 2016 season. Runner-up
Natalia Coelho
is a more recent mover - she was competing in Figure up to the last Olympia, then switched - while the woman awarded the Amateur Overall Physique title (and pro card),
Christelle Zarovska
, also competed here (much less successfully, we should note) in one of the Figure Masters classes.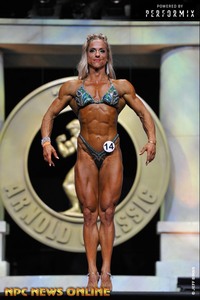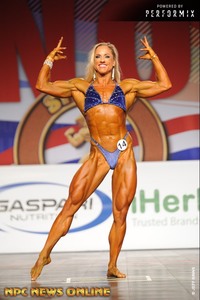 Christelle Zarovska - Figure AND Physique at the same contest!
Elsewhere among the pros,
Essence Monet
,
Diana Schnaidt
and
Liz Montalbano
all used to compete in Figure, and
Laura Zuniga
competed in both divisions during 2014 and 2015 before settling into Physique - and they are just the ladies I know about without having to check! In the amateur ranks, Class A runner-up
Lina Maria Varela
(who we drooled over yesterday) was also (albeit briefly) an ex-Figure competitor.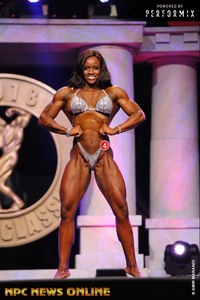 Essence Monet
The standard reaction for female muscle fans when women do move "up" (as they say) is one of delight. "Another one for the (more muscle) team" sort of thing. You never hear disappointment voiced, you never read "I wish she'd just stayed in her heels". Women moving from Figure to Physique is, by general consensus, a "good thing".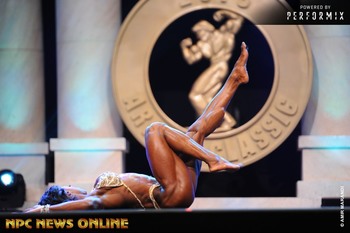 And I'm not about to disagree with that, but I do wonder whether the apparent ease with which some former Figure phenoms have risen so rapidly in Physique will have ramifications for both divisions that we all might not be so enthusiastic about.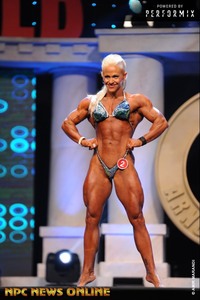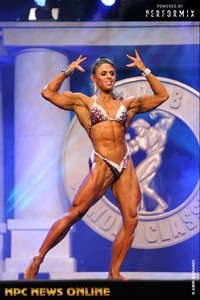 Take the fortunes at the Arnolds recently of those women who have come to Physique from the other direction, for example.
Kira Neuman
was the highest placed ex-Bodybuilder, and she switched to Physique immediately after gaining her pro card at the 2012 Nationals.
Geraldine Morgan
, given her recent history of Physique placings, was probably delighted with 8th here, but it's taken her the best part of five years to achieve it, and she's never been remotely close to Olympia qualification.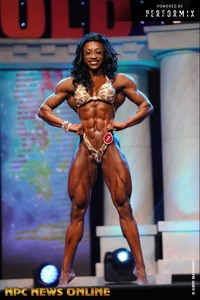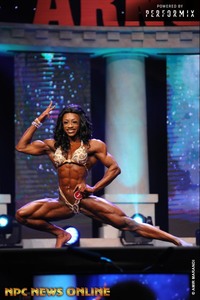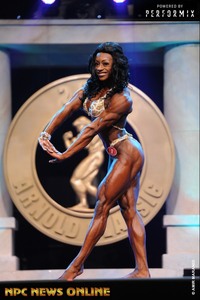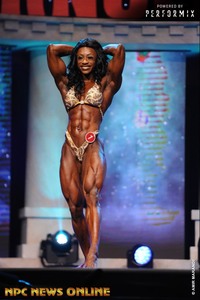 Does this signify that rather than what we hoped for - that Physique would inevitably become a more and more muscular division - the opposite is happening and in fact a leaner, less muscular, more Figure with flexing package is what the future holds?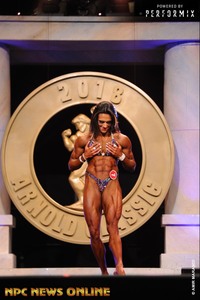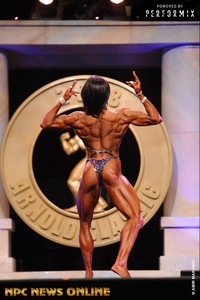 Natalia - the Yaxeni to Shanique's Iris?!
Relax, they tell me. You worry too much. The Arnold result was just two genetic freaks who have found the right division for themselves and are getting on with realising their scary potential. If Physique is going to be these two flexing off at Arnolds and Olympias for the next ten years (Natalia playing Yaxeni to Shanique's Iris perhaps?), what's the problem? Shanique, Natalia and successful former Figure competitors at the Olympia -
Juliana Malacarne
,
Jennifer Taylor
and
Heather Grace
- were just wrong in Figure, and if we are lucky enough to see all five of them on stage together in Las Vegas later in the year, it will truly be a mouth-watering feast of muscular beauty.
And, they ask me, so what if Physique becomes a kind of Figure+? It'll keep the Bodybuilders in Bodybuilding, and that division might even benefit from bigger Physique competitors moving (back) up. Imagine
Katie Lee
(12th at this year's Arnolds) deciding to switch to Bodybuilding! Would that be such a bad thing?!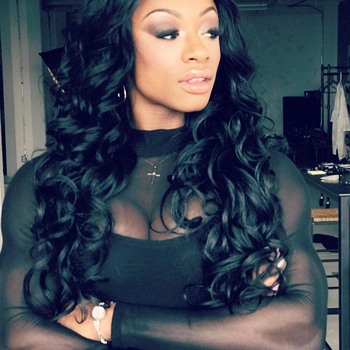 Whatever's
going
to happen (and
Katie Lee
becoming a Bodybuilder is a very nice dream indeed), what we do know for sure is that
Shanique Grant
never won a pro Figure title but now has four wins out of four as a Physique competitor. Appropriately perhaps, she no longer wants to be known as "The Future" -
she's "The Present" now
.
Enjoy!
FMS is going to be having a break this weekend, and for good reason - votes have been counted, on Monday we begin our 2018 Hot and Hard 100 countdown!