After Wednesday's cavalcade of Hot and Hard 100 debutants, today there are only five names new to your list. And if you've enjoyed the Figure and Physique parade so far, but at the same time been wondering where all the FBBs have gone...
The 2018 FMS HOT AND HARD 100
60
FANNY SWERKSTROM
NEW ENTRY

Survivor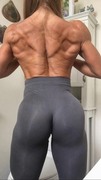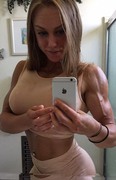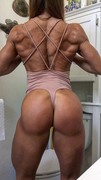 "Fanny Swerkstrom's Bum" - reason #6 in FMS' summer 2017 21 Reasons
(to be a female muscle lover) and, I dare say, the most significant reason why Fanny makes your list for the first time this year. To be honest, before I sourced the above pics I really couldn't have recognised Fanny from a close-up of her face. Her glorious bum I would recognise anywhere! Get past that though (and her ultra-shredded pecs aren't too shabby either), and you find that Fanny's story is one of triumph over pill and alcohol addiction, eating disorder, and self-esteem about as low as you get and live to tell the tale. Now an inspiration to thousands. Check
her Facebook
for more.
59
PAULINE NELSON
NEW ENTRY

2017 NPC Masters Heavyweight Champion/IFBB Pro Bodybuilder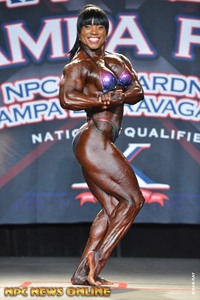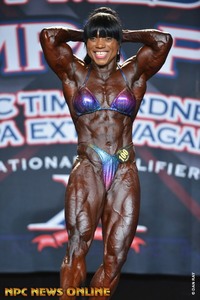 This was the year that for my money the best amateur FBB in the US over the last few years turned pro, and Pauline, fast approaching (she seems to do everything fast, making up for lost time no doubt) the age of 50, immediately got herself on a pro stage and promptly shone in Tampa. She placed a deserved 3rd, beaten only by
Sheila Bleck
and
Lisa Cross
, and on the back of that she was invited to the Rising Phoenix. Phew! Breathless times for Pauline and all of us who like watching her work.
58
MONIQUE JONES
(#84)

IFBB Pro Bodybuilder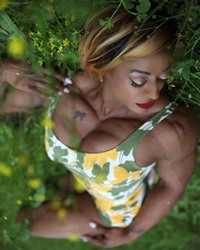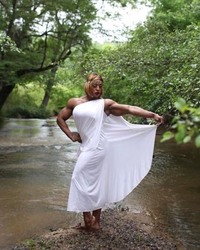 This time last year I was hoping that "the sexiest T-shirt seller of all time" (reference to her job at the Rising Phoenix 2016) would be back on stage in 2017, "where she belongs". Sadly, that's not happened, with "Mo" continuing to devote her energies to helping out her clients ("Moettes"?!) achieve their own competitive potential. This "stunning, captivating" woman did, however, glam up for some photoshoots this year. Don't get me wrong, a Monique gym selfie can be as overwhelming as anybody's, but there's definitely something about such an immense cake of beef portrayed in such a feminine way. Meanwhile, the "Mo' Stage Time" campaign was launched and has slowly gathered pace. Find out how you can help by sending a SAE to the usual address.
57
KRISTINA NICOLE MENDOZA
NEW ENTRY

NPC Bodybuilder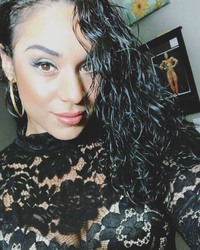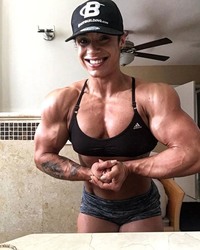 The future of pro Female Bodybuilding is always a bit of a worry. Who is going to take over if Wings of Strength decide to pull the plug? Where is the next generation? The first of those questions Kristina can't do much about, but she's a big part of the answer to the second one. Not quite ready for the pros yet, say the NPC judges - she was (unluckily I thought) 3rd at the USAs and 4th at the Nationals in 2017 - her time will surely come sooner rather than later.
Make no mistake,
cautioned one voter,
this girl is a 100% knockout.
Believe me, we are well aware, her background in dance and gymnastics doesn't hurt either. No lesser authority than the former Ms Rising Phoenix herself,
Margie Martin
, is impressed too. She confessed to being "so motivated" by Kristina's leg workouts.
I love seeing women who are beasts,
added Margie.
56
SILVIA MATTA
(#93)

2017 Puerto Rico Pro Bodybuilding Champion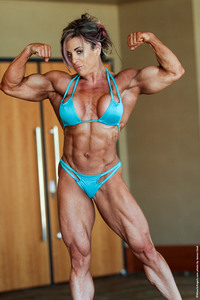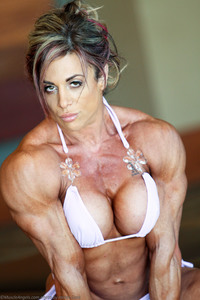 Once a Fitness brunette, now a "dirty blonde" (as one fan put it) trophy-winning Bodybuilder. The evolution of
Silvia Matta
is a story we probably should have told on FMS long ago. Everything you need to know about her though could probably be condensed into
the moment (0.54) she grabs the mic from her (clearly lovestruck) interviewer after her Puerto Rico win
(which, by the way, only makes her interviewer melt a little bit more, as I'm sure it would do for all of us). As effortlessly dominant and sexy as only an
Italian
Female Bodybuilder (capital F, capital B) can be.
55
FLORES NEIDE SOUZA CAMPOS
(#31)

2017 WFF Extreme Body Ms Universe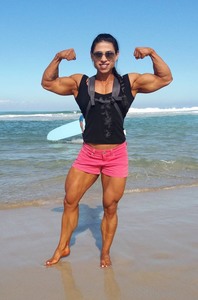 A little surprising perhaps that Flores has gone down your list after entering for the first time just outside the top 30 last year - she hasn't after all, got any smaller or less beautiful, has she? There was some general disappointment that she didn't compete at the Ms Wings International in Chicago, which, as an amateur she could well have done, but, as one voting Flores fan reckoned her progression has gone from "big to bigger to mind-blowing" nevertheless, and she did retain her WFF "Extreme Body" (love their categories!) Ms Universe title in 2017, some consolation for her placing here.
54
BRITTNEY O'VEAL
(#82)

2017 Chicago Pro Bodybuilding Champion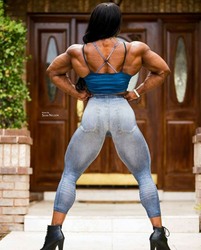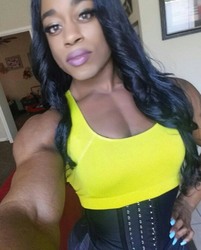 On more than one occasion in this last year there has been some consternation on the forums regarding Brittney - "How in the world did she get those jeans on?!" No one knows. Though it's fun to imagine how she gets them off. A first pro win at her first pro show was not totally unexpected, her subsequent absence from the Rising Phoenix was a major disappointment. Personally, I can't get enough of her (top 10 on my list with her looks to camera that say "I know what I'm doing to you" as she flaunts her sinful body).
So big and muscular and so pretty,
says another Brittney captivatee.
The next great African-American FBB,
declares another,
she just has "it", you can see it.
53
HELLE TREVINO
(#9)

2017 Wings of Strength Ms Rising Phoenix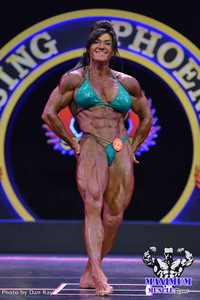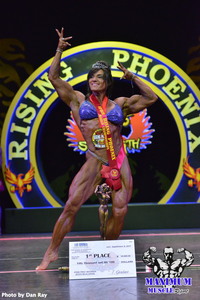 It was as close as it could be, but in the end, Helle was awarded the big sword and sash and the biggest pay cheque in Female Bodybuilding. Twelve years before she was told she would never train, let alone compete, again after a herniated disc injury left her unable to even walk. Her miraculous return to competition and success since having done so culminated in Scottsdale, Arizona last September when she became the Champion she might well have been many years ago but for that injury.
52
*****
OKSANA GRISHINA
(#23)

2017 Ms Fitness Olympia, International, and Arnold Australia Champion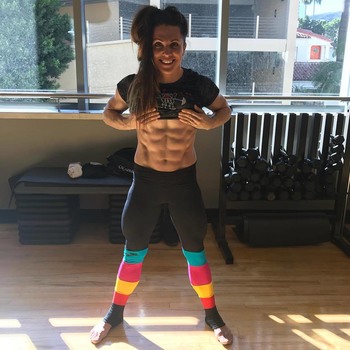 Another year, another clean sweep of first places for Oksana, a fifth consecutive year with Oksana as the sole representative of IFBB pro Fitness on your list. What will we do next year when she'll have been retired for the best part of eighteen months?!
51
CASS MARTIN
(#15)

Fitspirational Phenomenon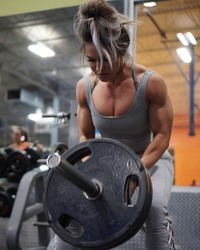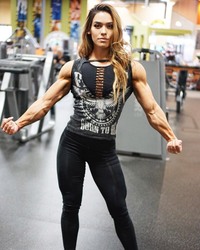 There's the
"Cass Martin Fan Club"
, another called
"Cass Martin Gym Lover"
(not only pictures of her in the gym), and another with the very catchy name
"Cass Martin Lady Beast"
. This time last year we were congratulating Cass on having built up such a social media following, this year it's the sheer number of accounts devoted to her and her alone that we are admiring. She now has 1.6m(!) followers on
her own Instagram
.
50
PENPRAGHAI TIANGNGOK
(#42)

IFBB Physique Pro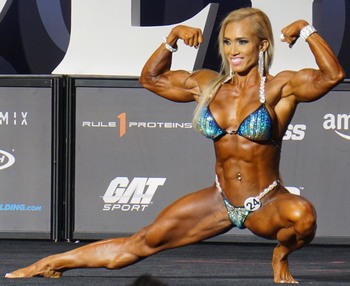 2017 was the year that Penpraghai became the first Thai woman to compete at the Olympia, and she did so with some distinction - 10th in possibly the most competitive division of all. Aside from that, she seems to have had a fairly relaxing time of it last year - bit of travelling, New Year partying... It would take a braver man than I to predict what she'll do next because she never seems to go the same way twice. Nevertheless, she is undoubtedly "a role model for all Buddhist women aspiring to Bodybuilding", and now we are starting to see talent such as her friend and sometime training partner
Phonthip Marino
travel the trail that Penpraghai has blazed.
49
CRIS GOY ARELLANO
(#6)

IFBB Physique Pro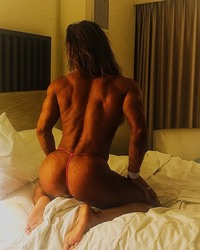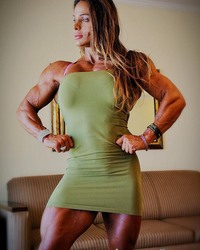 After being your (somewhat surprising) #1 in 2015, Cris made a valiant defence of her Hottest Hard Woman in the World title last year, when you voted her the top Physique woman on your list, at #6. Suddenly though, she's down in the high 40s. Why? Well, judging by what's being written about her on the forums, the facial surgery she's had has divided fans - for and against. Against:
It seems like it is an unmitigated disaster time and time again,
says one frustrated poster.
I wonder why women continue to resort to it - and of all people Cris, one of the most beautiful bodybuilders in the history of the sport.
Many clearly feel the same, yet she still has a devoted following. For:
It doesn't surprise me that FBBs go for plastic surgery as they have transformed nearly every other part of their bodies,
one writes.
She looks hot! My ideal! Love her overall physique and her face.
Where does FMS stand? Not very relevant, but you can probably guess how we feel from the Cris images selected by the editorial team.
48
LAURANDA NALL
NEW ENTRY

NPC Physique Competitor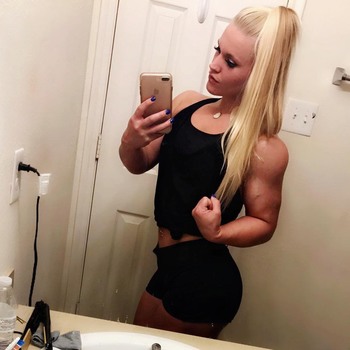 Now here's a New Entry that's not so easy to explain.
Lauranda Nall
was called "the next great Physique competitor" in 2015. An entirely reasonable claim then, but it doesn't look so prescient now. She hasn't competed at all over the last couple of years (as far as we know anyway), and it's only recently that she's started to shed some layers and show her muscles again on
her Instagram
. There she lists her occupation not as a competitor but as a "ninja-mermaid-athlete". I can see how mastering the first two of those would require taking some time out of competition. Nevertheless, Lauranda is still young enough - and genetically blessed enough - to make the prophesy come true.
47
*****
SELMA LABAT
(#4)

IFBB Pro Bodybuilder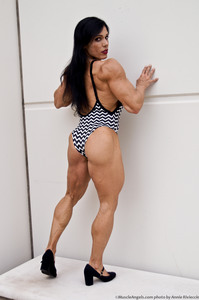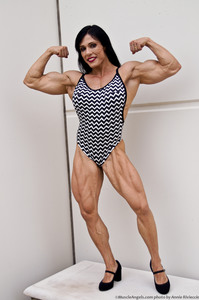 There are four (or three depending how you count
Karina Nascimento
) Brazilians who have appeared in every
Hot and Hard 100
. Selma may not be the tallest, but she's by far the biggest.
Gorgeous woman,
says one voter.
She's totally perfect - amazing physique, beauty, sex appeal, and a champion attitude.
I must say, I like her attitude in her video work, especially the stuff she's done with
Awefilms
, which is
very
erotic. All the way up to #4 last year, I'm at a loss to explain her demotion to #47 on your list this year. She competed in Chicago, placing 4th in the strongest FBB line-up there was pre-Tampa, and so wasn't, frustratingly, at the Rising Phoenix... again.
46
NATALIA KUZNETSOVA
(#18)

Behemoth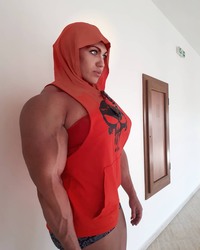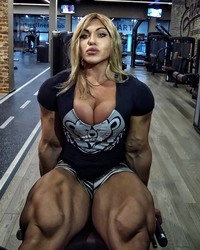 Sometimes I think she still looks a bit scary,
says one voter.
But most of the time I can only stare open-mouthed in astonishment. She seems to be consistently absolutely massive, ripped and ready to show off her hugeness.
The biggest beast of all was like Marmite in the voting. No other woman was placed at #1 by more voters, but there weren't nearly enough of them to even threaten to better her 2017 top 20 showing. She has - almost unbelievably - continued to just get bigger and bigger, and the number of grainy webcam recordings of her bulging body half-naked and even fully naked has also grown. For an increasingly select few she just keeps getting better and better, but our collective enthusiasm for her has, for the majority, apparently waned.
45
ODALYS FERREIRA
NEW ENTRY

IFBB Figure Pro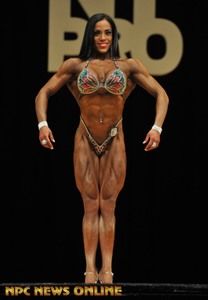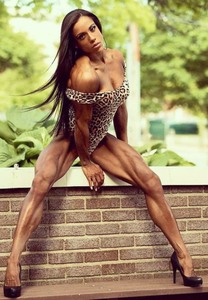 A first year as a pro for Odalys - 2nd at the New York Pro the competitive highlight - topped off nicely with her
Hot and Hard 100
debut here. I thought she looked sensational in New York (see above), so much fuller than her usual ultra-lean look. Then again, I was utterly smitten the first time I saw her - won over by the killer combination of muscles and sex appeal she brings with her anywhere she goes.
Beautiful from head to toe,
one voter reckons.
One of my new crushes in 2017.
44
SHANIQUE GRANT
(#63)

2017 Karina Nascimento & New York Pro Champion, 2018 Ms Physique International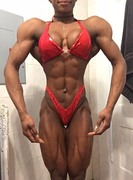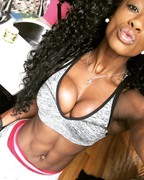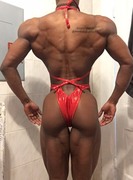 She effortlessly qualified for the Olympia at her first attempt in 2017, and then went on to win in New York for good measure. Already in 2018 "The Future",
we recently noted on FMS
, has become "The Present", and Shanique will go to the Olympia -
IF
she goes, it hasn't worked out before - as the undefeated, undisputed top challenger to Juliana.
43
*****
KASHMA MAHARAJ
(#35)

Bodybuilder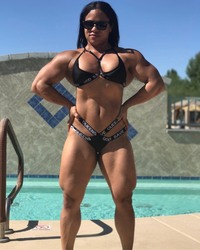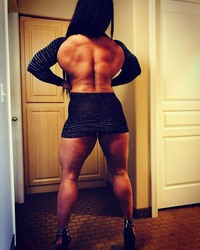 A five-star ever-present in your
Hot and Hard 100
, our collective love for her in no small part due to the fact she has, throughout, remained a "proper" Bodybuilder, hanging out with the right "hardcore" friends -
Colette Guimond
,
Melody Spetko
. Webcam interactions with her are always a pleasure too, apparently. Kashma had a quiet year competitively speaking, although I believe it was one of her happier years as far as her personal life is concerned. There couldn't be a more popular winner at the Nationals (or any of the pro card dishing out contests) in 2018 than Kashma.
42
ASPEN RAE
NEW ENTRY

IFBB Figure Pro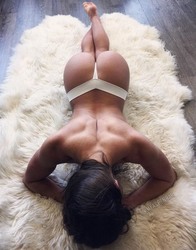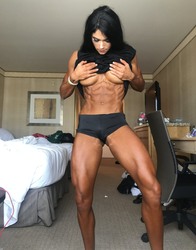 Aspen never disappoints,
according to one voter, who didn't elaborate. Without question one of the naughtier women on the list, but this year saw her win a (Figure) pro card, and, I think I'm right in saying, a lot more respect from the female muscle lovin' community for what she has achieved with her physique.
Aspen is living, unequivocal proof that weightlifting can transform an admittedly cute girl into a profoundly stunning Helen of Troy,
just one example of that, er, respect posted on the forums in 2017. And
FMS has made no secret of how we feel about her
.
41
KIM JI-HYUN
RE-ENTRY

Korean Muscle Goddess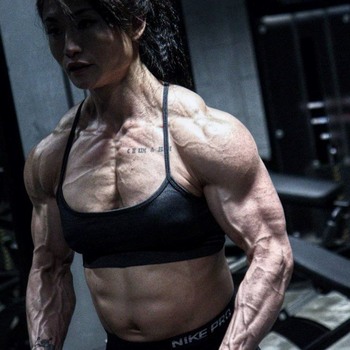 After vying for the title of to Korean against
Yeon Woo-jhi
year after year on the
Hot and Hard 100
, the woman who calls herself
Chun-ri Kim
finds herself the only Korean standing in 2017. Sadly, last September, just as she was looking as big, beautiful, and thrillingly vascular as ever, she was struck down with a potentially life-threatening condition that obviously nixed all her competitive plans. Happily, she not only survived, but is recovering well enough to be planning to return to the stage this year. When she does, it'll be even more of an essential follow than usual.
The countdown continues MONDAY with #40 to #31.