60 down, 40 to go, but from now on we'll be taking our time a bit more, spending quality time with the next ten women on your list - more images of each (and more text, which may or may not be a good thing) than previously in this countdown.

Enjoy!
The 2018 FMS HOT AND HARD 100
40
LINA MARIA VARELA
NEW ENTRY

IFBB Physique Competitor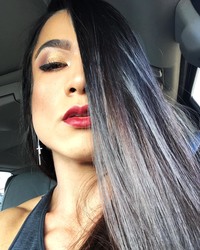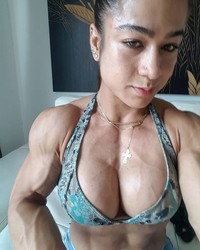 To say FMS discovered Lina Maria in 2017 is to state the obvious. We
all
did. Pretty much unknown to the wider female muscle lovin' world until late 2016, her muscling up to Physique over the course of the last year or so has set pulses racing and the forum boards aflame with tributes to this
Colombiana
's "amazing body".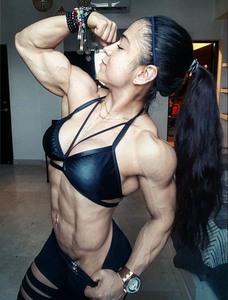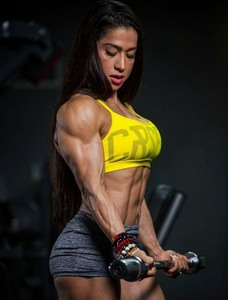 A beautiful and fascinating woman,
according to one voter who has clearly dug a bit deeper in to the Lina Maria story than we have had time to, although one aspect of that fascination (that we have discovered) may stem from the surprising fact that she qualifies for Masters over 35 classes. You wouldn't believe it to look at her.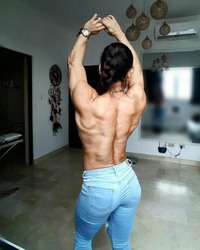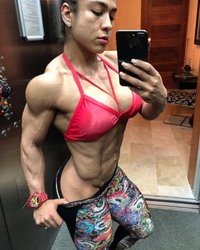 And look at this beautiful woman is something you may well want to do more of. I can highly recommend it!
Lina Maria is on Instagram
, and if you fancy seeing some of those workout clips edited together,
this one by Ivan Nezlobin
is not a bad place to start.
39
TINA NGUYEN
(#20)


2017 San Antonio Pro Figure Champion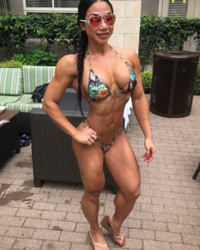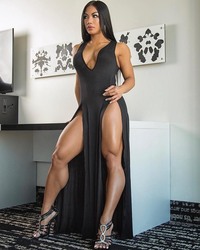 She'd come close a couple of times previously in her pro career, but 2017 was the year when Tina finally got a first place and a ticket to the Olympia. And now, for the fourth successive year, she finds herself in the upper echelons of the
Hot and Hard 100
.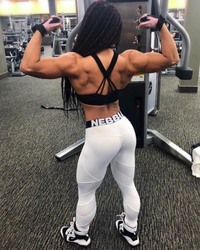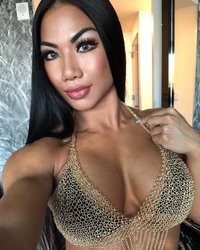 Voter praise for her was plentiful.
She has perfect proportions,
one pointed out,
her calves are as big as her biceps.
And not only that.
When I look at her I see nothing but legs, legs, LEGS!
exclaimed another. And you hadn't finished yet.
Such amazing curves,
said another who put Tina in his top 3.
We use words like amazing and awesome so much these days, but in Tina's case they are an understatement.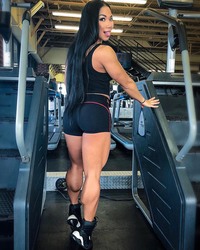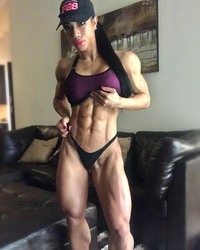 Indeed. Among her
785.000 Instagram followers
you'll find a higher percentage of females than most muscle women can claim, among them many of her Figure and other IFBB division peers. And they would probably agree 100% with our voters.
38
KRISTY ENOS
(#75)

IFBB Physique Pro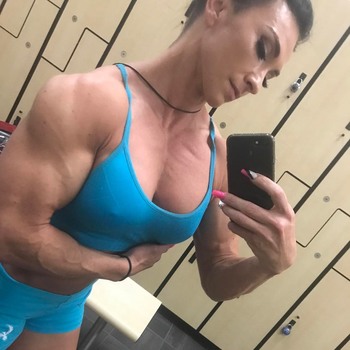 Once upon a time she was "Jenna", ripping off her shirt and fishnets in mock rage for our collective pleasure in a memorable
SheMuscle
video. That was my introduction to her anyway - sexy, pert, and convincing in her rage. By 2011, she had enhanced her impressively muscular chest and, among other poses, was flexing her enhanced pecs glammed up and in public in a couple of HerBiceps clips that went into the "Special" folder on ol' Swell's laptop before last. No alias this time, "Jenna", it turned out, was in fact
Kristy Enos
, a Lightweight Bodybuilder/Physique competitor from California.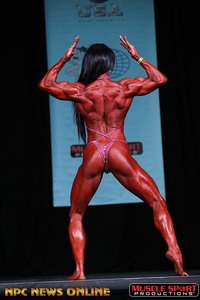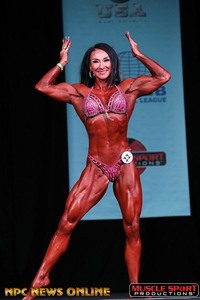 Last July, Kristy made her pro debut in the Physique division in San Jose, four long years after she had won her pro card at the 2013 NPC USAs. She finished 7th in a line-up of just 9 women, with the judges' feedback, for once, suggesting that she needed to "get bigger" to improve her placing in future. But it was her captivating contest prep, recorded for us via
her Instagram
in meticulous detail, that had me (and quite a few of the rest of you it seems) captivated by a now more mature "Jenna" all over again.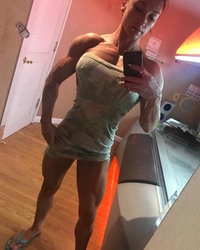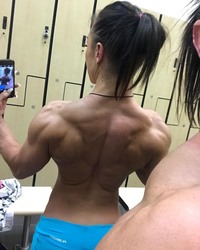 Her white bikini became quite a thing in my life around that time. In fact, so moved was FMS by our (re)discovery of this mesmerising woman that we actually put together
our own Kristy by Kristy in Motion compilation
. Oh, that bikini!
SWOOOOOOON!!!
37
BROOKE WALKER
(#99)

IFBB Physique Pro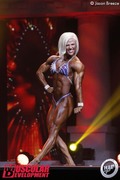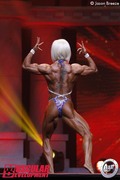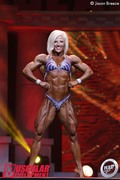 For me, the standout performer at the 2017 Arnold Classic in any division, due in no small part to her incorporation of the much-missed "moon pose" into her sizzling routine. Brooke lit up the stage that night with her irresistible energy and rippling muscles (and pushed up a few tentpoles in the audience in the process, I dare say). 2017 seemed to be hers for the taking, but then... it didn't quite happen. In St. Louis the following month she had lost a little sparkle (though still
very
sparkly), placed 2nd, and that, as far as competition is concerned, has been that for her to date.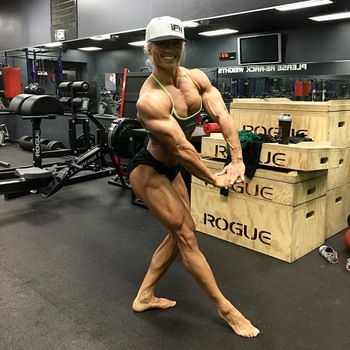 Inexplicably as low as #99 on the list last year, Brooke is up by 62 places this year - the biggest riser of all - and it's not hard (or perhaps it is - I seem to be getting naughtier and naughtier the further up this list we go!) to see why. She doesn't overdo it on social media, so each new view we get of her is a bit of an event.
Look at her face!
one Tumblr author demanded this year.
Even she is amazed by her own development!!!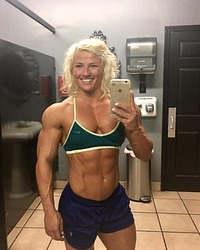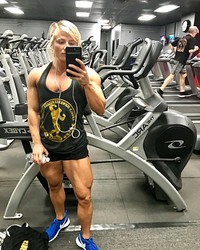 Personally, I can't wait to see Brooke on stage again. Review
her 2017 Arnold routine
and you may find that you feel the same way. Catch the moon around the 0.57 mark.
36
MELISSA WEE
(#63)

Hottest Hard Woman in Asia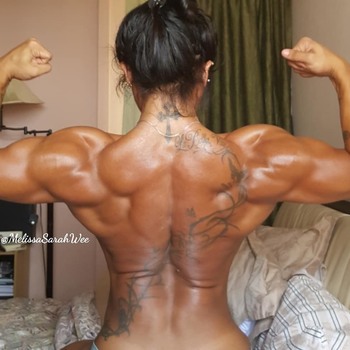 Everybody's favourite good Christian girl is back up again, reclaiming her Top Asian status on your list after plummeting from a lofty #10 in 2016 to #63 last year.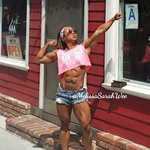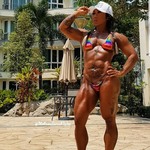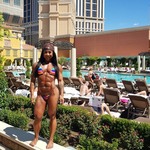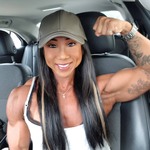 Sweaty topless double back biceps appear to have become something of a trademark for Melissa, which may explain her resurgence in popularity with FMS readers.
Looks like she is getting bigger,
notes one voter (no doubt with some excitement in their typing). She also may have got our collective attention again through a set of nudes she did "to commemorate my 34th birthday".
I've always wanted to do an artistic nude shoot,
she told
her Instagram
followers, many of whom probably stopped reading at that point (to commemorate her 34th birthday in their own way), but she went on to confide that the reason she hadn't already done one was partly due to rather endearing insecurities about her (to us) all but perfect body - "I'm very flat-chested".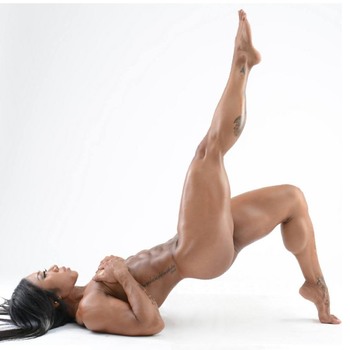 Melissa can be very revealing with her words as well, you see.
I want to lick stuff off that killer bod,
says one voter - proving that our words can be equally revealing!
35
KATHY GARZA
(#54)

IFBB Physique Pro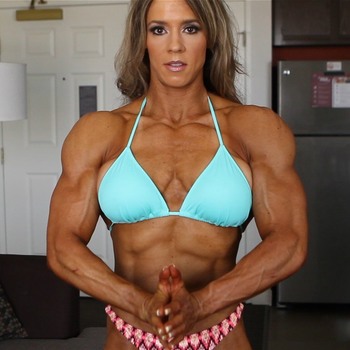 She looked magnificent (I thought) winning her pro card at the NPC USAs last year, and although she perhaps hasn't been all over the forums quite as much as she was in her breakthrough year of 2016, you've voted her into the top 50 this time around.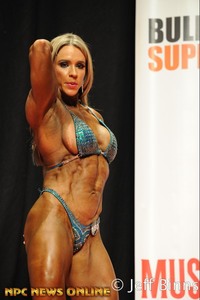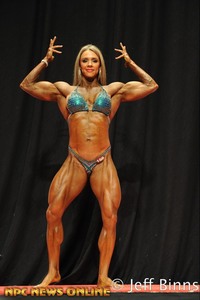 Kathy really is a dream-girl,
noted one of those helping Kathy out.
The complete package of size plus beauty.
And I'll add to that an attitude, a straight up fetish for her own muscles that she isn't shy about sharing. Before the USAs, for example, she was gave
her IG
followers
a memorable look at the groin-activating definition in her quads and hamstrings
.
I've already reached a level of conditioning I've always dreamed of,
she confessed,
and still a week to go. Happiest Flex Friday ever... until next week!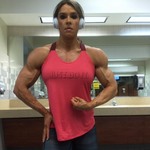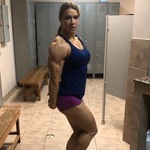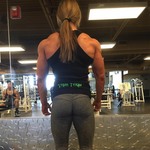 Now, with that in mind, FMS recommends you spend the next 4 minutes and 41 seconds of your female muscle lovin' life watching
"HULK GIRL"
(!) a
Bodybuilding Babes' (channel)
compilation of Kathy's IG workout clips from early 2017.
34
SHEILA BLECK
(#69)

2017 Tampa Pro Bodybuilding Champion; 2017 Rising Phoenix Runner-up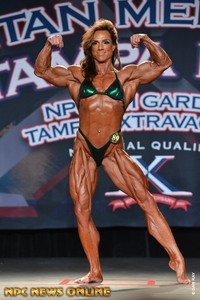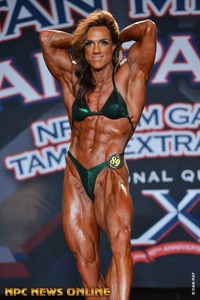 For the third time in the last four years, the consummate professional Female Bodybuilder descended from Mt. Bleck to win the Tampa Pro with her perfect proportions, conditioning, and posing. And then for the second year in a row, she took those things to the Rising Phoenix and had to be content (or not) with the runner's-up prize - on this occasion missing out on the biggest title of all only by the tie-break decision of the head judge. She would have, I wrote at the time, been "a worthy champion". I was very happy for Helle, but you had to feel for Sheila.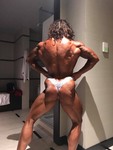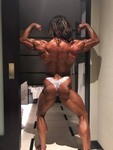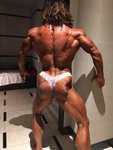 10 years a pro, who has been more consistent than her in bringing their best package to every single show they've entered in that time? I've said before that she doesn't quite get the love she deserves from female muscle fans, perhaps the drama of the 2017 Rising Phoenix has helped redress that among FMS readers at least - this is her first top 50
Hot and Hard 100
appearance (#56 in 2015 was her previous best).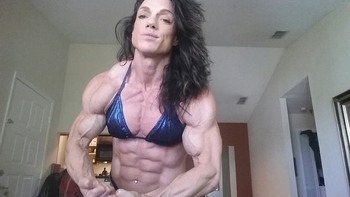 She doesn't overdo her social media, but pre-contest, as her full glory emerges from her thrillingly low-fat body, she rewards her fans time and again. "A most muscular for my fans who just simply enjoy muscle," she captioned one before the Tampa Pro - clearly (and I also have evidence of this from my days spending hard-earned cash on 1 to 1s with
La Bleck
on cam) this is a woman who understands her fans just as well as she understands what it takes to win pro contests. And you can watch
her routine from Tampa here
(courtesy of Sheila herself) to remind yourself how true that is.
33
CYDNEY GILLON
(#88)

2017 Ms Figure Olympia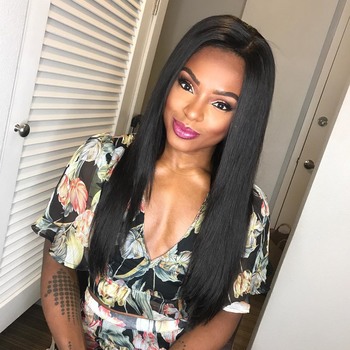 Beauty, glamour, class, style, and elegance,
was how one voter described Cydney. Not a bad starting point, not bad at all. But if we are truly going to do the 2017 Ms Figure Olympia champ justice, we'll need to add to it. He's forgotten "sex appeal" for starters.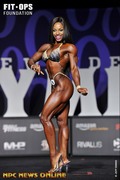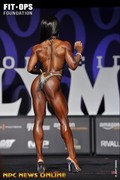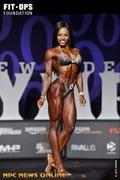 We were delighted when Cyd made your list for the first time last year, even more so that she has rocketed up it (no fewer than 55 places) this. Regular readers will know all about our soft hard spot for Cyd - she was featured on the blog a couple of times even before her first pro win in Chicago three years ago. We've drooled over her bum, her abs, her killer outfits, and we've basked in the light of that dazzling smile. So, yes, we were over the moon she made the
Hot and Hard 100
for the first time in 2017, although that didn't turn out to be the high point of her year, which was without question her Olympia win. Finally, she lined up against Candice
and
Latorya and beat them both. She had to be flawless on the day, and that's exactly what she was.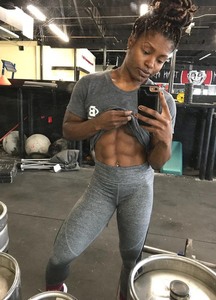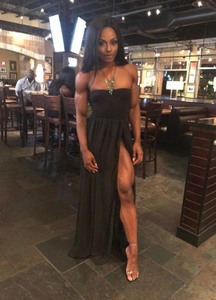 Unsurprisingly, the same level of dedication she applies to her Figure career goes into other areas of her life.
I have homework to do - school on Monday,
she said when asked about her plans to celebrate that Olympia win. Obviously - as is the case with so many who feature in your list - she's a woman who'd succeed at whatever she chose to do. Thankfully, one of them was building an absolutely flawless Figure physique.
32
ADRIANA KUHL
(#70)

Fitness Wear & Hair Extension Entrepreneur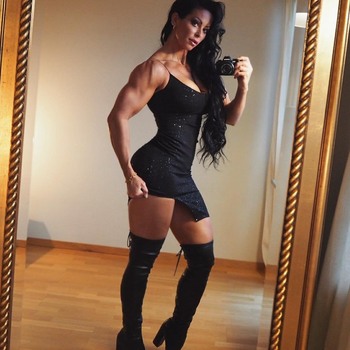 There's not a whole lot of variety to what Adriana posts on
her Instagram
- and pretty much all of them end up on the forums sooner or later. She's sweaty, she's pumped, she's modelling some of the "Fitness Wear" she flogs via
her website
, and she's pulling on, or somehow otherwise emphasising her long dark hair - or rather some of her own long dark hair plus the extensions which she also flogs. When you've seen one, you've pretty much seen them all, but I just can't seem to stop looking, and given her promotion up the
Hot and Hard 100
list this year, neither can you voters.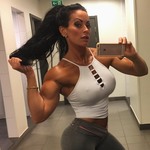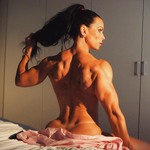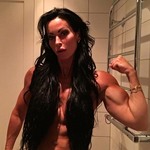 She's a visual adventure,
says one of them, nailing her appeal.
She must make crowded streets come to a standstill,
reckons another.
Show Adriana to those who say they are not attracted to girls with muscles, and they won't be able to deny it any longer.
170,000 follow
her Instagram
, I wonder... How many fall into that "Adriana turned me" category? Could Adriana be a major "gateway" muscle woman?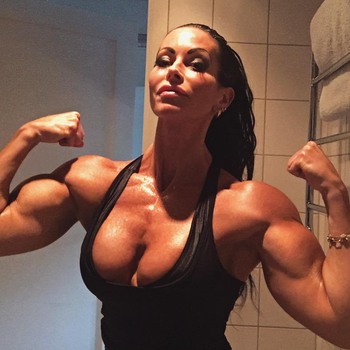 Maybe not for much longer. Go back over her pictures from a year, two years ago. To my eyes (though they may be a bit shot from looking at so many images of her in the last half an hour or so), she's getting bigger, and is
much
bigger than she was this time last year. Much as I love the whole contest thing, it is definitely hot that Adriana is packing on muscle for no other reason than she wants to. Pure gorgeousness.
31
*****
MINNA PAJULAHTI
(#40)

IFBB Fitness & Physique Pro, Powerlifter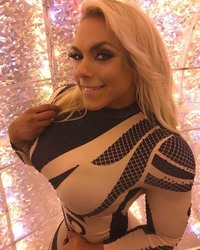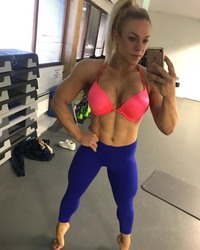 Our only five-star lady today is everybody's favourite fun-loving, flexible, powerlifting Finn. Minna has been around forever, it seems, more muscle curvy with every passing year, and if anything actually looks younger than she did five years ago when she featured two places higher than this on your first
Hot and Hard 100
list.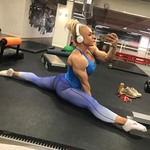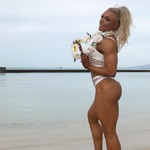 It is a little misleading of me to still call her an IFBB Physique pro - she hasn't competed in that division since 2016. Recently she went back to her cheerleading roots (kind of) at the recent Hawaii Pro as a Fitness competitor, her bigger-than-most-Fitness-girls muscles perhaps falling foul of the judges but by no means hindering her moves.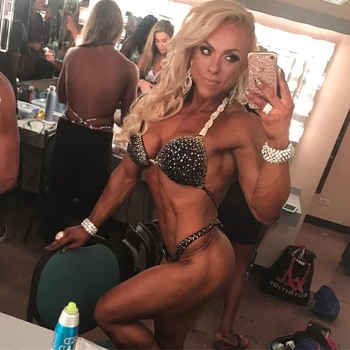 She was called "Barbi" on the Finnish version of
Gladiators
. This is misleading as well - Minna still holds the world record total for her weight in Powerlifting.
Superhuman,
one voter called her.
A stunning beauty possessed with incredible grace and elegance, but also immense strength.
Fitness Instagram
has (we've counted) no fewer than six Minna compilations. We like
№6
the best, simply because it showcases everything we (and our eloquent voter) have said about her.
Check it out.
Phew!

The next ten on your list will be revealed on WEDNESDAY.