A new occasional series, Underrated is not intended to be about judging decisions - if it was, we could probably run a post about every single woman who's ever competed! Instead, we aim to (re)focus on women who we think do not enjoy the prominence they deserve in the collective female muscle consciousness - someone a new recruit to the female muscle lovin' world would not necessarily come across.

Readers' suggestions for future posts on the theme would be most welcome.
UNDERRATED?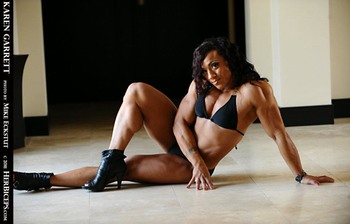 Search for
"Karen Garrett" on Girls with Muscle
and you will find exactly 0 images. (And yes, I tried with variations on the spelling of "Garrett" and still nothing).
One thread devoted to her on the forum whose first rule is... contains a single post with a handful of images. Another is a poll asking members to vote "Yes" or "No" as to whether she bears a resemblance to
Jada Pinkett
(-
Smith
)(!) "No", unsurprisingly, is a clear winner. And a third, from 2015, wonders "Has anyone heard from her lately?"
CAREER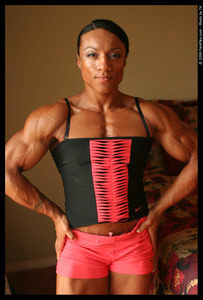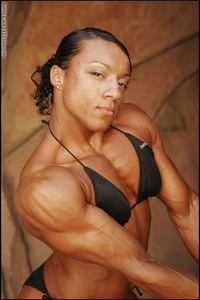 Karen competed from 1999 to 2012 but with huge gaps in between. According to
Muscle Memory
, her first and second contests were both in her native New England, and six years apart. On the back of her win at the latter,
she went to the NPC USAs for the first time in 2006
and finished 7th in the Middleweight class. Sadly, we haven't been able to find any contest shots from that day, but on the back of that national level exposure she did do her first work with some of the big schmotography sites.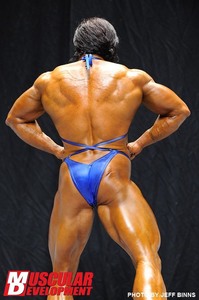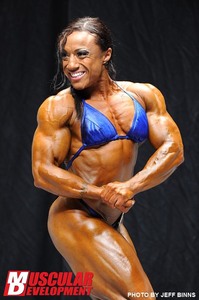 She next turns up on stage in 2011 at the NPC Los Angeles Championships, and wins. And the following year she's at the USAs again, this time as a Light-heavyweight. She placed 5th on that occasion, but sadly was never to be seen on stage again.
APPRECIATION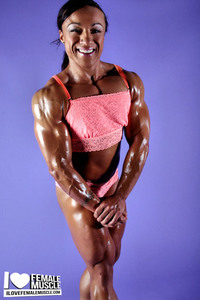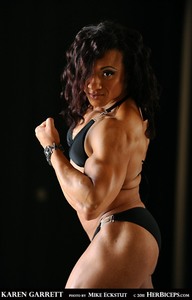 Karen had a killer smile, but could do smouldering with equal aplomb. She also possessed one of the great eyebrow raises, always perfectly timed to coincide with the pop of a mighty bicep or a rippling side chest pose. The muscle she packed on between her first and second USA appearances left her with a package that would consistently place top 3 at most pro shows these days, let alone amateur ones. That she didn't place higher back in the day was more to do with the competition and a lot less to do with any weaknesses in her physique. Check out the 2006 USA line-up
here
- you won't believe that so many legendary women were on the stage at the same time - and among the 4 (out of 14) Light-heavyweights at the USAs in 2012 that Karen finished behind, we find
Tierany Chretien
,
Shannon Courtney
and
Christine Sabo
.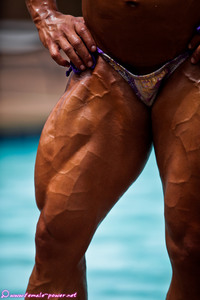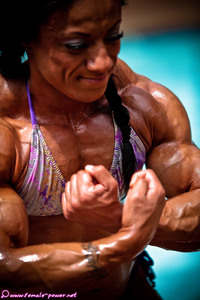 At her 2012 peak, Karen possessed not just an amazing, ultra-thick upper body, but a lower half to match. Pics and clips of her from that time have a tendency to leave this viewer seriously overwhelmed, and (with the smile, the smoulders and the eyebrow) she shows off her many assets with exceptional flair. A schmotographer's dream.
NOW?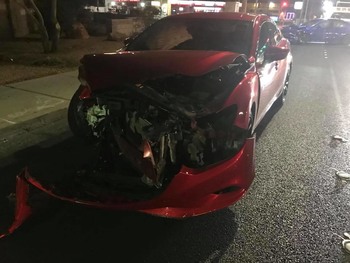 The latest news is that Karen is quite lucky to be alive actually. Just before Valentine's Day she had a bit of a prang. Her car (see above) is a write-off, happily Karen is all OK.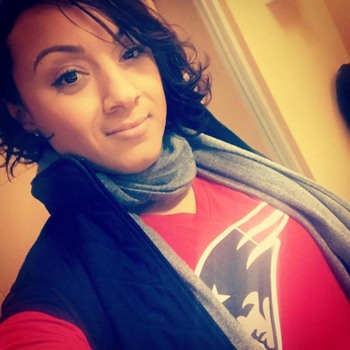 You can take the girl out of Massachusetts, as they say... She's now based in Las Vegas, where she runs her own Performance Sports Massage business -
Fixed by KG
.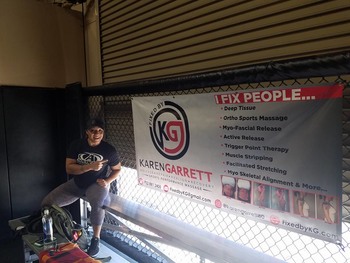 So, you lovely readers, who's next on Underrated?