FIGURE PHENOMS
JESSICA REYES PADILLA
(9th)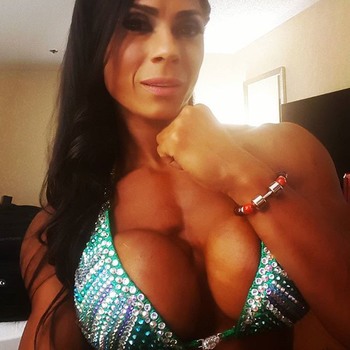 I liked
Jessica at last year's Olympia
, and I liked her even more here.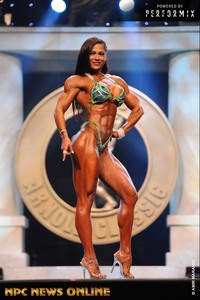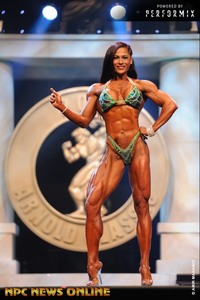 She really attacks her walk on, really announces herself - as if her body needed any announcing! She moves very elegantly between her poses, but when she hits them, she does so with 100% conviction. She really eyeballs the judges too, and watching the live stream I was able to pick up on her little calf flexes and so on, little extras that may or may not win over the judges, but certainly win over an ol' female muscle head like me.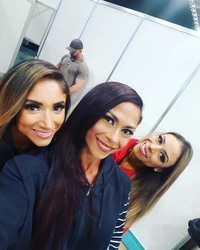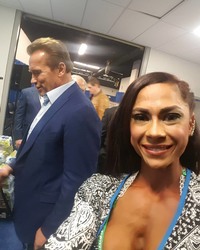 "Latina Power!" (with Sandra Grajales and Natalia Soltero) & 'meeting' Arnold.
More Jessica on Instagram.
CARLY STARLING-HORRELL
(7th)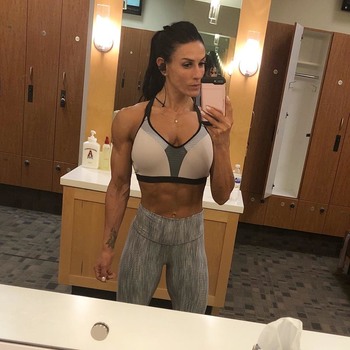 Just outside the top 6 another gorgeous woman we've featured on the blog before went one better than she did at this event last year, and looked better than ever doing so.
Spend any amount of time enjoying
her Instagram
and you'll see Carly is big with the Lord. And the Lord has revealed her true mission.
He has used bodybuilding to rescue me from myself and transform my mind into wanting more out of life and to not just settle for mediocrity,
she revealed in the build-up to this show. Good work, big man!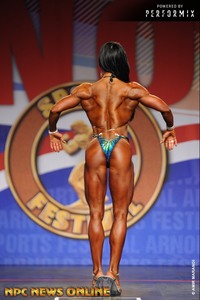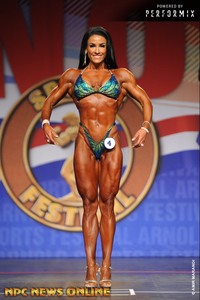 Side note: Carly has been a big supporter of the Arizona Pro, competing there in both
2016
and 2017 - another reason (as if we needed one) to like her. She finished 3rd there last year, one of Carly's better placings, and
confidently predicted at the time that Cydney Gillon would go on to "slay the Olympia"
. She was not wrong.
MICHELE DA SILVA PINTO
(4th)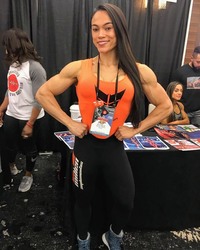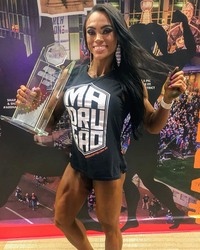 At the "meet and greet" before the show & all smiles after
It's a close thing between her 4th and
Bojana Vasiljevic
's 5th place, but the division's result of the night just about went to Brazil's hottest IFBB Figure phenom right now.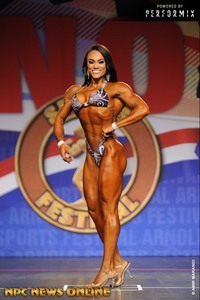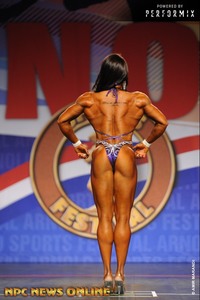 Just two years' ago, Michele was turning pro here by winning the Overall amateur title, and since then she has most definitely shown she belongs at Figure's top table without getting into the first call out at its biggest events... until Friday March 2nd, 2018.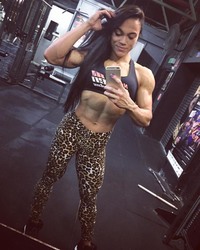 Last shoulder day before the Arnolds (veinzzzz!) & prepping for the Arnolds Australia this week
It wasn't just me who liked what they saw, the judges did too, and she finished ahead of more experienced (
Maria Luisa Baeza Diaz
,
Jessica Reyes Padilla
,
Ivana Ivusic
) and better-known (
Sandra Grajales Romero
) competitors to be the leader of the pack behind the three Figure legends who made up the top 3 here.
Truth be told, while I digged these three women just a tiny bit more than the others, as usual with the Figure division at such big events, all of the competitors looked utterly amazing. And thanks to NPC News Online, you can feel the Figure heat for yourself...
PHYSIQUE DREAMS
LEAH SOHN
(10th)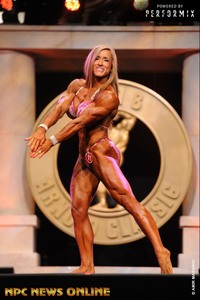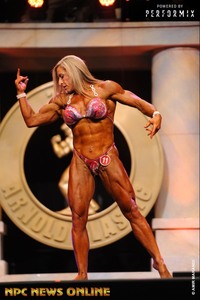 At 47, Texas'
Leah Sohn
is, I imagine, inspiring and depressing in equal measure to women of a similar vintage. That's how I feel when I see the physique her (probably older) husband displays on
the Instagram they share
anyway. Inspired (I could look like that) and depressed (I may never look quite that good) at the same time.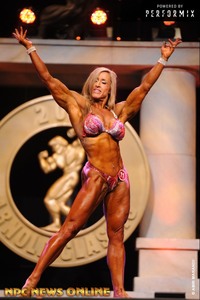 She's never been to the Olympia, never placed higher than 4th in Puerto Rico in 2016, so this was a big deal for her, and watching her routine on the live stream, I was impressed by the gusto with which she performed as well as her (47-year-old!) body.
Sheilahe Brown (remember her?)
was Leah's posing coach for the Arnolds.
Such an inspiration to me and so many others,
Leah says.
Sheilahe took me to new heights by using my personality and strengths to showcase and enjoy my time on stage.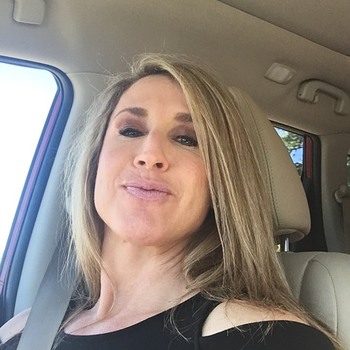 NB.
Before the (inspiringly
and
depressingly) shredded Mr Sohn made an honest woman out of her, Leah competed under the name
Leah McDonald
. Watch her interviewed after winning the Overall and earning her pro card at the 2015 Masters Nationals
here
. Competing for just over a year then, she looks absolutely stunning.
MICHAELA AYCOCK
(4th)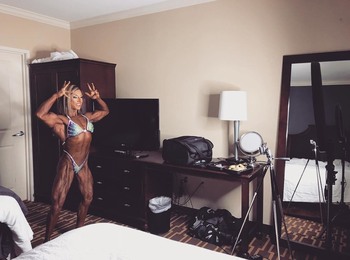 She's
SO
hardcore, works unbelievably hard, lifts unimaginable weights for ridiculous numbers of reps.
Her Instagram
is Freakshow #1 most of the time (and I
LOVE
it) but despite - no -
because
of that, when Michaela gets glammed and tanned, she's all the more delightful for the extreme contrast with her pale, no frills Monday to Friday self.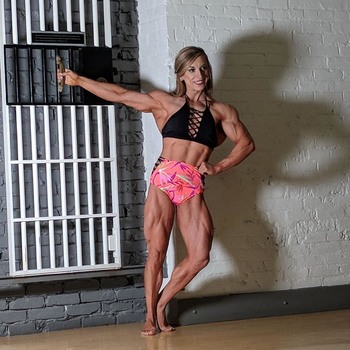 She's even been "lured" (her word) into some glam modelling by HD Physiques - it's only taken three years for them to convince her! And we are very much looking forward to the fruits of that collaboration, especially so after the above sneaky peak.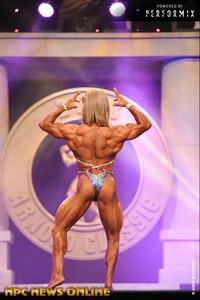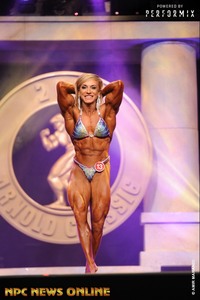 This was a great result for Michaela, even though the big Physique guns of
Heather Grace
and
Jennifer Taylor
stayed away, and she took this package to Hawaii last weekend and won, securing her 2018 Olympia place before the clocks go forward.
MARGITA ZAMOLOVA
(3rd)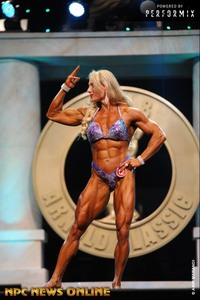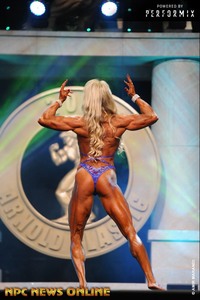 Similarly,
Margita Zámolová
was able to maintain the muscle that gave her a top 3 placing at the Arnolds into the following week, and after winning in London (yep, for real - you didn't realise there was a pro show?!), the undisputed new Czech Physique Queen (move over Katka) will be joining Michaela in Las Vegas later in the year.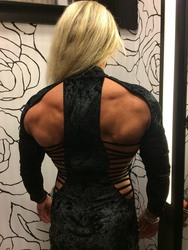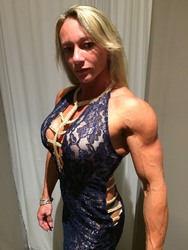 With the exception of the UK's
Kate Errington
in the Fitness division, no European woman placed higher here. No other European woman in Physique placed at all.
To not be from North America (or South America) and to achieve in the sport what she has achieved in the last couple of years has been nothing short of miraculous.
Here they all are, before prejudging (which it has not been easy to get pics of, so here I've made my diggings exclusively from the women who made the top 10 and thus the finals) getting oiled and pumped (and excited) before taking the stage in Columbus. Michaela gets oiled from 1.53; Margita's applicator will have you green with envy from 3.54, then (glistening) she will pump (you) up from about 6.15 and again from 7.15.
Enjoy!
Tomorrow, our final day at the Arnolds, it's the Figure to Physique trend.