Ready for round two?
No fewer than 13 Hot and Hard 100 debutants today...
The 2018 FMS HOT AND HARD 100
79=
AZARIA GLAIM
(#68)

IFBB Figure Pro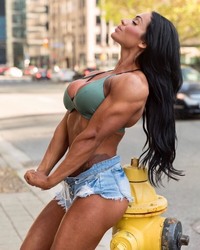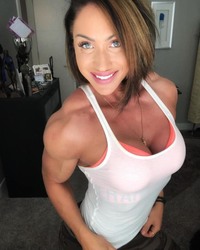 Third year in a row on the
Hot and Hard 100
for the woman previously known as Brooke Black, Crimson Rosee and more. It's not just the name that's changed either. Once upon a time there were "fans" accusing her of all sorts of shenanigans, these days
her fans create Instagram pages
to proclaim their love for the youngest Canadian Figure pro ever. Her only contest last year was in Toronto, where she placed 5th. Recent evidence suggests she's sharpening up for a more competitively active 2018.
79=
MARGITA ZAMOLOVA
NEW ENTRY

2017 Czechia Pro Physique Champion, 2018 Royal London Pro Physique Champion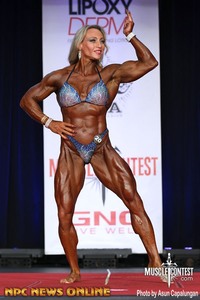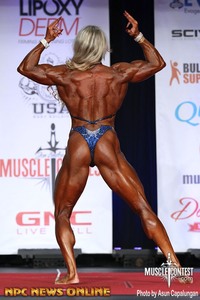 2017 was the year that Margita became the Czech #1, her achievements, we noted, quite remarkable given the fortunes of so many other top European Physique pros. Even at the close of the year, however, one fan was complaining that she was "rarely talked about and hardly known" on the forums.
Pretty face, mature muscles, ripped to shreds with beautiful proportions,
he wrote.
What's not to like?!
For once the fans and the IFBB judges seem to agree - there's nothing not to like. I imagine her 3rd place at the Arnolds recently has widened her fan base even further. Gorgeous woman.
77=
MICHAELA AYCOCK
(#95)

IFBB Physique Pro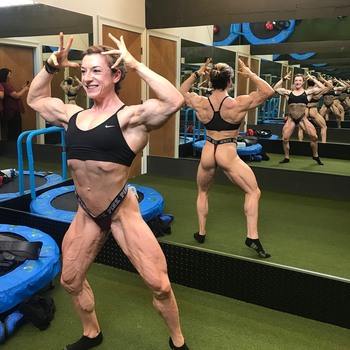 She is so special,
says one voter.
Genetics and drive combining to achieve phenomenal muscle mass and strength. I love watching her Instagram clips,
he goes on,
seeing how much more weight she is using than the men around her!
Funnily enough, I tend not to realise there are other people in the gym at all when watching Michaela banging out 20, 30 reps with such huge weights is almost as exciting as seeing the post-set photos - muscles pumped and swollen, vascularity beyond belief... And I do like her glammed up for the stage too. So hardcore and so pretty in equal measure. Expected her to be higher than the 70s. She was much
much
higher on my list.
77=
*****
KARINA NASCIMENTO
(#14)


IFBB Physique Pro, Contest Promoter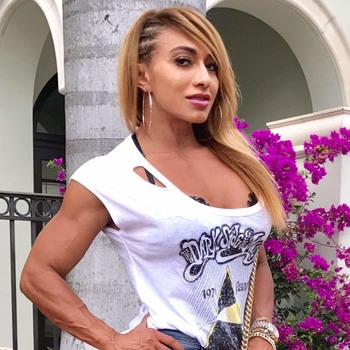 These days, the only place you see our first of two five-star ladies today on stage is guest posing at her own Florida IFBB/NPC show. Still, that hasn't stopped Karina keeping her
Hot and Hard 100
place for the fifth consecutive year. If there was a prize for the woman who the most voters put "Have I spelt her name right?" next to, Karina would be take it.
A true and timeless beauty,
added one of those who asked.
76
VICTORIA FLORES
(#81)

IFBB Physique Pro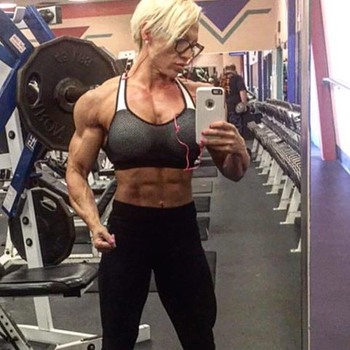 You have got to love a woman who says she prefers the most muscular to the side chest pose because "the fun bags don't get in the way of the muscle so much". Now to some this might beg the question as to why she bothered with the "fun bags" in the first place. Far be it from me to speculate how Victoria would react to that, but I would reply that if there were no "fun bags", there would be fewer most musculars. So there.
75
LAUREN FINDLEY
NEW ENTRY

NPC Figure Competitor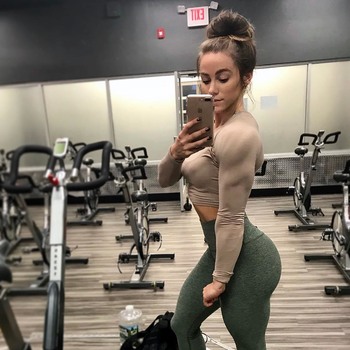 She's just the perfect woman,
they say.
The next level of beauty.
They dream of being the lucky guy who "lands this little beauty". They get excited when they discover she lives and trains in the neighbouring state to them. I'm not quoting you lovely voters, obviously. They are some of the more optimistic forum posters. And they need to get out more! Perhaps I shouldn't be too judgmental though, if I were as young as they, I might dream of the "perfect woman". And she might look a lot like
Lauren Findley
.
74
PALOMA PARRA
NEW ENTRY

IFBB Physique Pro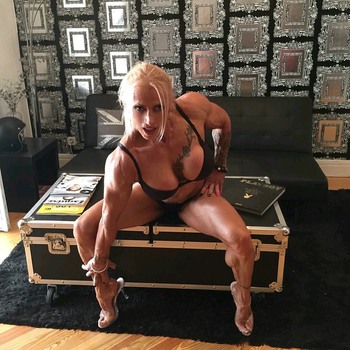 Hard to believe this is her
Hot and Hard 100
debut - perhaps I should triple-check that. She's been around forever it seems, first in Fitness (if memory serves), latterly as one of the freakier physiques at any given show. Not surprisingly, her look endears her as little to judges as much as it endears her to her fans - and she's not backwards in coming forwards to show herself off. It is a rare image of Paloma indeed that does not perfectly suit the caption: "Veins on the outside are the new veins on the inside".
73
ALICIA BELL
NEW ENTRY

CBBF/IFBB Figure Competitor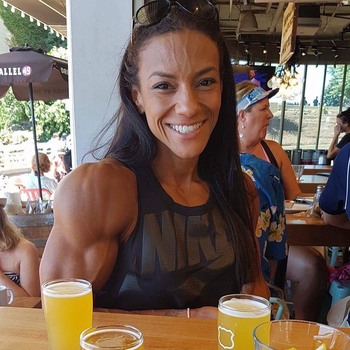 Once again we note Canada's enviable embarrassment of female muscle riches. Alicia is officially the 3rd best "Class C" Figure competitor in the country. If only...
Strong, sexy and SO beautiful
[his capitals, his bold], reckons one enamoured voter. I thought so too the first time I saw her. And so did the rest of you who voted for her, I imagine.
72
IVIE RHEIN
NEW ENTRY

2017 NPC Karina Nascimento Classic & Steve Stone Metropolitan Physique Champion
IFBB Physique Pro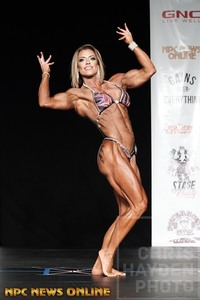 Another new entry for another woman who seemed to come from nowhere then explode all over the forums in 2017. Ivie started out last year as a Brazilian coming to the US to try her luck in some NPC shows. She won them, and was so fully-formed already (she even had her own signature poses worled out) and so dominant that the IFBB gave her a pro card without her having to go through the usual qualifying process. On her pro debut at the Orlando Europa she finished 4th. Quality head to toe.
71
ASHLEY SNEATHEN
NEW ENTRY

IFBB Pro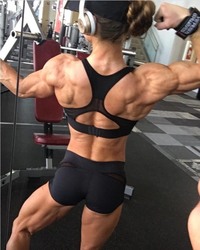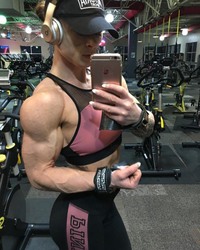 I have questions and no time to research for answers (and all the minions are busy too). Why has Ashley gone back to Sneathen when she's been Losee for some time? And could the fact that she's calling herself just "IFBB Pro" these days an indication that she might be thinking of doing that most popular of divisional changes from Figure (where she has previously competed) to Physique? If anyone has some knowledge they'd care to share, please do get in touch. Answers from Ashley herself especially welcome.
70
KIM BUCK
NEW ENTRY

2017 Toronto Pro Bodybuilding Champion
A long overdue
Hot and Hard 100
debut for this beautiful Bodybuilder, I think you'll agree. And you might also agree that it's wholly appropriate we have chosen an image where we are looking up at her as if on our knees, her magnificent body looming over us, her smile pleased at the effect she is having, the physical reaction she is causing... Sorry, got a bit carried away there (can you blame me?). Sterling year's work from Kim again - champ in Toronto, 7th at the Rising Phoenix - and designing her own suits too. Wonder if she designed the number she's wearing in the picture... Here I go again!
69
HAYLEY BRYLEWSKI
RE-ENTRY

UKBFF/IFBB Physique Competitor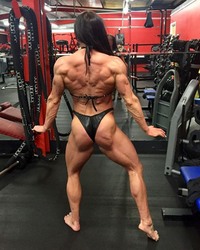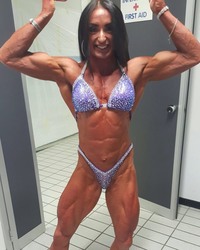 Brilliant to see Hayley back in your list for the first time since 2015. She seems to get better and better every year, but at the same time gets less and less love from the judges - particularly the UKBFF sort. And yet she's all smiles all the time. 3rd at the Amateur Olympia in San Marino at the end of 2017 at least ended her year on something of a high, a year where she seemed to be permanently ripped.
What a beautiful woman!
one (non-British) voter who had discovered Hayley only last year exclaimed in his email. The UKBFF are very much not to be trusted with national treasures like her. I sincerely hope she gets a better deal from them this year.
68
PAIGE SANDGREN
NEW ENTRY

The Beef Nuggette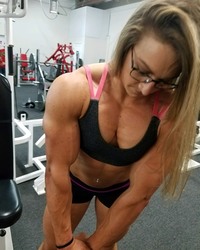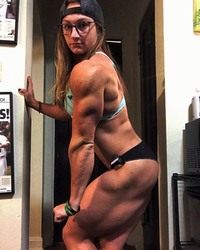 She covers all three of my fetishes,
noted one voter,
glasses, blond, and big big muscles.
Another told of their first reaction to seeing her:
I just stared at her and said (out loud), "My goodness! She's enormous!"
I fully expected Paige to "do a
Cass Martin
" and smash her way into the top 20 this year. She was (and in some quarters still is) the 2017 darling of the forums, the girl-next-door looks and beastly gains combo slaying fans from all over the world. It also brought her to the attention of some of the schmotography sites, which hardly dampened our collective excitement.
67
MICHELE DA SILVA PINTO
NEW ENTRY

IFBB Figure Pro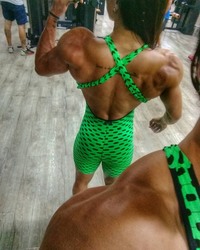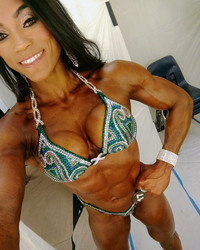 The "super hot" new Brazilian Figure force is our next new entry. She only got her pro card at the Arnold Amateur in 2016, but her "perfect frame" has propelled her to (most recently) the top 3 at last weekend's Arnold Australia. It's not always easy following her fortunes though, at the last count she was listed as four different competitors on one of the big contest picture resource websites, all variations on the (always accurate on FMS!) name. For the record, it's one "l" and "Da" not "De" and that is separate from the "Silva". Best to rely on your body recognition skills, I reckon. Tats can be helpful, as can shoulders like Michele's. That "perfect frame" has had fans dreaming of how glorious she might be if she switched to Physique, "or even Bodybuilding"(!). I wouldn't hold your breath, seems to me she's got unfinished business in Figure yet.
66
JESSICA REYES PADILLA
NEW ENTRY

2017 Toronto Pro & Puerto Rico Pro Figure Champion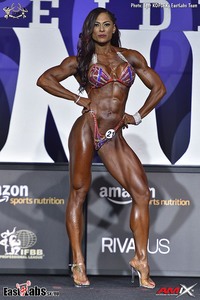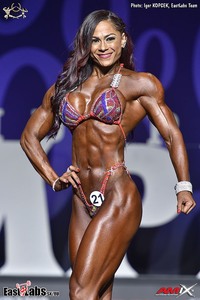 Damn this woman worked hard in 2017. Eight shows between April and November including wins in Toronto and her Puerto Rico home, and her second Olympia appearance. She certainly got my attention as she strutted across the stage in Las Vegas - her power stance when she walked on (see above) was like a slap in the face. "Sex on heels" as one voter put it.
She checks all the boxes,
says another. She certainly checks all mine. A thoroughbred, a stunning example of the Figure division now.
64=
CORINNE MEEHAN
NEW ENTRY

NPC Figure Competitor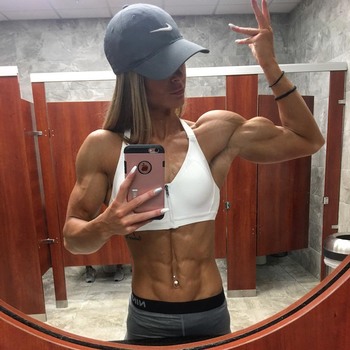 I wish she'd come in higher and I could have posted more pictures of her, but this one example will do nicely. It's one of those images where you focus on one muscle (for me it was the bicep, the big, beautiful, split bicep), then gradually you realise there are other, equally groin-activating muscles on show as well. I went delt, side pec, and then finished on the abs. You might have gone the reverse. Or were your eyes darting all over the place? Isn't she just magnificent? And just entering her mid-20s too. I do wish she'd come in higher. I urge you to explore
"munch muscles" on Instagram
. And no, I'm not going to make any jokes about which of her muscles I'd like to munch on.
64=
TONYA WHEATFALL
NEW ENTRY

IFBB Figure Pro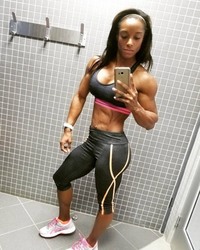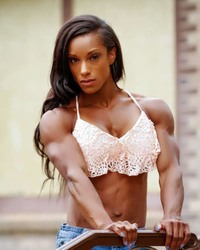 And here's more Figure heat... The very beautiful Tonya came to FMS' attention when she won at the NPC USAs in 2016. It only took her one pro season to get to the Olympia on points, and a bit longer to get to the
Hot and Hard 100
.
She is freakin' smokin',
pointed out one voter, somewhat heavy on the apostrophes. He's not wrong though.
63
HULDA LOPEZ
NEW ENTRY

Bodybuilding/Powerlifting Mother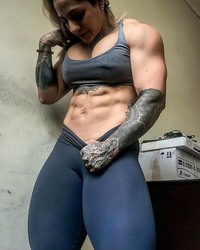 The first Honduran we've ever had in the
Hot and Hard 100
, and she was worth waiting for.
I'm from Honduras and I've met her,
claims one poster on the forum whose first rule is...
She's even more beautiful in person. She loves having muscles but doesn't want to get bigger. She tries to scratch her back and can't, she's so big!
It occurs to me that could be the definition of "thickness". Anyway, applications for the post of Hulda's back scratcher flooded in. I didn't make the first round of interviews.
62
*****
SUSANNA TIRPAK
(#79)

IFBB Physique Competitor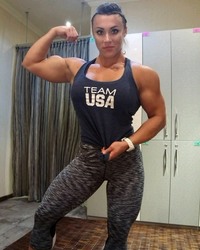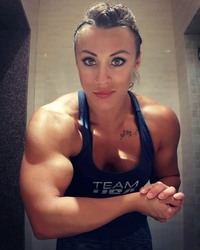 So beautiful is Susanna that I was sorely tempted just to post a close-up of her face (they are not in short supply, by the way). I resisted the temptation mainly because, having flirted with Figure, Susanna has been adding considerable beef over the last year or so. Perhaps her re-rise on your list is a reflection of that, I reasoned (last year's #79 was as low as she'd ever been). We probably don't remember often enough that women this beautiful are a real gift to the female muscle loving world. Susanna could have just got by very nicely on her looks, she didn't need to build that body by any means. We should probably be more grateful than we are that she did.
61
JESSICA BOOKER WILLIAMS
(#64)

NPC Physique Competitor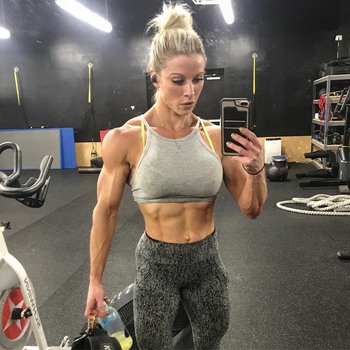 Another year passes, Jessica is in the 60s on your list for the third time, and we've enjoyed every selfie she's posted, especially (for me) the ones where she's pulling down her leggings or shorts to reveal just a bit more of her abdominal definition.
The heat will continue on FRIDAY.