Today, more matters of size from the heavyweight class at this year's NPC Nationals, with not one, not two, but FIVE big and beautiful women. You lucky people!
LEA LOUISE GIEGER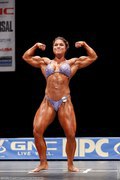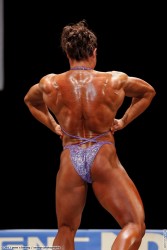 Sporting the kind of jawline we haven't seen since the days of the great Michelle Neil,
Lea Geiger
finished 10th in what was, as far as I know, her first major show.
Now, I'm not saying anything about anything, but let's compare Lea at a show in 2010, which was the Natural Northern USA (drugs tested), and the 2013 Lea. We can certainly see that three years has been plenty of time for Lea to put on an impressive amount of muscle...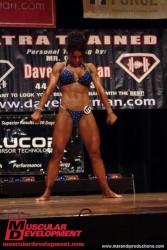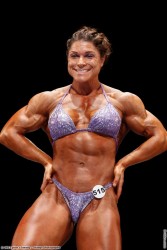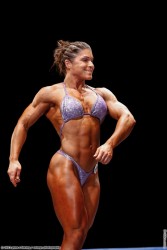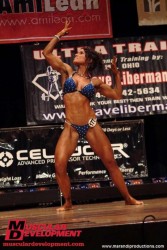 Lea was a competitive figure skater as a child, and says she started lifting after she was so struck by 'the amazing physique' of a woman she saw in the gym as a college student that she introduced herself and started working out with her. From Pittsburgh, Lea is now a personal trainer who gives out advice on Ohio Health Radio (really! Check it out, Lea and Dr Sam Christian MD, Saturdays at 10am on WTTF, and online
here
).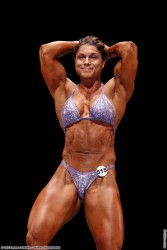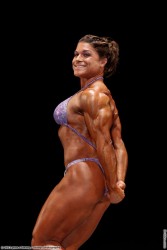 LISA FONSECA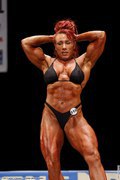 Lisa Fonseca
was another of the competitors with little contest experience, although she seems to have a lot of potential. Compare Lisa's previous outing at the Southern States Championships to her condition at the Nationals and the progress is obvious.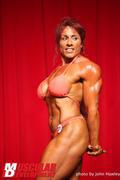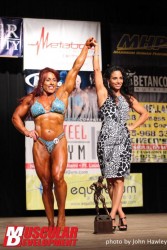 Hopefully, she'll be adding to
her YouTube channel
in the future so we can keep an eye on how this 40+ muscle woman progresses in future. Despite finishing at the bottom of the class, she certainly seemed to be enjoying her experience at the Nationals, and there's some serious size under that posing top.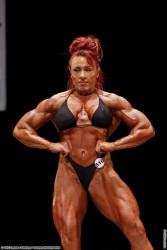 APRIL O'REILLY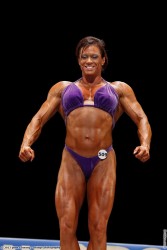 Joining Lisa at the bottom of the class, but like Lisa, still a winner,
April O'Reilly
had plenty of size but fell short on conditioning. However, don't discount April for the future, because on the evidence of her 2012 NPC Southeastern USA win below, when she does get it right, her size means she brings a very attractive package to the stage.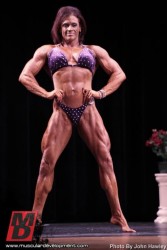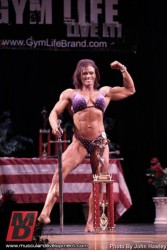 From Florida, April's husband runs a fishing charter business - again, really! Captain Mick O'Reilly is proud enough of his wife's achievements to let all his fishing buddies know about how she's getting on via the
Pensacola Fishing Forum
. And who can blame him? I wonder if the name of his charter business, Angry Bird Fishing Charters, has anything to do with when April's on the contest diet...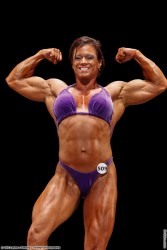 I rule our house!
says Cap'n Mick.
At least when she is at work...
Arrrrgh!
KELI WATKINS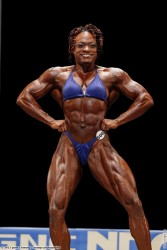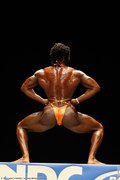 A lady who never seems to get it wrong when it comes to preparing for contests is New Jersey's
Keli Watkins
, who deservedly finished runner-up to Victoria Dominguez.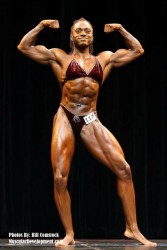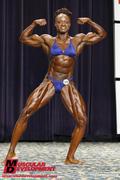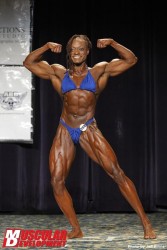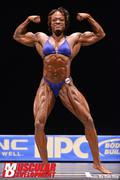 If we follow Keli from (top left) her victory in 2007 at the Eastern USAs via the 2009 (top right) and 2011 (bottom left) North Americans to this year's Nationals (bottom right), her consistently spot-on conditioning and increasingly impressive muscularity suggest that it won't be too many more shows before Keli will be appearing with Victoria in the pros. In Fort Lauderdale, I thought she had the best abs in the class, and some lovely mouth-watering veins traversing her back.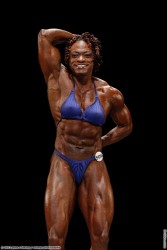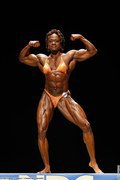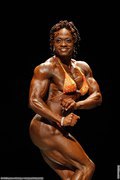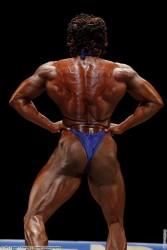 Mmmm. yes. Big and ripped is GOOD!
WENDY WATSON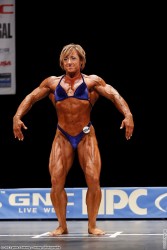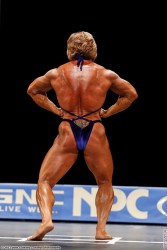 And finally, another of the amazing over 40s, the more familiar face and compact super-muscular package of
Wendy Watson
, was awarded 8th place.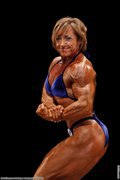 Wendy is an achiever in her professional life as an engineer as well as in the world of competitive bodybuilding, working in the Business Development arm of a Pittsburgh-based manufacturer of engineering equipment for the global market.
I am fortunate to have a company who is supportive of the time this sport takes and blessed to make enough money to support my expensive habit!
she says.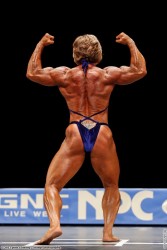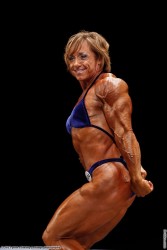 Wendy's size matter is how her bodybuilding transformed her life after years of battling with obesity.
Everything in my life changed – my energy, my health, my confidence. Of course my body was the biggest change and I still can't believe I can weigh 170lbs
[77kg]
and be in a size 4/6 after years of being in a 14/16 at a weight close to that.
And she reckons what keeps her on track is preparing to compete.
I love how I feel, but I still struggle with my weight – the big girl in me hasn't left the building. My way of keeping myself in check is to choose a competition and focus on that date. The fear of getting on stage unprepared is more motivating to me than the pizza I want to eat. Once my head's in show mode, the only thing I see in front of me is the goal of taking my body to that level of competition.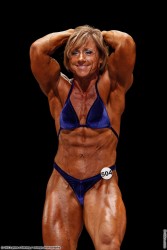 Congratulations, then, to Wendy and all the other heavyweights, whether we've mentioned them this week or not, and irrespective of their placing.
Our review of the NPC Nationals 2013 ends tomorrow.
And we reckon we've saved the best for last.