The first part of September was taken up almost exclusively with the Rising Phoenix and the Arizona Pro - Bikini, Fitness, Figure and Physique making it a five-division feast of muscle in all its forms. First though, we previewed the FBBs who would compete at RP2016, though we don't need to go back there and check out my predictions.
Before our review of the show, however, we felt obliged to weigh in to the
Wings of Strength
v
Iris Kyle
controversy that had blown up across the wider muscle media.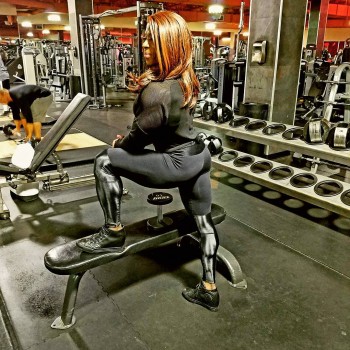 Our conclusion? Well, if Iris isn't there, so what?
The people who single-handedly pulled pro female bodybuilding back from the abyss in 2015 and have nurtured a small but significant expansion in 2016 decided they didn't want the champion who retired from the sport at the very moment when it had no future, and who decided she wasn't so retired after all only after she had witnessed Margie Martin last year pick up the kind of prize pot it had taken her years to accumulate under the previous regime. Is it, is it really such a "damn shame"?
All with the greatest respect to Iris, of course.
The Arizona Pro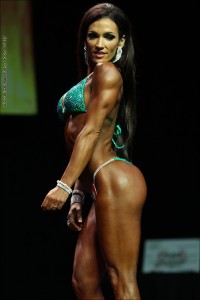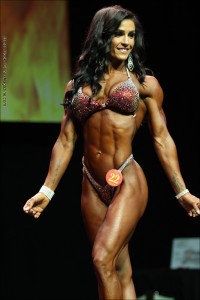 We couldn't ignore the ladies who had come out in support of
Wings of Strength
in the other divisions, and to a greater or lesser extent saw a piece of each one. Fit and fabulous mothers
Deborah Goodman
(Bikini) and
Carly Starling-Horrell
(Figure) (above), and Italian Fitness winner
Giorgia Fironi
(you know she's a winner 'cos she's got a big shield) all featured in our cross division celebration
Five Women
.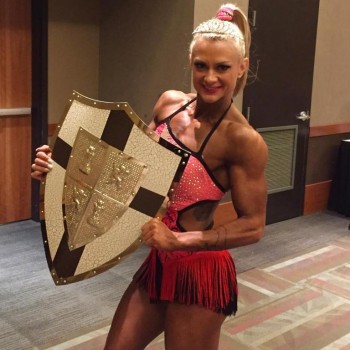 Also in that post was
B
(yes, it's just "B")
Barnett
from a Physique division that made up for what it lacked in top level competitors (the Physique Olympia took place the following week) with the kind of joyous on stage performances that B epitomised.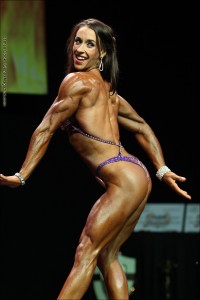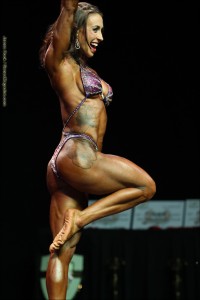 But I guess the big news from the Physique contest was the return of Thai muscle goddess
Penpraghai Tiangkgok
. And she was back with added muscle on that perfect frame, so it was no surprise when she picked up a shield of her own as the Arizona Pro Physique winner.
Congratulations Penpraghai!
I wrote (as if she would be reading).
I'm very happy you're back, and I hope you're back for good.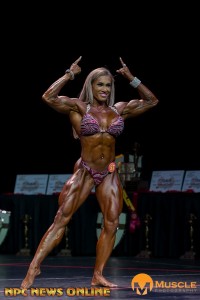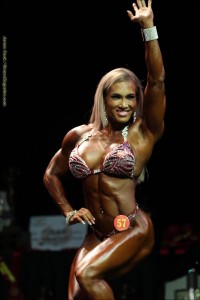 With her track record, don't count on it!
The Rising Phoenix 2016
The Phoenix most definitely rose.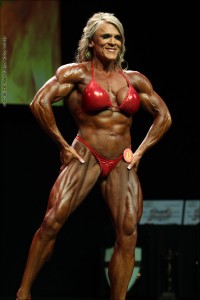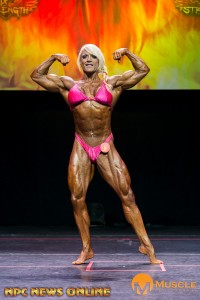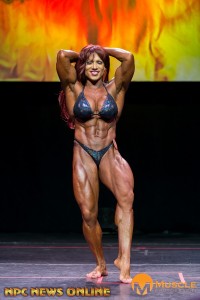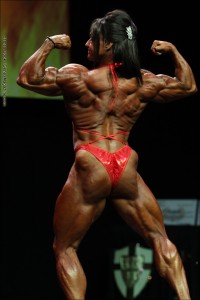 There were posing suits that could barely contain the excitement of the competitors.
Helle Trevino
brought so much damn meat onto the stage this viewer was utterly overwhelmed. Some competitors didn't have such good days placings-wise, others exceeded their expectations and had their day in the proverbial sun.
Sheila Bleck
followed up her Tampa win by finishing runner-up (of course, controversially), and Alina returned to competition and didn't - as many expected - carry all before her.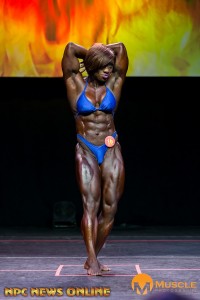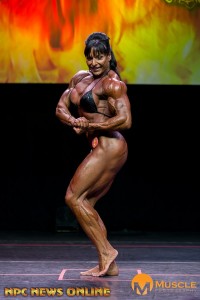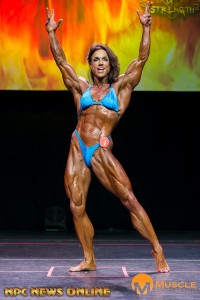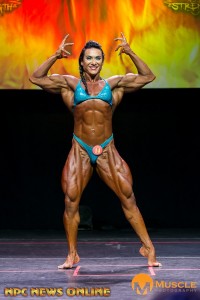 Ultimately, no one could touch the reigning Queen. There were no complaints.
Well, very few anyway.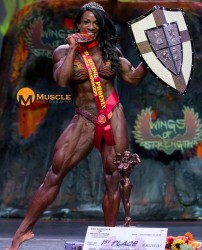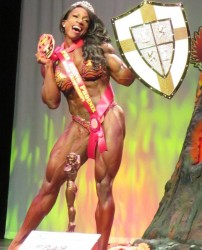 I certainly wasn't complaining.
Gosh she makes me swoon. All that beautiful BEEF! The way her massive, rippling quads bulge outwards; the thickness and definition across her back; that hamstring drop (see how I'm learning the lingo!) curved like a mighty bow (and adding a bit of lyrical panache all of my own!) about to unleash its firepower...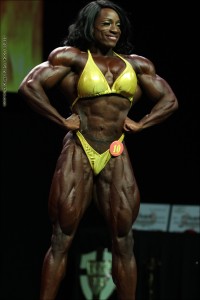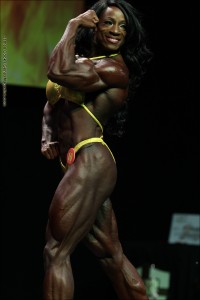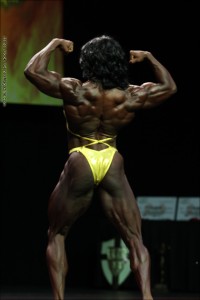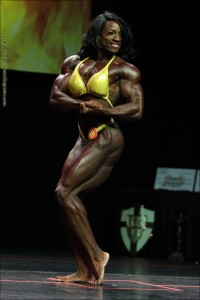 It didn't seem possible, but she looked even bigger and better in the evening in her fiery posing suit -
I felt like a Rising Phoenix,
she said. As always, she seems to have gone all out for the finals, leaving none of her sass back in the hotel. I haven't seen any video of her routine as yet, but I'm 100% sure that when I do, I'm going to be watching it more than once. She looks so fierce and powerful, and yet, so feminine.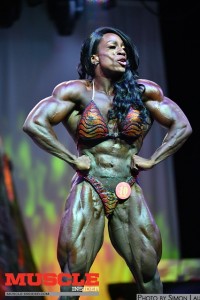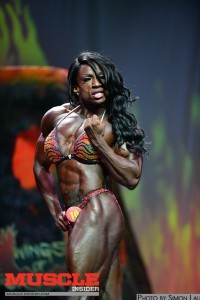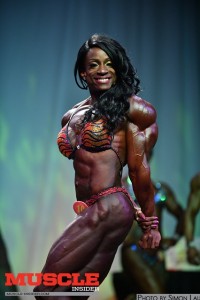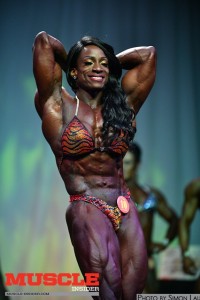 Exactly how I want my champ to be.
So there, it was all over for another year, the IFBB pro Female Bodybuilding season had reached its climax in Scottsdale, Arizona, and what a great climax it had been.
No rest for FMS though.
We turned our attention to the Physique division, and the Physique Olympia.
Physique Dreams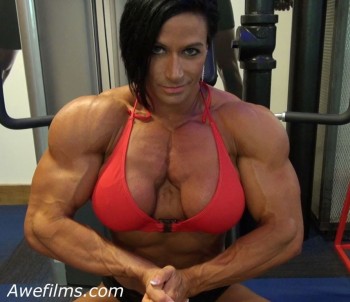 It's perhaps best to gloss over the fact that for a while in 2016
Theresa Ivancik
(or someone close to her) was convinced she stood a better chance of gaining her long-cherished pro card by competing in the Physique division. Unsurprisingly, it didn't work out.
I was a smidgen too big,
she reckoned. Yeah. "A smidgen". Right.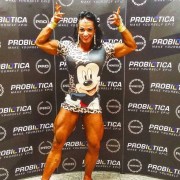 More appropriate physiques were quickly sought and found in the shape of (yet another) Brazilian muscle goddess -
Gilberia Cunha
- and the UK's own new sensation
Charlene Harvey
, who along with
Corinne Ingman
, we highlighted as
British WPD dreams to watch
. By her own admission Charlene can't walk past a mirror while she's in contest shape without stopping to flex and record the moment, which pretty much sums up Corinne's MO when she's "truly, disgustingly, peeled" as well.
Then, we whetted our collective appetites for the mega-post that was to come from the Physique Olympia with
three interviews
with women who very much hoped to be doing more than hanging out at the Expo this time next year. Most appetite whetting of all, I reckon, was
Jen Louwagie
and her upper body in that vest.
SWOON!!!
The 2016 Physique Olympians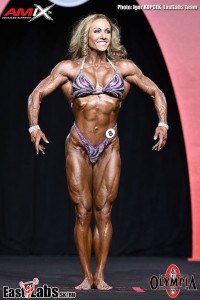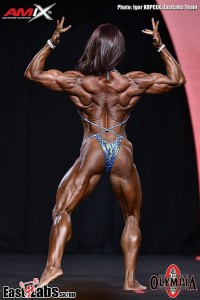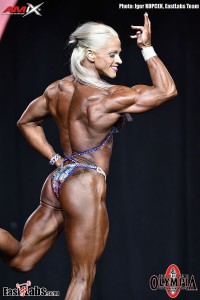 Wow this post goes on. Really. I could have got a week out of this material. "The cream of the Women's Physique Division", beautifully photographed by Igor Kopcek. If ever I needed an editor!
The Olympia may have lost a few female muscle fans since 2014,
I reckoned at the time,
but for those lucky enough to attend I dare say that the problem was not so much where to find the muscle as how to hide the tentpole.
In my defence, the tone rose significantly after that opening paragraph.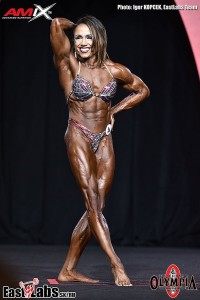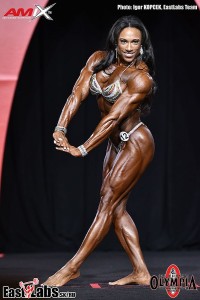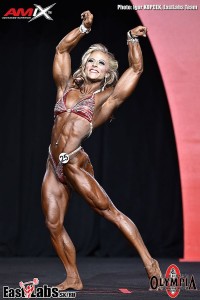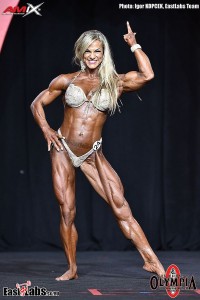 Covering, as it does, the considerable gap between the outer limits of Figure and the cusp of Heavyweight Bodybuilding, the WPD at the 2016 Olympia saw many of FMS' personal and reader favourites doing battle in Las Vegas.
And having them all in top shape in one post only serves to underline the incredible muscular sex appeal of these women to me. Erica, Asha, Dani, Jamie, and many many more. Incredible, and incredible-looking, women from the bottom to the top of the placings, and I think I managed to include at least one picture of every single one of them in the post.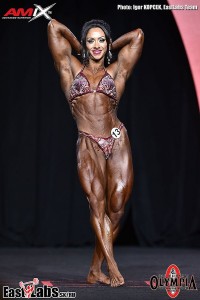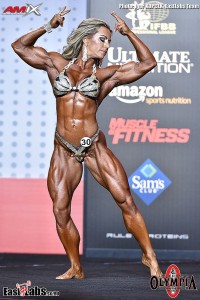 Special mention, though, had to be reserved for
Rosanna Harte
- the first British woman ever to compete at the Physique Olympia (she placed a creditable 12th), and of course, the champion again,
Juliana Malacarne
, unbeaten in her last six contests now, and for the third time in a row, crowned Ms Physique Olympia.
And our week of Physique wasn't even finished yet!
See how it spilled over into October like big pecs in an ill-fitting posing suit, plus what we got up to for the rest of that month tomorrow as FMS' 2016 review continues...