ON THE ISLAND OF THEMYSCIRA...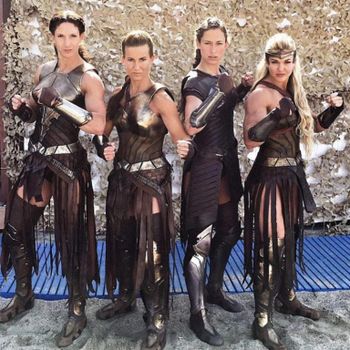 Who
hasn't
had the washed up on an island of Amazons dream?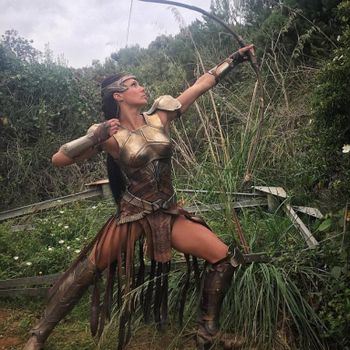 Well, according to some sections of the media recently, we're all going to (sort of) have that dream come true if we go see
Wonder Woman
.
The film's array of Amazon warriors, behind some of the most intense action sequences in the film, are no ordinary extras,
Katie Fustich told us in
The Daily Mail
a few days ago.
Rather, when it came time for director Patty Jenkins to select her cast, she opted to fill the island of Themyscira with real-life wrestlers, trainers, farmers, and even Olympic athletes.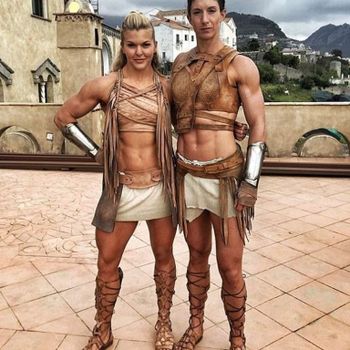 And among them, the familiar face (and body) of Crossfit pin-up
Brooke Ence
, who plays Penthesilea.
I got a call from Warner Bros. asking me if I would come in and read,
she told
The Huffington Post
.
I had no idea what it was for. It just seemed like a really great opportunity, and it literally just fell in my lap. I couldn't say no.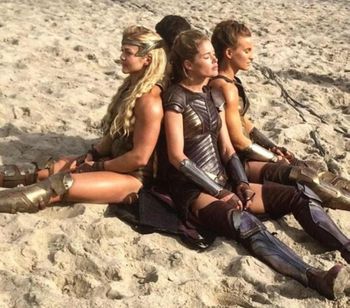 The images of the Amazons in costume at their training camp on the Amalfi coast certainly brought all my teenage Amazon island fantasies rushing back, and not least those featuring the gorgeous Brooke. And her
Huffington Post
interview about her experience did nothing to curb my enthusiasm to see the film.
It was a great realization of all the different types of strength. Everyone that was an Amazon just walked with more power. They walked with this Amazonian vibe.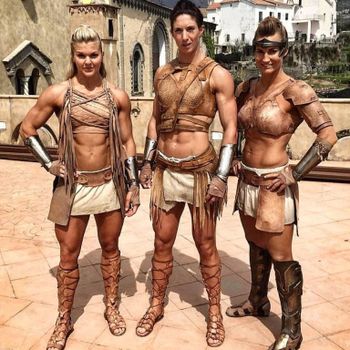 It was really cool to see this whole training area, and there's not one male figure in sight,
she continues.
Women wrestling other women, kickboxing, doing pull-ups and practicing with spears...
My fantasy's changing just a little bit - now I just want to have been there at the training camp! It sounds, and looks, a little bit like heaven!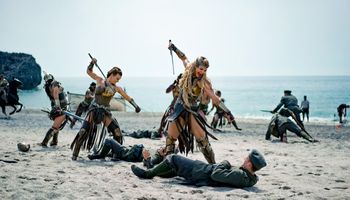 Be warned though. The Amazon Army might not actually be in the film for quite as long as all this media attention suggests. Jenavieve Hatch,
Huffington Post
author, was, for one, as disappointed as any female muscle fan could be.
For many viewers,
she writes, Wonder Woman
should have been set entirely on the women-only Amazon warrior paradise of Themyscira. It felt profoundly satisfying to watch women wield so much physical power on a humongous screen, and as the story went from Themyscira to World War I-era Western Europe, I found myself missing the women warriors...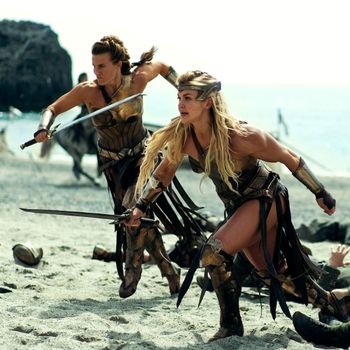 And as for Brooke, well if you do part with your time and money and head to the local multiplex thinking you might sneak out after the Themyscira scenes, keep a close eye out for her. No one on the forums has reported actually spotting her on screen yet.
Is Brooke in it much?
asks one forum member.
Not even for a second,
comes the reply.
Guess we'll have to wait for the Director's Cut DVD.
Thanks to Crossfit correspondent Aiden for the heads-up.