Choreography by NABBA (Toned Figure) Ms World
Emma Hyndman
, body by WFF Worlds Extreme Body Champion
Corinne Ingman
. Note the spontaneous applause and whooping start just moments after the first flex of her rightly renowned glutes...
Spellbinding though I always find her, this is probably, if not
the
first, one of the first guest posing appearances Corinne has ever made, and she said afterwards she was happy to have received the promoter's feedback on her performance. And we can probably forgive the cameraman's temporary loss of focus at around the 1.20 mark. They were probably swooning their head off, and made a decent recovery after those few blurry seconds, though they could have gone a tad lower on the close shots.
Corinne was three weeks out from the NABBA Worlds, her next contest. We are now about a week on from her guest posing at the NABBA/WFF Austrian Championships, and her "morning squeeze" reveals ever more of her glory (see below).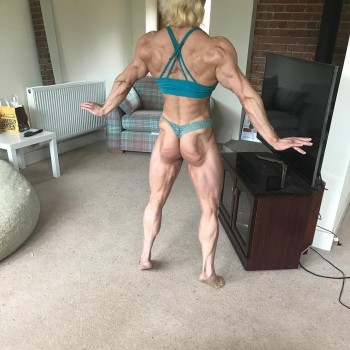 With her usual understatement, Corinne describes her current situation as "nearly there".
Condition has improved this week,
she says.
Just a little more to come off to see hams splitting and lower back a bit crisper.
I'm sure I speak for all of you lovely readers when I say that I wish my woman would wish her hams would split!
The week after the NABBA Worlds - in Samara, Russia - Crispy Corinne will be off on her travels again, to the WFF Universe in Brazil. And later in the year at the beginning of October, Corinne and her (f***ing gargantuan) man, Jordan Peters, will be co-promoting
a PCA show in Stoke
. And she'll be at the British Powerlifting Finals in November, having qualified, somewhat nonchalantly, at the beginning of May.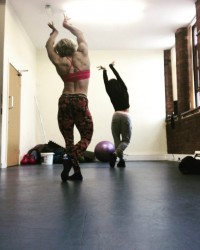 Posing practice with Emma Hyndman before "hopping off" for some powerlifting
Hopped into a qualifier today,
she told
her Instagram
followers.
Just did one lift for each, and hit the minimum total I needed to qualify.
Let's be clear, whatever the weight
she "just did"
(I'll leave you to work it out
here
if you have time on your hands), it would no doubt give you or I a proper hernia followed by a bit of hospital bed time.
The NABBA international President told me I will be competing in the Pro division at the Worlds in Russia off the back of the WFF Worlds win last year,
Corinne tells us.
SO - straight in against my favourite EVER figure competitor, Daria Diossi...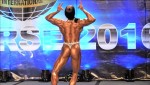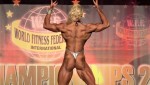 Daria (left) and Corinne's best bits at the 2016 WFF Universe and Worlds respectively



I literally can't wait!

Me neither. That's going to be a hell of a glute-off!

Enjoy!