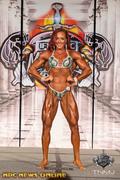 It would be easy to forget, given all the judging shenanigans and consequent outcry around the fate of
Aleesha Young
last weekend in Omaha, that as well as the big (but not too big, eh?) girls, the show boasted a quality Physique line-up too. Among the competitors there was
Hot and Hard 100
perennial
Zoa Linsey
, who put in her usual classy showing;
Roxanne Edwards
' abs were their normal eye-popping selves; and the increasingly popular
Katie Lee
made her pro debut, placing 2nd.
The winner, though, was another pro debutant, considerably less heralded that Ms Lee and all the way from Perth, Australia. And while I'm sure our collective teeth will continue to gnash for some time yet at the way the placings went in the Bodybuilding class, we might take some small crumb of comfort from the fact that in Physique at least, first place went to absolutely the most shredded woman on the stage.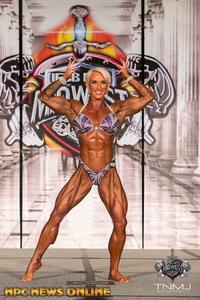 Lee-Anne Temnyk
may be a name familiar to NABBA aficianados from her 2013 Worlds' appearance, where she won her Trained Figure class and
posed down for the Overall title with fellow Aussie and eventual Overall winner Lisa Carrodus
.
For her next big contest, however, Lee-Anne stepped away from NABBA and into the world of IFBB Physique. Last March in Melbourne she took first in an all-Australian line-up at the Arnold Amateur, as a result of which she was awarded her pro card.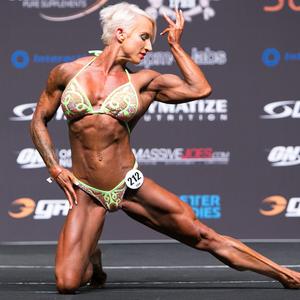 She plumped for Omaha on the recommendation of
Christine Envall
, whose supplement company sponsors her, as the place to make her debut, and set about bringing her NABBA-style conditioning in for the show. One 35-hour journey (including transit and delays) later, and a winner's medal around her neck, Lee-Anne was telling
Ann Titone
it was "a dream come true".
I still don't think it has sunk in yet,
she says, in her super sexy super husky Aussie brogue.
This is just amazing.
I'm very much a newcomer to the Lee-Anne party, but had I been following
her Instagram
as her pro debut approached, I wouldn't have needed much convincing that she would be a contender. Here was a woman who was bringing NABBA-style uber-conditioning to the IFBB Pro League. Truly she is amazing. As Ann says during the same
NPC News Online interview
, Lee-Anne's "striations had striations".
Not expecting to have secured her Olympia invite at her first attempt, Lee-Anne had already decided to do two shows while in the US (not really surprising given the 35 hours it took her to get there) so we'll be seeing more of the same this weekend at the Dallas Europa. It's just a shame she doesn't get to wear a thong anymore.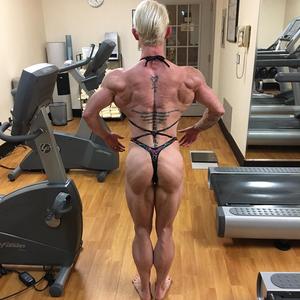 Enjoy!