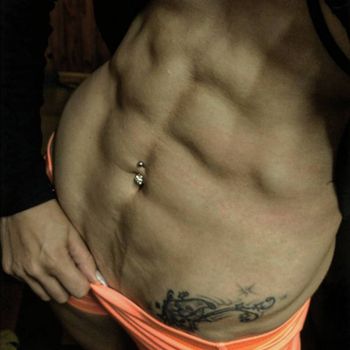 The gorgeous midsections of six (no doubt gorgeous but we ain't interested in their faces, not today) women, kicks off with, unfortunately, an "unknown". No less gorgeous for that though. The closer you look, the better (ie. more tempting) they get, and once you've gone all the way down, taking in the individual muscles and the overall effect, to that confluence of emerging veins just above where she's (
so
modestly - not) holding her orange short shorts, any hands still above the table won't be there for very long.
In my experience at least.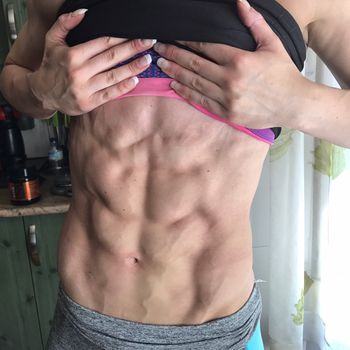 Nuria Ferrero
is a Spanish Bodyfitness athlete who likes to show off her veiny abs a lot. She's clearly ambitious for more than just our admiration (and tribute), however. She already runs her own fitness centre -
Nufitnesscenter
- in Valdemoro, just south of Madrid. And recently she was
feliz de haber mostrado mi mejor físico hasta la fecha
(happy) as she made the top 6 in both the Open and Junior tall classes at her national championships. Cue lots of
Instagram clips
and pics of her freaky sexy veiny abs.
Instagram gold
.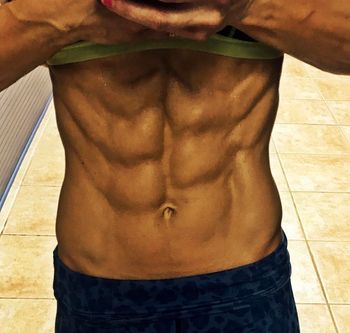 These are "natural" apparently, and belong to NGA Pro Figure and NPC Figure/ Physique competitor
Samantha Feenburg
. In March, Samantha truly cleaned up at the (All Natural) NPC Lee Banks Natural Championships, winning the Physique, Figure and Figure Masters classes, although she didn't so much compete as turn up to win the last of those. Watch Samantha preparing for that contest (and flexing her exquisitely sweaty midsection) three weeks before that show
on NPC News Online
, and Samantha's contest gallery - including
an impressive abs and thigh
- can be found
here
.
Also
on Instagram
- just 302 followers?! Well, 303 now.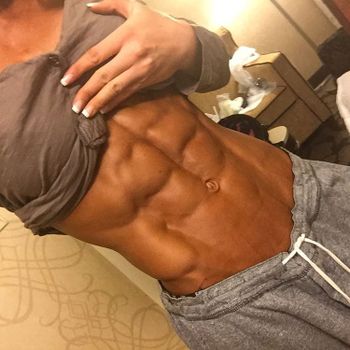 No such poxy numbers for IFBB Bikini pro
Frida Paulsen Stern
. 66,000+ are already glued to this Swedish phenomon
on Instagram
, and it's not difficult to see why. That sexy tan, every single muscle in her glorious midriff exactly where and as it should be... Hang on! Did I just type "Bikini"?! These perfect abs are
Bikini
abs?!
I must pay more attention - the kind of attention paid by the mainstream muscle media to Frida. It's her "amazing abs and hypnotic stage presence" that makes her so "exciting", says Mike Carlson, who
interviewed Frida for Ironman
. Well, I can't say I've much experience of her stage presence, but the abs... See them in motion
here
.
She's just 22, by the way.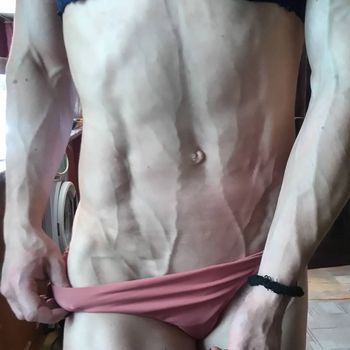 No such tidiness in the abdominal area for the freakishly vascular
Vika Pogribnyak
, but that certainly hasn't stopped the forums falling for her - it's all hands below all over the place for Ukraine's 2016 Bodyfitness champ. Granted, her midriff isn't always as vascular as shown here (this was after a pre-contest "force feed", apparently) but even so, those are truly impressive tributaries that I can't seem to stop drooling over.
WOW!
Don't bother putting it away before visiting
Vika on Instagram
.
And finally...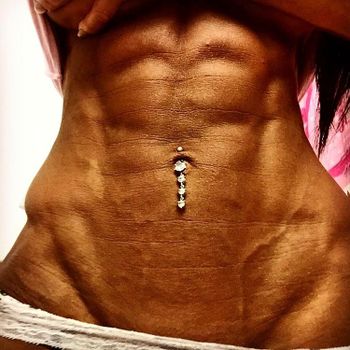 On the off chance that you weren't already nursing a raging Zardon.
You will like
this
too.
Enjoy!