THE OLYMPIA(S)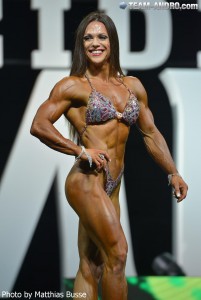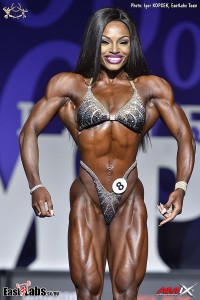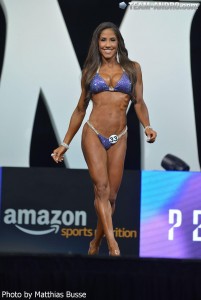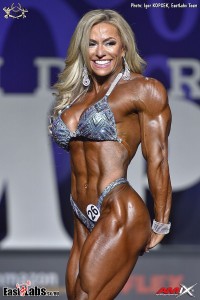 Our Olympia review began (a little tardily, I admit) with a reminder that these days there isn't
A
Ms Olympia, but four.
The Ms Olympia was last held in 2014, and since then we've had four Ms Olympias each year and yet no [one with the actual title of] Ms Olympia.
And the four from 2017 - two new, two recrowned were:
Oksana Grishina
(Ms Fitness Olympia),
Cydney Gillon
(Ms Figure Olympia),
Angelica Teixeira
(Ms Bikini Olympia), and
Juliana Malacarne
(Ms Physique Olympia).
And then there was Natalia...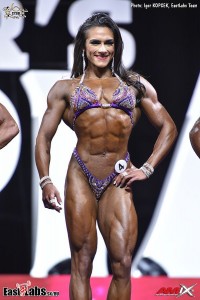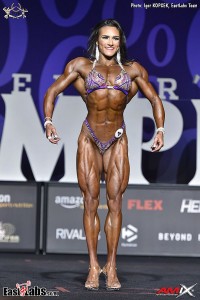 It is indeed scary to think how excited I might be getting looking at Natalia three years down the road. My ticker barely made it through her Olympia appearance this year. I really should schedule a check-up, but you know, it's finding the time to do it...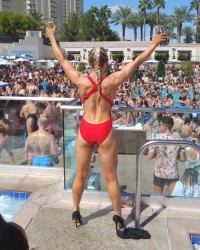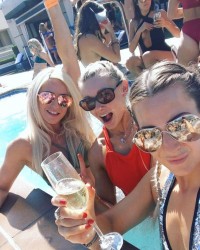 Britain's
Emma Paveley
took full advantage of her first Olympia experience, keeping the party going long after she had taken her place on stage among her sport's elite.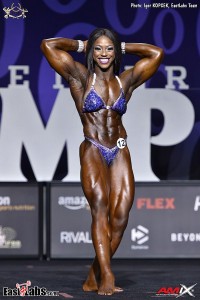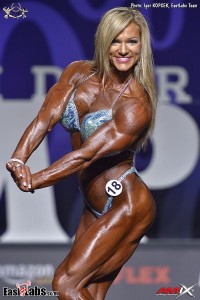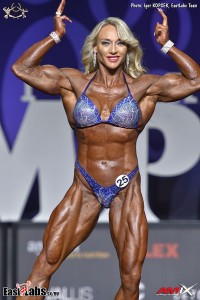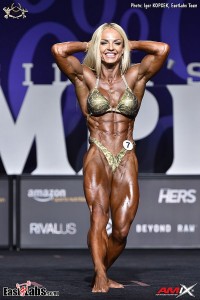 And we confessed to enjoying the Physique Olympia so much we ended up actually
sympathising
with the judges.
Fact is, there were 26 amazing women on that stage, and it can't have been an easy job choosing between such a magnificently muscled line-up. You have to go on something, and if that something is "she looks to have made improvements from what I remember from her last year", then there's not much we can do about it. Relax. Enjoy the muscle. There's plenty of it.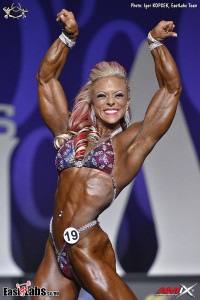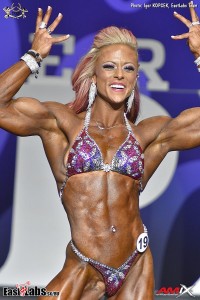 We did reserve a special mention for our favourite Physique swoon though, especially given the pasting some forum twazzock had given here earlier in the year:
Well, I think it's safe to say this opinionated forum member's nice little half-baked Dani demise theory (posted mid-August) hasn't exactly turned out to be 100% accurate. He's clearly not a Dani fan, whereas I'm proud to say I am. Anytime Dani's got a posing suit on I'm happy, and given the doom-laden predictions (our forum posting friend offered one of many) I was very pleasantly surprised to see she'd lost none of her sparkle and that bod is as spectacular as ever. Love the hair too! I could thank him for making my expectations so low I couldn't possibly have been disappointed by Dani's package, but that would suggest I had paid his fantasy theory some mind. I didn't.
[you so obviously did - ed.]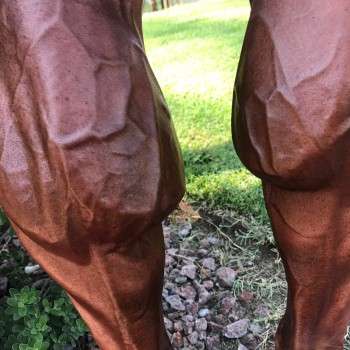 Collectively though, there was general agreement on the one debut Physique Olympian who should have placed much much higher -
Jill Diorio
. And those calves of hers.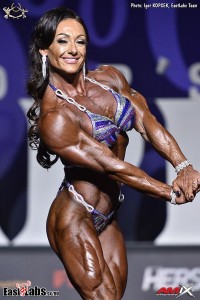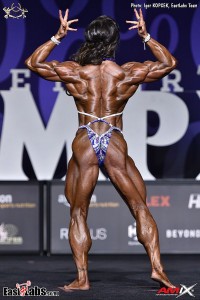 She was in the sort of condition where even her cheeks looked ripped. "At the Olympia she looked SICK!" a forum poster noted, "Too cut for the judges, but I LOVE IT!" He was not alone. She was, we collectively decided, "exceptional", "flawless", "breath-taking". Her back double biceps in particular got the boys' attention. "Rock hard, symmetrical, big and sexy!" wrote one fan. "One of the best physiques I've ever seen."
BARCELONA
Events came thick and fast in October. We'd barely got our breath back after Jill and those calves before we were swooning all over the place for some of Europe's best amateur talent, with our focus at the start of the week on the British contingent.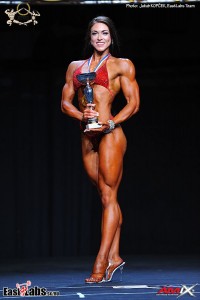 We have a new champion. Rising British Bodyfitness star Danielle "Dani" Osborn won her "up to 168cm" class, and though following in the footsteps of Carly Thornton ("short" Physique, 2015) and Emma Paveley ("short" Fitness, 2016), she's the very first British Bodyfitness athlete to be a class winner there.
And there was
Linda Gartside
. Always a pleasure.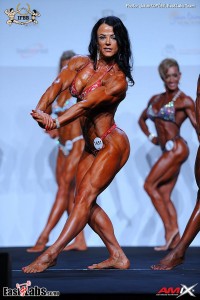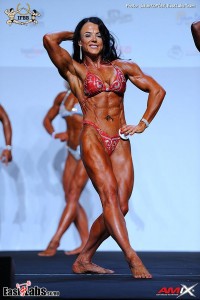 2017: The girl who was once too embarrassed to join a gym and instead worked out with dumbbells in her garage as Arnold looked on from the cover of his book is about to go on stage at his event and perform under his banner. Her "soul dream", she calls it, is about to come true. She's 47.
And (once again) happy in her own skin.
"Linny had been lost for some time," says Rochdale's finest, "the Arnold Classic Europe was where I found "me" again. The moment I gave up the chase for winning, I regained my inner freedom, and found my happiness. I have found the "me" that I lost."
It wasn't all about the Brits though.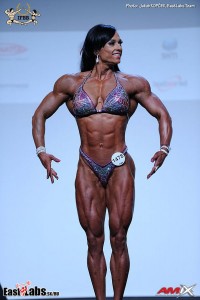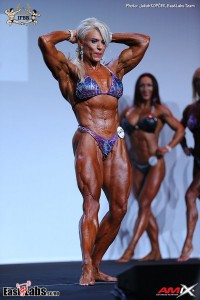 Spanish champ and Overall Physique winner
Laura Pintado
and "the big and beautiful Czech dream"
Alena Hatvani
gave us plenty to swoon over.
As did Hevumisa.
Check out Part I
here
.
"THE NERD BEAST"
A brief pause in contest reporting for this year's breakthrough swoon.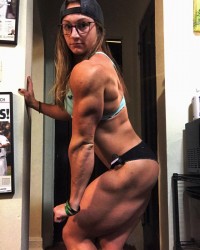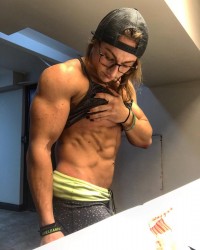 Paige is suddenly everywhere, "The Female Hercules" (with girl-next-door looks), she reminds of Monica Mollica, Lauren Quinn, and (no higher praise, surely) Heather Policky "only hotter" (?!). She's "The Nerd Beast", and "the female muscle find of the year". Where did she come from? I think I'm in love. So, that's you, me, and just about every other head who's been turned on to Paige so far - 8,000+ IG followers and I'm guessing they are not all budding WPD competitors.
CZECH IN AT THE BRITISH CHAMPIONSHIPS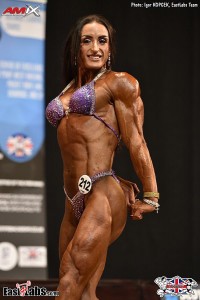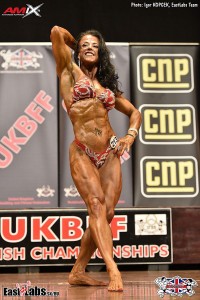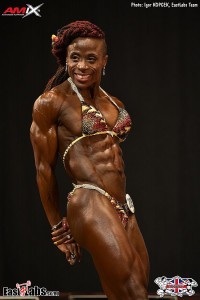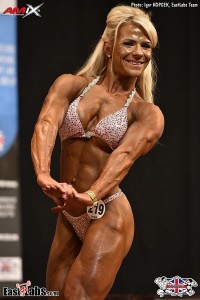 Absolutely unprecedented, and most welcome - FMS' favourite female muscle contest lensman, Eastlabs' Igor Kopcek, was at the recent UKBFF British Championships doing what he does so well. For once, I am able to put together a report on the show where my problem is not where to find images without big f*** off watermarks saying DO NOT F***ING COPY all over them, but how to choose which of the 2,799(!) images of the female classes to include. I've been in heaven for the last few hours, and I don't mind admitting it. Mr Kopcek, I doff my chapeau to you, sir!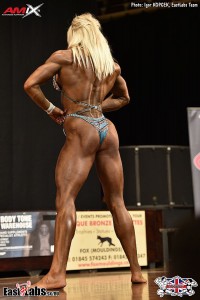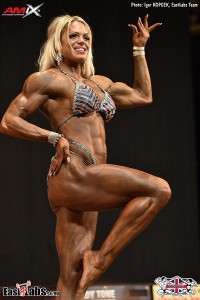 The judges chose a pretty exciting champ too!
FANCY A DATE?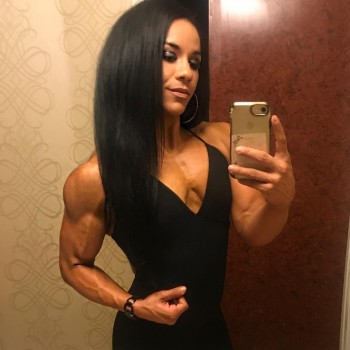 Any excuse to post gorgeous muscle women like
Victoria Puentes
in their little black dresses, but this time it was a website promising "Female Bodybuilder Dating" and the advice of a forum bod who'd loved (and lost) three different muscle women that got us righteously indignant. Don't seek their help, don't follow his advice - he
lost
them, remember? Go to a gym. Trust me, it's where they are. They'll admit it, too.
TALES OF THE TOWEL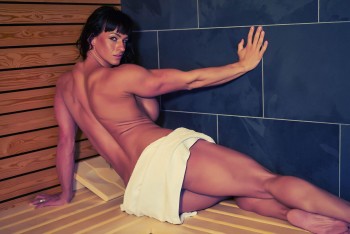 And we finished October and entered November with, depending on who you believe, an inspired addition to the collection of female muscle niches we have collated over the years, or a new low for a blog that's hardly had its most a stellar of years.
[dude! you've got to start letting these things lie - ed.]