A WEEK WITH MICHAELA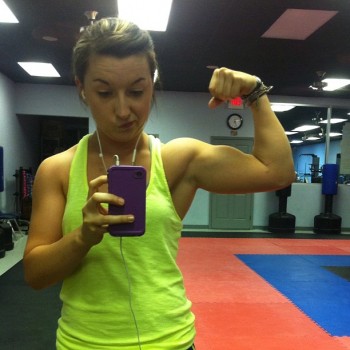 From her earliest public displays of muscle, FMS told the story of
Michaela Aycock
's career and her (ultimately unsuccessful) attempts to qualify for a second Olympia.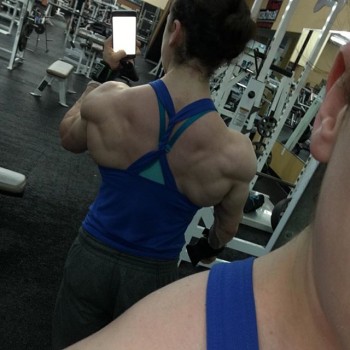 I started following Michaela properly around the beginning of 2016, and my female muscle diary for April tells me she often took my breath away, literally making me gasp. "Absolutely incredible to think she has only just tuned 21," I wrote at the time. "The way her lats bulge over the top of her vest makes me swoon as I dream of squeezing them hard, feeling the hard muscle. No give, like warm steel or rock or something." I was clearly slightly out of my mind for her then. Understandably so.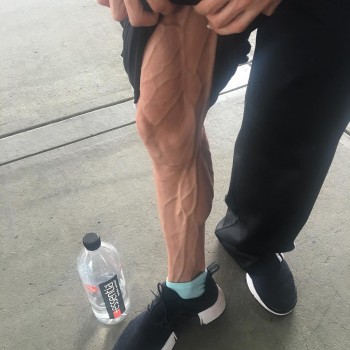 As Michaela was waiting to board the plane to Las Vegas [for the 2016 Olympia], this is how she passed the time. Not since the vascular pomp of Lisa Giesbrecht maybe five, six years ago have we seen anything quite like this. Jaw to the floor stuff.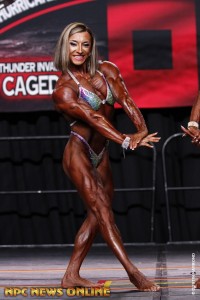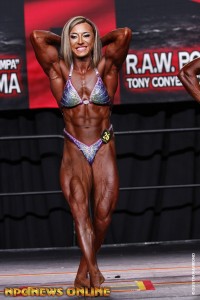 "Nothing quite like the thrill of show weekend," she says. "Gosh I love this stuff!"
Michaela (left) at the 2017 Tampa Pro, and the 2017 Hurricane Pro. Her best ever package ("product" she calls it) but she just missed out on a Physique Olympia spot.
BACK BEAUTY
Having one of my periodic periods of back obsession lately,
I wrote by way of introduction to
Back Beauty
, a week of some of the finest, meatiest backs both past and present.
This woman - new IFBB pro Sammica Cash - may be responsible.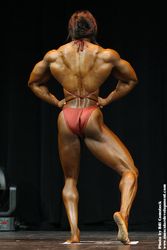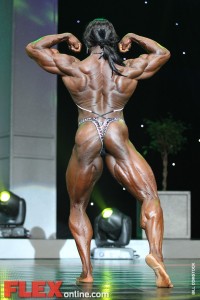 They say that bodybuilding shows (female and male) are won "from the back", so it stands to reason that all great champions past and present have, out of necessity, superior back muscle development. Consequently, the conversation about the FBB with the "Best Back Ever" has never proved an easy one for fans to resolve.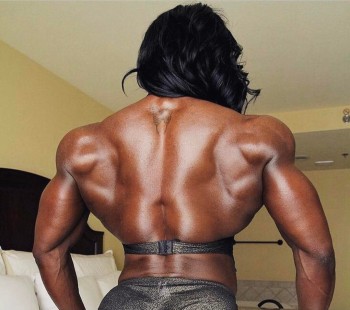 After extensive (and for once I am not being ironic when I say that) research, there are some FBBs who always tend to be in the "Best Back Ever" conversation, and so FMS has compiled a sort of poll of polls Top 9 all-time female muscle backs.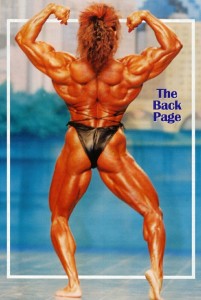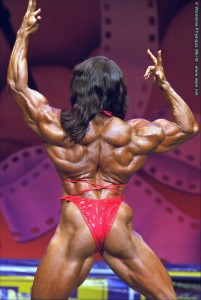 Paula Suzuki
-
hers or Lenda's would be #1 according to our research.
THE BEEF AND THE BEAUTY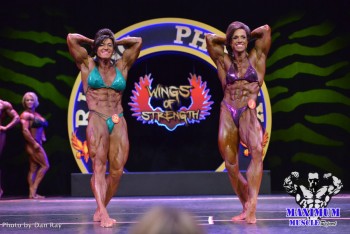 Behind the lectern stage right Lenda Murray looked visibly shocked.
I've seen this before but never for first place,
announced MC Shannon Dey.
We have a tie.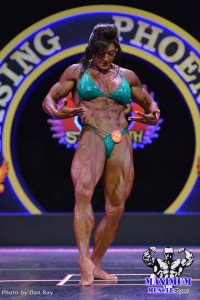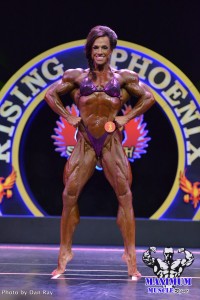 We couldn't have begun our review of this year's Rising Phoenix anywhere else. The epic battle for the title was - on the (free!) live feed - genuinely exciting and, to the very end, impossible to call.
They'd been right at the centre of the first callout and both, in their own way, looked as good as they ever have. Sheila, all perfect conditioning, perfect proportions and perfect poses; Helle, bulkier, beefier, less-than-regulation hand gestures inviting the audience (and judges) to eye up her abs and glutes.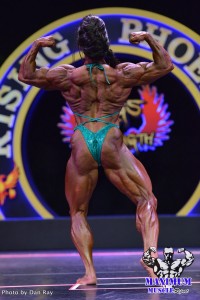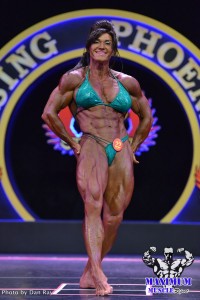 The Head Judge - who has the deciding vote when there's a tie - went for Helle. I felt for Sheila (what a way to lose!) but also felt it was the right choice.
I remembered Helle's 2005 injury, a herniated disc that left her unable to walk. The medical opinion was she'd never train again, let alone compete, but she wasn't having any of that. Six years later she was winning her first show back, and 8 years after her 2003 Olympia debut she was back there again. It would have been a remarkable story had it ended there, but Helle was coming back for good. So it feels like the right woman won. Again, the Rising Phoenix has given us a champ we can (and should) all be proud of.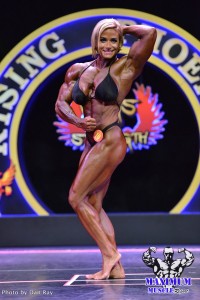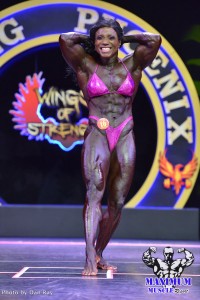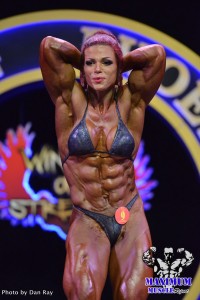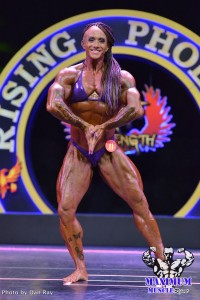 After an up and down season for IFBB pro Female Bodybuilding, the 2017 Rising Phoenix was, I think, a pretty much unqualified success. With a line-up of 23 women there were more competitors than ever - you have to go back to the 90s to find a Ms Olympia with that many - and while it's never been easier to qualify for the world's premier professional Female Bodybuilding competition, this didn't mean that the quality of muscle on display was lower than at previous RPs. Quite the opposite.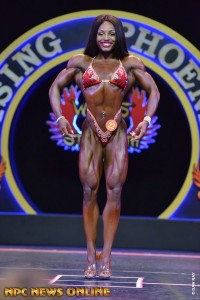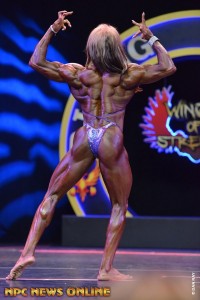 And, lest we forgot, we paused to remind ourselves the Arizona Pro is more than the Rising Phoenix: the only all-division all-female pro show there is. And this year both the Figure (
Cydney Gillon
) and Physique (
Heather Grace
) champions would go on to shine at the Olympia the following week - in Cydney's case, very brightly indeed.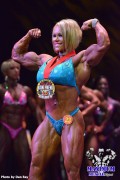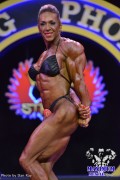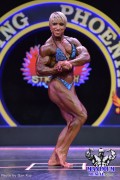 Back at the RP, Aleesha won the "Most Muscular Award" and we paid tribute to "Evergreen"
Yaxeni Oriquen
, still fabulous at over 50, still stretching that black posing suit to its limits, and
Virginia Sanchez
, who topped off her best ever year with a top 6 place that guarantees her an automatic invite for next year's event.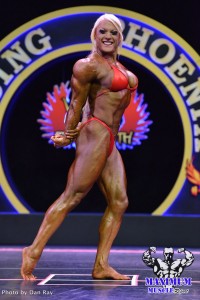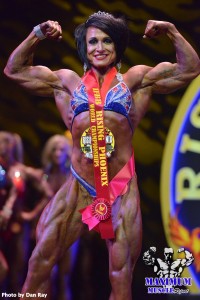 For UK fans it was a treat to see, for the first time in 16 years, more than one British female muscle goddess at the sport's premier contest, and for
Wendy McCready
...
This was the best result by a British woman since Andrulla was 2nd in the Lightweight class in 2001. And if you're talking about an Open class, well, Lisa, at last year's Rising Phoenix, and Andrulla, at the Ms Olympia in 1999, were the best ever placed Brits. They both placed 7th. So now the British record belongs to Wendy.
MARTHE SUNDBY 1975-2017
Marthe died on 12th September.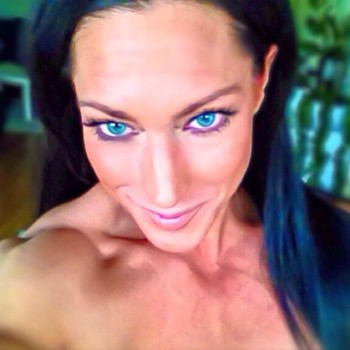 Watching Marthe struggle, and ultimately give in to the inevitable and meet her end with grace has been moving. There was always a part of me thinking that she was such a remarkable woman that she would, in the end, beat it, but it was not to be. I didn't know her - though I did send her some messages of love and support during her illness, and she replied very sweetly to some - but she has touched me as few other muscle women have. Her death was hardly unexpected, but it has hit me hard.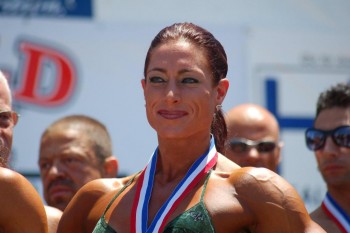 She believed in a lot of things... "I believe in pink. I believe that laughing is the best calorie burner. I believe in kissing, kissing a lot. I believe in being strong when everything seems to be going wrong. I believe happy girls are the prettiest girls. I believe tomorrow is another day and I believe in miracles..." But she didn't get one.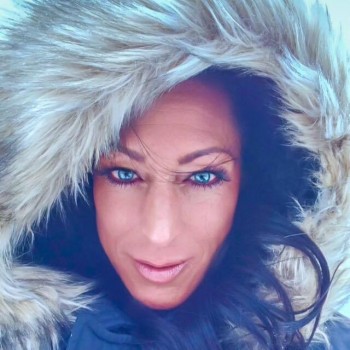 We will miss her.