For the seventh time we have chosen our Women of the Year.

The mission statement remains the same:
It's that time of year when idiot journalists and TV producers make stupid lists of The Best/Worst/Biggest/Dumbest/Most Earth-Shattering Moments/Men/Women/Songs/ Whatevers of the year. You can't turn on the TV for these shows. So I'm not going to do that. It's not a list, it's a collection. It's not the same thing at all. Really.
I've chosen six because six is the number of finalists in most bodybuilding contests (if there are at least six competitors anyway). So six it is. And they are in no particular order. They're all winners. I'm not saying they are the best bodybuilders in the world today, nor that they have been the best in the world this year. But I am saying that these six women, some new to me this year, others familiar from a year or many years before, have been on Swell's mind (and screen) rather a lot this year.
And it was also decided from the start that being an FMS Woman of the Year would be a one-time deal. So those 36 who have featured before won't be featuring again. That rules out some of the women who might spring to mind for their stellar 2017s - Helle Trevino (2012) and Aleesha Young (2014), to name but two.

With a pretty long short list to discuss our editorial panel stayed locked in a (virtual) meeting room longer than a team of Brexit negotiators before arriving at this year's final six. Those that came close included Swell's #1 Swoon of the Moment Jacquelyn Hickerson (he ain't happy about this), Pauline Nelson, gorgeous Katie Lee, and, fittingly in a warped kind of way given the year she's had, Sheila Bleck.

So, who did make it?
The FMS WOMEN of the YEAR 2017
WENDY MCCREADY: History Woman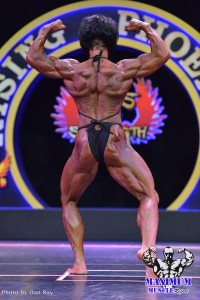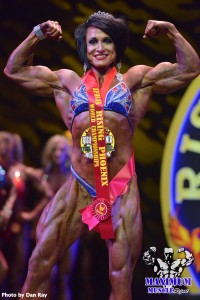 At the start of the year you wouldn't have gambled a lot of money on Wendy achieving the best Open class result at the Olympia or Rising Phoenix of any British Female Bodybuilder ever. To be honest, at the start of the year, I wouldn't have even been very confident that she would even
be
at the Rising Phoenix, especially given that in 2016 we found her competing in the Physique division. But not only did she return to the stage as a Bodybuilder, not only did she gain enough qualification points for the Rising Phoenix, but she really did - in finishing 4th - place higher than any British Female Bodybuilder has ever placed in an Open class at the sport's premier event.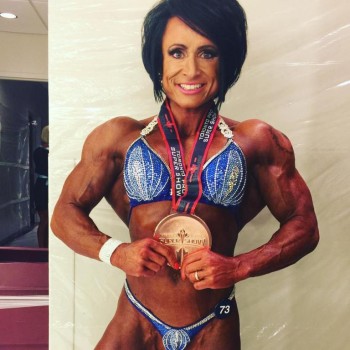 She's been a pro 13 years now, and previously had only placed in the top 3 once, in 2012 in Toronto, which coincidentally is where her 2017 competition season began at the end of May.
This was her first show for three years,
FMS reported,
and surrounded by women who looked to be at least three or four times her size, her ultra-conditioned package punched well above her weight,
and she finished top 3 once again.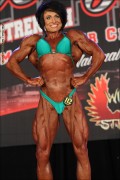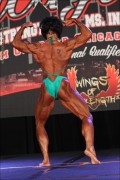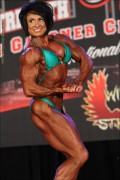 She followed this up with another career-best 3rd place in Chicago in July, and in doing so secured her place at FBBing's top event.
Words can't describe how I feel right now. Holy cow I'm really going!
she gushed afterwards, apparently as surprised as anyone by the fact. And she was just as, if not even more surprised with her Rising Phoenix placing -
I still can't believe it!
she exclaimed afterwards.
4th in the world!!!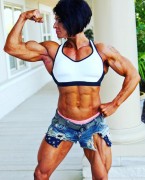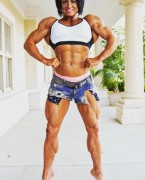 Female Bodybuilding may not be in the best condition ever, and the competition may not be what it was even only five years ago, but there's no denying Wendy's history-making achievement, and she couldn't be more deserving. Competing since the age of 19, British champion and IFBB pro 8 years later, and then over a decade of preparing herself in County Durham then making the trip to Atlantic City, Tampa, Chicago, and Toronto to compete against the elite of her sport. And in Scottsdale, all those years she'd spent accumulating the know-how to bring and be at her very best paid off.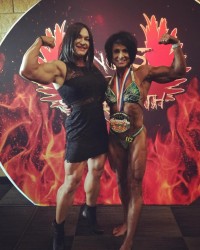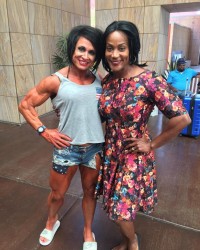 She'd also made a lot of friends among her fellow competitors. It seems that among her peers there were few more popular success stories in 2017 than Wendy's. After each of her three shows this year there were many many messages of congratulation from her iron sisters (British, European and North American). And she's already enthused about the 2018 Wings of Strength contest schedule - there's no more thoughts of Physique, thankfully. For this gem of British Female Bodybuilding, the best may be yet to come.
CYDNEY GILLON: Flawless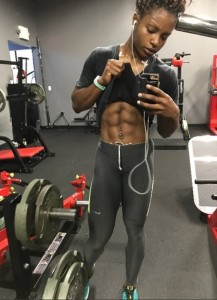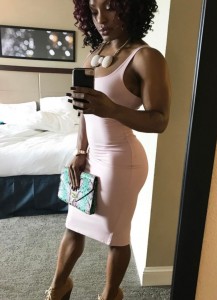 Over the last couple of years three women - Cydney,
Latorya Watts
and
Candice Lewis-Carter
- have dominated the Figure division, occupying the top 3 spots at Arnolds and Olympias. Before this year's Olympia Cydney had numerous pro titles to her name, however the biggest titles of all had eluded her. She had demonstrated that at any given show she could finish above Candice
or
Latorya, but never above both of them. 3rd at the 2016 Olympia, she finished 2nd (behind Candice) at the 2017 Figure International, and then 3rd and 2nd respectively at Arnolds in Australia and Brazil.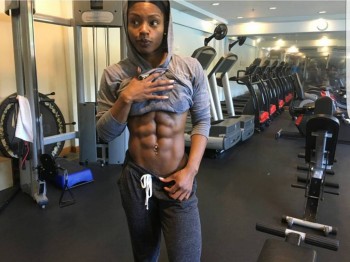 Regular readers will know about our soft hard spot for Cyd. She was featured on the blog a couple of times even before
her first pro win in Chicago
three years ago, and then there was
her appearance on the US version of Survivor
(not a long one, sadly). We've drooled over her bum, her abs, and her killer outfits, and we've basked in the light of that dazzling smile. So we were delighted she made the
Hot and Hard 100
for the first time this year, although that didn't turn out to be her 2017 high point.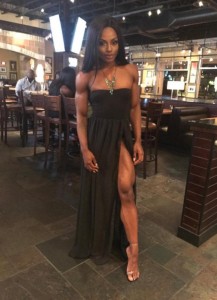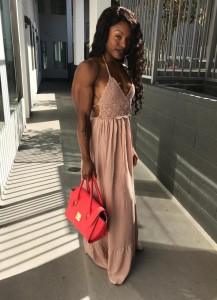 Could she be Ms Figure Olympia in 2017?
we wondered in her
Hot and Hard 100
entry, before answering our own question in the affirmative. And when Cyd turned up at the Arizona Pro and took the Figure title the week before the Olympia, we were even more confident - mainly because we were so tardy on the Rising Phoenix review that the Olympia had already happened and we knew.
Cydney Gillon
had, for the first time in her career, beaten Latorya
and
Candice and was Ms Figure Olympia. She told the interviewers who lined up for her after her win that after the Arnolds in Australia and Brazil this year she had decided that for the Olympia she needed to be a Cydney the judges had never seen before. More balanced (did she lack it previously?), tighter (how much tighter could she get?), just
better
.
It's not that I thought any part of my package was bad,
she said,
but you can always make improvements.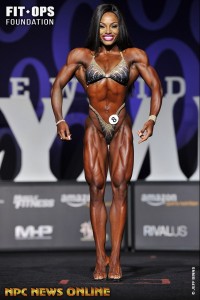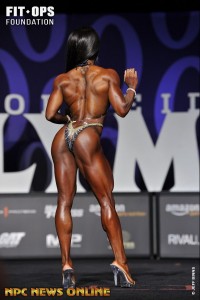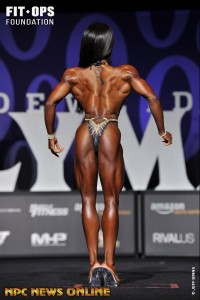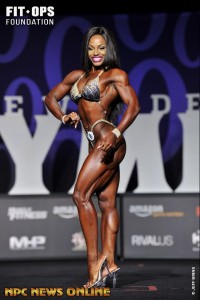 What that exactly entails is beyond the understanding of mortals like you and me. Check this little clip out
here
- it's a recovery thing, apparently - what looks like some kind of iron rod being rolled (quite vigorously) over Cydney's beautiful quads. And this is just one example of the attention to detail that it took for Cyd to make that jump from top 3 to top 1. To make herself, despite the fact that she
still
thinks she can make improvements, so flawless that the judges were unanimous in their decision.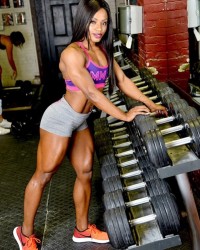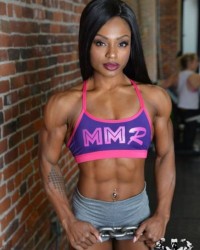 Unsurprisingly, the same level of dedication she applies to her Figure career goes into other areas of her life.
I have homework to do - school on Monday,
she said when asked about her plans to celebrate her Olympia win. Obviously - as is the case with so many of the women we feature here - she's the kind of woman who'd succeed at whatever she chose to do. Thankfully, one of them was building a flawless physique.
JENNIFER TAYLOR's Physique Dream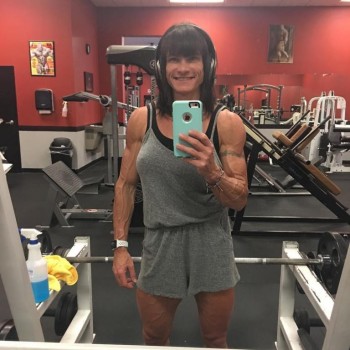 Jennifer Taylor
is not one for glamour selfies, as you can probably tell.
Catching up on some cleaning around the gym,
she tells us. Probably because of this, she's not the kind of woman who has pages and pages devoted to them on the fan forums. She does get the odd mention here and there though, usually because she's just won a contest.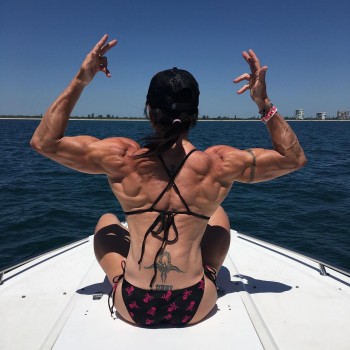 She does a lot of that. Three times between winning her pro card and in 2013 and hanging up her Figure heels in 2016 she took home the winner's cheque and the big sword or whatever. She also won three Masters titles in that time. She went to two Olympias as well - unplaced in 2015, 10th in 2016.
Both those times it was kind of surreal,
she says.
The first time... and I wanted to make sure the first time wasn't a fluke so I went again.
And it was at that second Olympia that she had an idea.
I was like, if I could do Physique at the Olympia, then I could die a happy woman!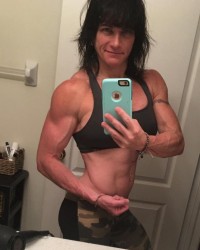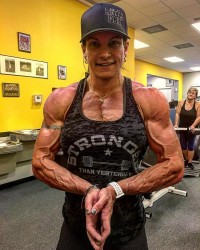 Her trainer husband put a plan together, and in January she started the journey that would make that wish come true quicker than she could have possibly imagined.
With Figure we had to hold back from too big, not now though,
she reported in April.
The body is responding well, changes happening everyday...
That's Jennifer in April above on the left, and a somewhat freakier Jennifer in July on the right. Damn!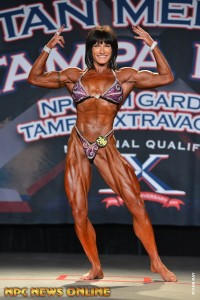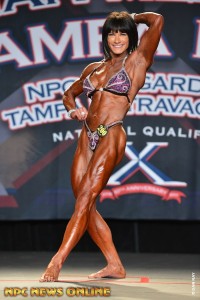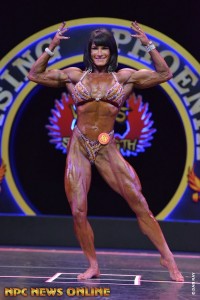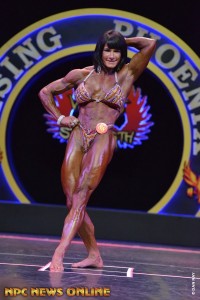 I didn't even know if I'd be competitive with these woman,
said a clearly overawed Jennifer after winning the Tampa Pro - her Physique debut. By the way, are you getting that Jennifer isn't exactly overflowing with self-belief? You are? Good. The following week she won her second Physique title in San Antonio. She didn't need to compete there, she'd already qualified for the Olympia. Clearly the plan hadn't been to win in Tampa, and she was sticking with the plan. Or maybe she did San Antonio just to check Tampa hadn't been a fluke. She also didn't need to compete at the Arizona Pro the week before the Olympia, but she did. She was runner-up, but not disappointed. The line-up in Arizona represented a whole new level of competition as far as she was concerned.
These girls are amazing,
she said at the time.
I came here to find out where I fit in in the upper-echelon of Women's Physique.
That's Jennifer in Tampa on the top row, Jennifer (fitting in) in Arizona on the bottom. About seven weeks apart.
DAMN!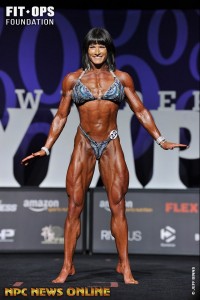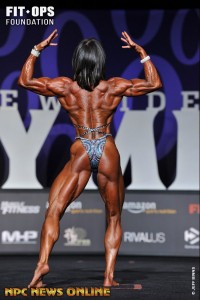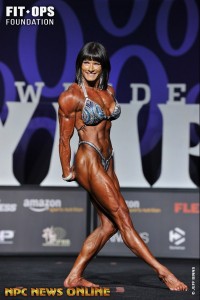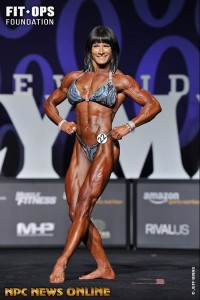 And so to her third Olympia - her "die happy" first in the Physique division. Very much the upperest-echelon of all. And how did she do? Given her relative anonymity with fans, you may not actually know. You probably know that she didn't win - Juliana won, as Juliana does. Nobody beats Juliana at the Olympia, do they? Jennifer beat everyone else though. She beat
Heather Grace
(who'd beaten her in Arizona), and she beat Ms Physique International
Daniely Castilho
(beat her by miles). And she beat Dani, and Kira, and Sheronica and all those other women who you've heard lots about. Jennifer was runner-up. And a very uncontroversial runner-up at that. So now she and we know where she fits in in the upper-echelon - in the upper bit. The
very
upper bit.
EMMA PAVELEY: Britain's Fitness Olympian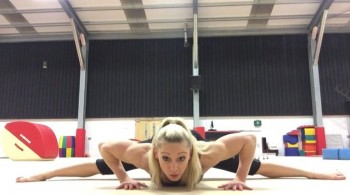 INCREDIBLE,
says 25-year-old
Emma Paveley
, reflecting on the twelve months that had passed since her win at the Arnold Classic Europe in October last year.
It's pretty amazing to think that in one year I've become an Arnold Fitness Champion, won British title no.3, turned pro, won my pro debut AND been to the Olympia.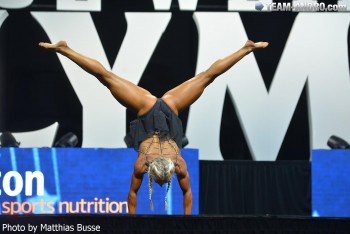 Indeed it is. Perhaps not
so
incredible British title no.3. There's only been one winner in that contest since 2014. Perhaps not
so
incredible that she won in Barcelona - she had, after all had podium finishes at European and World Championships in 2014, and had done well at the Arnold Classic Europe before. That had been coming. And so, you could argue, had her victory at the Diamond Cup event that allowed her to turn pro. Similar competition to the Arnold, similar result. But then to go to Vancouver and line up with
Fiona Harris
(just the five Olympias she's been to) and two-time Olympian
Ryall Graber
and the other six Fitness women at the show, experienced IFBB pro competitors all... and to
WIN!
Nobody
was expecting that. Least of all Emma.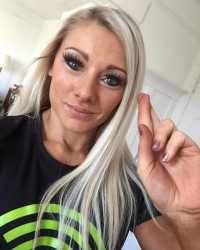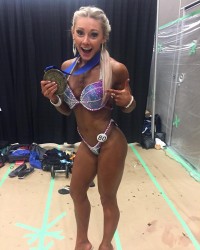 Emma became the 4th British woman to compete at the Fitness Olympia in the event's twenty-three-year history, and the first since the second of
Kizzy Vaines
' two appearances in 2011. It's some achievement, and the high point of a journey that began with her high school gymnastics.
I was known as "the girl with the six-pack" because I had a ripped six-pack from being a gymnast,
she told her local press after her win in Vancouver.
I had bigger biceps than all the boys. But I used to be very ashamed of my muscles and broadness, thought it wasn't womanly.
Fortunately all that changed after her first time on stage in 2011.
It made me realise that lifting weights gives you the ability to shape your body,
she continued.
I am now super proud to show off my shape - my great legs, my waist. I have never felt so comfortable in my own skin.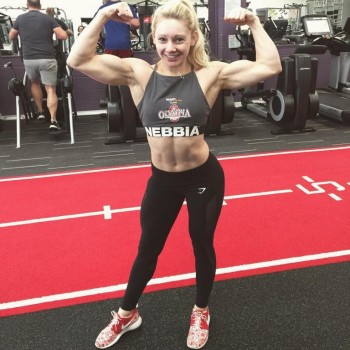 So Emma headed to Olympia for what was to be only her second show as a pro.
Pinch me now!
she exclaimed after seeing the official list of competitors.
Can't believe I get to share the stage with these incredible ladies! With hard work and passion you really can turn your dreams into reality. Then they sink in! Fitness Olympia here I come!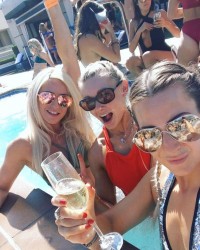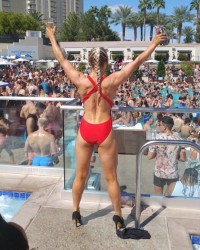 She didn't manage to beat any of the big names this time round, but as we've already seen, just for her to be at the Olympia was an achievement in itself, and the fact that she moved up two whole places after she'd performed her routine suggests that she certainly has the performance skills - if not quite the body (yet) - to succeed at the highest level of her sport. And like the good Essex girl she is, she made sure her trip to Las Vegas was a memorable one for all sorts of reasons. VIP pool party? Obvs.
PAIGE SANDGREN's Growing Concern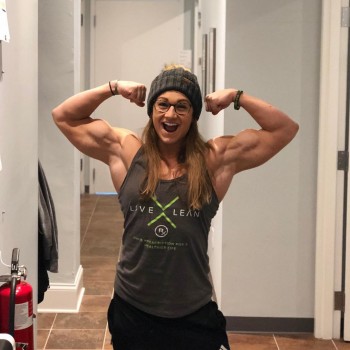 We only featured
Paige for the first time in October
, and she only blew up on the forums (always way ahead of us) in July, but such has been her impact on the collective female muscle lovin' consciousness that we couldn't possibly leave her off our list. She's this year's
Cass Martin
if you like - a woman who has seemingly come from nowhere and is suddenly everywhere. And we're all a little bit in love with her.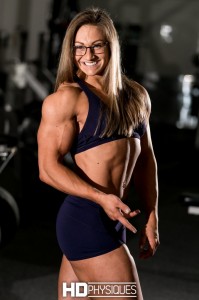 In
that October post
we finished with an image that pretty much sums up Paige with its science and its spectacular presentation of muscle growth. Her mission is, you may recall, both to build a physique "the judges can't deny" and "to popularise science along the way". It's a before and after comparison unlike any other.
In case you were wondering what an additional 40lbs of muscle (red) looks like under my skin...
she explains.
Left: 149lbs, 26% body fat. Right: 178lbs, 16% body fat. 2.5 year difference.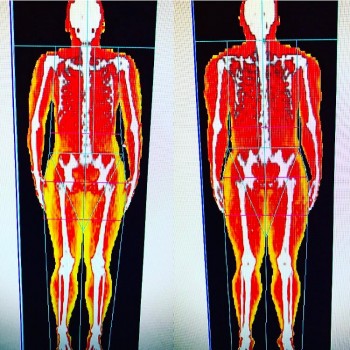 It's this kind of thing that has made the moniker "Nerd Beast", dreamt up by some forum wag, stick. The glasses, the love of science, "a very sweet, approachable girl" reckons one devotee. How he would know is not clear, but you get the idea - Paige is the shy, "A" student who you happen to get paired with. As the ice between you breaks and you become more than just classmates you find, to your delight, that beneath the chunky jumpers and lab coat is a
bona fide
muscle engorged beefcake...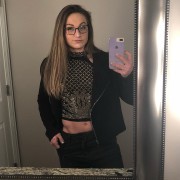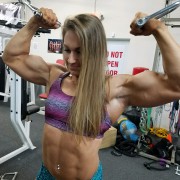 Or perhaps it's just me who has daydreams like that? Either way, there's no denying that Paige has - whether she intended to or not - charmed the pants off the female muscle lovin' collective. Mainly though, we've fallen for her body, for her big, beefy muscles. We've fallen for her "unreal shoulders", her "beautiful strong arms", and her back - "wide enough to support a piano". See? It's not just me getting carried away.
She hit the gym and it just unleashed a beast inside her,
reckons one excited forum poster.
She didn't just get muscular, she became A TITANIC MUSCLE MONSTER!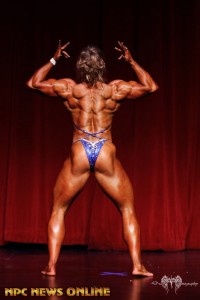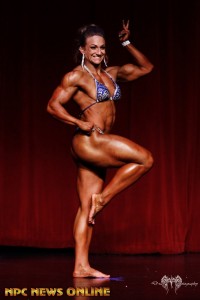 The way "we" talk you'd think she was a Trukhina-sized freak but in fact Paige is a much more aesthetically-pleasing NPC Physique competitor working towards her IFBB pro card -
I'm not sure which competitor wouldn't want this,
she says. She won her class at the NPC Midwest the week before the Nationals but didn't win the Overall (Nationals qualifying) title. She'll be back next year.
If you want to do it in a healthy way, this sport isn't a sprint, it's a marathon,
says Paige, promising to get her "stubborn legs" leaner for her next contest. Through the appliance of science, no doubt.
NATALIA COELHO: (Should Come with a) Health Warning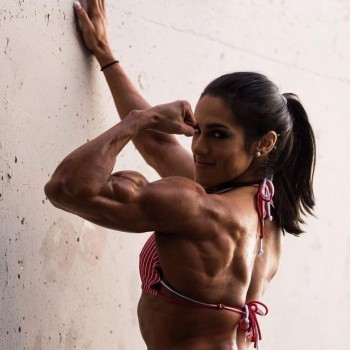 Gasping I was! And I imagine much of the audience were too. That incredible definition - too much for Figure is what I've heard said, but more than enough for me. Her legs have been (rightly) lauded ever since she first stepped onto a pro stage (regular readers may remember Swell learning the correct term to describe them was "feathered" back in 2016), and they did not disappoint here either. Then there were her abs, which looked too perfect to be true (if you told me they were painted on I'd be tempted to believe you), and that pec line, those shoulders, and when she turned around glutes that seemed to ripple from top to bottom and side to side with every move she made. Gasping I was! Gasping in awe and excitement and wonder...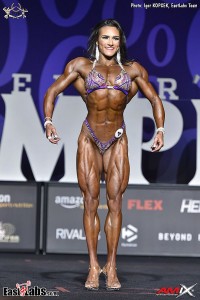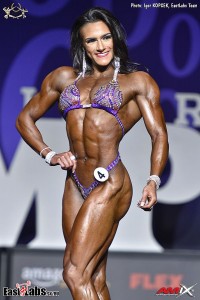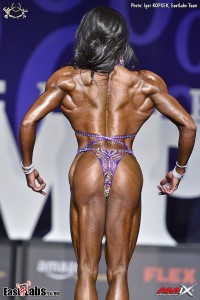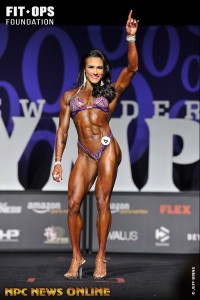 Fair to say that Natalia made quite the impression on me at the Olympia. Sadly, or perhaps, happily, not everyone felt the same way. 15th in 2016, the 2017 Olympia judges didn't think she was worth a placing at all this time.
When you consider she's just starting to discover how to manage her talent,
said Dave Palumbo after seeing Natalia at the Olympia,
it's scary to think how good she might be three years down the road.
I wondered if my ticker could take a better than 2017 Natalia. Scary indeed.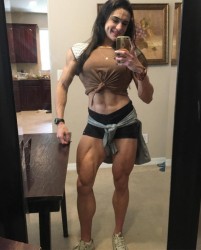 And my ticker got a good workout from Natalia a lot sooner than I'd imagined it would. Just two months after her Olympia star turn, Natalia did what a lot of forum posters had thought she could do, and
should
do - she made her Physique debut.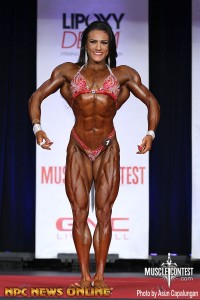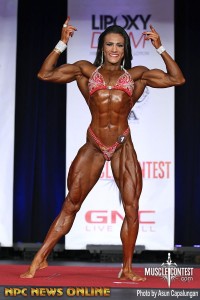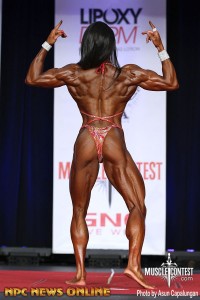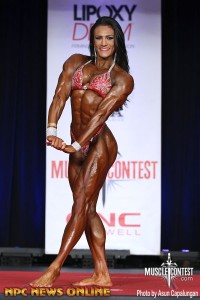 It was one of those moments. Moments when - if not all - then a very significant majority of female muscle fans all turn and look in the same direction. Moments when the brethren and the judges are in complete agreement. As images of Natalia (finally) flexing her perfect physique emerged, the forums blew up. She had the same mind-blowing conditioning as she'd had in Las Vegas, but now she was in a division where that counted
for
her. Against some very strong competition, Natalia stole the show. First place, big sword etc. and 2018 Olympia qualification in the bag already.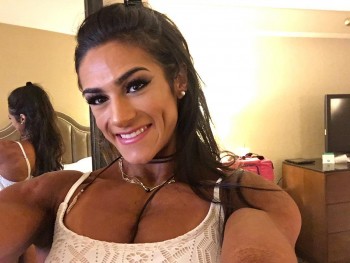 If she developed herself like that for Figure,
wondered one Natalia fan,
what will happen in Physique now she can push on? I can't wait for that back to widen even more.
Or those legs - they could be bigger but just as defined and feathery. Those abs could get deeper, with proper rippling ridges of muscle. Those shoulders could grow, those arms and pecs too... She could have veins and striations everywhere! I worry, I really do. She's 22!!! Never mind how good she might be
three
years down the road, it's scary how much more strain she could put on my ticker
next
year.
So there they are, our six choices for Women of the Year.

Too much Figure, Fitness and Physique, not enough Bodybuilding for you? Too much focus on IFBB pros and their results - which are a farce anyway? Or just right?

Comments please to 6ft1swell@gmail.com or use the comment box below.

And our final post of 2017 will be just before New Year.

Have a very Merry Christmas!