Flying the flag for Europe on Friday will (once again) be
Brigita Brezovac
of Slovenia, who is appearing in her fourth consecutive Ms Olympia; and the female muscle fan fantasy made flesh that is
Alina Popa
, competing in her third.
Brigita, it surprised me to learn, actually has a better pro record than Alina. She won the 2010 Battle of Champions in Hartford, and followed that success with victory at the Toronto Pro in 2011, and the same year finished 3rd at the Olympia. In comparison, Alina has no pro wins, and a fourth place last year as her best Olympia result. She has, however, done better at the Ms International, coming third in 2011 and 2012.
But while Brigita may have the results, Alina seems to have that special something that makes us fans go crazy. For three years running she has been voted 'Muscle Goddess of the Year' on the most famous female muscle fan forum (the first rule of which is you do not talk about it). When
FMS
asked readers who would line-up in their
Fantasy Contest
, Alina gained more votes than any other woman. If Friday's contest was decided by online fan votes, Alina would only have to turn up to win.
Brigita was, she says,
a strong but skinny
14-year-old trying to gain more explosive power for her chosen sport of karate when she first entered a gym.
There I saw a photo of Anja Langer, who really impressed me, so I started exercising with weights.
Although she went on to become national champion in karate, injuries and study commitments meant giving up the sport, but she didn't give up the training she had been doing in the gym.
As she did last year, Brigita has only competed once in 2013, finishing 4th at the Ms International. She has spent much of the year indulging one of her great loves - travel. This year she has posted photos on
her excellent blog
from trips to Dubai, San Francisco and New York, as well as time spent back in her native Slovenia, and from Venice Beach, which she calls her second home. Her other great love is fashion, and between trips this year has brought out a range of T-shirts bearing the legend 'Barbie Wants to Be Me' (featured on
FMS in May
).
Brigita says,
Bodybuilding teaches you the greatest discipline and dedication. You realize what a powerful tool your brain is - your willpower will move tons of weight in each workout, you will diet and starve for a higher purpose, put your body through physical and mental stress... Yes, you are really something special if you get through all this.
Few female muscle fans would disagree that Brigita really is something special. It's no wonder that Barbie wants to be her.
Alina has been almost hermitic in 2013. It's hard to see how she could improve on the physique she presented to the Olympia judges in 2011 and 2012, but she's been training at the Armburst ProGym in Colorado (run by the former Mr Heather Policky, who is the kind of guy that makes me, and maybe you too, dear reader, wonder what we did wrong in a previous life), where the two-time Mr Olympia, Phil Heath, also trains. If she's going to find improvement anywhere, it's probably the place.
I LOVE BODYBUILDING,
says Alina.
It taught me how to fight, how to stay strong against the odds and society's tendency for conformism. It has eventually made me a better human being. I do believe that overcoming obstacles in trying to reach my dreams made me more self-confident and stronger. I know I can achieve whatever I want as long as my goal is true to my nature and comes from that warm place inside me that's filled with love and passion.
There is certainly plenty of love and passion for Alina among female muscle fans. Collectively, there's nobody we'd like more to win. Will Alina emerge from the mountains of Colorado on Friday, bigger and better than ever, to give Europe its first Ms Olympia since Juliette Bergmann twelve years ago? If she does, she'll be the most popular winner since then. Maybe the most popular ever.
BRIGITA BREZOVAC (Slo)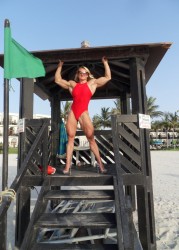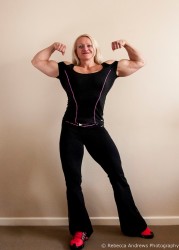 Born:
Ptuj, Slovenia
Age:
33
Height:
5'4" (1.63)
Best Ms O:
4th 2010
In 2013:
4th Ms International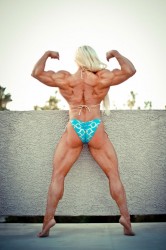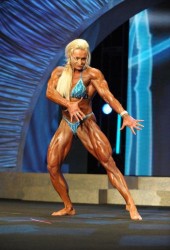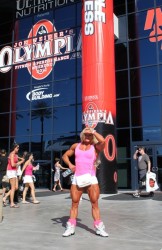 ALINA POPA (Swi)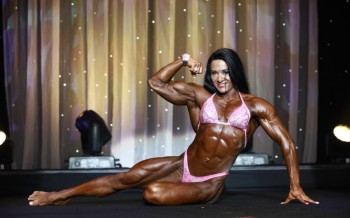 Born:
Brăila, Romania
Age:
34
Height:
5'7" (1.70)
Best Ms O:
4th 2012
In 2013:
has not competed