From
FMS
, February 12th this year:
Pros beware. Juanita is coming! Without question, a star of the future. In all probability, the very near future.
I do impress myself sometimes.
And I was patting myself on the back even more in July when
Juanita Blaino
, in front of her home crowd in Chicago, came second to Monique Jones by a mere point in only her first professional outing, and also carried off the Best Poser prize.
Now, if only Juanita had just stayed in Chicago and prepared for the Olympia, people would be calling me some kind of (crazed, but hey, a fine line and all that) female muscle seer. But she didn't. She went to Tampa a month later, and there, this rising star, whose two most recent results had been her 2012 Nationals win (heavyweight and overall), followed by coming within a point of winning her first pro show... didn't place.
Clunk.
Anyway, I, for one, am optimistic Juanita has enough experience to arrive in Las Vegas with her Chicago self, rather than the Tampa version. She first competed way back in 1988, but took time away from contests after 1994 while her daughter was growing up before returning in 2010. And as they say, form is temporary and class is permanent, and Juanita has a lot of class, so despite her disappointment in Tampa, I expect her to put up a strong showing on her Olympia debut.
And talking of class,
Tina Chandler
will be appearing at her 4th Olympia since she won her pro card at the Nationals in 2007. That year, Beverly DiRenzo, Nekole Hamrick, Michelle Neil and Kris Murrell were the top four heavyweights. Kristy Hawkins, Brit Miller, Karen Choat and Elena Seiple the top four light -heavyweights, and Hawkins took the overall title. You wouldn't have bet much at the time that six years later it would be Tina, the middleweight class winner, who would be the only one of those women appearing at the Olympia. In fact, of those eight mentioned, only Kristy Hawkins, 7th in 2009, has appeared at the Olympia at all.
Perhaps the reason is Tina's obvious love of her sport.
The thing I MOSTLY enjoy about bodybuilding is the innermost challenge I must face each and every time I am to compete and improve,
she says.
I love having to face my fears and overcome them to get to the next level. This is the ART of bodybuilding and the ART of knowing yourself better than most people admit they want to know!
She is also a passionate advocate for female bodybuilding and an outspoken critic of the IFBB's recent decisions.
I really think it's absurd to get rid of bodybuilding. It really makes no sense to me. If they were to do this, let's say hypothetically, don't you think they will run into the same problems in about 3-5 years? The same problem of not having a class for those girls to go to who have been competing at a certain level and have found themselves with a little more muscle than when they began.
Furthermore, Tina is an eloquent campaigner for better prize money for her and her fellow competitors.
I am excited to proudly represent the women of our sport and to help bring us higher on the totem pole! I am motivated to TRY and accomplish equal prize winnings for women as it is for men... If Serena and Venus Williams can do it, so can WE.
Swell has to admit, he has a real soft spot for Tina going back a few years now. I can't see her walking off with the title or even making the top six, but on Friday I'll be rooting for this very special lady nonetheless.
JUANITA BLAINO (USA)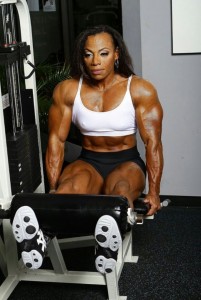 Born:
Chicago, Illinois
Age:
44
Height:
5'7" (1.70)
Best Ms O:
on debut
In 2013:
2nd Chicago Pro, did not place Tampa Pro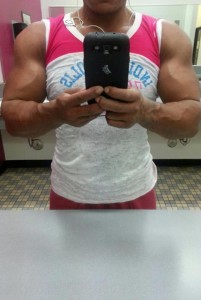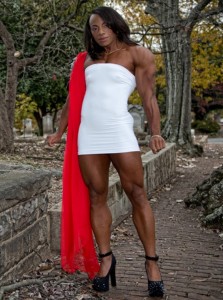 TINA CHANDLER (USA)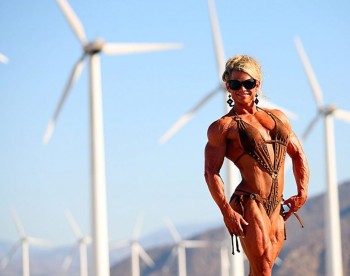 Born:
Shreveport, Louisiana
Age:
40
Height:
5'4" (1.63)
Best Ms O:
8th 2010
In 2013:
3rd Chicago Pro, 4th Tampa Pro