Today, the magic door takes us back in time to some seriously retro gym bodz...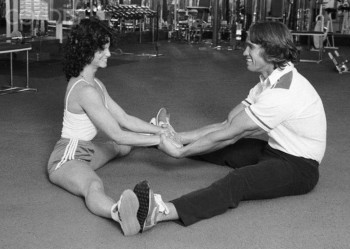 Female muscle pioneer and Robert Mapplethorpe muse 'Lady' Lisa Lyon.
And some bloke.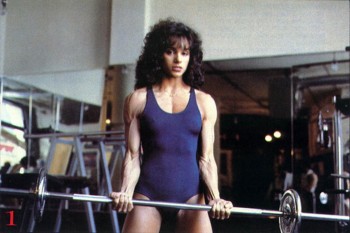 Gladys Portugues, long long before she was Mrs van Damme.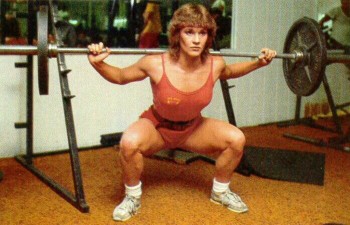 Cory Everson, circa 1984 apparently. As always it is only through the heroic efforts of the scan masters that me and you get to enjoy these images. I'd never seen this picture of the nascent female muscle great before I stumbled across it recently. This must be how archaeologists feel when they show each other their latest finds.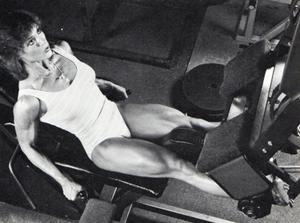 Lori Bowen, the Pumping Iron II poster girl.
Beautiful Mary Roberts had two top three finishes at the Ms Olympia - she was 3rd in 1984 and runner-up to Cory Everson in 1985, when she also won the IFBB World Professional title. Check out her considerable on stage aura here.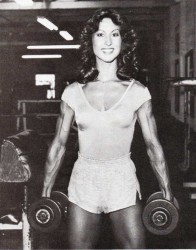 Laura Combes (1954-1989) and Rachel McLish in outfits that could only be from the early 80s, when shorts were pulled up high. Laura competed at the 1981 and 1982 Olympias, finishing 4th and 6th respectively. She was the author of Winning Women's Bodybuilding, which must have been one of the first books of its kind. You can see Laura at the 1981 IFBB Worlds here.
Deborah Diana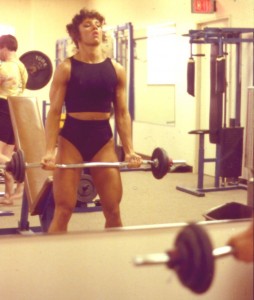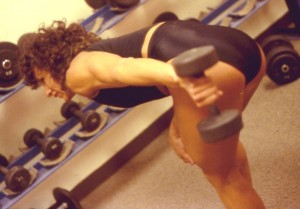 Women of Iron, released the year before Pumping Iron II, and in some ways a superior film, focused on Deborah and Carla Dunlap. Watch Deborah's posing routine at the 1981 USA Championships, which she won, here.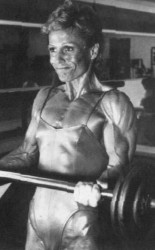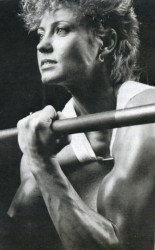 A little Scandinavian retro courtesy of Lisser Frost-Larsen and Inger Zetterquist. Lisser appeared in Pumping Iron II and went on to edit a fitness magazine in her native Denmark. Inger was European and World Amateur Champion in 1983, when she finished 3rd at the Olympia.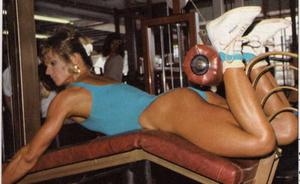 Anita Gandol was famously suspended by the IFBB for the duration of the 1984 contest season. Her crime? Posing in
Playboy
. She continued to compete well into the 90s, and was the first Utopia Entertainment model.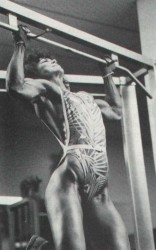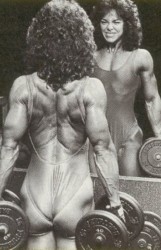 Clare Furr, 1984 USA champion, and 1986 Olympia runner-up is somewhat under-rated, in my opinion, or perhaps under-remembered would be a better description. Images like the one on the right demonstrate why.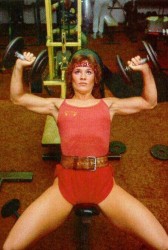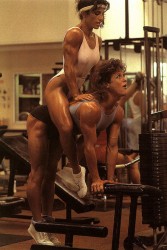 A little more retro Cory, and Diana Dennis heating up the room with a friend. Did women really used to wear outfits like that and do donkey calf raises while other people were in the gym?!!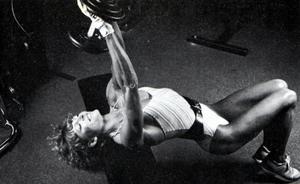 And last but by no means least, the first female bodybuilder I ever saw, UK female muscle pioneer Carolyn Cheshire. The first British woman to compete at the Olympia, her best finish was 7th in 1983. She also authored
Body Chic
, and co-authored
Body Dynamics
, both of which are available at knock-down prices on ebay. Carolyn still offers personal training via her website.
And if you're still in the mood for more retro gymmery, this clip of Mrs van Damme (and Lisser Frost-Larsen) from Pumping Iron II will bring a smile to your face.
Or something.
Watch the whole movie here.
Enjoy!