Anne Freitas was huge, muscular, rock hard and ultra-conditioned,
Real Female Bodybuilding
reported after the Toronto Pro.
When she was only awarded second place in favour of the much less muscular Jennifer Scarpetta she shot a look across the Toronto stage that was one part disgust, one part disbelief, and about 10 parts pure female bodybuilder fury.
Many felt the judges' choice of Scarpetta was a political one,
the report continues.
Jennifer's superbly muscled and beautifully aesthetic body over the pure freaky mass of runner-up Freitas and third place Rita Bello.
However, the report also noted that
if the Toronto Pro was all about muscle then there was a good argument for the monumentally muscular Rita being outright winner!
I get the impression that these two women cause IFBB judges to wake up in a cold sweat in the middle of the night. Perhaps the judges' nightmares are due to the prospect of some genuine 'female bodybuilder fury' being unleashed against them, or that one or more of Anne or Rita's fans will hunt them down. Or maybe they just wake up in a cold sweat because they are at a loss as to how to mark these two freaky South American beasts in the context of the current climate in the IFBB towards female bodybuilding.
When Rita took 4th at the Tampa Pro in 2011 (
the freakiest, hardest woman in the show
according to Dave Palumbo, who added,
I don't think I've ever seen conditioning on a woman like this before)
the lovers of hardcore muscle women immediately fell for her. At the same contest in 2012, in much the same condition, she finished 12th.
Meanwhile, Anne had won the contest in Hartford last year and marched triumphantly to her first Ms O having gained a legion of fans for her ultra-conditioned self.
This year, both of them have been runners-up, Anne amid the controversy in Toronto, Rita in Chicago. As the Argentinian P.E. teacher (imagine!) had also finished 3rd in Toronto, she finished top of the qualification points table, and achieved her
dream and goal to participate on the Ms Olympia stage.
The South American beasts and their freaky mass will both be on that stage on Friday. Just a few more sleepless nights for the judges until then.
MARIA RITA BELLO (Arg)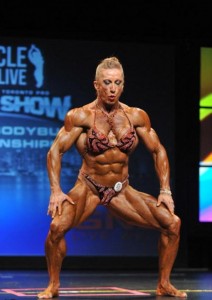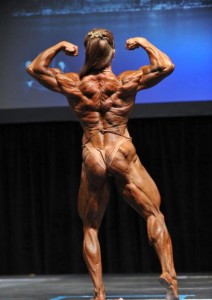 Born: N/A
Age: N/A
Height:
5'2½" (1.59)
Best Ms O:
on debut
In 2013:
3rd Toronto Pro, 2nd Chicago Pro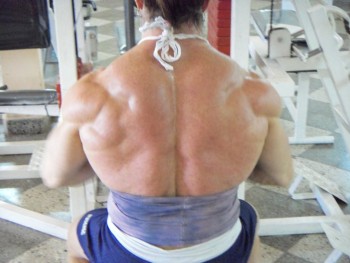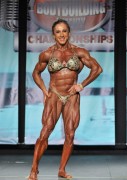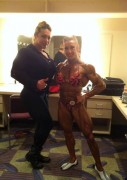 ANNE FREITAS (Bra)
Born:
Criciúma, Brazil
Age:
38
Height:
5'2" (1.57)
Best Ms O:
8th 2012
In 2013:
2nd Toronto Pro