A new project debuts today on
FMS
, the first of a regular series of posts we're calling
The A-Z of HUGE
: an alphabetical collection of gloriously BIG female muscle.
In future, as we progress through B, C, D... and so on, the hope is that readers will contribute their own ideas to the project, but today, the As, it's all our own work.
So, for the first time, it's...
The A-Z of HUGE
A is for...
ABS & THIGH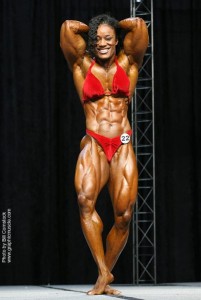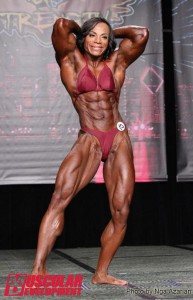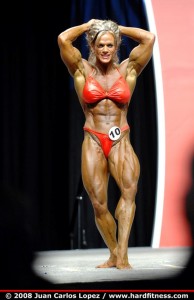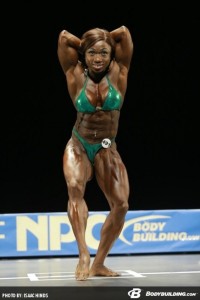 I love seeing all that thick muscle converging on a woman: definitely small firm tits with mega-erect nipples on top of thick pecs and those ultra-ripped ab ridges, deep armpits, sexy serratus. Love to see the look of PRIDE on their faces. There is nothing more sexual on women than that thrust, with the nipples, armpits, and pussy just offered up as the muscles strain and push them forward.
FMS reader, July 2014
The
ABSHIRES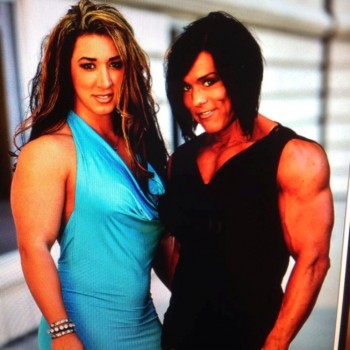 FBBing's premier couple. Megan says,
I just want to see how big my body can get.
Jennifer took Megan's surname. Not saying those things are related. Just saying.
(Being)
ADMIRED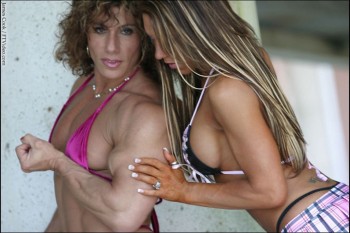 The worshipper is lost in muscle lust. Her tiny hand exploring, she breathes faster, deeper, it's so big, so hard... Annie looks to camera, knowing you wish it were you.
ALEESHA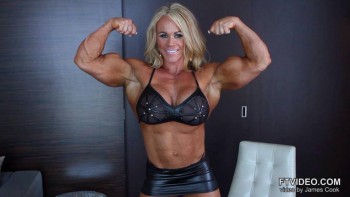 [She is} sexier than anyone that's ever won Ms Olympia,
they say.
A perfect combination of size, strength and sexuality. Nothing short of amazing... the hottest, the strongest, the goddess of female bodybuilding.
She says,
I always wanted to be a petite girl.
FMS Hot and Hard 100 #2 and one of our 2014 Women of the Year.
ALINA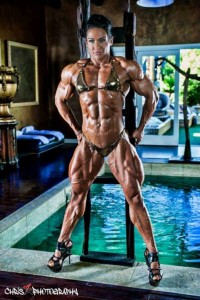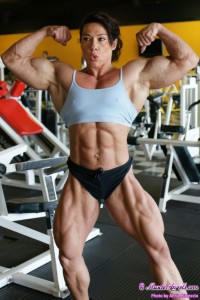 I saw Alina for the first time in person,
one lucky Denver resident couldn't wait to share on the forum (whose first rule is etc.) after he visited the Armburst Gym.
She was the biggest woman I have every seen in my life. She was simply massive.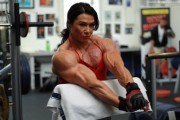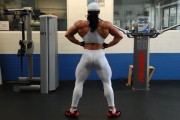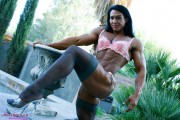 A crying shame she never fulfilled her dream of winning the Ms Olympia - and now maybe she never will. Nevertheless, she seems to inspire just about every female bodybuilder in the world. Georgina McConnell calls her the "ultimate inspiration", and for her apprentice, Ms Omaha Lisa Cross,
there are simply not enough superlatives to describe this woman. The best female Physique in history. Being around her inspires you to push yourself further than you ever thought possible.
And to give just one more example, Tarna Alderman cited Alina's influence when she tweeted her decision to stay with bodybuilding in October 2014:
@ALINAPOPA1 shows it can be feminine! I've been a big fan of Alina since I got into bodybuilding, [and she's] literally the only reason I've stayed with it, very inspiring.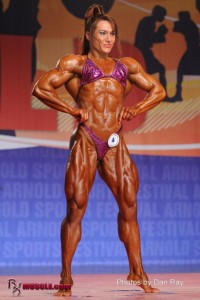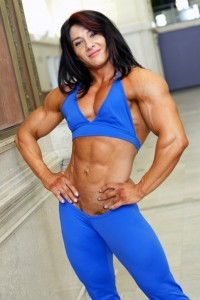 AMELIA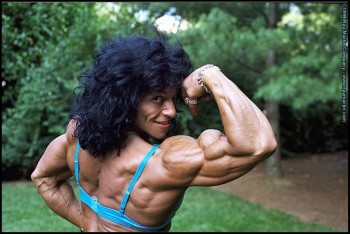 Virginia is huge but she's not the only huge muscle woman Spain has produced. She returned to the stage in 2013, but only to award the prizes at a show in Catalunya! There are pictures of the event on Real Female Bodybuilding, and there are even more photos - though sadly not the promised interview - of Amelia at 48 years old here.
ANDRULLA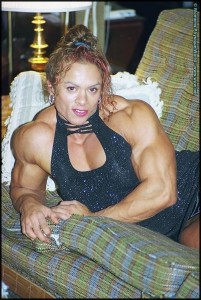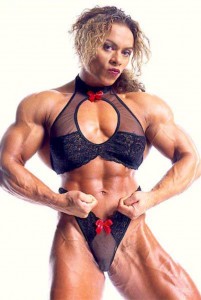 The Queen of British Female Muscle, our one and only Ms Olympia. In a 2005 interview she was asked how she felt about the state of women's bodybuilding at that time, and whether "it" was progressing.
I have no opinion on this,
she replied.
What is progress? We could discuss progress for hours. It's all a matter of how you view this. Also to classify women's bodybuilding as "IT". What is this "IT" exactly? I see individuals and not a category.
Then it was off to the Tower for the interviewer...
ANNE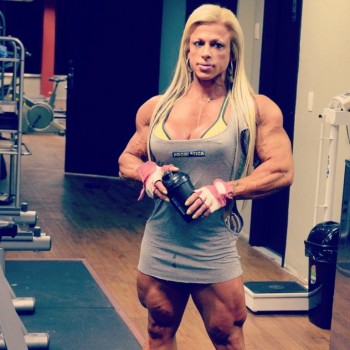 And the morning passed, and during the lunchtime break, I quickly went online to check if there were any vids or pics of the event... And they were all available!!! I immediately looked at them, of course, but I had to go back to work, so I only looked at what was most important to me: Anne's ass! And, oh boy, it was really, really difficult not to wank immediately but I had to wait. All afternoon I couldn't get the pics of her out of my head. One in particular, I was continually thinking about her crotch. She looked like she had developed some new muscles, and that her vagina had now totally mutated into some new thing! And, all the time, I was thinking "Oh my god, how good it must be to be inside it..."
FMS reader, Olympia Review, October 2014
ANNIE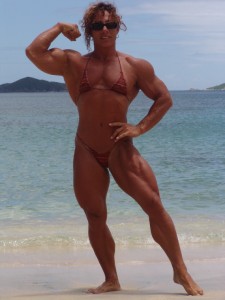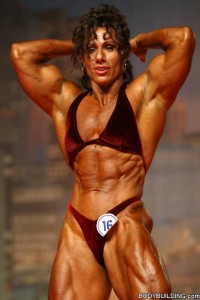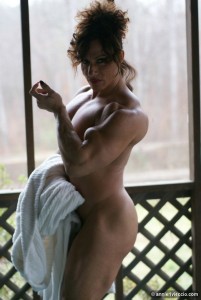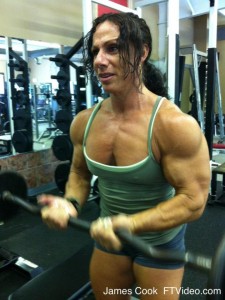 Mad about Annie since you first saw those
Ray Martin
images of her tanned, topless, covered in oil and being felt up? Me too! Hard not to fall for a chest like hers and a scenario straight out of your female muscle dreams. Still as beautiful as ever, still big all over and still 100% muscle in the chest department. A legend.
ANTONELLA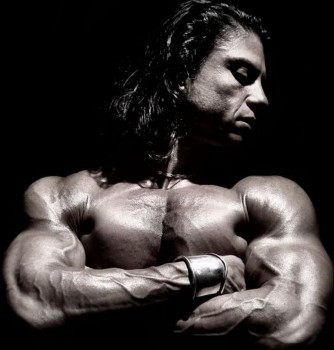 Like the World of Muscle website where she first came to my attention, Italian muscle goddess Antonella Grilli, is, it seems, long gone - but not forgotten. She burned briefly but brightly, competing in the US - as a heavyweight - at the Jan Tana in 2001 and 2002 - and made enough of an impression to be one of the women
FTVideo
made an extended DVD with. And I believe it's still available to buy...
and
ARMS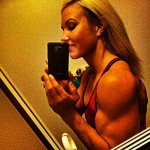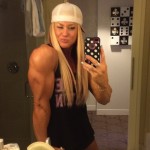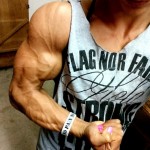 Thursday is chest and bicep day so I am getting ready to pump up these 18-inch arms real good! I love it when the veins are so full and my skin feels like it will rip over my muscle!
Naughty Nuriye,
FMS May 2014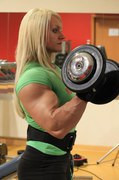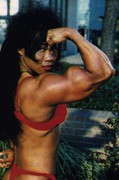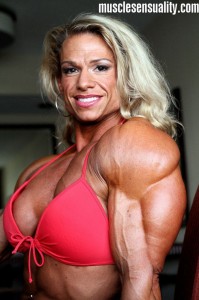 Nothing says POWER like big, beautiful arms. When you dream of that session you're going to have one day, which part of her body does she flex first for you? Say it's summer - short-sleeved weather, and you're out and about when your female muscle radar goes off... Where do you look first? What do you want to see?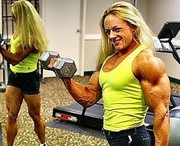 EXACTLY.
OK, so hopefully there will be 25 more of these (although X may be a little thin) but next time it's the
B
s. Brezovac, Biceps, Backs, Betty (P and V!) and so on. Send your suggestions to
6ft1swell@gmail.com
or use the comment box below.
And you might think I've missed some As - as I write I've remembered I've forgotten
Annie Sheehan
(how could I?) so there will obviously have to be an
A
update at some stage - emails or comments with more
A
s are welcome as well.
Enjoy!