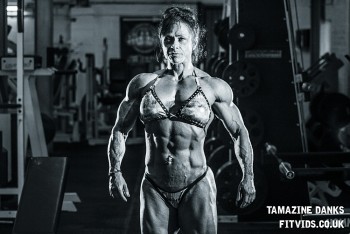 I really don't care whether anyone does or does not find me attractive, it's not about that!
was Tamazine's response to a recent comment on
the Strength Asylum Facebook page
after they'd posted a pic from her
FitVids
shoot.
It's great to have such inspirational figures training from here,
read
Strength Asylum
's caption.
Really gives people starting out something to aim for, and more importantly to learn from!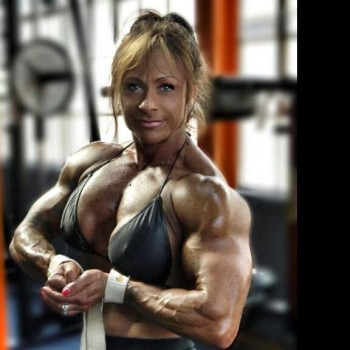 Tamazine Danks
has been training out of Stoke-on-Trent and competing in both domestic and international competitions since at least 2008. It's not easy to piece together her contest history though, partly because she's had a few different names...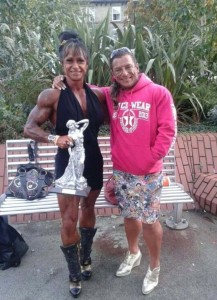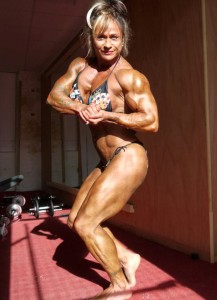 In 2008
Tamena Danks
finished 3rd in the Lightweight Bodybuilding class at the UKBFF British Championships. In 2009 she won the class, listed as
Tamazin Dawks
. The following year, in an open class, it's
Tamazin Dawks
again, 5th. She was back - as
Tazmin Danski
- in 2012, finishing 3rd. And 2013, in the last appearance of Women's Bodybuilding at the British Championships,
Tamazin Danks
was runner-up.
In 2013,
Tamasine Danks
was at the NAC Universe in Hamburg. She finished 3rd, the highest placing of the five-strong British contingent in the Ms Physique category.
The FMS research team haven't found any record of her competing last year, but so far in 2015 she has been on stage twice as far as we know. In January (harsh time to have a bodybuilding show, straight after Christmas!) she won the IBFA Welsh Open Ladies Physique title, as (finally!)
Tamazine Danks
. And then, on 9th May in Colchester, she took 2nd place behind
Elena Oana Hreapca
at the
Hercules Olympia
.
You can watch Tamazine's routine from that show
here
.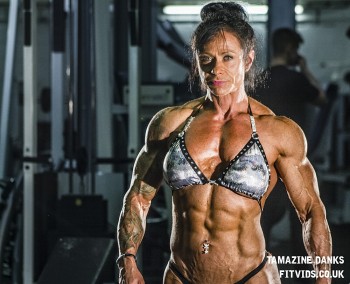 So, that just about brings us up to date and her new
FitVids
shoot. The previews have certainly got the attention of the brethren, many of whom are coming across Tamazine for the very first time. And they like what they see. They're liking her "crazy powerful mature muscle", they're calling her "awesome", "incredible", and "stunning".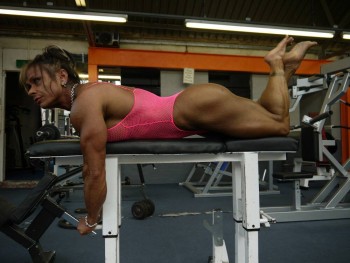 I would agree with all those commenters, 100%. But more than that, I would say that Tamazine is worth our attention because while Female Bodybuilding has all but disappeared from UK competitions, she has remained a Female Bodybuilder. She seems to be competing where she can, wherever the class for her exists, refusing to switch down to "Physique", "Trained Figure" or whatever the description of the less muscle than bodybuilding class is from federation to federation. At the Hercules she and Elena were miles ahead of the other contestants, the only real bodybuilders in the field. At the IBFA Welsh Open Tamazine was the
only
competitor in the class.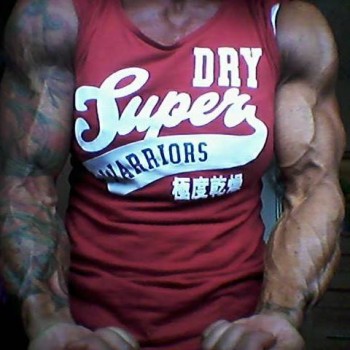 And this, I suspect, is really what it's about. A love of being a female bodybuilder. A love of muscle - her muscle. And she isn't going to give up on the muscular body she has been building for so long because it's convenient, or because federation after federation have turned their backs on Tamazine and other women like her.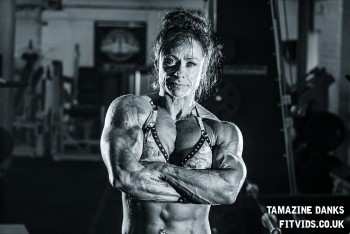 So let's finish with that
FitVids
preview and take some time to really admire that muscle, shall we? Tamazine was, the blurb tells us, "between shows" at the time of the shoot. She is big, she is tanned, she is beautifully striated when she flexes, and she looks every inch the true bodybuilder that she is. And at the 25-second mark, we get to see just how much Tamazine enjoys her own muscularity. Don't blink and miss it!
Tamazine Danks
is
on Facebook
.
Enjoy!