JULIETTE BERGMANN
The exotic beauty of
Juliette Maria Suzanna Bergmann
continues to beguile female muscle fans well over a decade since she retired. One of only three European women to have been Ms Olympia, Juliette was inducted into the (real) IFBB Hall of Fame in 2009, and given her beauty, her achievements, and enduring appeal, I think Juliette is a prime candidate for the (imaginary)
FMS Hall of Fame
as well.
Some of her glamorous
WPW
work, especially that off-the-shoulder silver dress was under consideration, and she could easily have made
our 241 fest
- both this gem of a pic with her bodybuilding sister Liona (top right), and an extremely elegant Juliette with
Ludmila Tuboltseva
made the shortlist for
Tuesday's post
.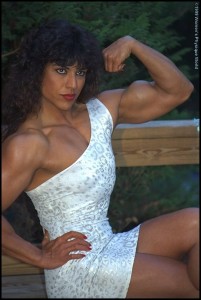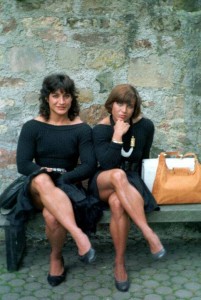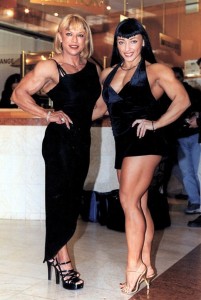 The research team also came across a couple of terrific candids. Above (bottom right), Juliette shows off a lot of quad in a leopard print number, a pic we had a lot of fun coming up with a caption for. The winner:
I'm Never in Such a Hurry that I Haven't Got Time to Flex
. And there was also much discussion in the office regarding this candid from (I think) an
Awefilm
s shoot below. Do you think she's just arriving at the pool or is she packed up and leaving? Either way, she couldn't help but cause a stir looking like that. We wondered how the owner of that foot reacted to such a sight.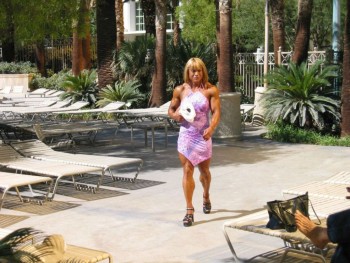 But in the end it was this set of magazine years scans that got the
Hall of Fame
nod.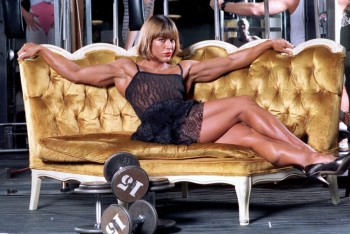 The beauty of the youthful Juliette. A revealing but at the same time rather classy outfit. Those weights "casually" lying around in front of her. The fact that the sofa seems to have been plonked slap bang in the middle of the free weights...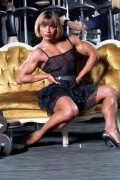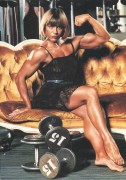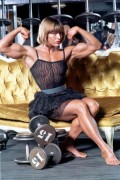 Perhaps every gym should have a sofa like this. Female bodybuilders (only!) could drape themselves over it as Juliette does here, showered and ready to go out and stop traffic again. Of course, there would need to be a photographer on hand
at all times
to snap all the post-workout glowing and flexing. Good promotional material for the gym. There'd be a queue to sign up that stretched around the block if a young Juliette lookalike was known to be lifting there... And I reckon I'd be in it.
Enjoy!
And check out
our other Hall of Fame inductees
.