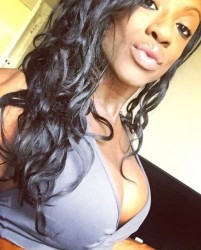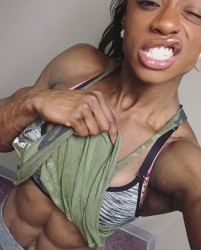 The first of a series of posts looking at some of the most outstanding women at recent contests kicks off with the Queen of them all at the New York Pro, a first-time WPD competitor and first-time champion -
Shanique
"The Future"
Grant
.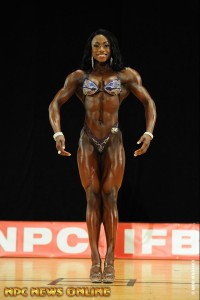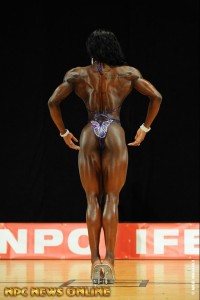 Just two weeks previous to her triumph I'd been looking at Shanique at the Pittsburgh Pro, where she competed - as usual - in Figure. Her quad sweep, I thought, was so pronounced that it almost made her look knock-kneed. A muscle illusion. And her abs! Surely too defined for IFBB Figure judges. Possibly too defined for Physique judges these days too! When she faced the back of the stage though I was reminded what all the fuss was about. That shape - as one fellow competitor says - is "ridiculous", as in ridiculously perfect. It's the kind of shape some have a hard time accepting is real.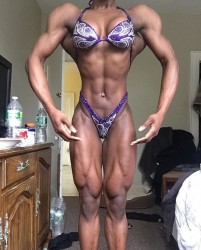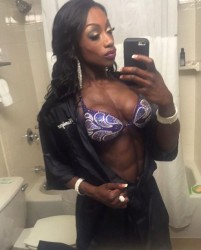 Since I'm "photoshopped" apparently,
she said on
her Instagram
in the hours before she took the stage in Pittsburgh,
an original and unedited (as always) update photo
[left]
of myself. I'll take it as a compliment!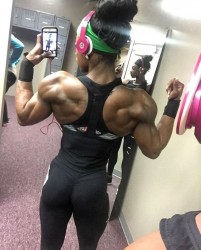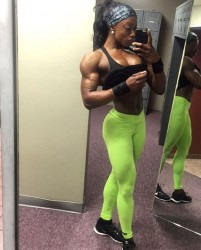 Despite the shape, perhaps because of the muscle, it was 6th place for Shanique in Pittsburgh. But then something happened. Her trainer broke the news...
After a long time of not being able to really train legs, @fitnessbeauty crushed them today. As we prepare her to step on stage in the Women's Physique Division at the NY PRO. Training back to full tilt, and we don't have to "dumb" her potential down and train to fit into the Figure Division. We are very excited for this new endeavor.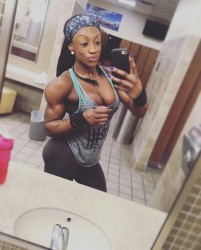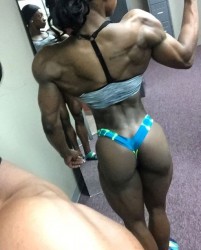 You're
excited Johnny? You should have seen how excited
I
was. She's going to let the muscle grow, to release her true potential. And she's going to get to flex it up there. Oh, this is going to be good... But the New York Pro was a mere two weeks away. How much could she really achieve in a fortnight? Didn't have to wait long to find out.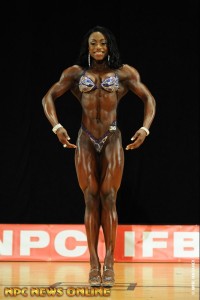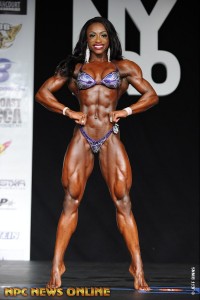 Judge for yourselves.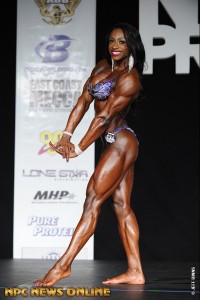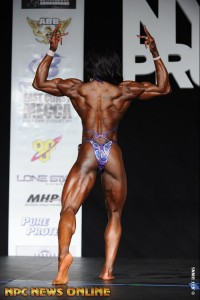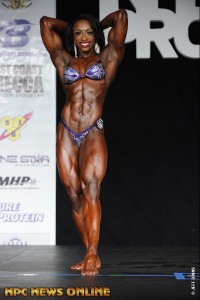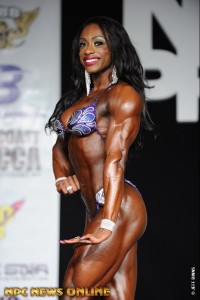 It turned out to be more than enough for the judges - they had her in the centre of the first callout and I think I'm right in saying she was never moved out of there.
And it turned out to be plenty for me too. Swoonarama!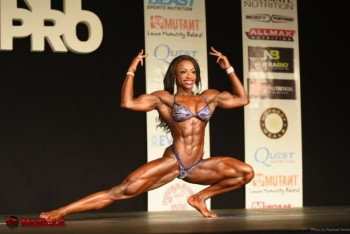 There's what, about four months to go before the Olympia? Imagine the kind of damage she can do in that time. Now she's actually training to get bigger instead of training to stay small, training to actually put muscle onto that ridiculously, unbelievably perfect chassis of hers. Well, the mind boggles (among other things) at the prospect.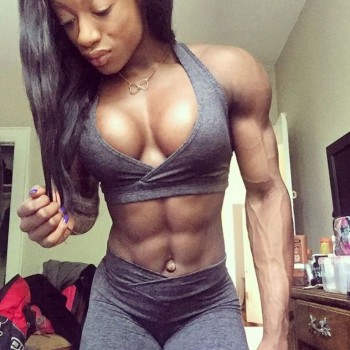 More contest action tomorrow.
Meanwhile, enjoy this. Shanique! With added Asha!
Yeon Woo-jhi
! And more!!!