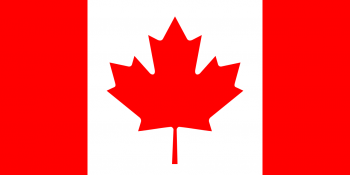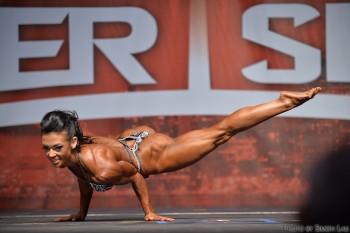 You might not expect
Jodi Boam
to have too much in common with
Janeen Lankowski
, but both began as gymnasts who reached national level, both had their gymnastics careers ended by injury, and both consequently took the discipline and dedication they had learned while competing in that sport into fitness.
The same drive for success that served me well for gymnastics has stuck with me,
Jodi has said.
I won my division at my very first show when I was 19 years old, then the following year, I placed fifth on my very first time hitting the national stage. I knew there was no quitting until I reached the top and in August 2010, at age 23, I earned my pro card.
She was, at the time, Canada's youngest IFBB pro.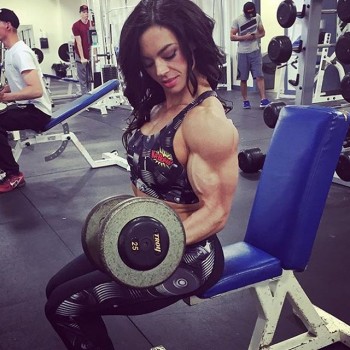 In 2011, her first year as a pro, she won in Toronto and went to the Olympia. The following year she won in Pittsburgh and again in Toronto and went to the Olympia for the second time.
This sport fits my personality so perfectly,
she said.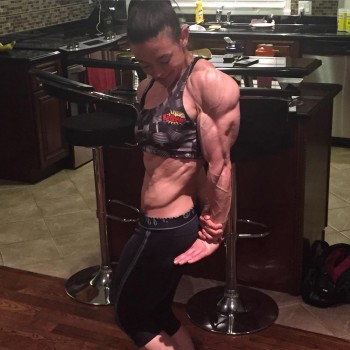 But just as with her gymnastics career, her fitness career was ended by injury. In late 2012, she was practising her moves.
I landed crooked and the whole knee just kind of snapped,
she says. Despite surgery, three years on the knee had still not recovered to the point where it would be able to withstand the demands of a fitness routine.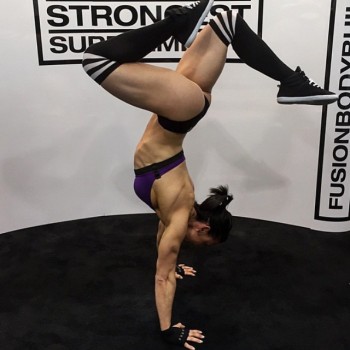 In the meantime, Jodi expanded her personal training business, building her own brand, KA-BOAM, with it's very own purpose built "prep house" training facility. According to
her website
blurb, she can help with everything from your basic weight loss to competition prep, and posing and choreography for your routine.
Whatever the goal, I love helping others achieve and succeed,
she says.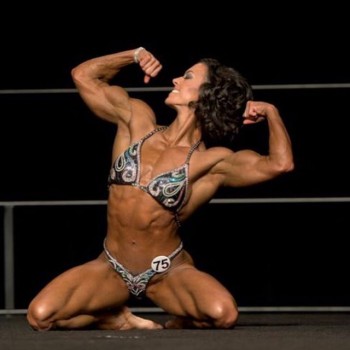 But though helping others might be one of her passions, her biggest passion remained competition.
Being onstage is a ton of fun, and the adrenaline rush is unbelievable!
she says.
It's the best possible feeling to hear the crowd, see the judges and know your extreme hard work is paying off.
She decided to move into Physique, and nearly three years after her knee injury, she made her WPD debut in Vancouver last year.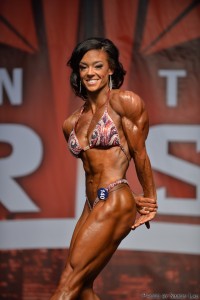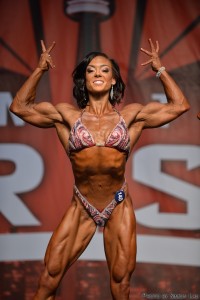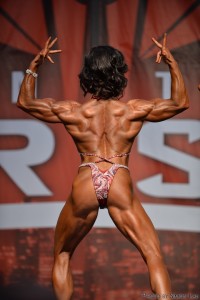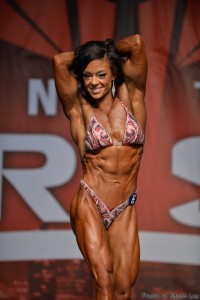 We don't have the time to pay too much attention to what's happening in the Fitness division here at FMS - if you'd care to become our Fitness correspondent please get in touch - but when Jodi started adding more muscle to her 5'2" frame after her injury, we couldn't help but sit up and take notice.
We first featured her here back in May 2014
, stretching the definition of what a T-shirt is to include her in our
Ts of the Day series
.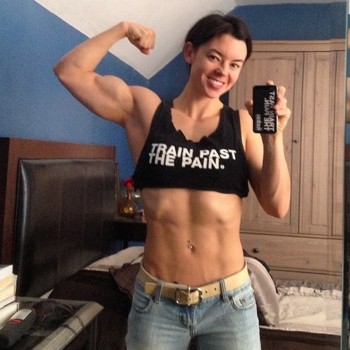 What a difference a couple of years' training for Physique has made!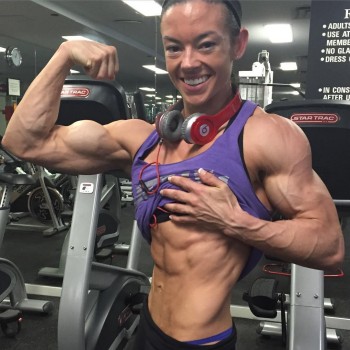 As I was saying to a (virtual) friend the other day, definition goes a long way with me. Sure, Jodi is never going to be the biggest woman in a Physique line-up, but lawdy she comes in in fantastic shape. And Toronto 2016 was no exception. In fact Jodi was probably in her best shape ever, and she looked like she felt she was too.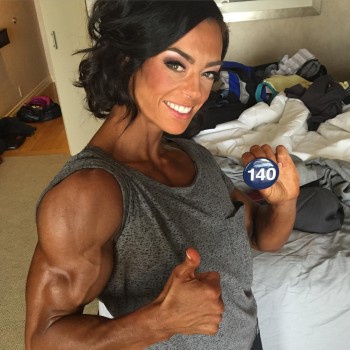 No wonder some of her peers are prepared to part with their money to have her help them fine tune their physiques in the final weeks of their own prep. And it's not just the conditioning. From the hair and the make-up and the tan to the (still fairly stressful on that knee I would imagine - careful Jodi!) routine, her package was pure class.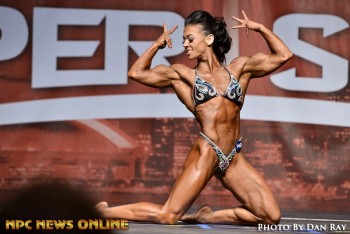 She's become a real beauty as well (if I may get all gooey for one last time this week), her younger, elfin-like prettiness blossoming into something altogether more womanly and stunning. She's strong, she's sexy, she runs her own successful business. Quite the role model for your 21st century daughters, and the latest of this fan's favourite Canadian women of iron.
AND
(have you noticed?) no WPD chest pose for Jodi. For her, in all her tanned, ripped vascular glory, it's the
PROPER
side chest.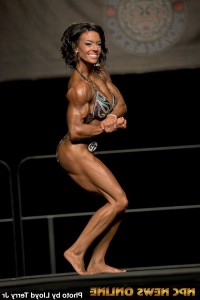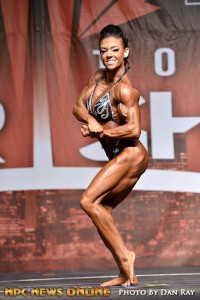 KA-BOAM!
And finally, that
100 Canadian Muscle Goddesses
list in full.
Top to bottom and left to right: Dawn Alison, Kim Birtch, Carmen Tocheniuk, CeaAnna Kerr, Michelle Russell, Tatiana Anderson, Mary Lynn MacKenzie, Jen Reece, Emily Zelinka, Melody Spetko, Louise St. Pierre, Roseanne Desmarais (Blackburn) 1975-2010, Astrid Falconi, Jill St. Laurent, Rhonda Lee Quaresma, Carmen Unger, Cassie Liberatore, Debbie Leung, Kat Sartor, Danielle Ruban, Sue Ling Yip, Amelie Bourget, Heather Manuel, Helen Bouchard, Laura Binetti, Wendy Lindquist, Trina Gillis, Sheila Burgess, Autumn Raby, Athena Signakis, Sophie Duquette, Laura Creavalle, Deanna Panting, Amanda Aivaliotis, Sheri McKnight, Steph Park, Jennifer Jewell, Joanne Williams, Maria Mikola, Nicole Ball, Sandra Blackie, Rita Dyutco, Leah Johnson, Tracy Beckham, Laura Carolan, Melissa Bumstead, Jodi Michaels, Nathalee Thompson, Nancy Richard, Nancy Clark, Marnie Holley, Emilija Martic, Johanna Dejager, Cynthia Benoit, Tamara Qureshi, Tananarive McGowan, Macey Boudreau, Marnie Power, Nadia Nardi, Negrita Jayde 1958-2009, Colette Guimond, Kailash Persaud, Pam Howard, Karen Smith, Eleonora Dobrinina, Sharon Mould, Wendy McMaster, Desiree Ellis, Gillian Kovack, Shawn Tan, Fabiola Boulanger, Melissa Coates, Christine Roth, Zoa Linsey, Robin Hillis, Mona Poursaleh, Iris Swatuk, Lisa Arksey, Jody Wald, Cindy Phillips, Shelly Yakimchuk, Melanie Noel, Aleisha Hart, Antonia Grady, Fiona Harris, Michelle Krack, Lisa Bavington, Tara Silzer, Myriam Capes, Jamie Senuk, Joy Nichols, Lisa Giesbrecht, Lyris Cappelle, Azaria Glaim aka Brooke Black, Emmanuelle Ethier, Mindi O'Brien, Sharon Bruneau, Julie Bourassa, Dayana Cadeau, and Cathy Lefrançois.
Thank you Canada!