There's no female bodybuilding in anything ol' Arnold touches these days, and that includes the Arnold Amateur Europe, which hasn't featured it since 2013, when
Virginia Sanchez
won the title in her hometown, beating
Lisa Cross
,
Natalia Yariz
and
Kashma Maharaj
in the process. The two previous winners had been
Jacqueline Fuchs
(2012) and
Elena Shportun
(2011) and on both occasions
Katka Kyptova
had been the runner-up. Reads like a shopping list of the best, most prime contemporary European female muscle (and Kashma). Damn shame.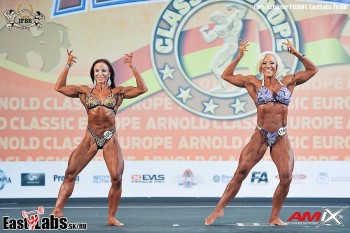 Nevertheless, there was still plenty for the female muscle head to enjoy, particularly in the two Physique classes. The shorter (up to 163cm) class was the more competitive of the two, and had such quality all the way down in the placings that I find it very hard to believe that a better Physique line-up has assembled on a Euro stage before.
UP TO 163cm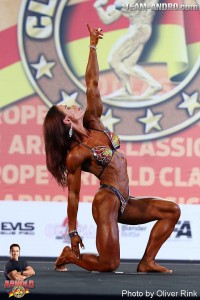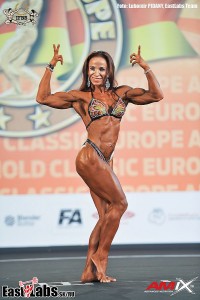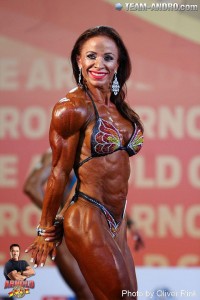 It proved hard for the judges to choose a winner - I never usually look at the scorecards in much detail, but for some reason I did this time, probably because of Carly swoon swoon. Anyway, the short class was very close. All of the top four were placed first or joint first in at least one of the three rounds, but in the end Ukrainian
Ekaterina Grima
was named the winner. 37-year-old Ekaterina went on to win the overall title as well,
and
cleaned up in the Masters Physique class for good measure.
So she had a pretty good day.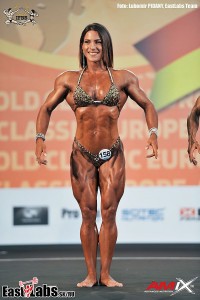 Second place went to the stunning beauty that is
FMS' favourite Cretan muscle goddess
, 2015 IFBB Mediterranean champ
Anastasia Papoutsaki
. As always, Anastasia looked absolutely divine. A beautiful tan, a beautiful suit, and all those beautiful full, rippling muscles. Her ex-400m hurdler's legs have always been a highlight of her physique, but she's forged quite a spectacular upper body to go with them. Surely it's only a matter of time before she adds gold to the silvers and bronze she's collected here and at the Amateur Olympia Europe in the last couple of years.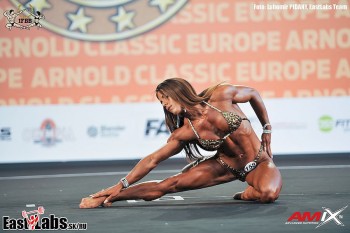 Two names new to me took 3rd and 4th. Another magnificent specimen of sexy Ukrainian female muscle,
Maria Akizhanova
, ended up just a point behind Anastasia, and striking Austrian blond
Andrijana Dabic
completed the top four.
Maria Akizhanova (left) and Andrijana Dabic
But as mentioned above, it was a quality field all the way. Another Greek, rising star
Tereza Pantela
(see
previously on FMS
) was mighty impressive but only good enough for 5th. Muscular
Monica Duarte
, from Portugal (7th), former NABBA favourite
Federica Ortu
(8th), and Norway's
Aleksandra Rudenko
- whose legs
we recently enjoyed during our Rolling Thunder week
- in 12th, all caught the eye.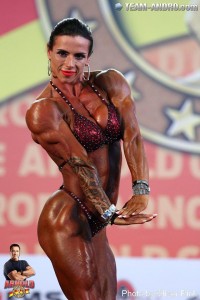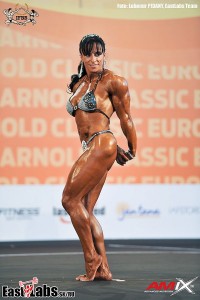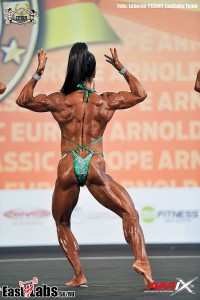 Tereza Pantela (top right) and next to her Monica Duarte;
Ortu's bottom (bottom left) and Aleksandra's lovely legs
And there was another new name that we're not going to forget in a hurry in 10th place - South Africa's
Tiana Flex
, a former WBFF champion who you will probably not be surprised to learn is becoming rather a sought after model in the fitness world. Check out
her Facebook
,
Instagram
and
Twitter
for more quality time with Ms Flex.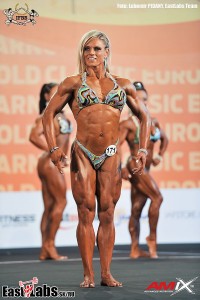 163cm and OVER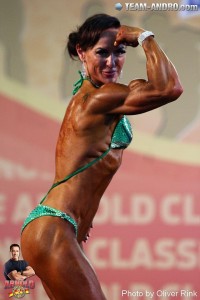 And another memorable name was Norway's
Linda Kristin Rambo
, a former Bodyfitness competitor who finished 6th here in the taller of the two Physique classes and 3rd in the Masters Physique - despite appearances Rambo is 38 years old.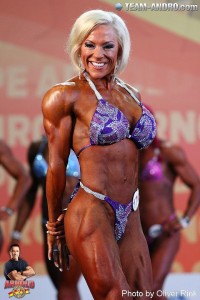 The shorter class had been close, the taller (over 163cm) class was not.
Carly Thornton
- I may have mentioned her before
once
or
twice
- was a clear first with the judges in every round. Carly became the first Brit to win at the Arnold Classic Europe and, a week or so later, the UK's first ever female Physique pro as well.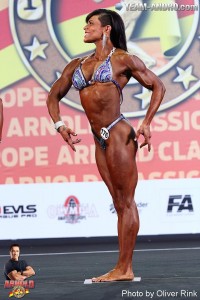 Exotic new name
Paola Jaira Sanchez Bonetti
from the Dominican Republic was 2nd, clearly enjoying her time on stage, and the much more familiar
Renata Hronova
(
Hot and Hard 100 #96
) made a welcome return to competition (albeit in a somewhat plain posing suit for this day and age) and was awarded 3rd place.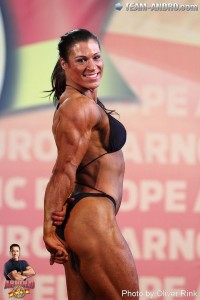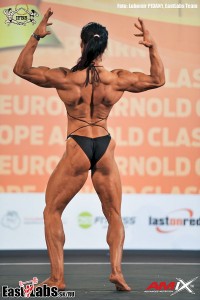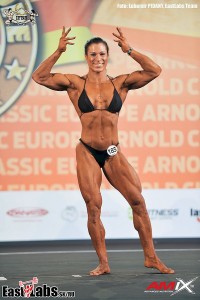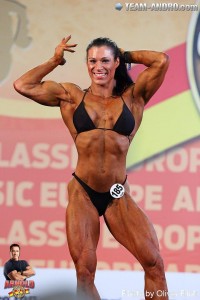 Check out the final round of comparisons and the posedown for the taller Physique class courtesy Hungary's 4th place finisher
Eleonora Volter's YouTube channel
. Left to right as they line up initially we have Rambo, Renata, Carly, Eleonora herself, then runner-up Paola Jaira, and
Natalia Shakotlina-Artemiou
(5th) from Cyprus.
Remember that this was Carly's first ever Physique show. Watch how she looks a bit lost when the posedown starts - you can almost hear her thinking,
What do I do now? I never had to do this in Bodyfitness...
But she soon gets the hang of it!
There are high-quality, extensive galleries of all the Arnold Classic Europe Physique classes at
Eastlabs
and (less user-friendly) at
Team Andro
. The wonderful images in the post today come fro both sites. They usually have video of competitions on their sites as well, but I haven't been able to track down any from Madrid so far...
Maybe you will have more luck than me!