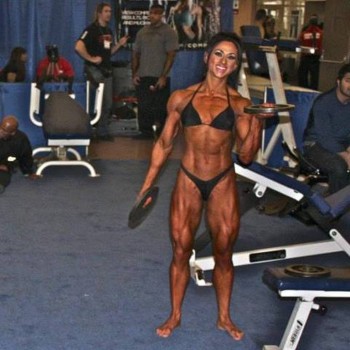 I started dancing as a young girl and went on to study Contemporary Dance at university when I was 22. The dance classes were very intensive and I was enjoying this new level of fitness. My dance tutor advised me to do some weightlifting alongside my dance to build up some more upper body strength to make some of the lifting and weight shift movements easier. So my boyfriend took me to the gym and showed me how to train like a bodybuilder. I began to notice changes in my body shape within a very short time. I loved feeling strong and the weights I was lifting went up fairly rapidly. It gave me so much confidence, and when I got my first vein in my arm I was totally buzzing! I was hooked.
Rosanna Harte (RxMuscle, 2009)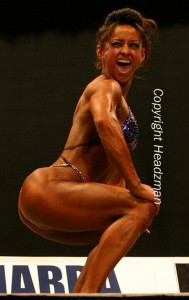 Rosie, enjoying herself, 2008 (?)
By the time of that interview, Rosie had already been competing for a couple of years. Her first show was a natural show in 2007 called the NPA Heart of England where she competed in the Figure class - and won - and the following year she took her second Figure title at the Sci-Mentor SportsPN Classic. Also in 2008 she made her NABBA debut, in the Trained Figure class (which is more or less equivalent to what became the IFBB Women's Physique division), finishing 2nd at the North-east qualifier and 6th at the British finals.
These "trained figure" girls are packing some serious muscle,
she told RxMuscle in 2009,
and they get in amazing condition for competitions. This is the main reason why I have decided to take a year off from competing and just put on some size, because I felt like I was fading into the background slightly. I think there are a lot of impressive female physiques in the UK at the moment.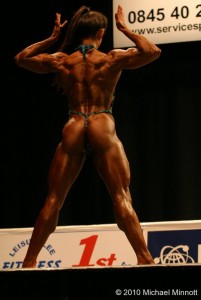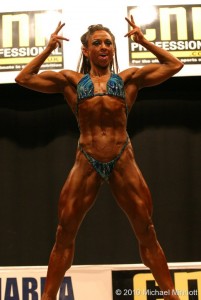 NABBA Britain 2010
Her plan worked. At the end of May 2010, she was the British NABBA Trained Figure champion, and a few weeks later she travelled to Malta for her first international competition - the NABBA Worlds - and finished runner-up in her class, beating such famous names as
Karolina Holubcova
and
Flora Conte
in the process.
The following year saw Rosie not only change federation, but also division. Her first time competing as a bodybuilder was at the 2011 UKBFF North-east qualifier. It was her first title as a bodybuilder too.
I've wanted to do bodybuilding since I first started training but it has taken a long time to gain enough size,
she said soon afterwards.
I've had a lot of people doubting my capabilities in this class - understandably as I am still usually the smallest on stage! It meant so much to me to place so well in my first competition as an actual bodybuilder, and in an open class as well!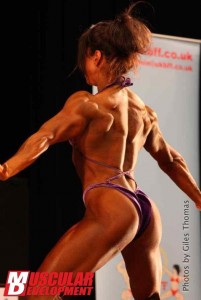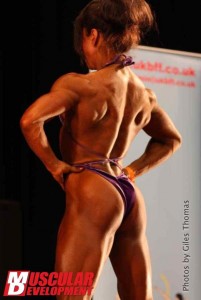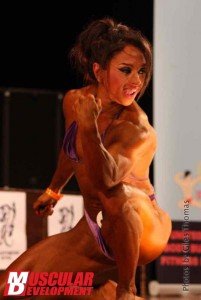 UKBFF British 2011
And she went on to finish runner-up to
Rene Campbell
at that year's UKBFF British Championships, ahead of women like
Christal Cornick
,
Silvana Imbrogno
, and
Tamar Makar
- women who outweighed her by upwards of 50lbs (22kg). She was rightly proud of herself.
This might seem weird as you'd think it might have been one of my competitions where I placed 1st,
she said in 2012,
but the highlight of my career to date was definitely coming second at the British Championships!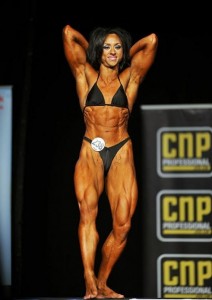 UKBFF British 2012
And in 2012 she went one better, beating all of the big girls and becoming the UKBFF British Women's Bodybuiding champion, adding her name to a roll of honour packed with the names of some of the all-time UK female bodybuilding greats:
Rene Campbell
,
Lisa Cross
,
Sharon Madderson
,
Wendy McCready
,
Joanne Lee
,
Paula Bircumshaw
, and now
Rosanna Harte
. The smallest woman on stage was punching way above her weight, and the female muscle world was taking notice.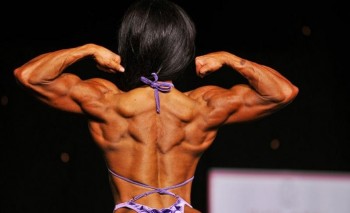 UKBFF British 2012
And so, slowly, did the British media - well, the regional British media anyway.
Leeds bodybuilder competes in biggest competition in world
read
the headline
(see
FMS passim
) before Rosie jetted off to Columbus, Ohio to represent Britain for the second time at international level, this time at the 2013 Arnold Amateur -
the one competition all amateur bodybuilders dream of,
according to Rosie.
Arnold Amateur 2013
And the British Champ finished 3rd in the (last ever) Lightweight Bodybuilding class behind the more experienced
Ana Paula Silva
of Brazil, and
Branka Njegovec
from Croatia, who went on to claim the overall title as well.
There's something very old school about Rosanna's body shape and conditioning,
I wrote at the time
,
as though you could photoshop her into a contest pic from the late 80s and she wouldn't look out of place next to the likes of Anja Langer. It's a very pleasing aesthetic.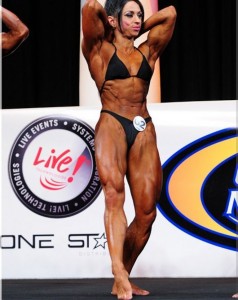 Arnold Amateur 2013
And I also wrote at the time that it remained to be seen how far such an old school aesthetic would take Rosie in international bodybuilding. What I meant was that she'd struggle among the heavyweights - little did I realise that international women's bodybuilding, at an amateur level at least, was about to all but disappear.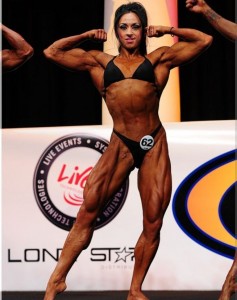 Arnold Amateur 2013
But this was not necessarily bad news for lightweight fbbs in general, and not necessarily bad news for Rosie, as she proved in 2014 when she returned to the Arnold Amateur, lining up in the Physique division for the very first time.
Never been this happy with my physique,
she tweeted before the show.
Down to the judges now.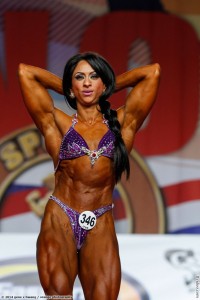 Arnold Amateur 2014
Their verdict, a tantalisingly close 2nd in her class.
Congratulations Rosie!
said FMS, noting that
she had looked in great shape before the contest.
I was, however, disappointed for her that she hadn't got a little more favour from the judges and come home as the UK's newest - and first ever Women's Physique - pro, but a year and a few months later, and here we are, celebrating (almost) that very achievement!
Amateur Olympia UK 2015
Enjoy!