We promised news of
Theresa Ivancik
's bid to win her pro card at the NPC Nationals in Miami last weekend, and here she is in all her big and beautiful muscular glory.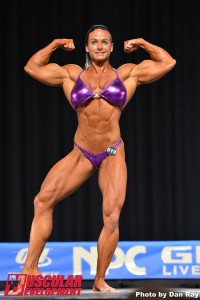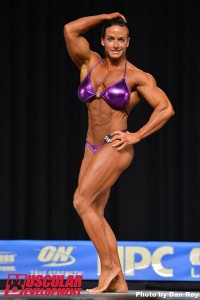 With a shock of blond dyed into the ends of her luscious dark locks, Theresa wore purple for the pre-judging and comparisons round. Up against seven other women in the heavyweight class including the familiar names of
Wendy Watson
,
Anne Sheehan
and
Ariel Gail
, Theresa was in the centre for the one and only set of comparisons the judges felt they needed to see before making their decision.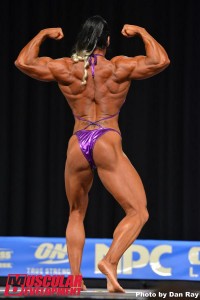 Theresa was in blue for her evening routine. Having come so close at the IFBB North Americans earlier in the year, where she won the heavyweight class but not one of the three pro cards on offer there (see
FMS passim
), would this finally be her moment?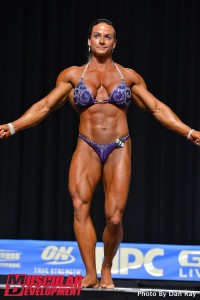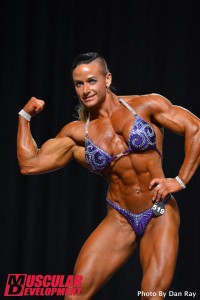 No. When the placings were called, Theresa lost out to the heavyweight winner
Tischa Thomas
. Once again, she had come excruciatingly close. Really, excruciatingly close.
Looks like I lost my pro card by one point!
she told her Facebook followers after the scorecards became available.
But I feel I have already won thanks to all the support from each and everyone of you... I have exceeded my own expectations at this show [and will be] working on making my weaknesses my strengths. "I'll be back!"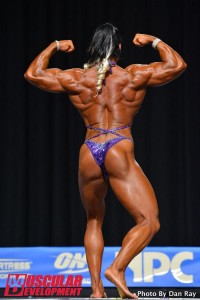 Indeed she will - and on FMS sooner rather than later as we take a closer look at the NPC Nationals all week next week, including more on Theresa's adventures in Miami.
Enjoy!